I have been going 'green' since before going green was even a thing. In the third grade I started my own recess-recycling club. By fourth grade we were cleaning up the grounds and I had about 7 loyal recruits.
Around the same time, I had a bug-rescue club in my dad's back yard where we (mostly I, as this one didn't have many members) would attempt to rehabilitate the bugs that ended up in my dad's pool.
As a forever earth advocate, I'm so excited to report that I finally had my first hybrid car experience! In order to facilitate this post, I was given a vehicle to drive for a week. All thoughts and opinions shared here are my own.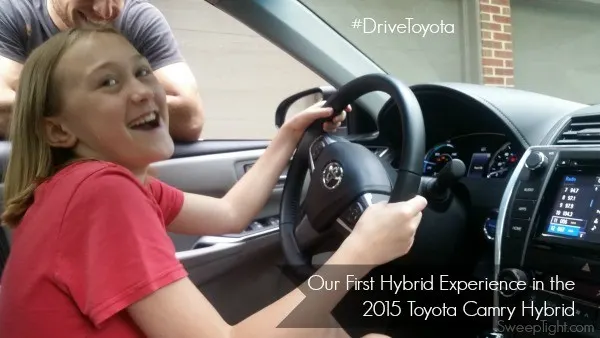 Hybrid Car Experience – The 2015 Toyota Camry Hybrid
I'm a bit ashamed that it has taken me this long (I'm 31 now) to have this hybrid car experience. I know I should own one already! But due to… life, it just hasn't happened–YET.
When I first saw the 2015 Toyota Camry Hybrid pull into my driveway I was totally impressed. The exterior has a very sleek and happy design. I don't know if happy can be a design, but if it can, this hybrid car has it.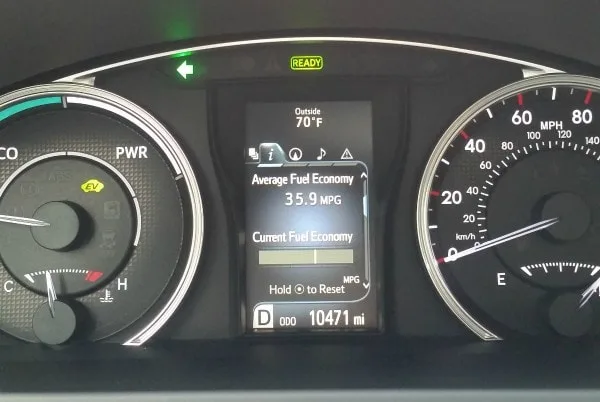 When I got in, I was blown away. It's super comfortable–I especially love the lumbar (adjustable) support! The dash is well-organized, pretty, and not too busy.
My fear of being overwhelmed by tech and gadgetry while driving was immediately squelched when I saw the layout. It's got the center screen which is great but can be mildly distracting when trying to keep your eyes on the road.
But, in the middle of your speedometer and energy gauge is a mini screen with a condensed version of what's going on in the big screen so you can figure it all out with a quick glance.
With all the controls on the steering wheel, it's very easy to answer your phone, change the music settings, or see the energy flow in the vehicle all without looking away from the road.
Another favorite feature: multiple charging ports. Being just a family of four we have like 20-something gadgets that all require charging–inevitably while on-the-go and in a panic.
This Camry Hybrid offers a USB port, a charging pad (for compatible devices), and multiple cigarette lighter style charging options. To find out more about all these wonderful features, visit Toyota.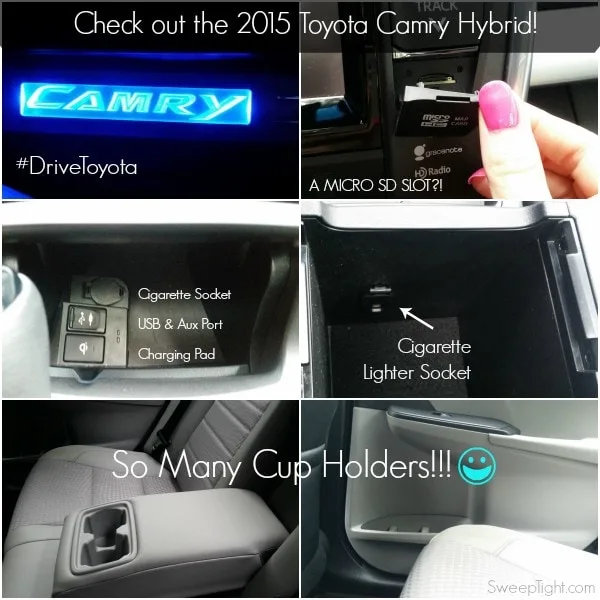 The Ride
Driving this hybrid car was a shock. First of all, you should know: I drive a big clunky truck. It's loud, bumpy and I love her. BUT I know she's guzzling gas and polluting the planet. (Someone please create a big hybrid or fully electric truck!)
So, when I got in the Camry Hybrid and started her up–with the push of a button–and heard/felt nothing, I didn't believe the car was even on; despite the "ready" sign glowing in the dash and all the other features activated, you'd never know the vehicle was on.
It's totally silent. I put her in reverse and to my amazement, we moved.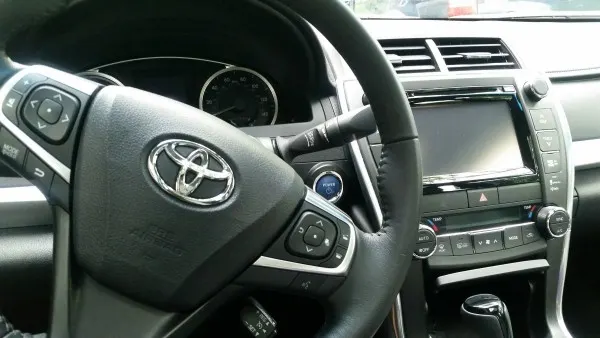 It was more like we glided. The ride is so smooth and quiet, it's more like hovering. Like an air hockey puck.
We took her to the highway and even with the gas engine and electric motor working together, she remained delicately peaceful.
My daughter took live video via Periscope while we were on the way to my son's taekwondo practice–which is a 45 minute drive.
We had several curious viewers asking about how she drove, and commenting about how great the dash looks. (Follow me on Periscope to catch more live action!)
Hybrid Car
This simply means it's got gas and electricity working together. The coolest feature in my opinion is the app on the main screen that allows you to watch the energy flow throughout the vehicle. This is where you really get a good idea of how the hybrid car works.
When accelerating you see it using power from both the gas engine and the electric motor. Whenever you slow down, you see energy going back into the electric battery.
It uses the kinetic energy from the wheels against the ground to funnel that into recharging the battery.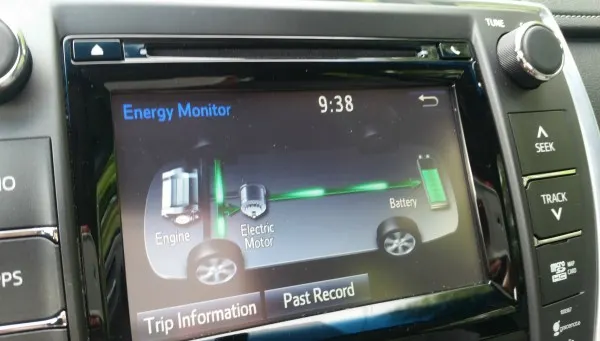 This incredibly efficient system gives an estimated fuel efficiency of over 40 miles per gallon. (Up to 43 city, 39 highway.)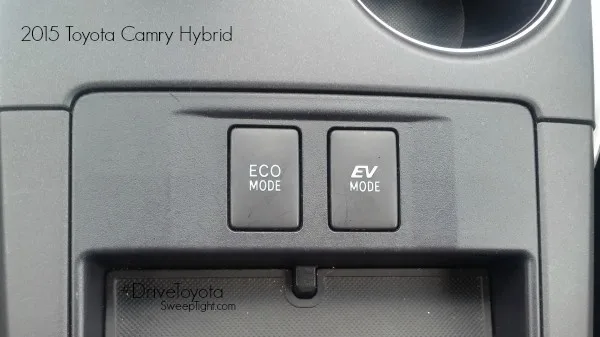 Again, with just the push of a button, this hybrid car allows you complete control of how it operates. You can use 100% electricity in EV (Electric Vehicle) mode. This is perfect for leaving your home and subdivision.
You're stealth-level quiet, so you're not waking or disturbing anyone. You don't have much acceleration power, but this is a time when you don't really need it.
The ECO mode, I didn't quite figure out. But one of the guys I asked said it just tells the car to be as efficient as possible. I drove the entire time on ECO and loved it.
It was a smooth ride with no jerks or anything to make you aware of shifting energy sources.
Excellent Choice for Families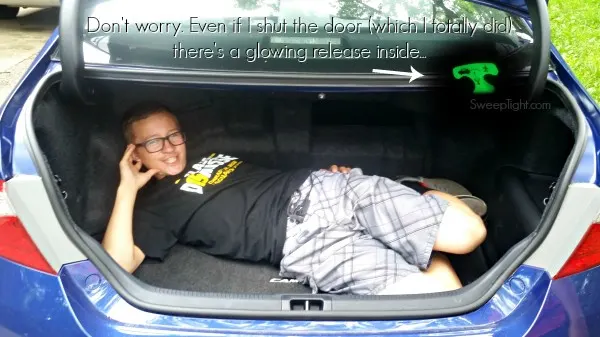 The Toyota Camry Hybrid car is a perfect choice for small families. My kids and I loved it. And I apologize for the crude reference–I don't know where this originated, but my mom always used to say it…
"Ohhh, great trunk! You could fit a lot of bodies in there!"
But don't worry, there's a glowing release inside so if anyone was actually trapped in there, they can easily get out. 🙂
Like/Follow Toyota on Facebook, Twitter, and Instagram to keep up with all their new innovations!