This Earth Day craft doesn't necessarily do anything noteworthy for the planet, however, as art so often does, it provokes thought.
Whether you use these alcohol ink tiles as coasters, wall art, or just random conversation pieces, seeing nature-inspired art can serve as a reminder to be mindful of our home.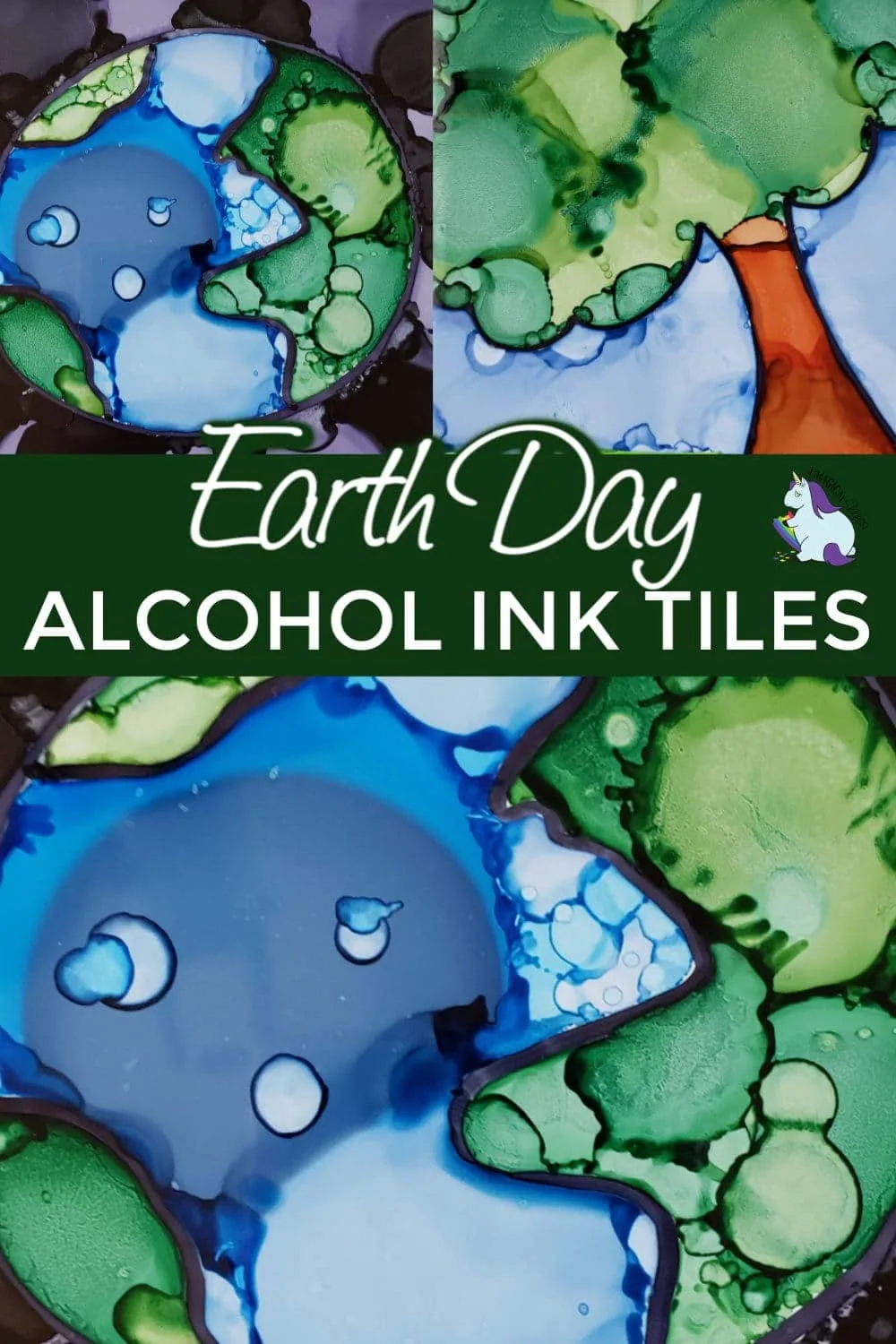 We're All In This Together
While our planet deserves celebration and care every day, it's a wonderful tradition to celebrate Earth Day.
Planting trees, picking up litter, building bird houses, composting, and tending gardens are just a few of the plethora of things to do to show mother nature some love.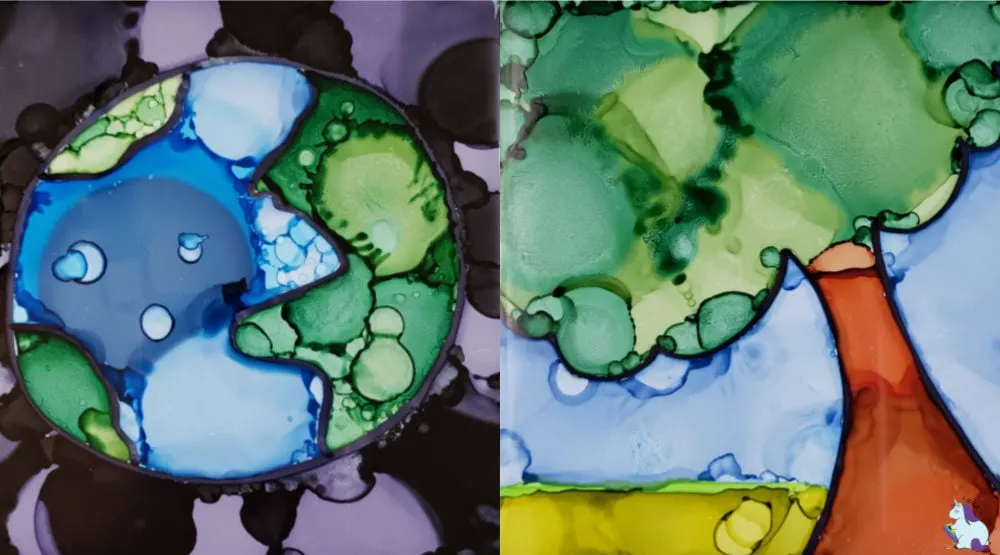 First celebrated in 1970, Earth Day is now celebrated in more than 193 countries. It's beautiful to see environmental protection as a unifying act.
Earth Day Craft
Add this fun Earth Day craft to the list of things you can do! Making alcohol ink tiles is a great activity for a rainy day indoors.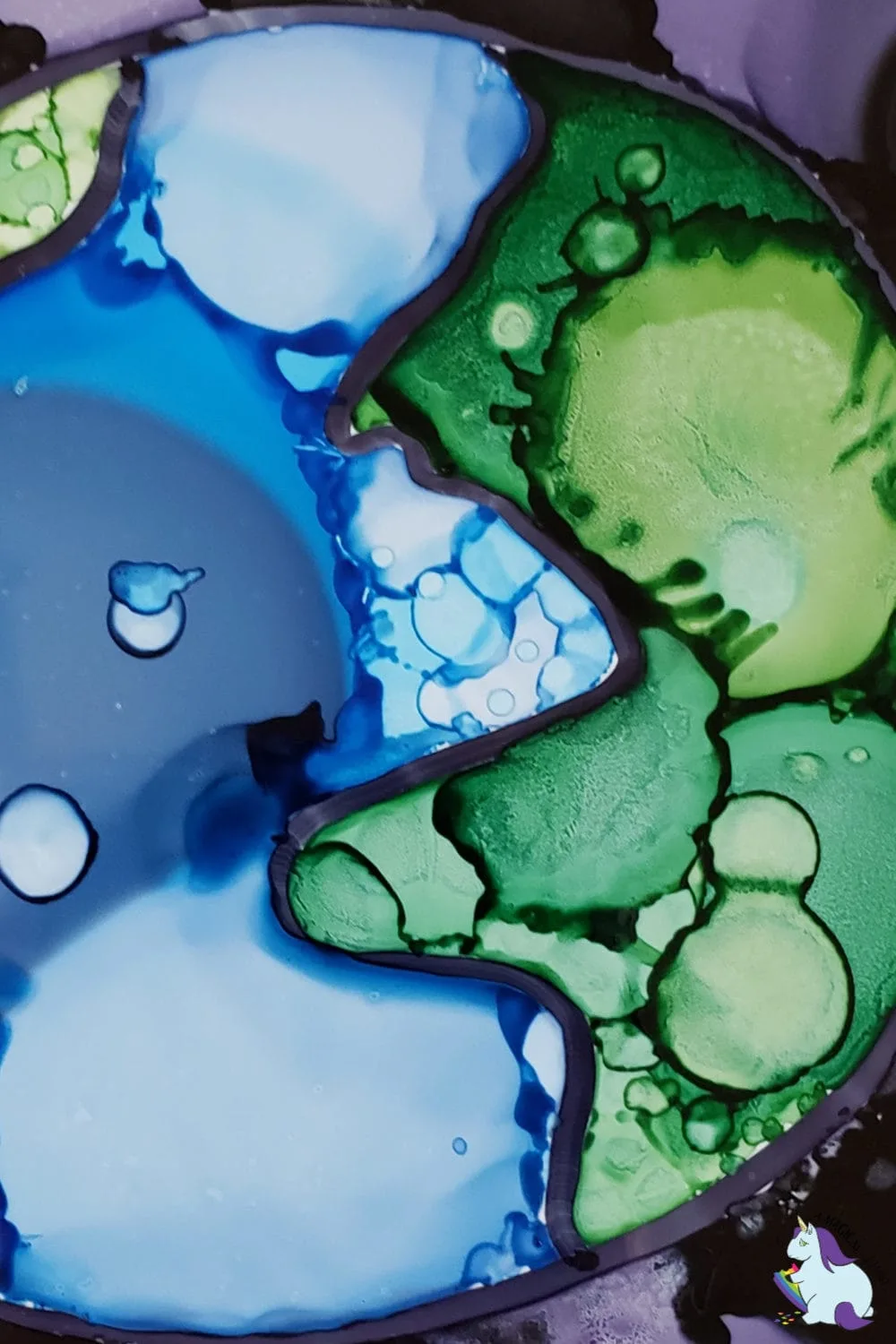 You can draw any nature scene, acorns, flowers, or the whole planet. For this tutorial, I drew an abstract picture of earth and a whimsical tree.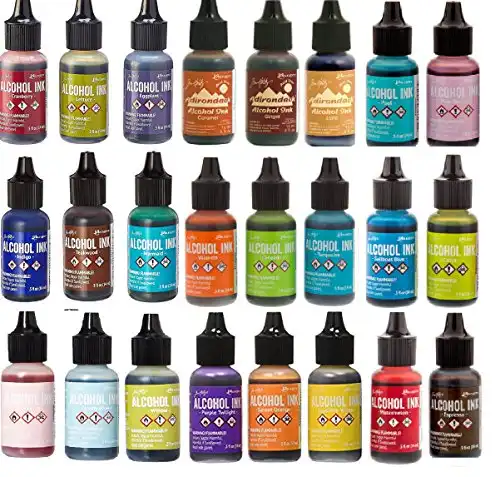 We earn a commission if you make a purchase, at no additional cost to you.
Yield: 1 tile
Earth Day Alcohol Ink Tiles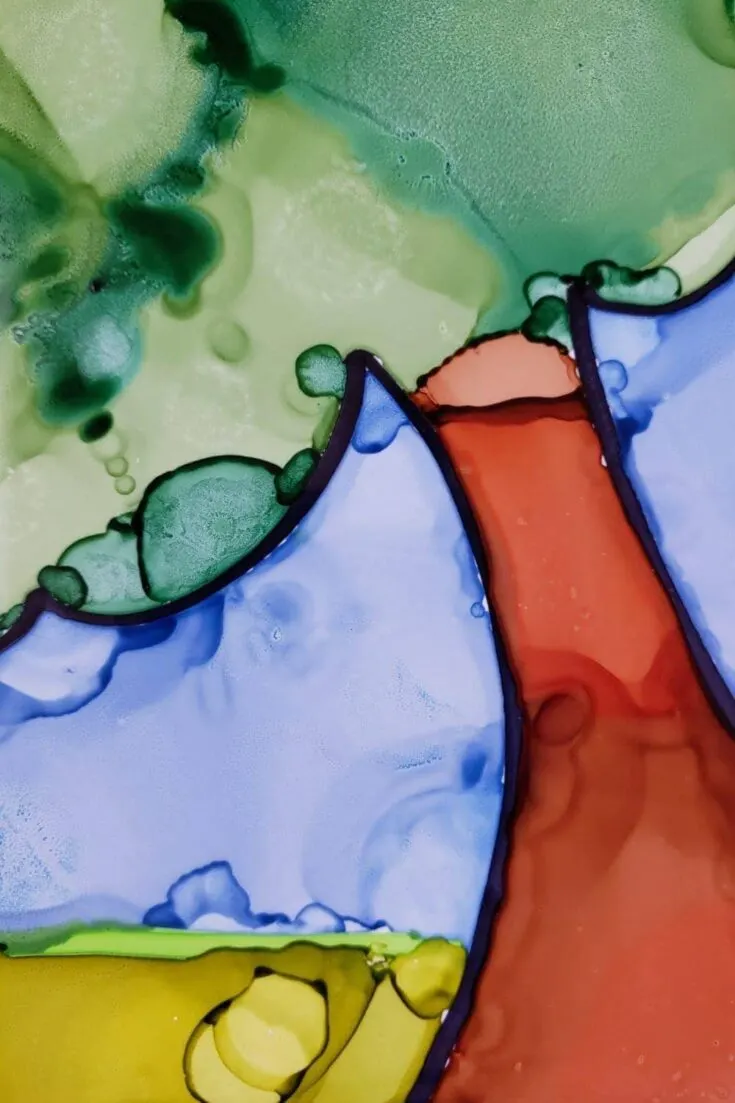 These are perfect for Earth Day crafts or for any time you want to celebrate our beautiful planet! Kids can do them, too! Just make sure they're supervised and wearing their 'get messy' craft clothes.
Additional Time
15 minutes
Materials
3-5 bottles Adirondack Alcohol Ink, in a variety of colors
1 bottle Ranger Adirondack Alcohol Ink Blending Solution
1 ceramic tile, any size
1-2 Sharpie permanent marker, in preferred thickness and color
4 felt stickers
Instructions
With the tile face down, apply felt stickers to each corner.
Make sure the front of the tile is clean and dry.
Use the Sharpie permanent marker to draw minimalistic nature designs--the simpler, the better. Go over your lines to make sure they're about 3-5 mm thick.
Apply the blending solution with a fine tip brush to the inside of your image--or wherever you want to add color. Be sure to stay at least 1 mm away from your marker line, or it will bleed, and the alcohol ink will run through it. (Sometimes this is awesome and creates something unexpected and neat!)
Add droplets of alcohol ink to the areas with blending solution. Be mindful of your color choices because they will mix. (Too many colors will create a dark mess.)
If areas are not getting colored, try using a toothpick to drag the ink to those blank spots.
Once the inside of your image is colored, apply blending solution to your background and repeat steps 4 and 5.
When you're satisfied with your creation, allow it to dry on a flat surface.
Notes
If you make any mistakes, use a cotton swab with a few drops of blending solution as an eraser. If you prefer to do a full reset, you can apply several drops of blending solution directly to the tile and wipe it clean.
Recommended Products
As an Amazon Associate and member of other affiliate programs, I earn from qualifying purchases.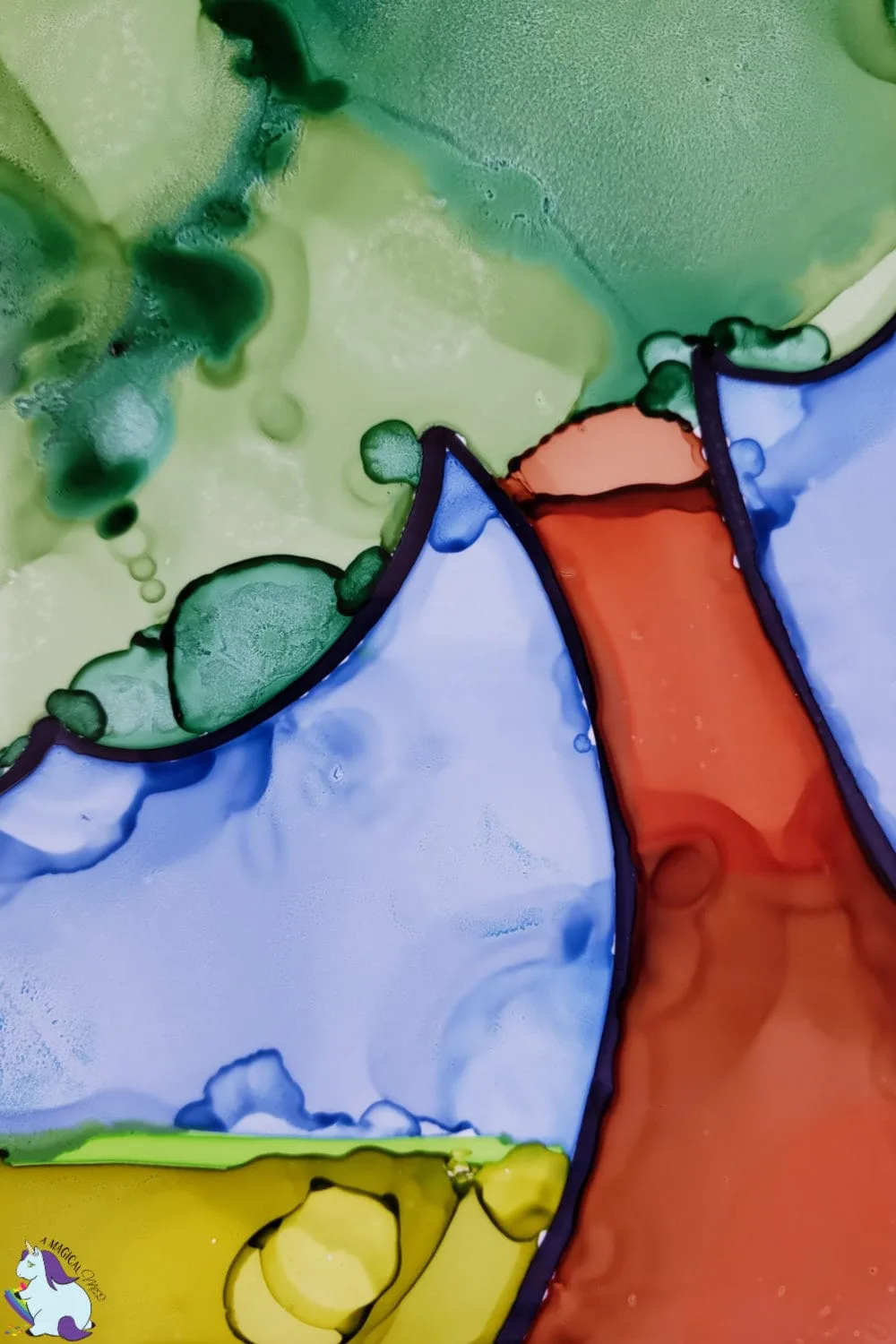 To finish the sides of the tiles, you can color them with Sharpie markers or use alcohol ink. I like creating a "gallery wrapped" look by using the same colors to overlap the edges.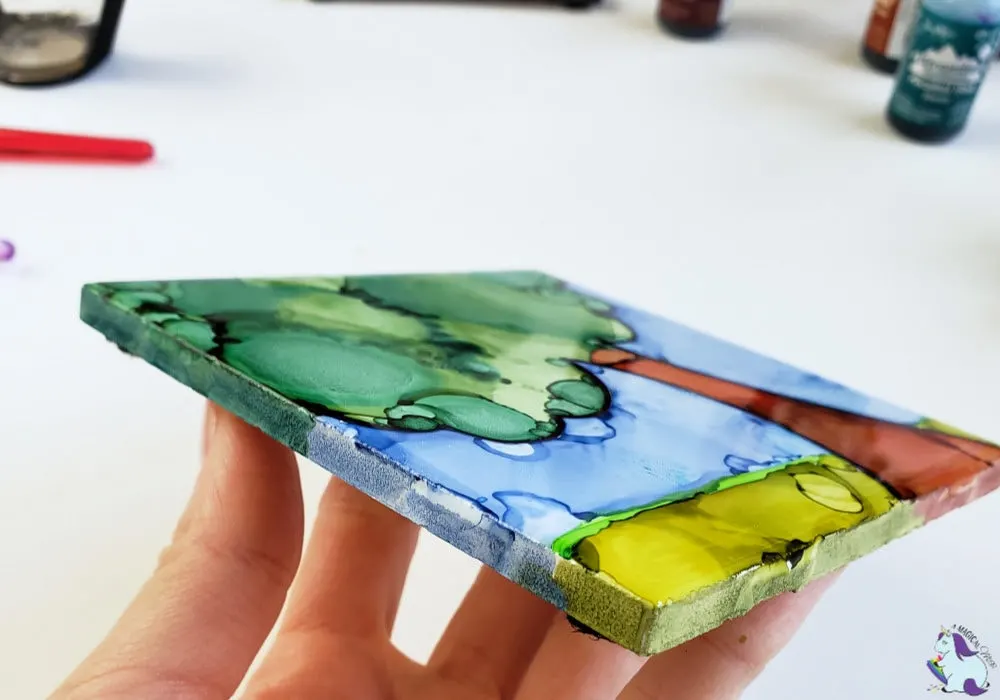 Coming up next are some really pretty alcohol ink flowers you can make to give as Mother's Day gifts!
Do you make an Earth Day craft every year?