Dog first aid kits are great to have on hand. Having more than one is especially helpful when you are traveling, hiking, or anywhere away from home.
This DIY dog first aid kit is filled with the typical items found in a first aid kid, along with a few that are dog specific.
The contents of the kit include helpful items to treat a minor emergency. The kinds of things that are better to have and not need than to need and not have. This post contains affiliate links.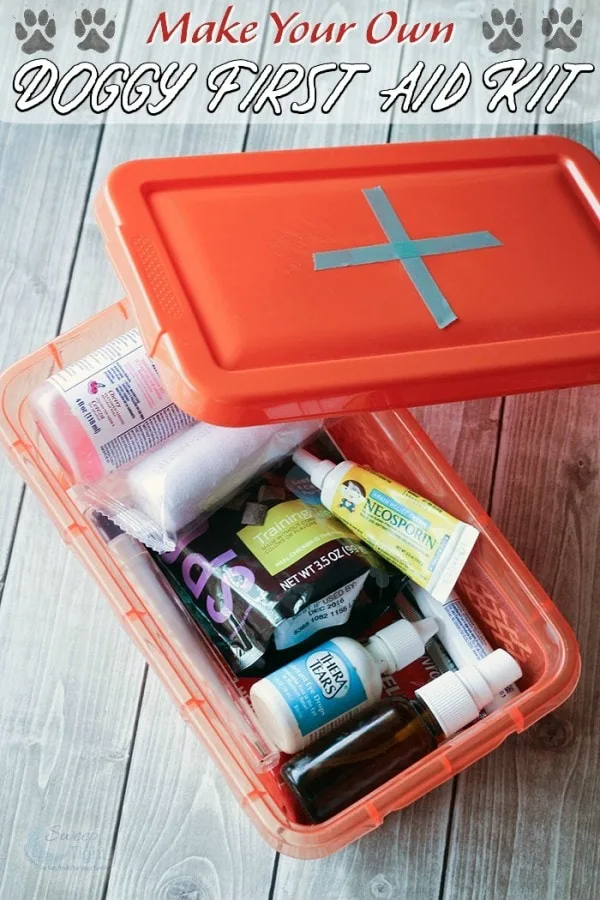 Accidents happen with pets just like they do with humans. It's better to be prepared, especially when you can make your own dog first aid kits with affordable items.
Chances are you have most of these products in your medicine cabinet already. Pet first aid kits are ideal for summer adventures, and they even make great gifts for pet owners.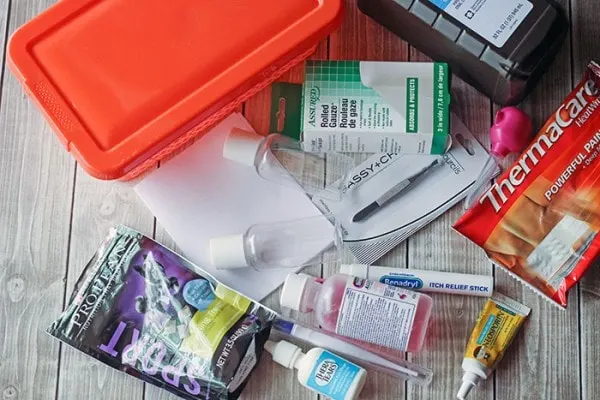 Here are some items you want to include in your kit. The first ten are ones that I consider the most basic and important to include.
The rest I recommend to be extra thorough, but you could make a useful kit without them.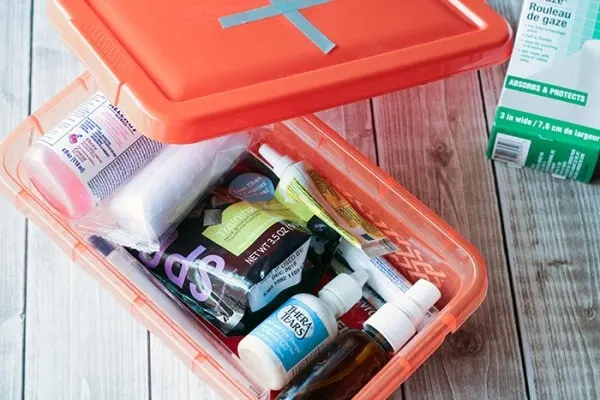 DIY Dog First Aid Kits List
Small Storage Box with Lid – Be sure to mark it, so you know it's for pets.
Dog Treats – To reward or bribe an anxious pet.
Tweezers
Hand Sanitizer
Ace Bandage
Peroxide – Pour some from your large bottle into a small dark glass bottle.
Cotton Balls
Cotton Swabs
Antibiotic Ointment
Eye Wash
Copy of Shot Records – A must if you are on vacation. If you need to run to a different veterinarian, they won't need to wait for records.
Rubber Gloves
Small Pen Flashlight
Children's Benadryl
Instant Cold Pack and Instant Heat Pack
Small Pair of Scissors
Pet's Medications – If your pet takes any prescribed medications, store some in the kit in case of a longer stay than planned.
Pet First Aid Guide – Handy to have on hand for obvious reasons.
DIY Calming Spray – Fill a spray bottle with water with a tsp of witch hazel and five drops of lavender essential oil. Helps to soothe and calm an agitated pet.
Having a pet first aid kit is helpful for anxious people, too. Anyone that knows me knows that I worry about everything — especially my dogs.
My anxiety shouldn't keep them from coming with us on the boat, or other fun outings. If I know I am a little more prepared with a simple kit, it takes the edge off a tad.
Make dog first aid kits to put in your car, boat, camper, or any other vehicle that transports you to spring and summer fun.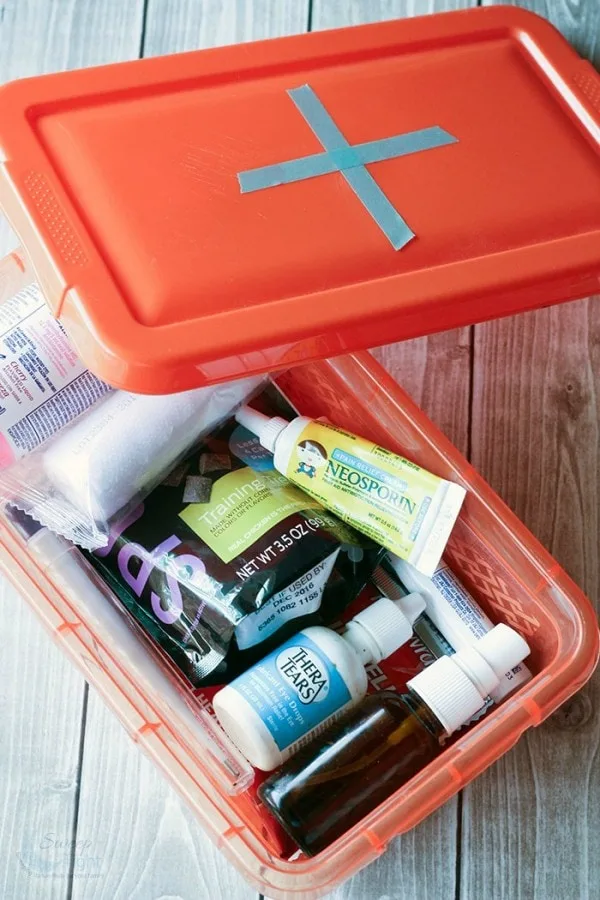 I am sure I don't have to say that your dog first aid kit is not meant to replace your vet. It's only for an emergency until you can get to a professional veterinarian.
Do you make dog first aid kits? Have anything we should add?