My mother-in-law gave me her DIY scrub for tub and sink cleaning, and I love it. With a simple four ingredients, you can create a refreshing scrub for the sink and the bathtub.
I know sinks and tubs come in a variety of materials. I don't find this scrub to be that abrasive, but use your own judgement depending on what you have.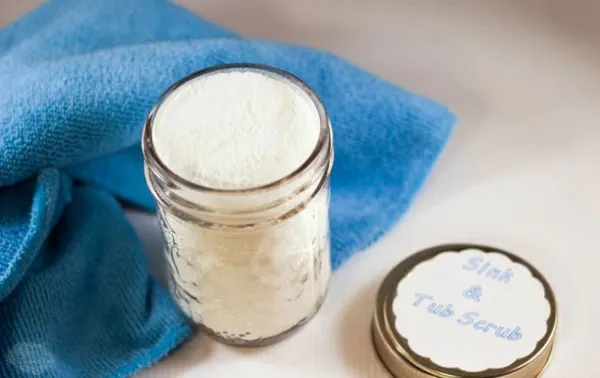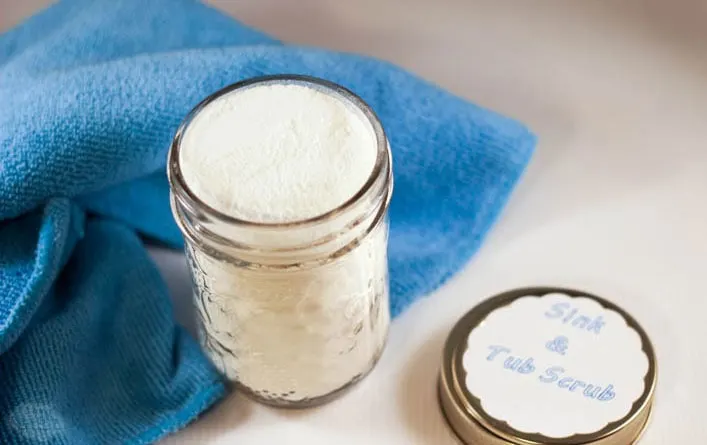 DIY Tub Scrub that Smells Amazing
This quick and easy scrub works great on sinks and bathtubs. There's a light and refreshing scent that leaves everything smelling clean and fresh.
I haven't purchased a sink cleaner since I started making this scrub. So far, it's done the job of thoroughly cleaning every time I need it. And, maybe I'm strange, but I'm a bit obsessed with the scent it leaves behind!
Homemade Tub Scrub Ingredients
Here's what you need to make this scrub. The measurements are in the how-to card below.
Baking soda
Salt
Orange essential oil
Lavender essential oil
How to make your own Sink and Tub Cleaner
Add the baking soda and salt to a bowl and mix well.
Slowly add in the drops of essential oil, mixing frequently to avoid clumping.
Pour the mixture into an airtight glass container. Be sure to label it so no one mistakes it for sugar or something edible.
To use the scrub, simply sprinkle a small amount into your tub or sink.
Use a wet washcloth or sponge to scrub.
Rinse well.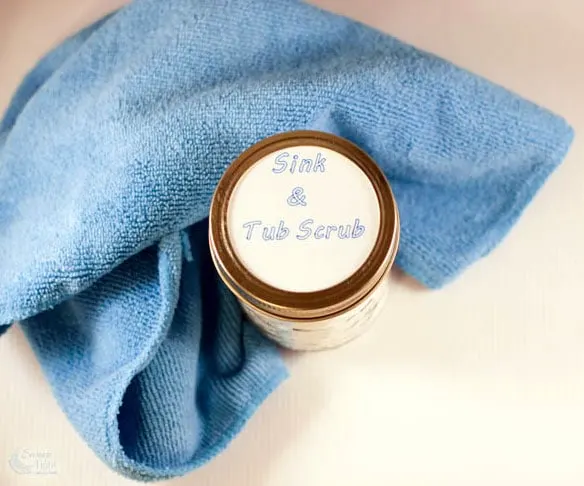 There you have it. It's so easy and does the job. My sinks are left shiny and smelling great. The essential oils leave a fresh, clean smell that lingers. It's a definite improvement over smelling toxic chemicals.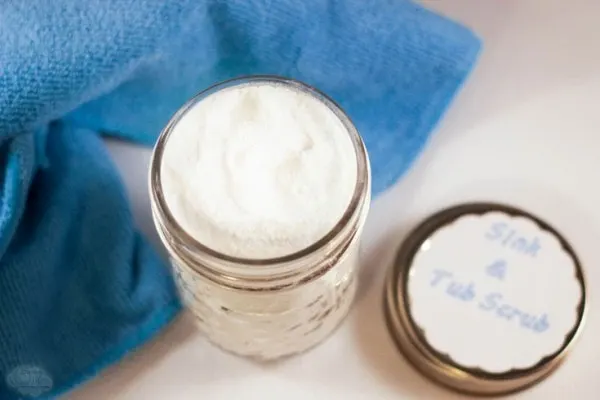 I'm so thankful that my mother-in-law shared this cleaning hack with me. It was just in time for spring cleaning when she shared it. Now, I use it all year and especially during holiday cleaning and any time of the year when visitors may pop over.
I've been trying to cut down on toxic chemicals in the house whenever possible. This homemade cleaner what a great first step. I feel safer if a little bit spills, or one of the dogs jumps into the bathtub and licks it after cleaning (yes, this has happened.) Since the ingredients are items you can bake with, it's not the biggest panic ever if a few sprinkles spill.
Keep this recipe in mind for gift baskets, too. If you ever create a housewarming basket or something similar, this cleaner is an inexpensive addition that would be appreciated.
I hope you like this scrub as much as I do. It's something I make again and again!
Yield: 1.5 cups
Homemade Tub and Sink Scrub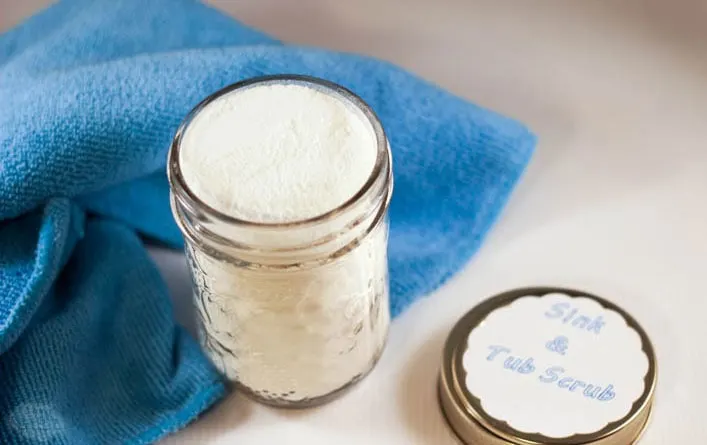 A homemade tub and sink scrub that's easy to make and smells amazing.
Materials
1 cup baking soda
1/4 cup salt
10 drops orange essential oil
5 drops lavender essential oil
Tools
Mixing bowl
Measuring cup
Airtight jars
Labels
Dropper for essential oils
Instructions
In a small mixing bowl, mix together the baking soda and salt.
Slowly add in the drops of essential oils and mix well to avoid clumping.
Store the scrub in an airtight container with a label for safety.
To use, sprinkle a small amount of mixture into your tub or sink.
Use a wet cloth or sponge to scrub.
Rinse well.
Notes
I do not find this to be too abrasive, but be mindful of the material of your tub or sink.
Recommended Products
As an Amazon Associate and member of other affiliate programs, I earn from qualifying purchases.
Home Crafts or DIY
Please pin this image to your DIY cleaner board to save and share!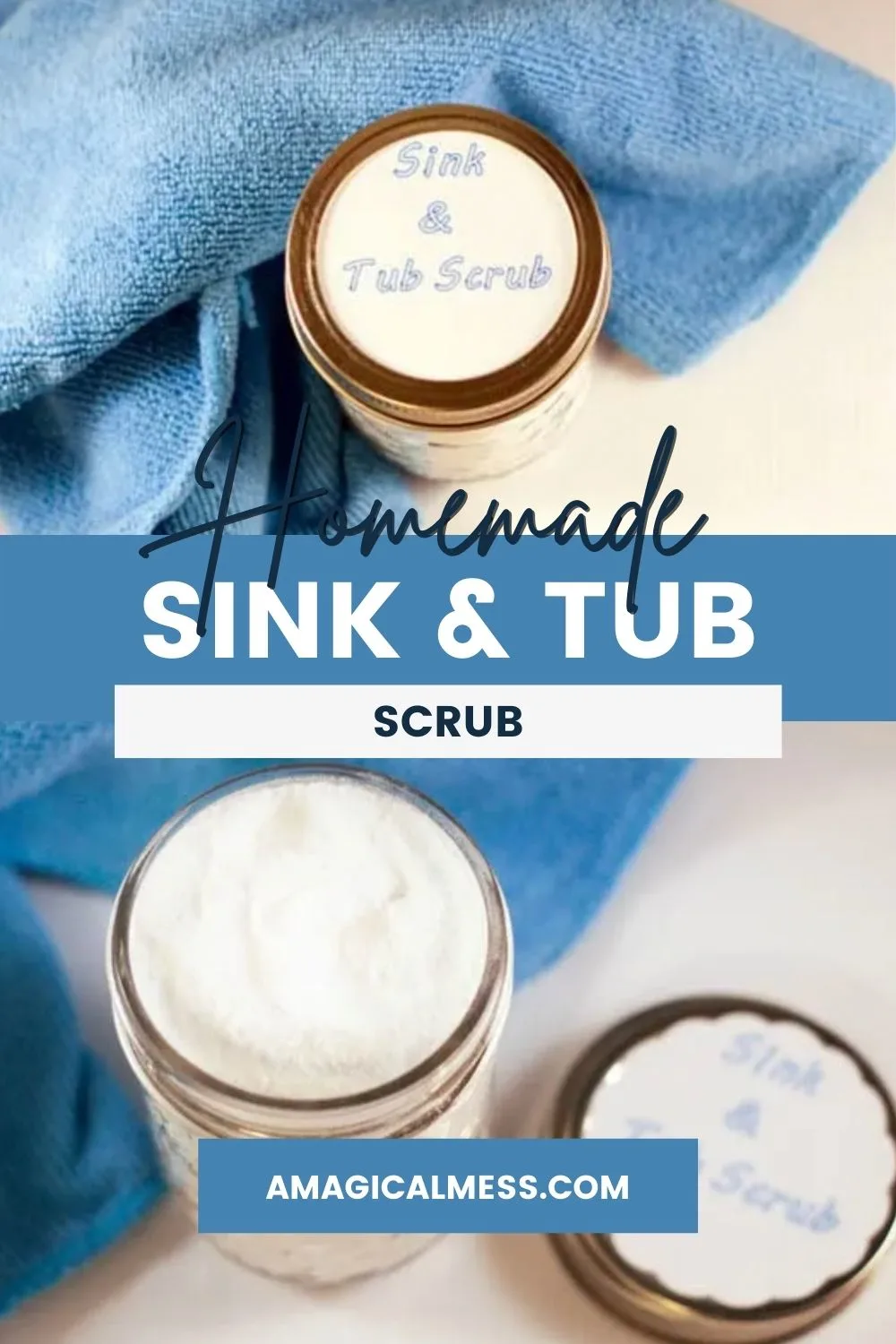 Have you used a DIY scrub? What do you do to keep your sink and bathtub clean?