Sleepypod Air is an airline approved pet carrier that allows your pet to travel in the ultimate comfort. Sleepypod Air is adjustable in order to meet the rules of pet carry-on for all major airlines. Product was received for review purposes. This post contains affiliate links.
Sleepypod Air for Comfortable Pet Travel
Most of us have probably gotten on a plane with our fingers crossed that our carry-on baggage is an "okay" size. I know I have. Well, no one wants to play that guessing game when it comes to their pet.
Sleepypod Air is specifically designed for air travel. They have done their homework and developed a patented design that compresses and expands to make everyone happy.
Your pet will have the most room possible whenever space allows. If the space under the seat is a little smaller the Air will compress to fit. It's truly a genius design!
Inside of the Sleepypod Air you will find a luxurious plush covering over a comfy foam bed. The cover is machine washable and everything else can be easily washed with a damp wash cloth.
Although this carrier is perfect for planes, it's also great for trips anywhere. It has straps that can be secured by a car seat belt for driving trips. It's also extremely modern and stylish to just walk around with!
I have never traveled with a pet by air and have no immediate plans to do so, but I was happy to receive a Sleepypod Air for The Grump.
Since he's like my baby (seriously, it's like he crawled out of my womb), I do not want to leave him… ever.
If by chance we do fly somewhere and he's able to come, in his carrier he will go!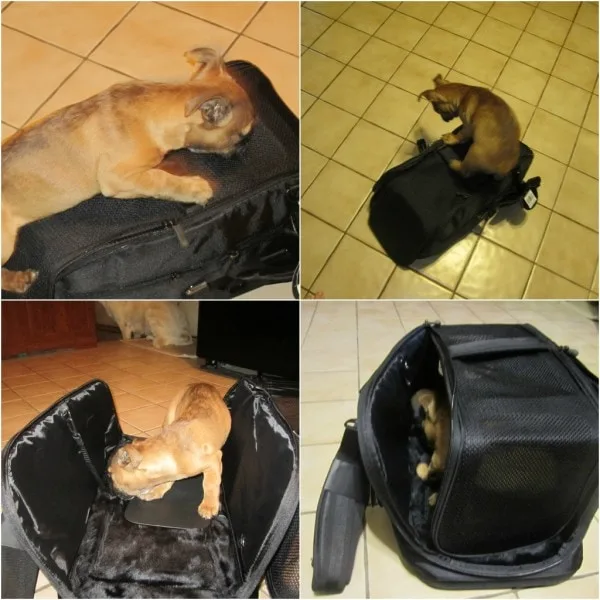 He was moving so fast it was hard to get good pictures!
For now, The Grump just likes to hang out in it. As soon as it arrived he was interested in it. Right away he was sniffing it out and very curious.
We just left it out for him to explore and get used to. After about ten minutes I was able to zip him up in it without any panic.
He was perfectly comfortable and content to be in it. At this point he felt that it was his idea to be in there, so that worked out well!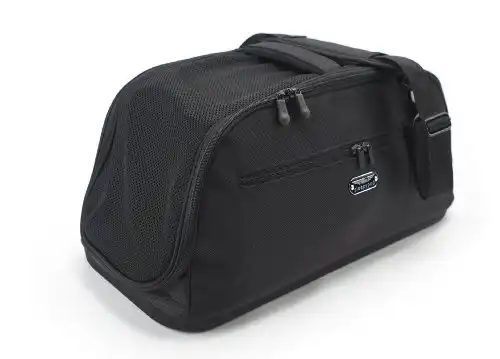 I will also be using the Sleepypod Air quite often for car rides. If Mike and I both are in the car, Grump is fine on someone's lap. But, if I am alone with him he can be kind of a spaz.
To avoid being a distracted (and dangerous) driver, he would be better off in the back seat contained in the Sleepypod.
Not too mention for his own safety… check out this video of unrestrained crash-test doggies! 🙁
Sleepypod offers many products for our beloved pets. Make sure you explore the site, like Sleepypod on Facebook, and follow @sleepypod.