For my daughter's twelfth birthday, she just wanted a sleepover party with her friends. I found myself really struggling to come up with party games for teens and tweens that would entertain them and not be considered lame. I owe a huge thanks to Jimmy Fallon and Joe Santagato for these ideas.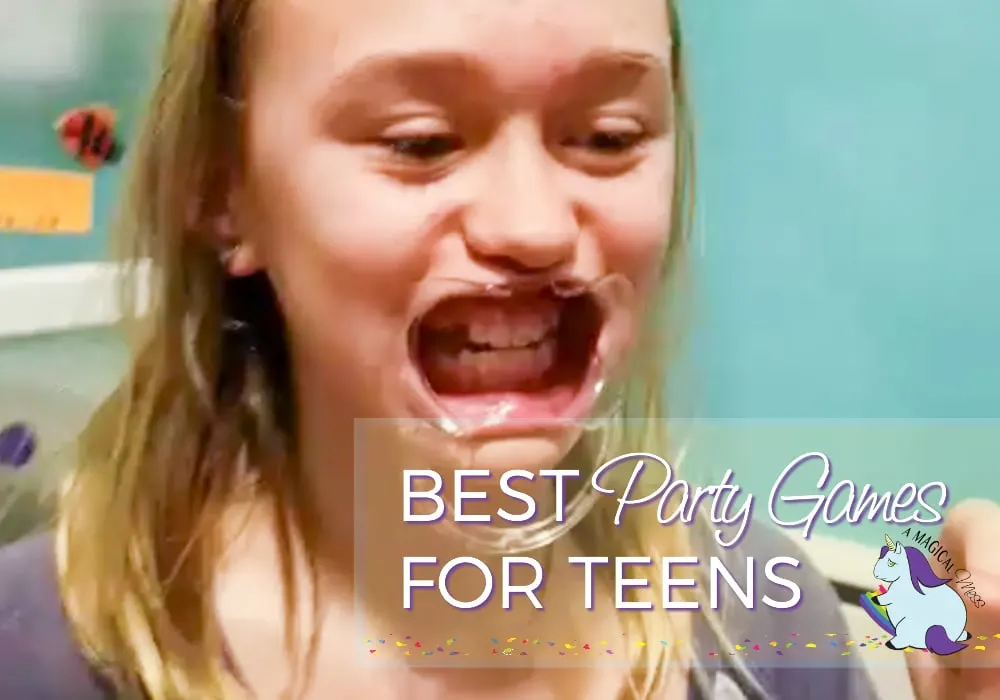 Party Games for Teens and Tweens
This is a tough age to buy for and even tougher to plan a party for… at least until I put myself into the head of a 12 year old girl.
What does my daughter do with her time? She watches funny videos on YouTube. So, I recalled all the funny ones she's showed me and even found a few myself to help inspire some activities to have at her sleepover party.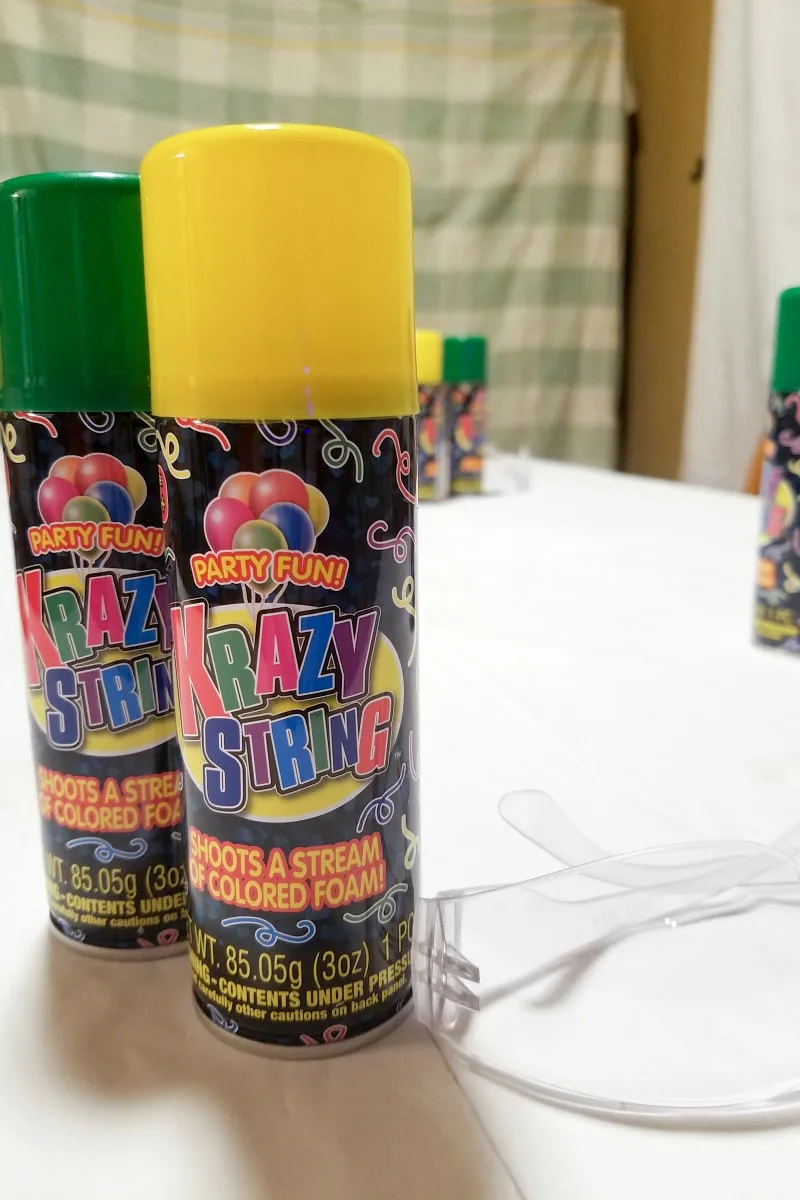 Stranger Strings
If you loved Stranger Things, you'll love the game Jimmy Fallon plays Stranger Strings with the cast from the series. (He also plays with his guests, Little Big Town!) It's hilarious and simple. It's an enormous mess too, so be sure to plan ahead accordingly.
You'll need:
Krazy String (I got a case of 12 for 6 players and it was just enough for 18 rounds)
Safety glasses
Notecards
Tablecloth(s) – cover EVERYTHING
Camera
Buy Now

We earn a commission if you make a purchase, at no additional cost to you.

02/14/2023 06:25 am GMT

Buy Now

We earn a commission if you make a purchase, at no additional cost to you.

02/14/2023 06:50 am GMT

Buy Now

We earn a commission if you make a purchase, at no additional cost to you.

02/14/2023 07:10 am GMT
Instructions:
As your guests arrive, privately ask them to tell you 3-5 funny things no one really knows about them. Do they have a quirky habit? A weird scar? A hidden talent?
Write each funny fact on a separate notecard and don't let anyone see! I wrote them all myself so no one would be able to decipher handwriting.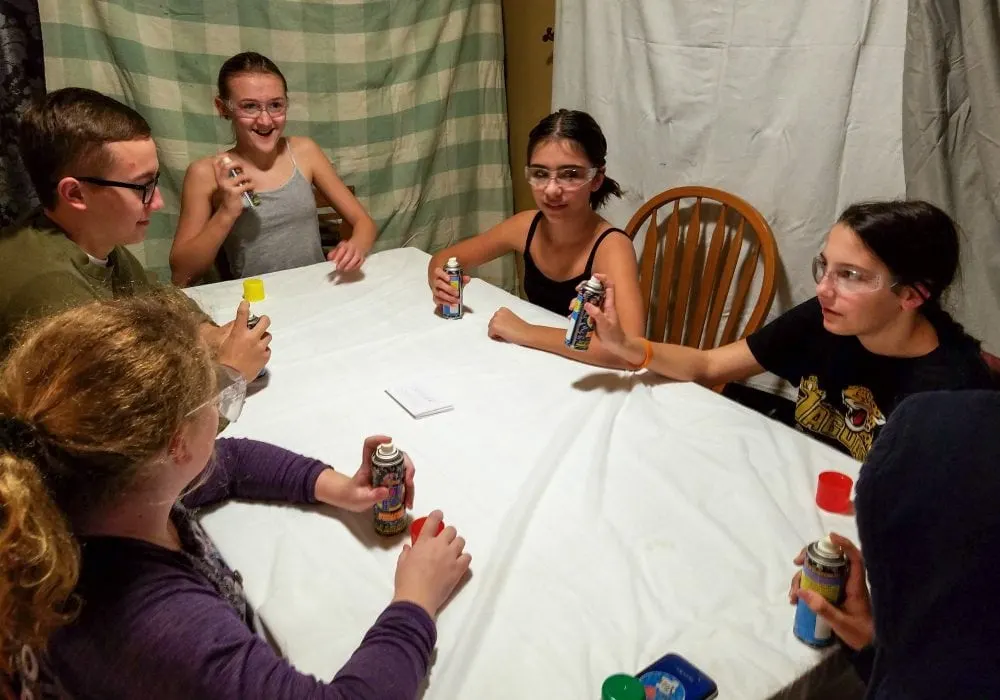 Cover literally everything in the general area and beyond. Even if you choose to play outside, just make sure to clean up the mess because Krazy String isn't good for animals. The best place to play would probably be an empty garage… still cover everything! Once the Silly Strings dries it's easy to sweep/vacuum up, but I missed a couple spots and where the Krazy String hit the painted walls, it left an oily stain. It washes off easily with dish soap, but if it were everywhere, that would be a nightmare.
Make sure everyone has a set of safety glasses and at least 2 cans of Krazy String.
Decide who goes first (we chose the birthday girl,) and have her/him chose one card from the pile. Start by saying "Someone said…" and then read what's on the card. Everyone has to figure out and guess who said it and on the count of 3 shoot Krazy String at who they deem the culprit. After everyone sprays someone, the truth comes out and whoever said it confesses.
Make sure to capture it all on camera! This is a lasting memory you'll laugh at for years to come!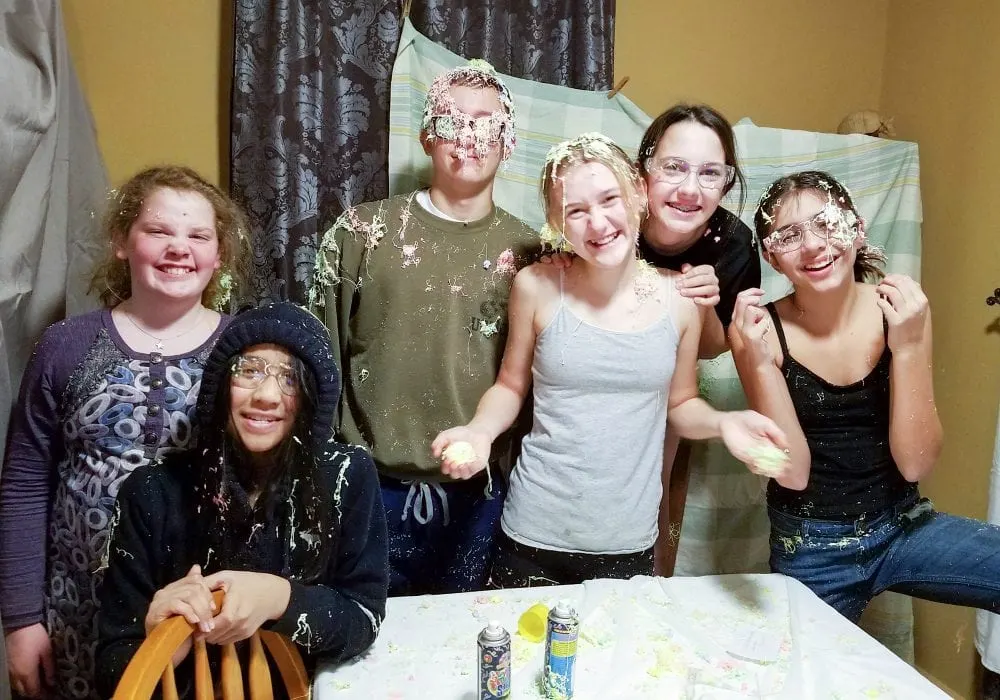 NOTES:
We had 6 players each write down 3 funny facts. And 2 cans each of THIS Krazy String was the best. I read dozens of reviews and am so glad I went with this brand! Each can sprayed perfectly and had just enough to last the duration of the game. It also dries well and cleans up easily.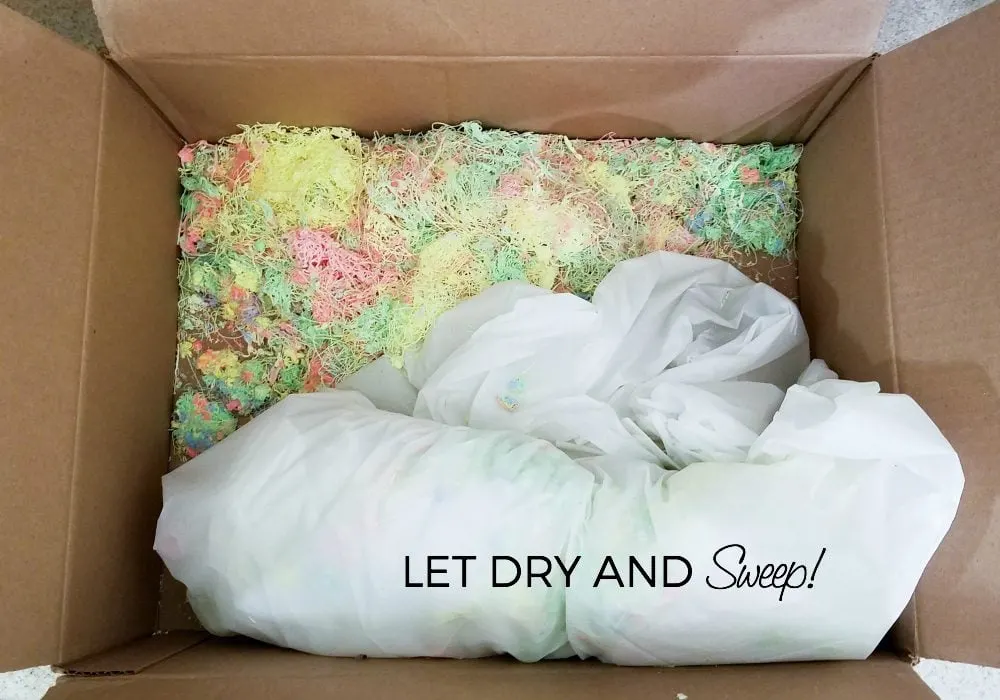 Cleanup tips: Can't say it enough–cover everything. I just used old sheets and blankets. But for everything else, like hair, clothes and bodies, give the Silly String some time to dry and then it brushes right off. Otherwise, sweep and vacuum the floors and furniture. Our sheets washed just fine in the washing machine.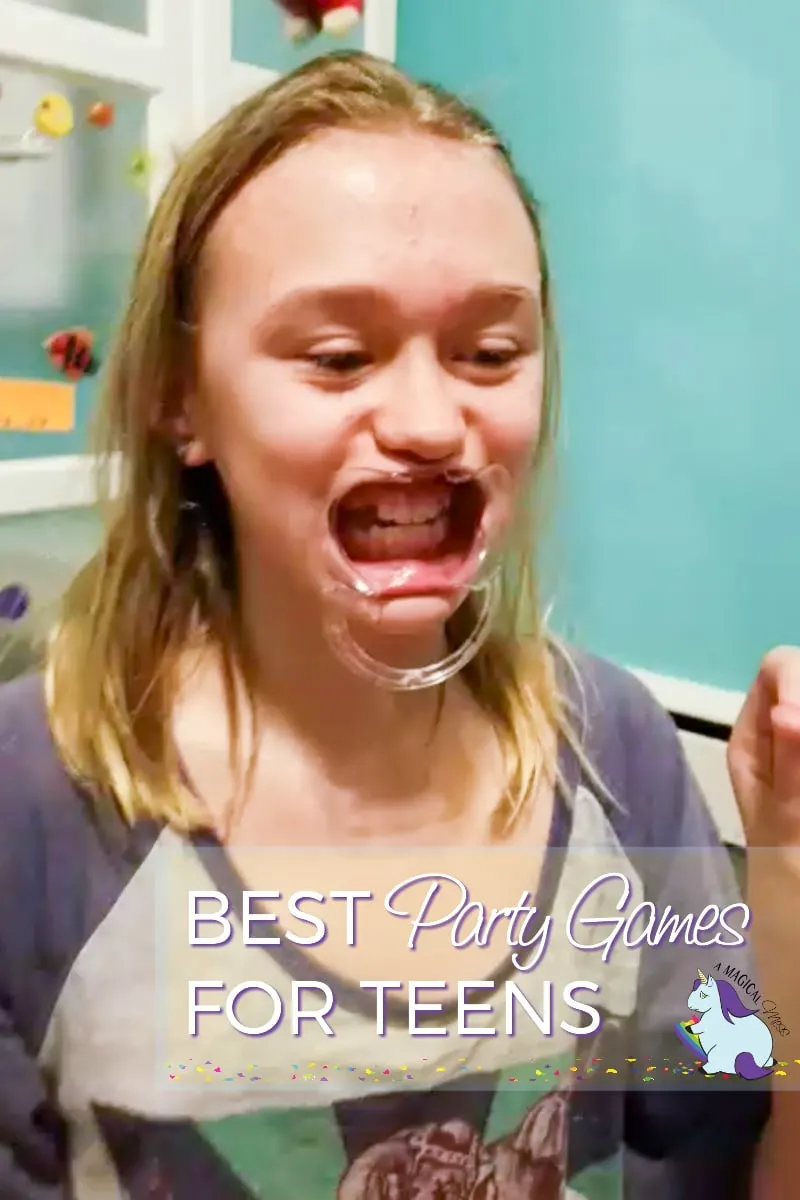 Speak Out
We first saw this game on Joe Santagato's YouTube channel. WARNING: His channel is not the most kid appropriate. I am not winning any parenting awards here. We watch his videos together–seriously look forward to every Tuesday because he's a riot–but his content can be very "adult."
Speak Out Game
Absolutely hilarious game to play with the entire family. Try to guess what the players say with a mouthpiece in.
We earn a commission if you make a purchase, at no additional cost to you.
Anywho, this Speak Out game is absolutely hysterical. The girls played for a while reading off the cards that come in the box but then took to just singing and laughing at themselves.
Huge moment of pride when I came around the corner and heard them singing a song from my all time favorite movie, The Labyrinth. David Bowie would have been honored. 🙂
Other Activities
They played Minecraft, Mad Libs, and ate tons of fun snacks. I had other things planned but they honestly had so much fun with Stranger Strings and Speak Out, my job was done.
The moms were calling me the next morning saying their daughters wouldn't stop talking about all the fun they had. I'm so glad Chesney's 12th sleepover party was such a success!
Check out our underwater birthday party themes!
What sorts of party games for teens and tweens do you play?