In case of emergency, I definitely want rescue workers to know that we have pets.
This is an actual fear of mine every time we are not home, so I was thrilled to review this fabulous product from BoRegards.com.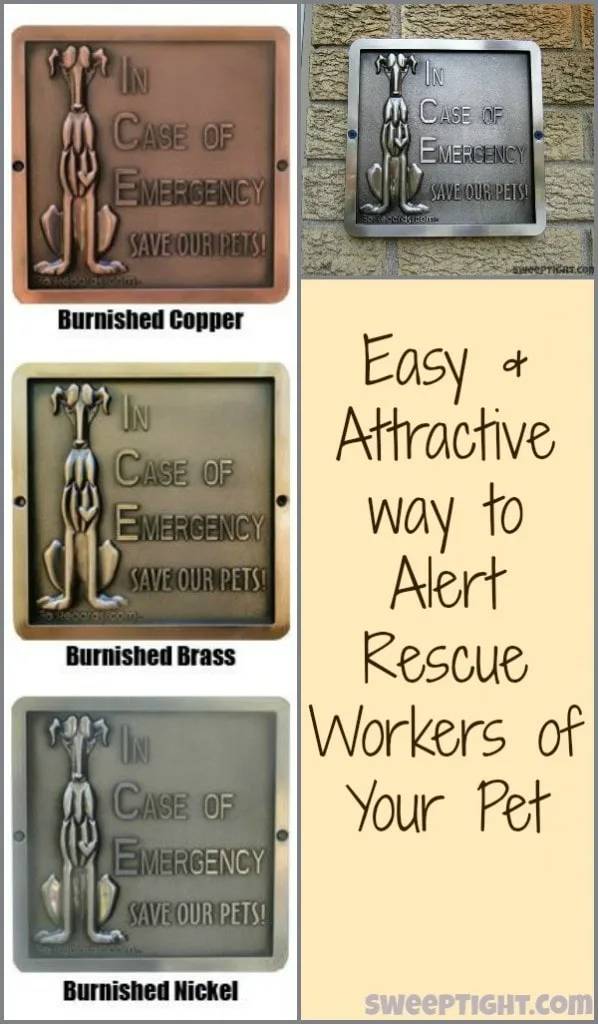 I remember a long time ago my mom said she was afraid to leave her dogs alone in the house.
"What if there's a fire?", she said. "What?? Who thinks like that?", I replied.
Well, now I think like that, thank you very much.
About a month ago there were construction workers on our block for about a week straight.
They were digging to put street lights in. It seemed like every day there were emergency vehicles present due to a gas leak.
I was flipping out! Then, I would have to leave for work and think about all the worst case scenarios.
Of course, Mike thinks I am a super spaz, but stuff happens.
In Case of Emergency Alert Plaque for Pets
We had a super-faded decal in our front window that had come from the Humane Society.
It was an In Case of Emergency sticker, but it was small and hard to read, and like I said, very faded from the sun.
BoRegards.com has the real deal!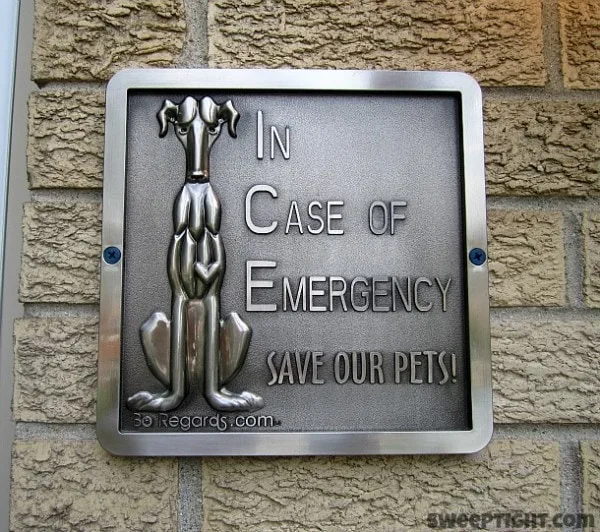 Fire safety plaques from BoRegards.com come in 3 different finishes to match your decor.
We chose burnished nickel and it looks great with our mailbox. The plaque looks a lot classier than our old decal!
If there was ever a case where a rescue worker had to go into our home I can only imagine how my pets would react.
I know Hilo would make his presence known right away, but I am not too sure how The Grump, our Boston terrier/pug mix, would react.
He tends to hide when he is frightened, so there's no guarantee that workers would see him unless they knew to look for him.
Ugh! I just shudder at the thought!
We also received a nice new pet safety sticker that you can write on.
This is where you can let them know exactly how many dogs, cats, and other pets that you have.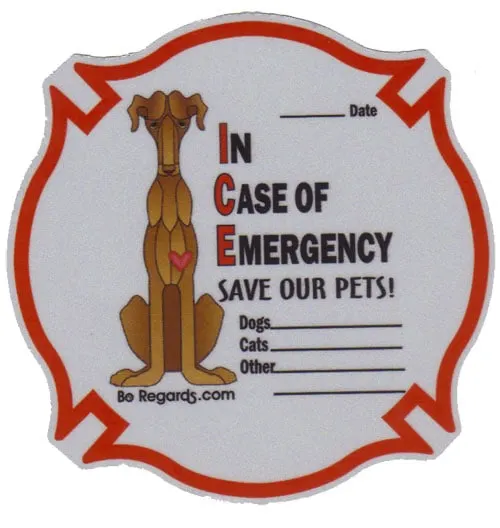 Hopefully, no one ever needs this, but I think it's great to have.
Rescue workers want to rescue, so I believe that they will look for any living creatures if they know to do so!
Just a side thought — I think this might also deter burglars.
I just watched a special on home invasions saying that most of them won't mess with houses that have dogs.
Plaques can be purchased at BoRegards.com for $34.95 and the reflective stickers are only $5.00.