Green tea overnight oats are now on my list of favorite breakfast items. It took me a while to hop on the overnights bandwagon, but now that I have, I am hooked. It's the easiest, healthiest, and most filling breakfast I believe I've ever eaten.
This is coming from a person who's breakfast used to consist of mass quantities of coffee. This post contains affiliate links.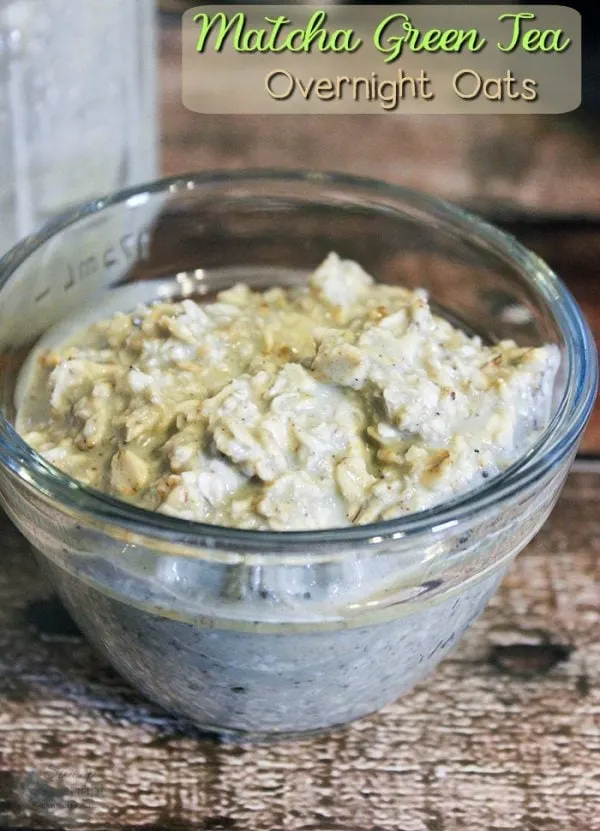 It all began when I tried this simple overnight oats recipe and loved it. Overnight oats have been my breakfast almost every day since then. I experiment with different ingredients to try to pack in the most nutrients and create delicious flavor combos.
One I was eager to make work was Matcha green tea overnight oats. I adore Matcha and try to use it as often as possible. Another favorite recipe of mine is this copycat Starbucks Green Tea Frappuccino.
It took me a few tries to get these green tea overnight oats to taste good. The first batch was way too sweet. The second one tasted a bit like dirt. The third and final was the winner.
It tastes quite bland, but that's what I like. Knowing this, I will suggest some add-ins to try if you like more flavor. Personally, I prefer plain in the morning. Anything too sweet for breakfast leaves me feeling gross.
Matcha Green Tea Overnight Oats Recipe
Ingredients
1/2 cup oats
1 teaspoon organic coconut sugar
1 teaspoon vanilla protein powder
1/2 teaspoon Matcha green tea powder
1/4 teaspoon vanilla extract
1 tablespoon plain Greek yogurt
1/2 cup milk
Instructions
Add all ingredients to a mason jar
Stir well
Close tightly and refrigerate overnight
The next morning, remove from fridge and stir
Eat the oats warm or cold, your choice
Notes
This recipe tastes quite plain. If you like more flavor, here are some add-in suggestions: Banana, dark chocolate shavings, nuts, or any type of fruit you like.
I use this Matcha green tea powder. A little goes a long way. I have had the same bag for a very long time. The vanilla protein powder that I use is from ALOHA. If I do my Sundays right, I meal prep as much as possible.
I prefer these mason jar lids since they are dishwasher-safe. Sometimes the other mason jar lids get a little rusty or gross. After I read that coconut sugar has a lower glycemic index, I started using it exclusively in my oats.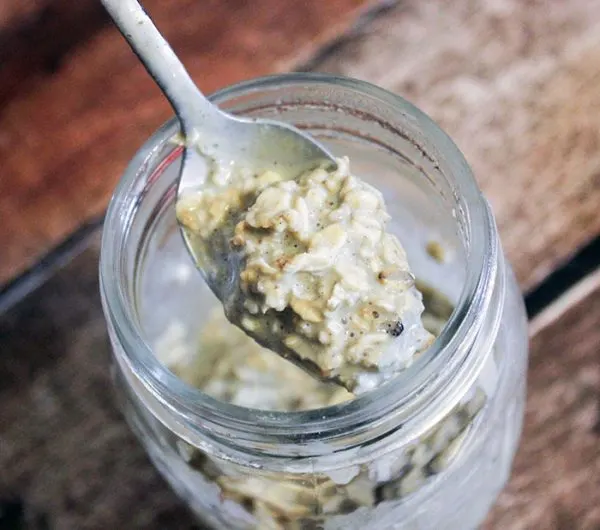 All of the other ingredients are pretty basic. You may have many of them in your pantry already. You can use any type of oats, even steel cut oats if that's what you prefer. I am sure I will do a lot more experimenting, so stay tuned!
Have you ever had green tea overnight oats?