No machinery necessary for this pumpkin ice cream recipe.
Using a few common ingredients, you can whip up a batch of rich and creamy pumpkin ice cream in just hours.
No churn ice cream recipes are fun to make.
Creating homemade ice cream exactly to your liking is easy.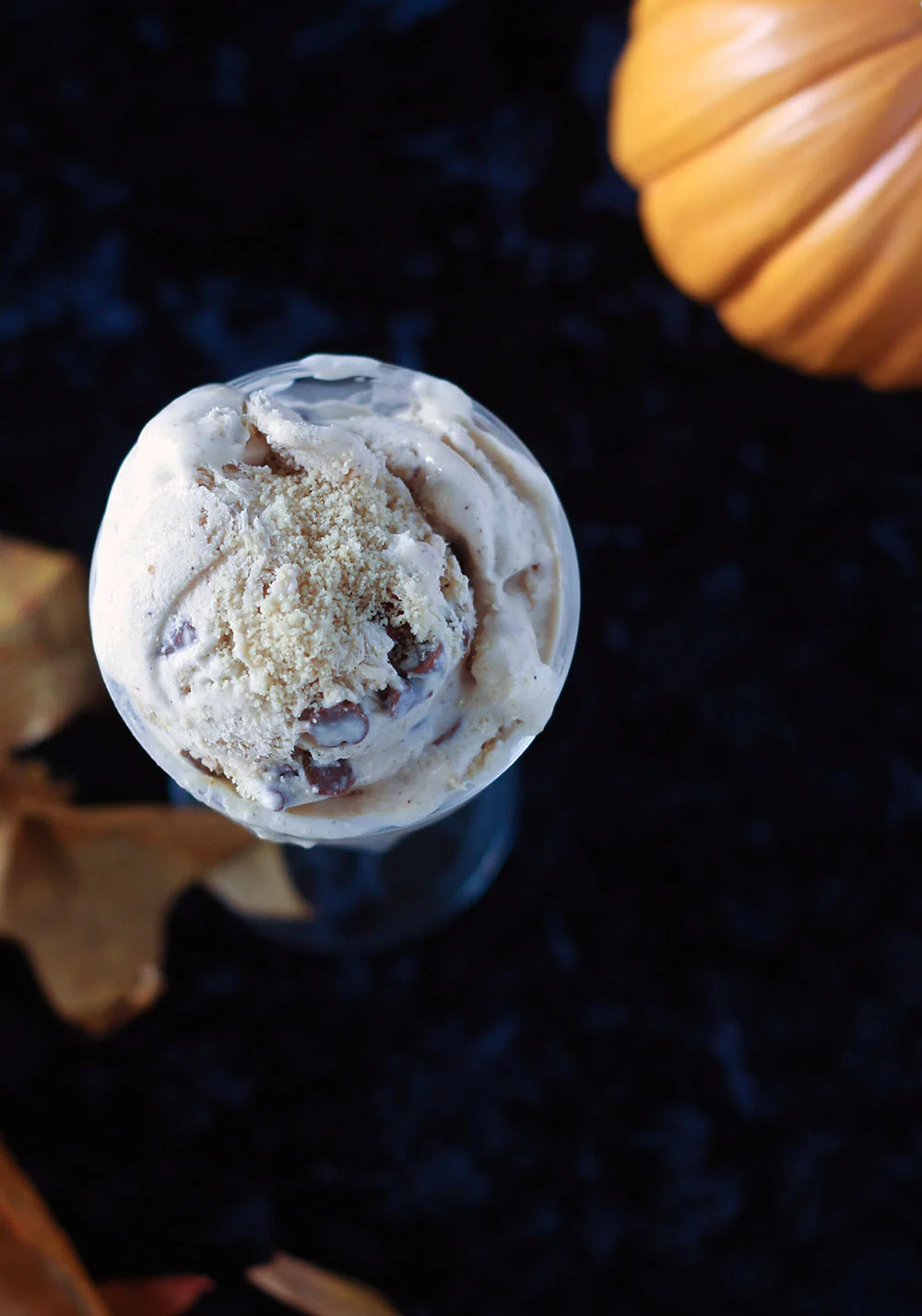 Pumpkin Ice Cream Recipe
Pumpkin season is here, and we are taking full advantage of it.
Shelley and I took a day to make a batch of pumpkin recipes at our Grandparents' house.
Their home is gorgeous, and much more ideal for mass producing recipes.
Plus, we left most of the creations over there, saving us the calories.
Cause, if you know me at all — this ice cream wouldn't last an hour left alone with me.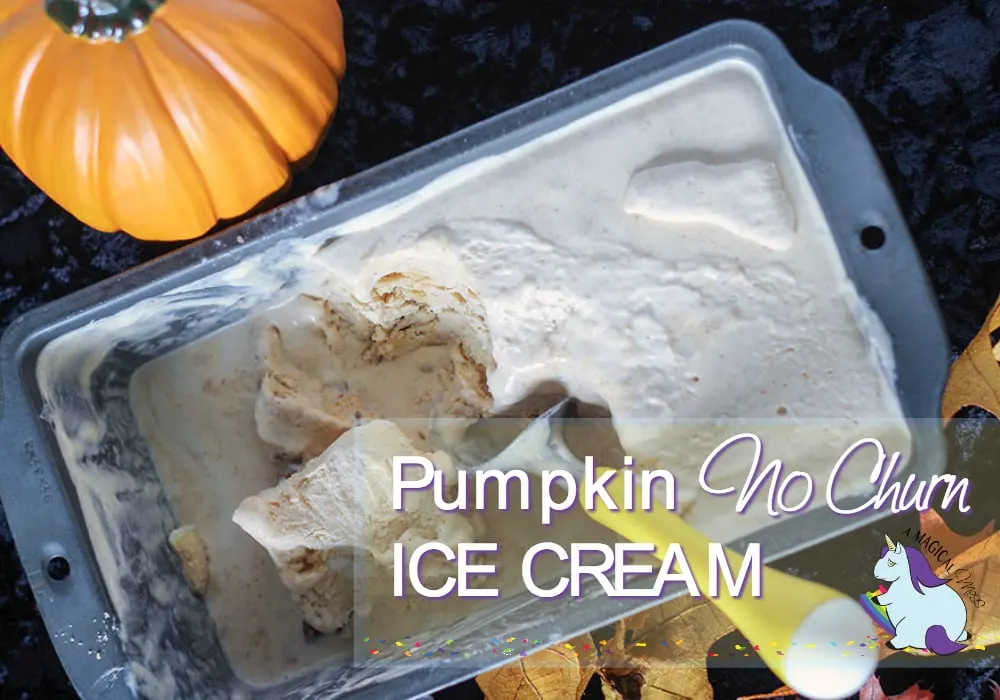 We got a little crazy with the add-ins with this ice cream at first.
In addition to the Oreo chunks and cinnamon chips, we also swirled in cream cheese frosting.
The result was way too sweet.
We recommend saving the frosting for the pumpkin squares and keep the mix-ins to a minimum.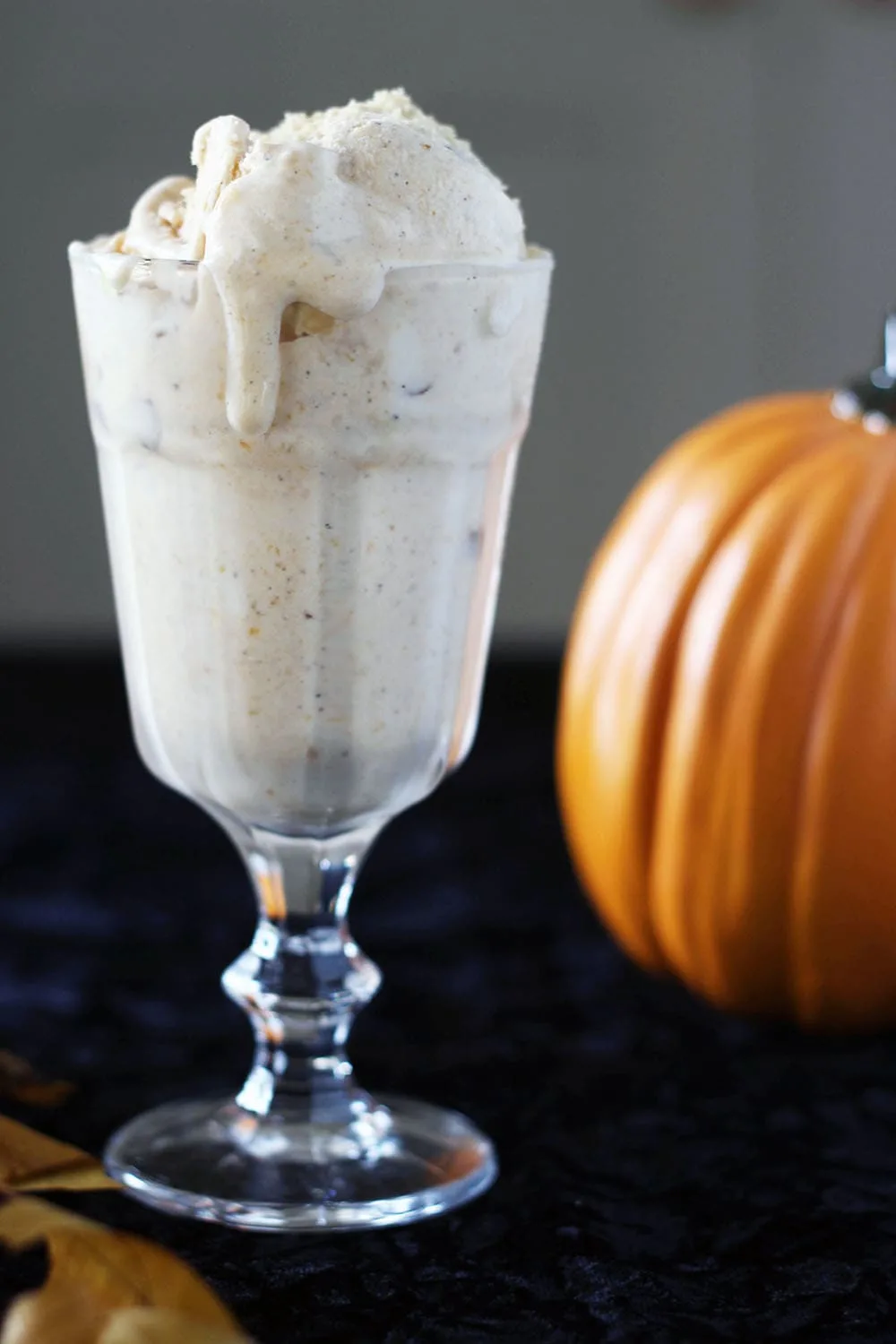 If you want to prep ahead a bit, store a mixing bowl and a loaf pan in the freezer or fridge before you start making the recipe.
The process goes smoother if those two things are chilled.
A standing mixer with a whisk attachment is another time-saver.
But, a mixer works just fine, too.
I tried to hand whisk the whole time, and the only thing that ended up stiff was my forearm.
I guess that makes the whole "no churn" name a dirty lie, huh? Oh well, ice cream is always forgiven.
No Churn Pumpkin Ice Cream Recipe with Cinnamon Chips
Ingredients
14 ounce can of sweetened condensed milk
1/2 cup pure pumpkin
1 teaspoon vanilla bean extract
1/2 teaspoon cinnamon
1/8 teaspoon nutmeg
2 cups heavy whipping cream
6 vanilla Oreos broken into chunks (optional)
2 tablespoons cinnamon chips (optional)
Instructions
Whip heavy whipping cream in a chilled bowl until stiff peaks form.
Combine all of the other ingredients except the chips and cookies in another bowl.
Fold mixture into the whipping cream.
Carefully stir in the Oreo chunks and cinnamon chips.
Pour into a chilled loaf pan.
Freeze for 6 hours or overnight.
Store in the freezer in a covered container.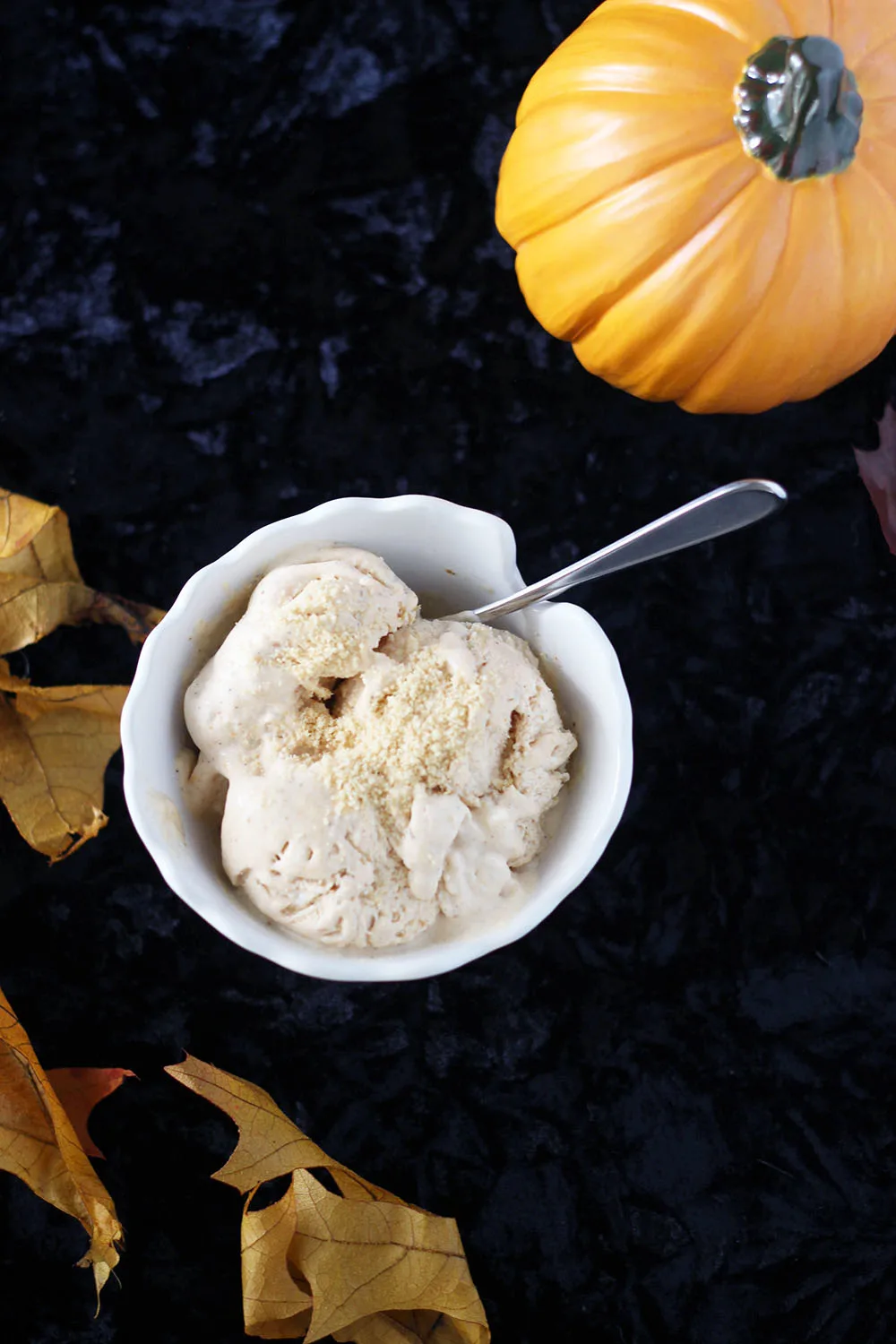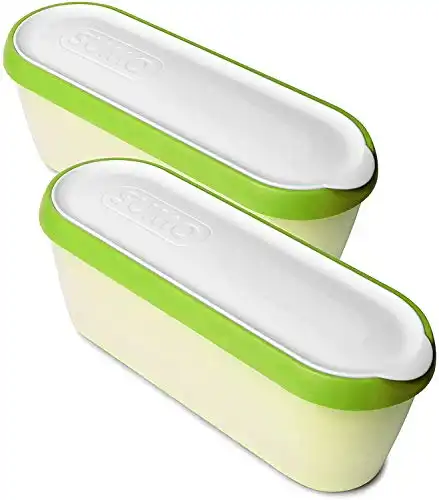 Homemade Ice Cream Containers
If you make homemade ice cream often, these containers are awesome! They stack nicely in the freezer if you make more than one batch, too.
Buy Now from Amazon
We earn a commission if you make a purchase, at no additional cost to you.
09/12/2023 05:11 pm GMT
If you like pumpkin, and you like ice cream, give this pumpkin ice cream recipe a try.
Feel free to choose your own mix-ins to your liking.
Let us know what you add and how it turns out.
We can't get enough no churn ice cream recipes!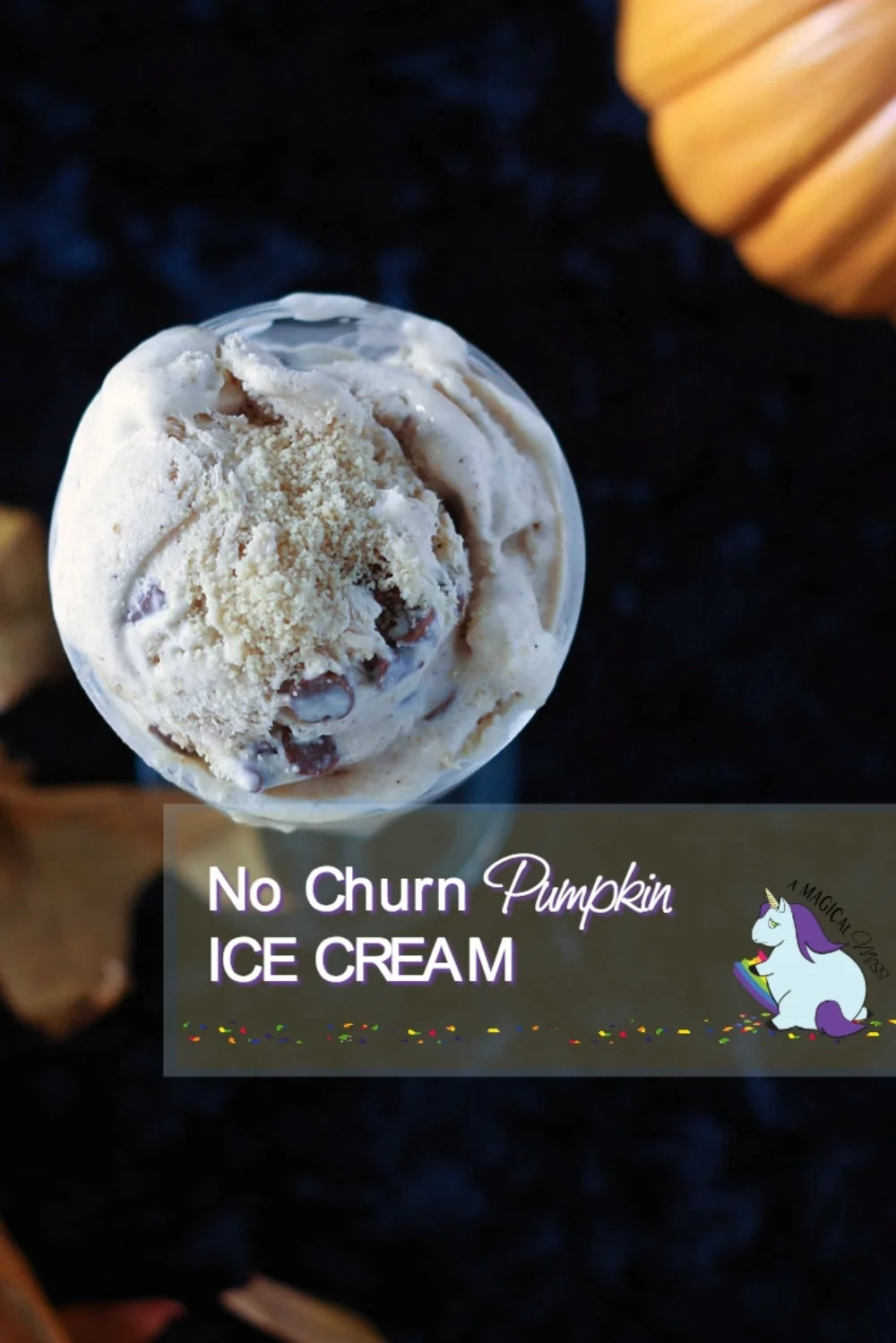 More ice cream recipes to try
Do you think you would like this pumpkin ice cream recipe?