Make treats for your sweets with an easy raspberry tarts recipe. These shortbread-like tarts will warm your loved ones' hearts this Valentine's day. The raspberry bites are great any time of year, but don't forget that day of love is this week.
That means kids, family, friends, and significant others – we will even include our pets – everyone you love gets treats!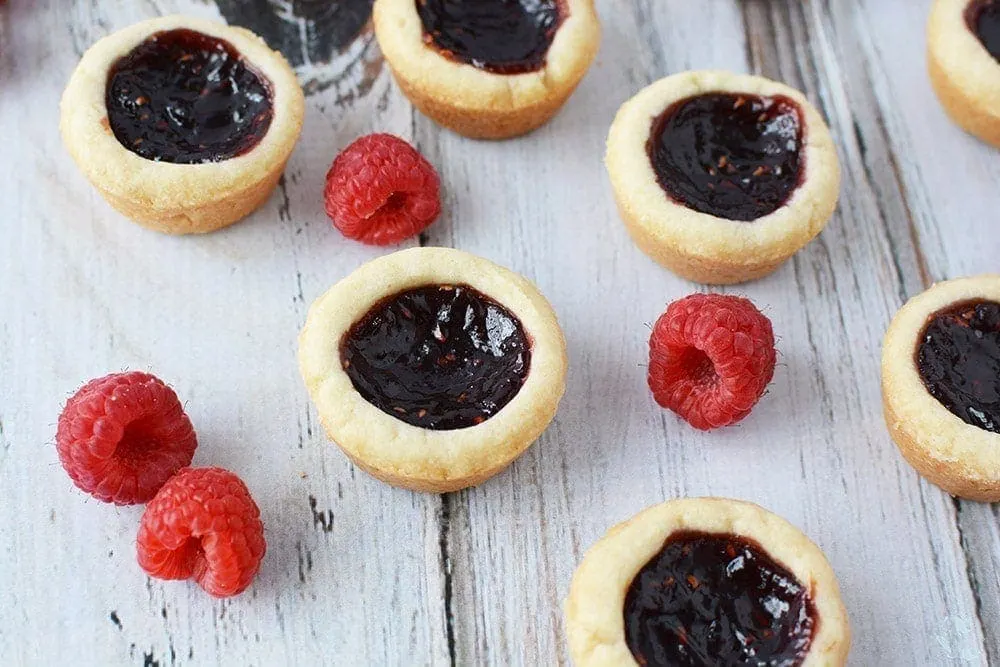 Buttery Shortbread Raspberry Tarts
The buttery crunch of the tart combined with the smooth, fruity center of the preserves is a delicious combo that's not overly sweet. This raspberry tarts recipe makes mini muffin sized tarts.
This easy raspberry tarts recipe is something you'll want to make for Easter brunch, spring gatherings, Mother's day, Valentine's Day, Galentine's Day, baby and bridal showers, and all the holidays. The red color even makes them great for Christmas cookies.
These also resemble the blueberry pie cookies we just made. Be sure to check out all the the pies we turned into cookies!
Reasons to Love This Tart Recipe
Sweet and tangy: Raspberry tarts have the perfect balance of sweetness and tanginess, making them a crowd-pleaser for those who love fruity desserts.
Beautiful presentation: The vibrant red color of the raspberries gives these tarts a beautiful pop of color, making them a great option for special occasions or when you want to impress your guests.
Versatile: Raspberry tarts can be made in various shapes and sizes, including individual mini tarts or a larger tart that can be sliced and served. They are also a great way to use up any extra berries you have on hand.
Easy to make: Raspberry tarts may look fancy, but they are actually quite easy to make. With just a few simple ingredients, you can have a delicious dessert ready to serve in no time.
Customizable: You can easily switch up the recipe by using different types of preserves, such as strawberry or apricot, or adding a layer of cream or chocolate on top of the raspberry filling.
Perfect for any season: Whether you're making these tarts in the summertime when fresh raspberries are in season or during the winter months using frozen berries, they are always a delicious treat.
Raspberry Tart Ingredients
Here's what you need to make this recipe. The measurements are in the recipe card below.
Butter
Powdered sugar
Flour
Water
Raspberry preserves
How to Make Raspberry Tarts
Preheat your oven to 300 degrees Fahrenheit.
Prepare your mini muffin pan by using a nonstick one or greasing a regular one with nonstick cooking spray. Set it aside.
In a food processor, combine the butter, sugar, and flour. Pulse until the mixture resembles small granules.
Add water and pulse for about 20 seconds until a dough forms.
Use a tablespoon to scoop the dough and roll it into balls.
Place each ball into the prepared muffin pan and use a tart shaper dipped in flour to create a cavity in the center of the dough.
Fill each cavity with a spoonful of raspberry preserves.
Bake the tarts for 17-22 minutes or until the edges begin to brown.
Remove the tarts from the oven and let them cool completely before serving. Enjoy!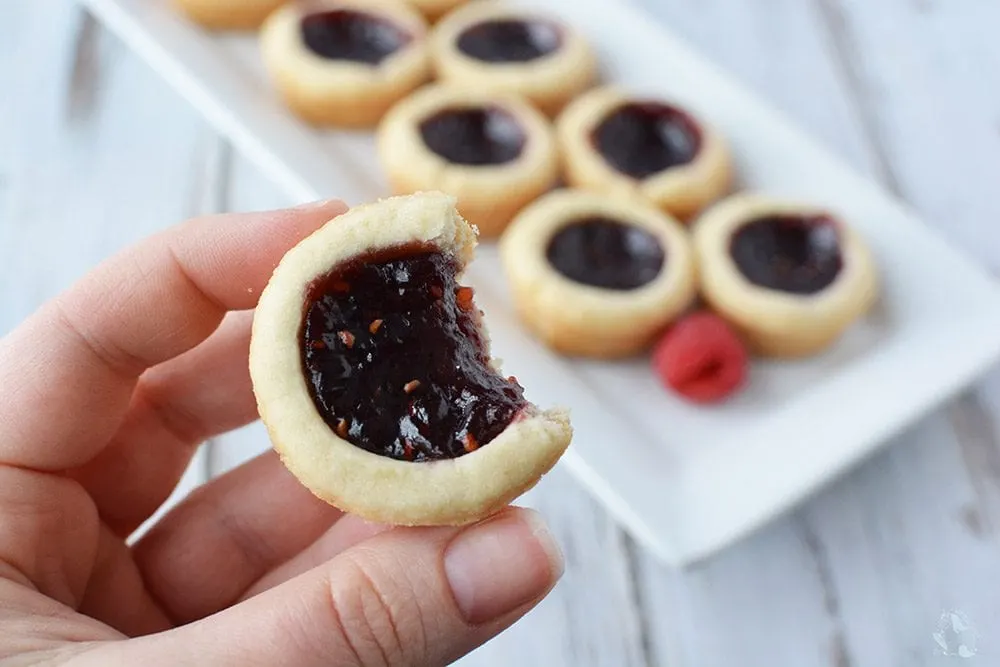 What to Serve with These Tarts
Whipped cream: A dollop of freshly whipped cream on top of each tart can add a light and creamy texture that complements the tartness of the raspberries.
Fresh raspberries: You can top each tart with a fresh raspberry or a few berries to enhance the raspberry flavor and add a pop of color.
Mint leaves: Adding a few fresh mint leaves on top of each tart can add a refreshing and aromatic touch to the dessert.
Ice cream: Serving the tarts with a tiny scoop of vanilla ice cream can create a delicious hot-cold contrast, and the creamy sweetness of the ice cream can balance the tartness of the raspberry filling.
Tea or coffee: A warm beverage like tea or coffee can be a perfect companion to the tarts and create a cozy and comforting dessert experience. Serve them at a tiny tea party!
Chocolate: For chocolate lovers, you can drizzle melted chocolate over the tarts, or serve them with a side of chocolate sauce or shavings, adding richness and decadence to the dessert.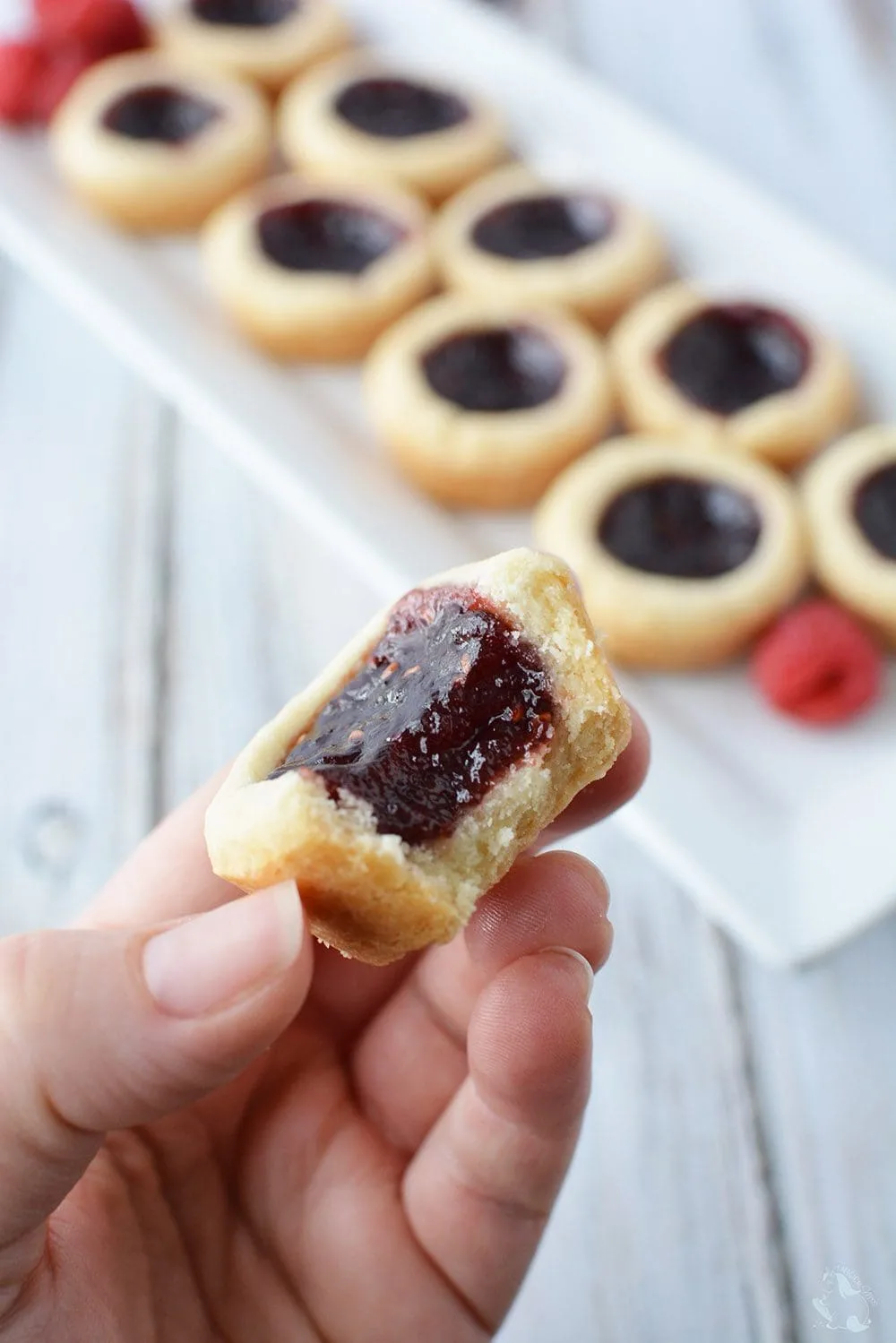 Recipe Variations and Substitutions
Filling: Instead of raspberry preserves, you can try other types of preserves, such as strawberry, blueberry, or apricot. You can also make your own filling by blending fresh or frozen berries, adding sugar and a thickener like cornstarch, and cooking it until thick and bubbly.
Topping: You can add a crumbly streusel topping made of butter, flour, and sugar to the tarts before baking, or sprinkle the tarts with chopped nuts for added texture and flavor.
Size: Instead of using a mini muffin pan, you can make larger tarts using a regular-sized muffin pan or a tart pan, and adjust the baking time accordingly.
Kitchen Tools Needed
Food processor: to blend the dough ingredients into a consistent texture. You can also use a pastry blender and some elbow grease to make the dough. See an example of that in our fairy shortbread bites recipe.
Measuring cups and spoons: to accurately measure the ingredients for the dough.
Mixing bowl: to mix and knead the dough by hand if you prefer not to use a food processor.
Tart shaper: to create a cavity in the center of each tart.
Mini muffin pan: to bake the mini tarts.
Nonstick cooking spray: to grease the muffin pan if you're not using a nonstick one.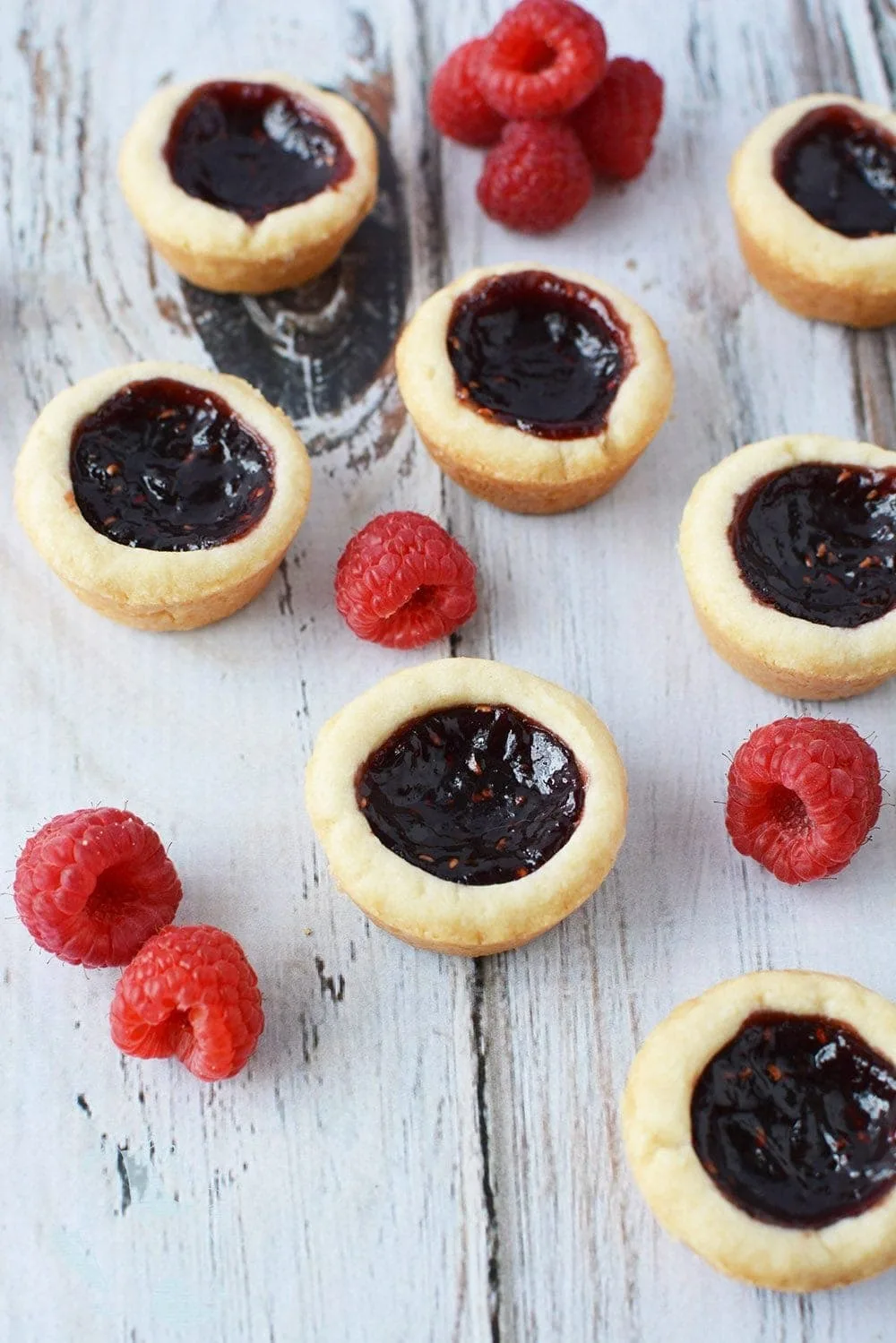 How to Store Raspberry Shortbread Tarts
To store raspberry tarts, let them cool down completely at room temperature. Once cooled, transfer them to an airtight container or wrap them tightly with plastic wrap. Place the container in the refrigerator and store the tarts for up to 3-4 days.
Recipe Notes and FAQ
Can I freeze the tarts?
Yes, you can freeze the tarts for up to 3 months. Wrap them individually with plastic wrap and place them in a freezer-safe container or a ziplock bag. Before serving, let them thaw at room temperature for about 1 hour.
Can I make these tarts in a regular muffin pan?
Yes, you can make these tarts in a regular muffin pan. Simply adjust the baking time and check them periodically to make sure they don't overbake.
Yield: 36 Mini Tarts
Easy Raspberry Tarts Recipe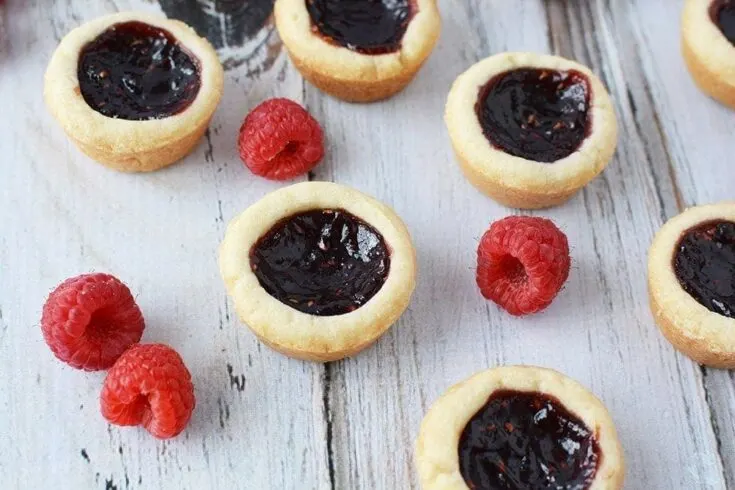 Tiny tarts with a fruity middle and buttery crust. Easy raspberry tarts are a tasty dessert to make for any occasion.
Ingredients
1/2 cup butter, cubed
1/4 cup powdered sugar
1 cup flour
2 tablespoons water
1/2 cup raspberry preserves
Instructions
Preheat oven to 300.
Use a nonstick mini muffin pan or grease a regular mini muffin pan with nonstick cooking spray. Set aside.
In a food processor, add butter, sugar, and flour. Process until you have small, granules. Add water and process for about 20 seconds until a dough forms.
Use a tablespoon scoop to scoop dough and roll into balls.
Place into prepared muffin pan and use a tart shaper dipped in flour, to create a cavity in the center of the dough.
Fill each shell with a spoonful of raspberry preserves.
Bake for 17-22 minutes or until edges begin to brown. Remove from oven and cool completely before serving.
Recommended Products
As an Amazon Associate and member of other affiliate programs, I earn from qualifying purchases.
Nutrition Information:
Yield:
36
Serving Size:
1 mini tart
Amount Per Serving:
Calories:

51
Total Fat:

3g
Saturated Fat:

2g
Trans Fat:

0g
Unsaturated Fat:

1g
Cholesterol:

7mg
Sodium:

22mg
Carbohydrates:

6g
Fiber:

0g
Sugar:

3g
Protein:

0g
Nutrition facts are an estimate only.
Tasty Raspberry Dessert Recipes
Pin this image to your dessert board to save and share!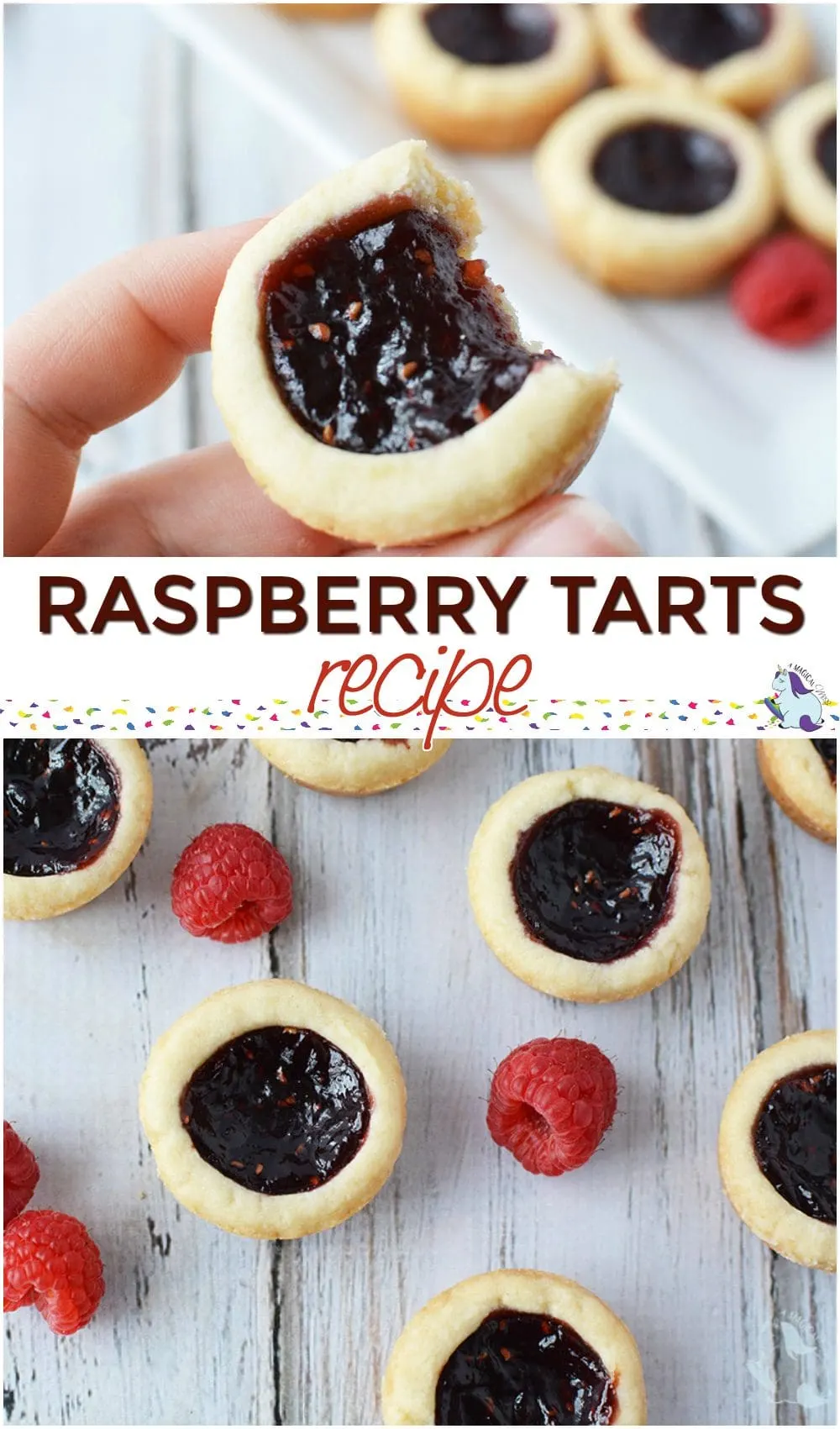 If you try this recipe, I'd love to see your creations, so don't forget to tag me on Instagram @jensoltys.
If you want more sweet recipes delivered to your inbox, subscribe to the blog.