Cheesecake recipe. That's all you have to say to get my attention. Who doesn't love a slice of delicious, creamy cheesecake? No one I know. My name is Carla and I am Shelley & Jen's aunt.
I found this recipe on one of my favorite blogs, Alexandra Cooks, and modified it just a bit. I was pleasantly surprised at how delicious this lemon ricotta cheesecake was, even though there is no cream cheese in it. It's all ricotta, and it's all amazing.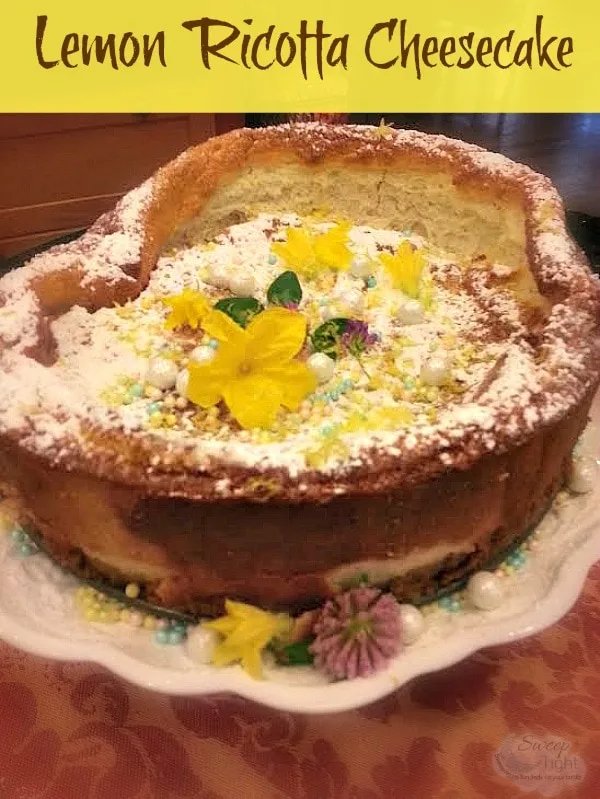 A Cheesecake Recipe to Die For
Okay, I know what you're thinking. That's not cheesecake. It's ricotta cake. Well, that's true. It's right there in the name. It's crazy good, though. The ricotta cheese gives this cheesecake a mellowness that isn't there with cream cheese, but it keeps all the rich creaminess we know and love. It's amazingly good. I know. I've used "amazing" already. I don't care. This cheesecake recipe is that delicious.
Before you go charging off into the kitchen, there are a few things I should mention about this cheesecake recipe.
Plan Ahead
Like any other cheesecake, this needs to be allowed to sit in the refrigerator for a few hours to let it do its thing. So try to make it the night before if you can. If not, be sure you whip this puppy up in the morning.
Cookie Crust
The cookie crust is more of a cookie dusting. It sort of melts into the cheesecake, so you don't get that traditional crust. That's OKAY. It gives it this nice, subtle touch. Use whatever cookie you like for this cheesecake recipe, but the original recipe suggests using the Jules Destrooper butter waffles. They're all natural and super tasty.
Fresh Ricotta vs. Store Bought
The recipe also recommended using fresh ricotta for this cheesecake, but fresh ricotta costs an arm and a leg. I went with store bought ricotta, and it was still delicious.
Cooking Times
Cooking times can get tricky with this cheesecake recipe. They can vary quite a bit depending on your oven, the pan used for the water bath, and the type of ricotta you choose. If you use fresh ricotta, the cheesecake could be finished in a little over an hour. With store bought ricotta, you could be looking at closer to two. In either case, start checking your cheesecake at 1 hour and 15 minutes.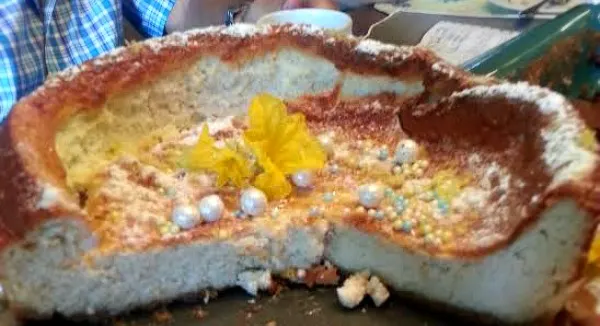 Ingredients for the Best Cheesecake Recipe in the World
Recipe adapted from Alexandra Cooks – her photos are much better. We are working on food photography here!
3 pounds ricotta cheese
1 tablespoon butter, softened
1/4 cup smashed cookie of your choice. If you prefer the classic crust, just use 15 graham crackers, 1/2 stick of melted butter, and 1/4 cup sugar pulsed in a food processor.
1 teaspoon plus 1 1/2 cups sugar.
6 large eggs
1 cup mascarpone
2 teaspoons vanilla extract
2 teaspoons grated lemon zest
2 teaspoons fresh lemon juice
Instructions for the Best Cheesecake Recipe in the World
Place fresh ricotta in a sieve over a bowl and let it drain for 1 hour. If you are not using fresh ricotta, skip this step.
Triple wrap the bottom and sides of a 3 x 10 springform pan with aluminum foil. Butter the sides, bottom and rim of pan. Mix the smashed or grated cookie crumbs with 1 teaspoon sugar and coat the pan. If you want the traditional crust, press the graham cracker mixture into the pan instead.
Preheat the oven to 350ºF. Fill a teapot with water and bring to a boil. Place the ricotta and lemon zest in the bowl of an electric mixer. Beat at low speed until smooth. Beat in the eggs one at a time until smooth. Beat in the remaining 1 1/2 cups sugar. Continue to beat until mixture is very smooth. Beat in the mascarpone, vanilla and lemon juice. Pour into the pan and smooth the top.
Place the pan inside a roasting pan with sides no higher than the cake pan. Pull the oven rack out halfway, making sure it's stable. Place the pan on the rack, then pour the boiling water from the teapot into the larger pan to within 1 inch of the top of the smaller pan. Slide the rack back into the oven, and bake the cheesecake for 1 hour and 15 minutes. After 1 hour and 15 minutes, test for doneness with your finger. The top should spring back a bit. It's also a good idea to give the pan a shake. If the batter ripples under the surface too much, it probably needs more time. It should be slightly golden on top.
Remove the cheesecake and let cool to room temperature in the water bath. Refrigerate overnight or for at least 4 hours before serving. It will firm up as it rests.
To unmold, slide a thin knife around the cake edges. Release the sides of the springform pan. Refrigerate until serving.
There you have it. The best cheesecake recipe in the world and how to make it. It is AWESOME, so do yourself a favor and make this.