I have wanted to foster dogs for quite some time now. After about 13 months of begging nicely asking Mike, he finally agreed. This brings us up to three dogs in the house and he's concerned with overcrowding. Our house is not large enough for too many creatures at one time!
Our First Foster Pup!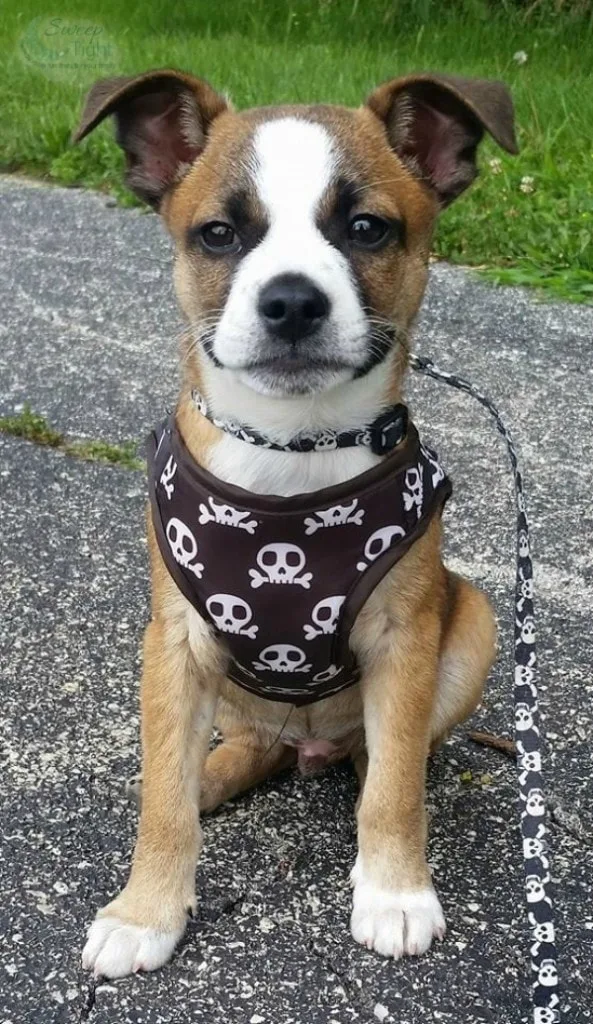 After he agreed I applied to become a foster through Midwest Boston Terrier Rescue. Since the Grump is part Boston, I know they are dogs that I just adore. I've been a fan of their Facebook page for a while now and see their posts come through my news stream. After I learned how much fosters are needed, I couldn't resist.
The first dog we were supposed to foster was a senior Boston Terrier named Bud. He ended up being adopted before we could get our hands on him. That was excellent news for Bud! He found his furever home and that's always great news. Soon after that I was contacted to take in a puppy. A senior dog vs. a puppy is a huge difference, but we agreed.
We drove to meet two amazing ladies that had gotten the puppies from Ohio. (That's how short on fosters the rescue is – they need to go to a different state to find homes!) These ladies are saints. They have devoted enormous chunks of their lives to helping these animals. In their car were the two 10 week old Boston Terrier mix pups who had been left in an abandoned home.
Find out if We Adopted Franklin or Not!
The two brothers were as sweet as can be. One was going home with us and the other was on his way to his adopted home. Puppies are always cute, of course, but these babies were just adorable. The mother was a beagle mix and the father was a purebred Boston Terrier (and the sneaky neighbor's dog). That was about all we knew of their story since they were left behind in an empty house.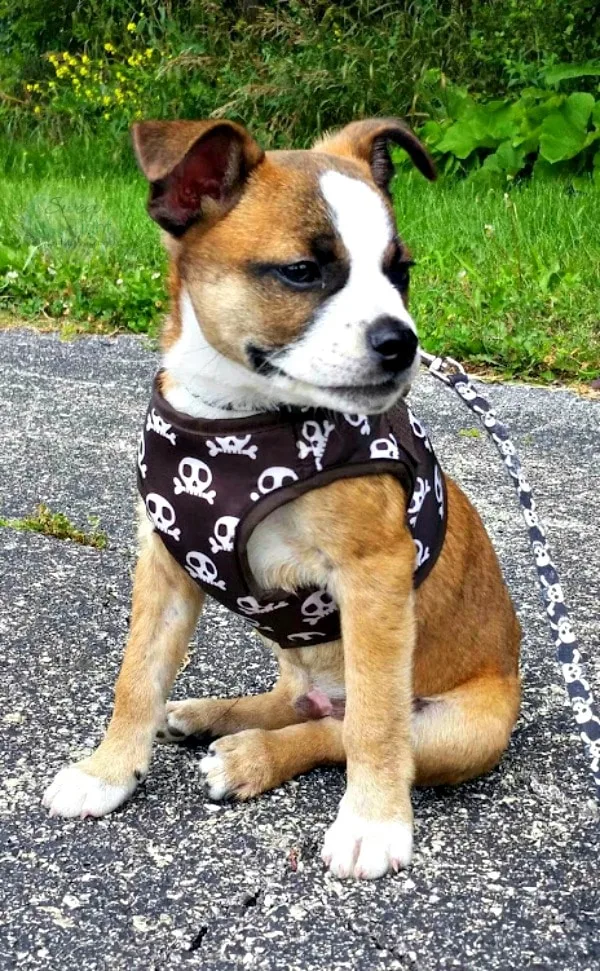 Mike named our little guy Franklin and we were on our way home. All it took was him placing his tiny paw on my arm to just completely fall in love with him. I think it was right there when I knew I would probably fail as a foster and end up keeping him.
Our dogs adjusted pretty quickly to having a new little guy around. Hilo seriously couldn't care less. He just licks him as he walks by and doesn't go out of his way to even acknowledge him. The Grump, however, was a bit confused, jealous, and even afraid of Franklin at first. That did not last long and they soon became best friends.
Needless to say we are about 98% sure that we are going to just adopt this little fella. He has become an instant part of the family and I just cannot imagine him not being here. The only downfall to keeping him is that we probably won't take in any more fosters for a while then. Three dogs has to be our max here. So, I am torn!
Have you ever been a foster parent to a pet? Were you able to part with them?