I was instantly drawn to the Tranquil Turtle when we attended the Sweet Suite recently in Chicago. I was sent one for review and couldn't have been happier to check it out. All opinions are my own. This post contains affiliate links.
Tranquil Turtle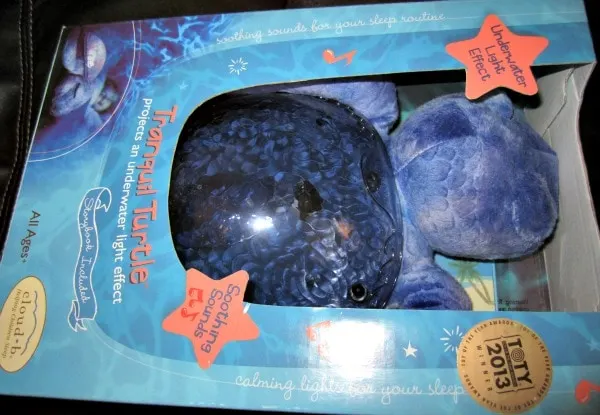 When we met the folks from Cloud b, they had several of their products on display. Each one of them is absolutely adorable. They all have cute little faces and are perfect for babies and kids.
Thankfully, one of the girls from Cloud b informed me that they are, in fact, now labeled "for all ages". Not that I wouldn't have gotten one otherwise, but at least I knew I wasn't the only adult who felt that way!
Behind their display at the conference, they had a variety of these light and sound toys in a dark room. Shelley and I could have stayed there for the rest of the night.
The room was transformed into a peaceful underwater world of tranquility. What a perfect way to soothe a nervous child, or and adult's restless mind. I immediately felt more relaxed.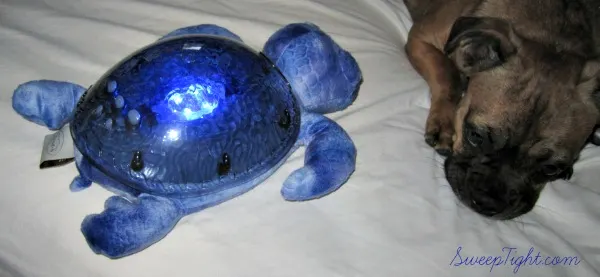 Now that I have my own Tranquil Turtle, he helps me wind down from busy days. If I ever just want to chill out and be "in another world" for a bit, I reach for him. Mike and The Grump love him, too.
The Tranquil Turtle will turn any dark room into a wavy, ocean wonder. Choose just the lights, add calming music, or just the sound of waves. There are different settings depending on your mood or preference.
Being an anxious person who harbors lots of nervous energy, I really enjoy this product. I would recommend that everyone own a Tranquil Turtle or one of the many other soothing products from Cloud b.
I know it will be my go-to item for baby shower gifts now, too! Also, available on Amazon.com.
Stay social by liking the Cloud b Facebook page and following them on Twitter.