This pumpkin squares recipe has been in the family for years. It was originally given to us by our aunt. We posted it a few years ago, but after looking back at the post, we decided it desperately needed to be updated. Rather than alter the original post, we decided to share it in a whole new light.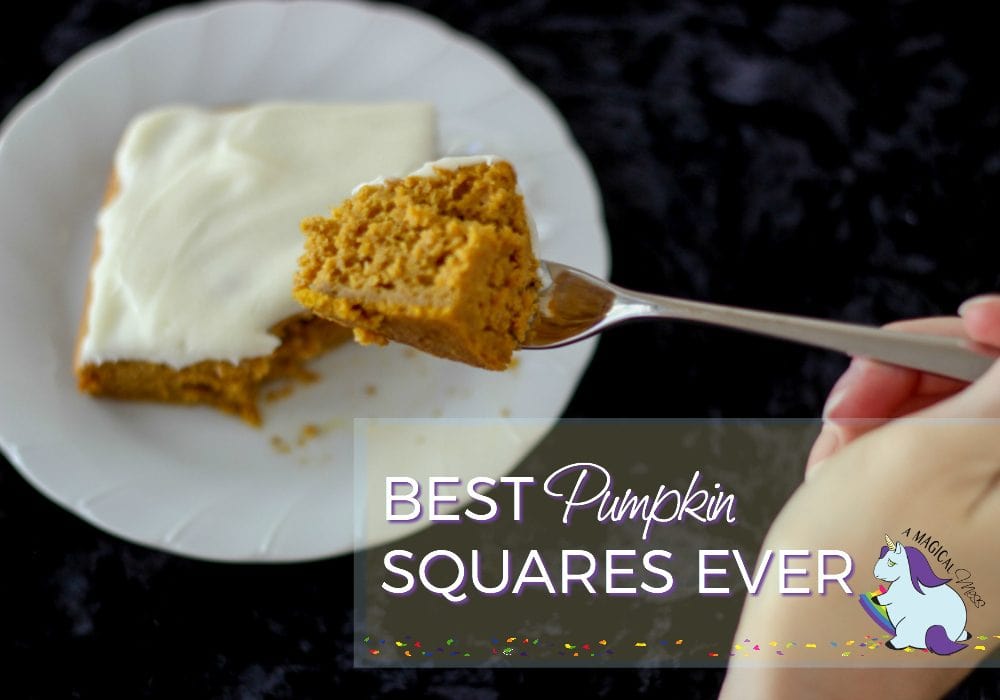 Best Ever Pumpkin Squares Recipe
Yep, that's about all that's changed. The lighting. The recipe is just as amazing as it always has been so we haven't made any changes there. We've just learned a bit more about photography–so please Pin, Tweet, and share our new photos! 🙂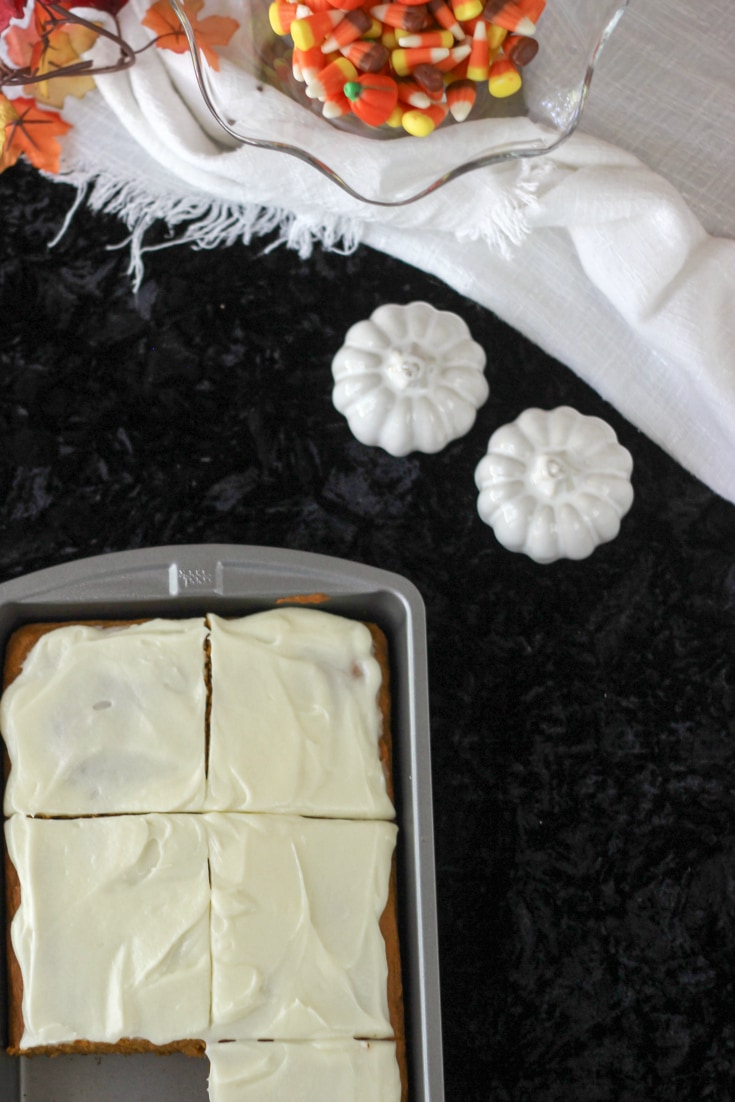 And, of course, try this recipe. It's super simple and always a crowd pleaser. No joke, everyone who tries these pumpkin squares is blown away. Even if you don't like pumpkin, you'll love these.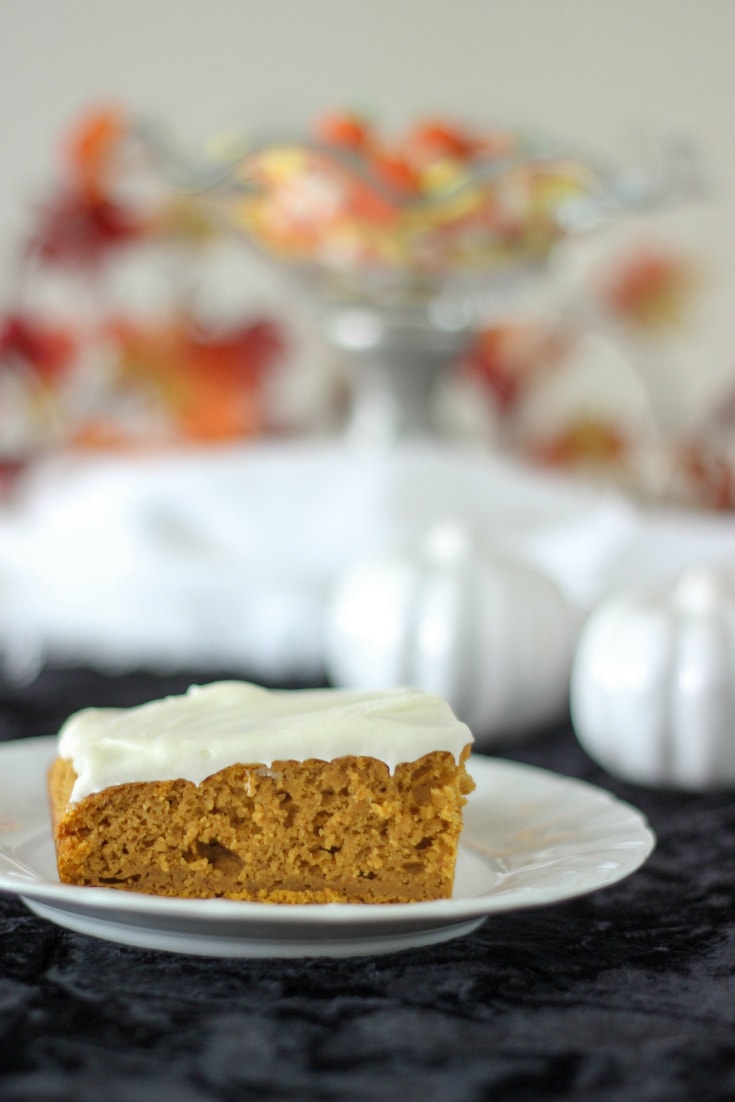 You will need a non-stick large jelly roll pan for this recipe.
How to Make The Best Pumpkin Squares Recipe Ever
Ingredients
1 pkg. of a vanilla or french vanilla cake mix
1 box of Jell-O instant vanilla or french vanilla pudding
1 teaspoon of pumpkin spice
2 teaspoons of ground cinnamon
1 teaspoon baking soda
1/2 cup of vegetable oil
30 ounce can of pure pumpkin (not pumpkin pie mix)
3 eggs
Instructions
Preheat oven to 350 degrees.
Mix all dry ingredients together in a bowl.
Add wet ingredients–oil, pumpkin, and eggs–beating eggs one at a time into the dry mixture.
Stir until evenly mixed.
Spray jelly roll pan with cooking spray.
Pour batter into pan and spread evenly with a spatula.
Bake in preheated oven for approximately 35 minutes. The pumpkin squares are done when a toothpick inserted into the center comes out clean.
Let cool completely before frosting.
See frosting recipe below.
Notes
We prepared half a batch in these photos. Be sure to use a full size jelly roll pan (large cookie sheet with a lip) when preparing the full recipe.
Frosting
Once your pumpkin squares are fully cooled it's time to frost them with this delicious cream cheese frosting recipe. Once frosted, cut into squares and serve. Or, store in the refrigerator in a covered container for up to about a week to ten days.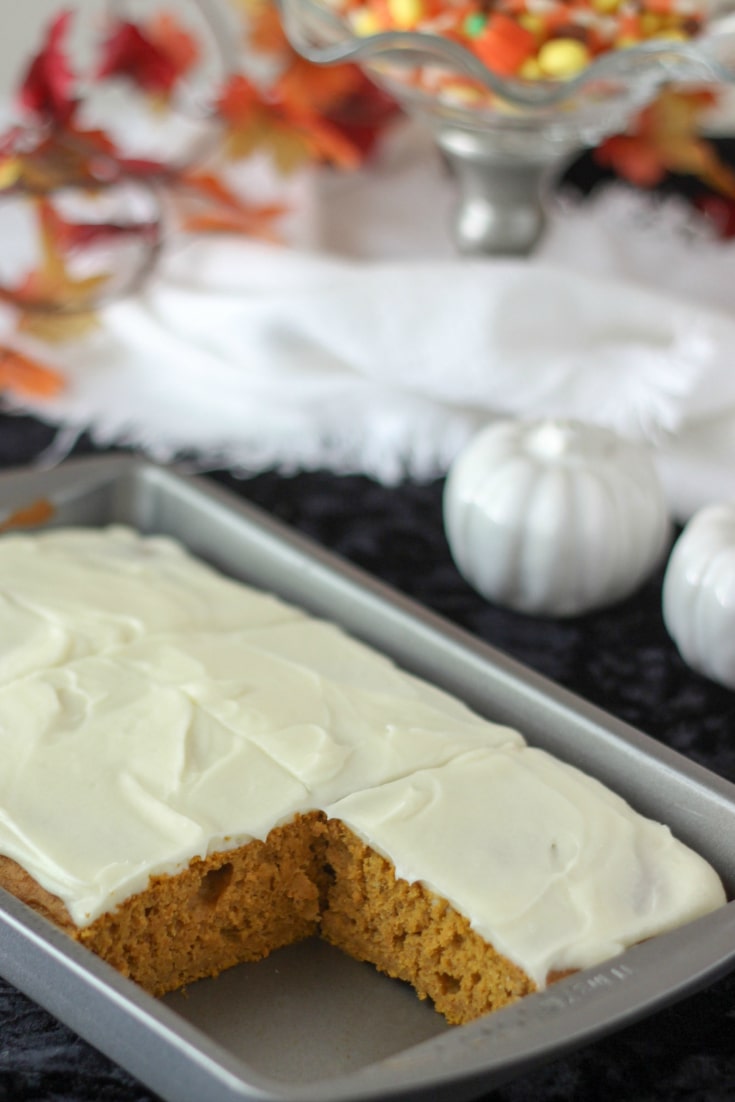 For a little extra fall flavor, you can dust the tops of the frosted pumpkin squares with a tiny bit of nutmeg. We make these for Thanksgiving and Christmas–and, you know, whenever we have a taste for them. Because they're just so darn yummy and don't take too much effort to make.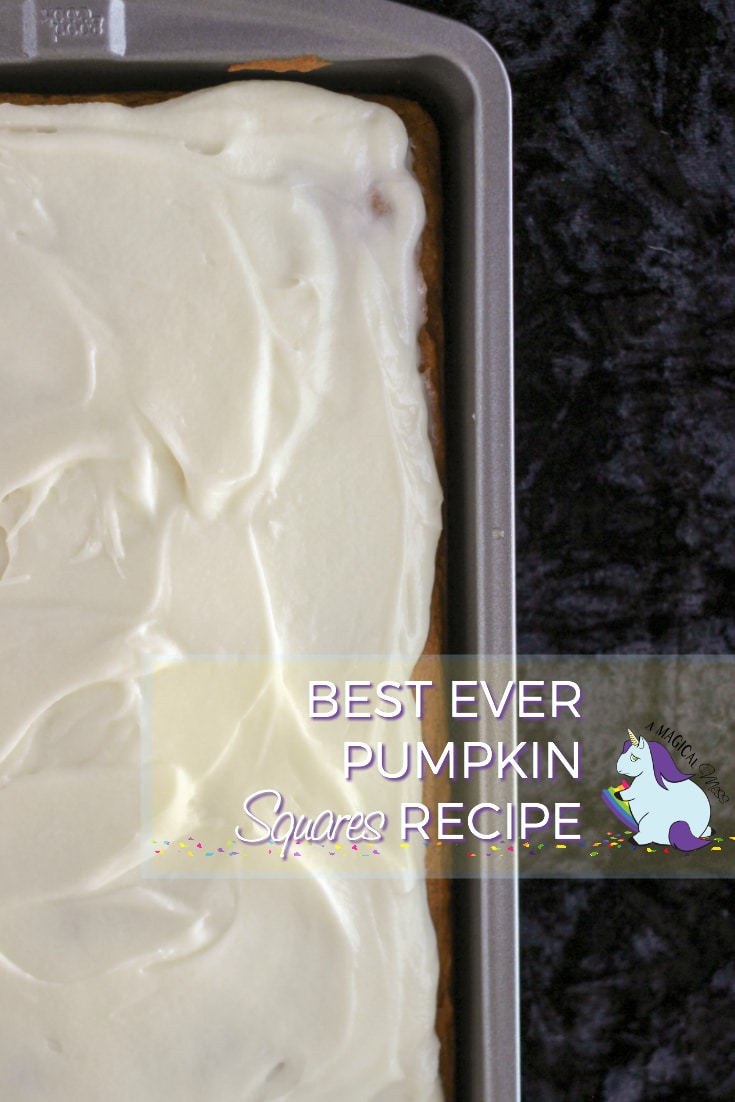 I once made these for a friend and he asked that they be his birthday treat every year for the rest of his life! I brought them to school and one girl thought they were carrot cake. When I told her they were pumpkin squares, she was shocked. She said she'd never of tried them because she hates anything pumpkin, but she LOVED these!

We hope you try this pumpkin squares recipe and love it as much as we do. Let us know what you think in the comments below!