If you're looking for mermaid party food ideas, you've found one! This mermaid popcorn is a delicious and easy treat that instantly adds whimsy to any party.
With blue, purple, and turquoise colored popcorn, this sweet and salty party popcorn is excellent for any under the sea birthday party. You can also make it for a magical baby shower, pool party, or any beach-themed event. The treat is even easy enough to make if you want to create a magical movie night snack!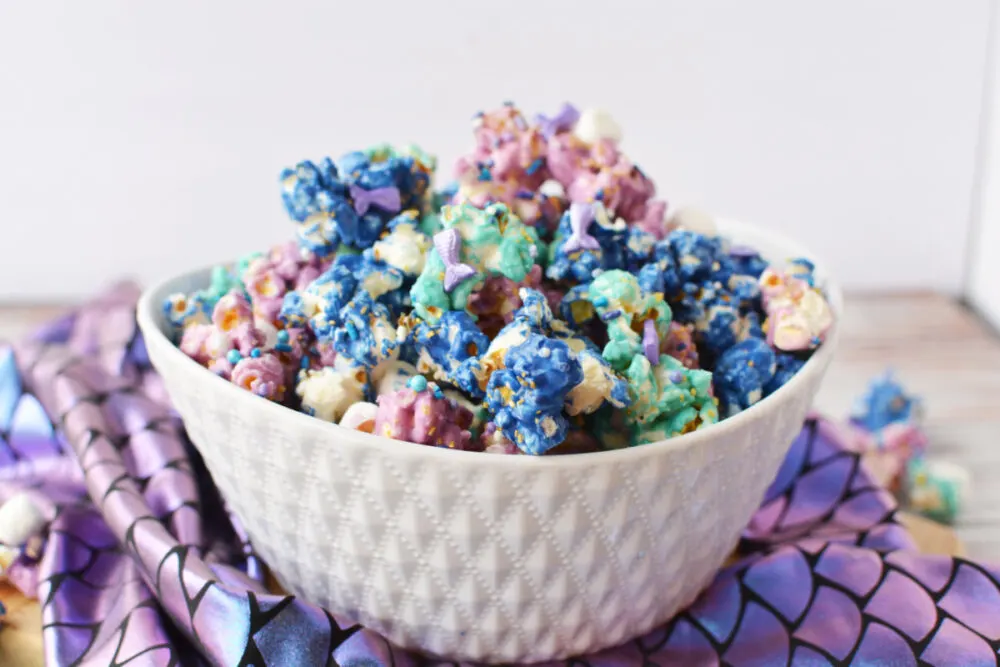 Mermaid Popcorn for an Under the Sea Party
With our unicorn party mix and galaxy popcorn being so popular, it was clear we needed a mermaid popcorn option. Party popcorn is an easy treat that adds a lot of fun to an event. Add it to a dessert table, to goody bags, or leave it around in bowls for snacking. Whichever way you choose to display it, mermaid snack mix adds pops of color and fun all around.
As I said in the mermaid bark candy post, these treats are also great for movie nights. The new Little Mermaid movie that's coming out soon, and the recently released, Avatar: The Way of Water are both great movies worthy of a special snack. Or, break out some of my childhood favorites like Splash! Snack away while you relive the childhood wonder.
Reasons to Love Mermaid Party Popcorn
Easy: This colorful snack mix is pretty quick and easy to make. It's easy to tweak and a great option if you need something last minute.

Flavorful: Kids and adults enjoy the salty and sweet flavor combo.

Fun: With adult supervision, this is even a good recipe to create with the kids.

Eye-catching: By placing the mermaid popcorn in bowls around the party, it adds color and whimsy to impress guests.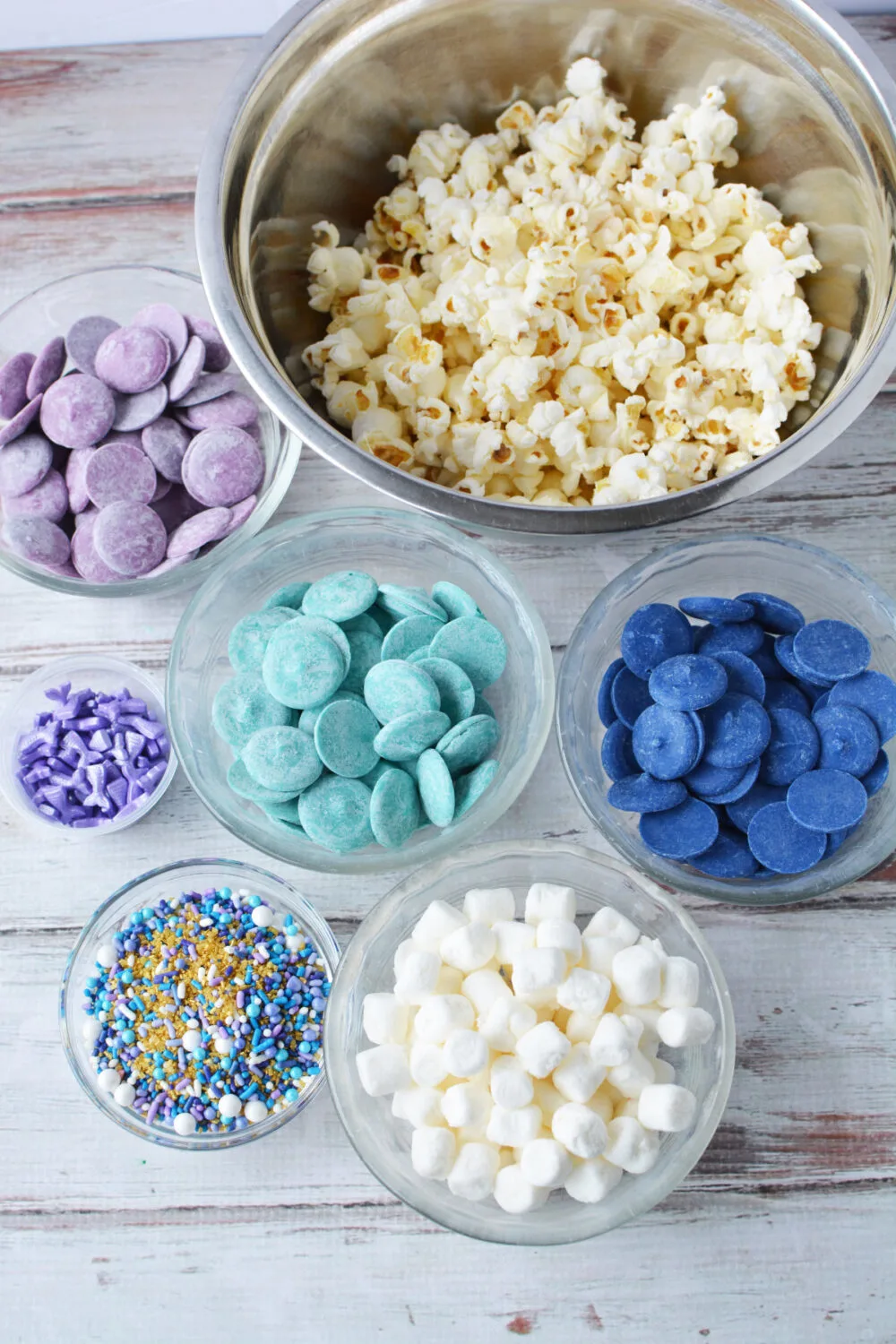 Mermaid Popcorn Ingredients
Here's what you need to make this mermaid party popcorn recipe. The measurements are in the recipe card below.
Popcorn
Lavender candy melts
Turquoise candy melts
Dark blue candy melts
Mini marshmallows
Mermaid sprinkles
Mermaid tail candies
How to Make Mermaid Party Popcorn
Line 2 baking sheets with parchment paper and set aside.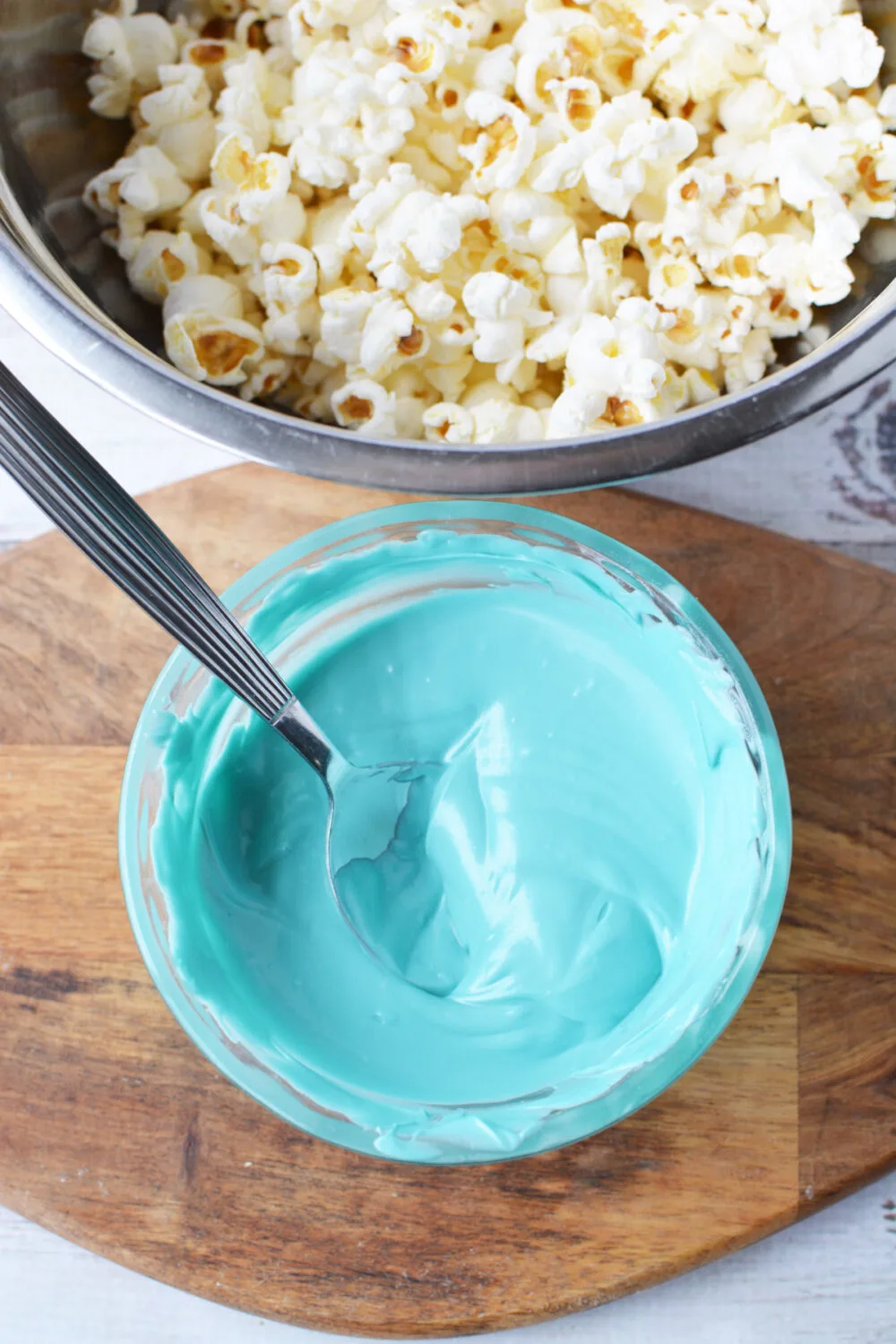 Take 5 cups of popcorn and transfer them to a mixing bowl. A Stir Crazy popcorn maker was used for this recipe, but you make popcorn however you like, or buy a bag. Use salted popcorn if you love that salty sweet flavor, or leave it unsalted if you prefer.
If you choose to use a Stir Crazy popcorn popper, 2/3 cup of unpopped popcorn with 2T oil was perfect for this recipe. There was only a little bit left over.
In a separate, microwave-safe bowl, add one cup of one of the candy melt colors and place it in the microwave on 100% power for one minute.
Stir the candy melts until they are completely melted. If needed, put it back in the microwave for 10 seconds and stir until smooth.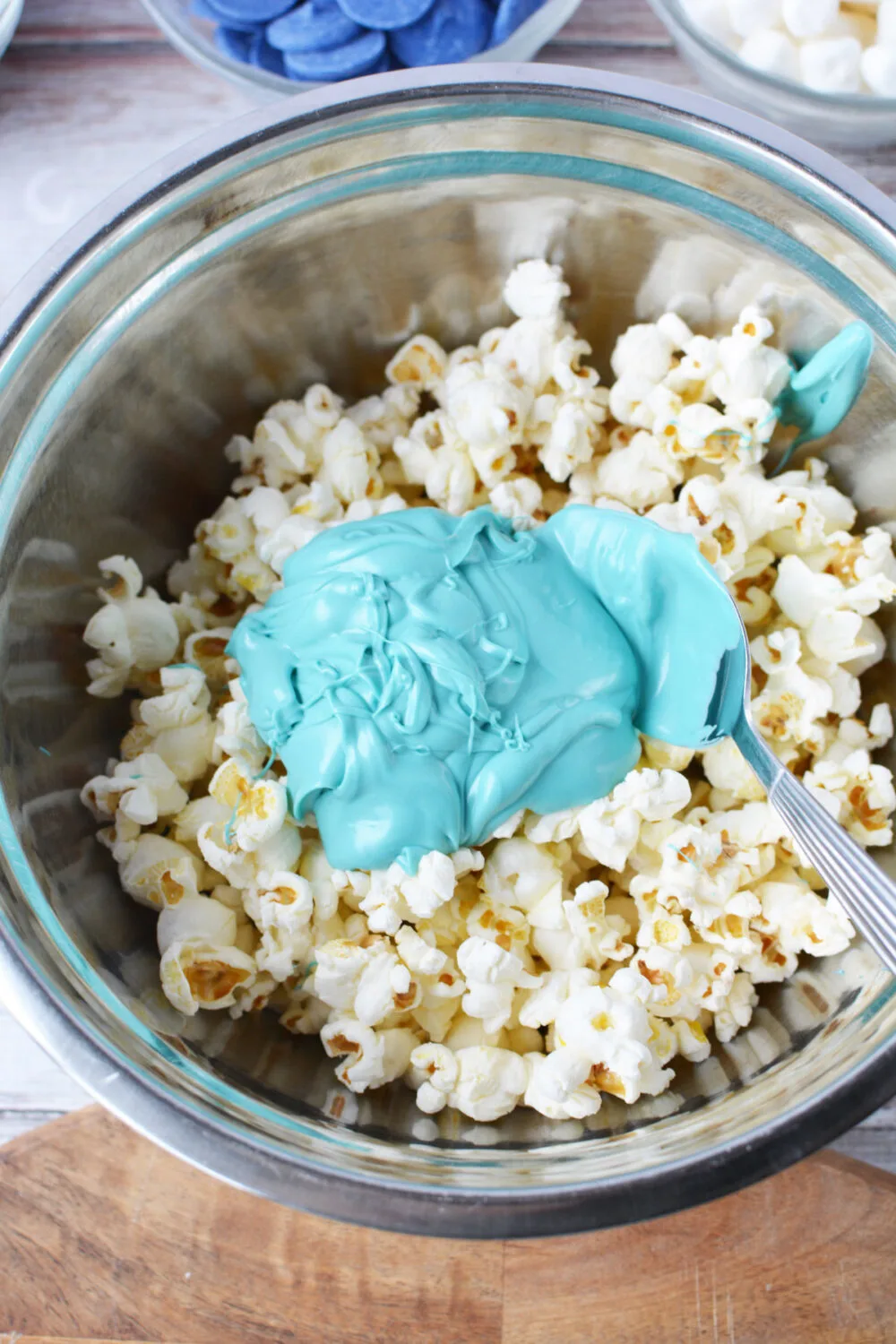 Pour the melted candy melts over the popcorn and mix it well to make sure all the popcorn is evenly coated.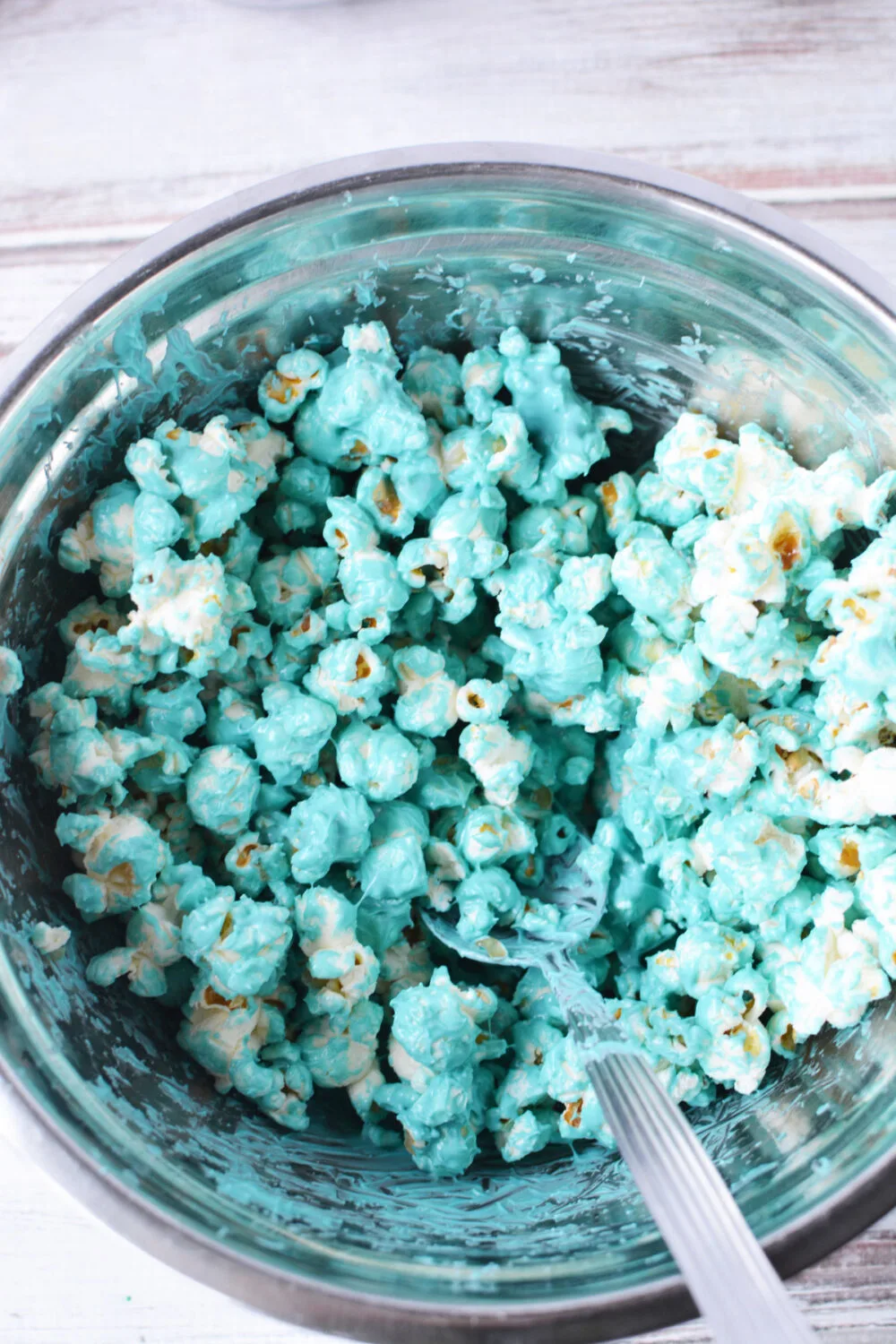 Spread the popcorn onto one half of the baking sheet, and make sure it is spread out in a single layer.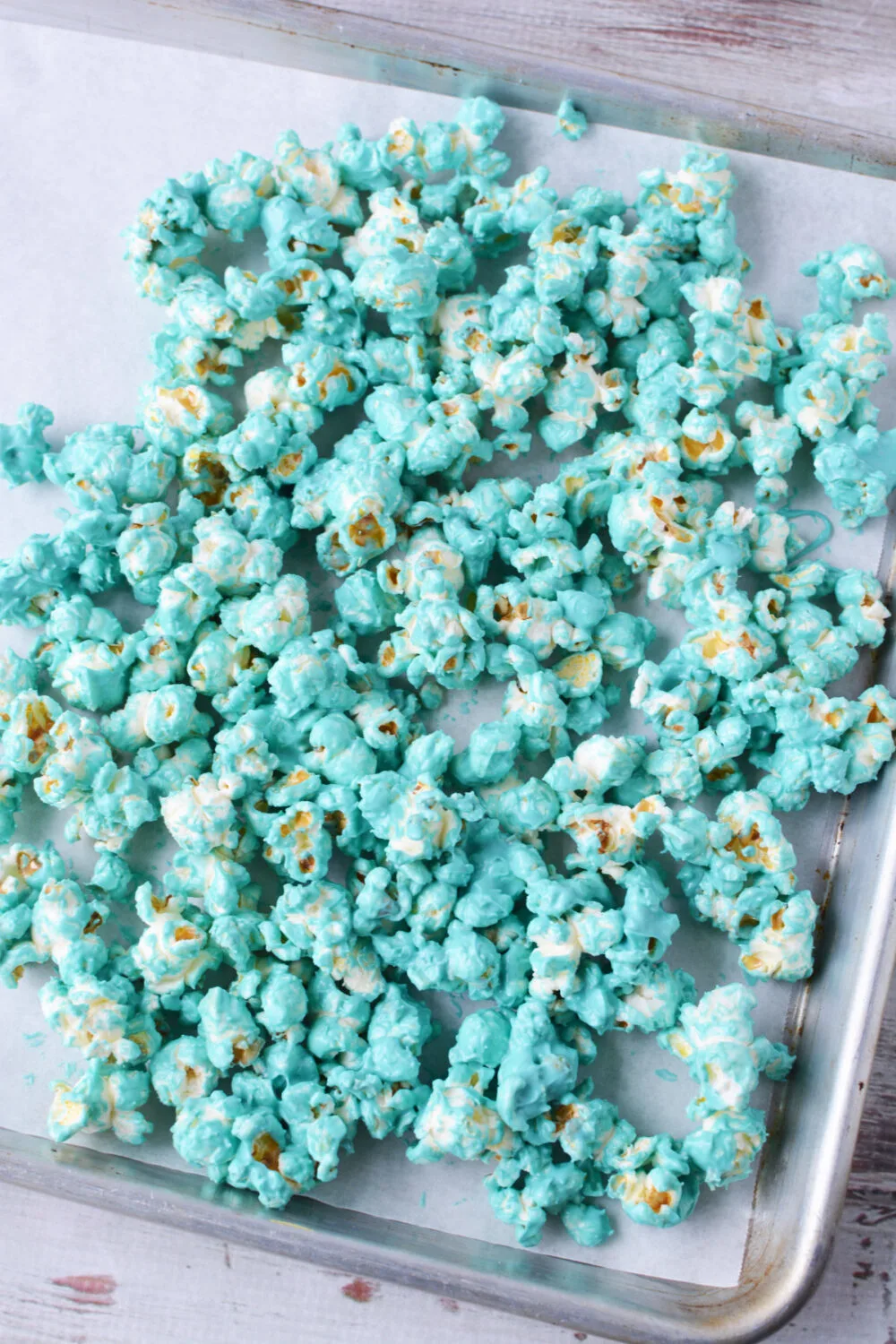 Sprinkle with mermaid sprinkles, candy tails and 1/3 of the marshmallows.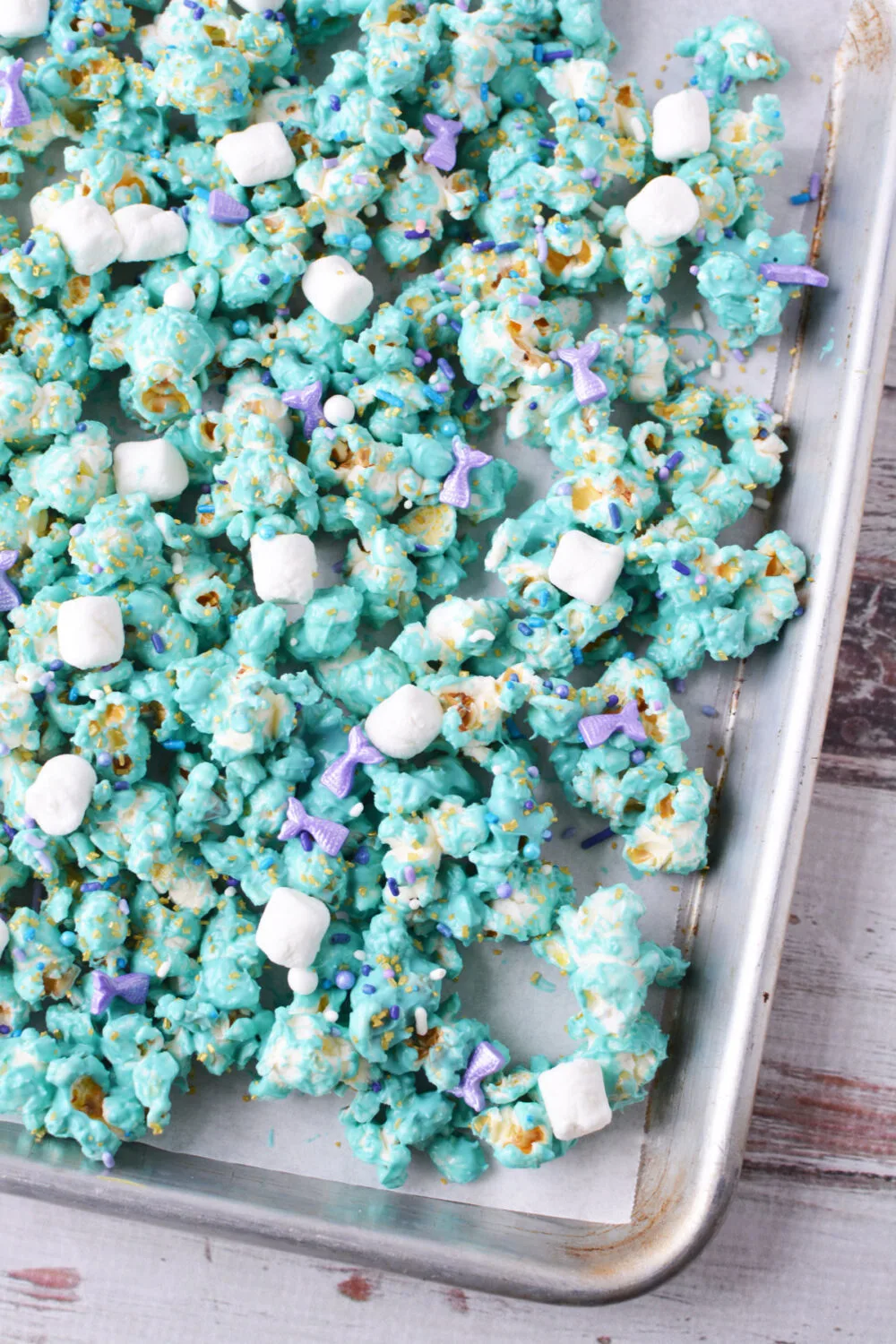 Repeat the process with the remaining color candy melts and spread them on the other half of the first baking sheet and the entire second baking sheet. Allow the candy to harden.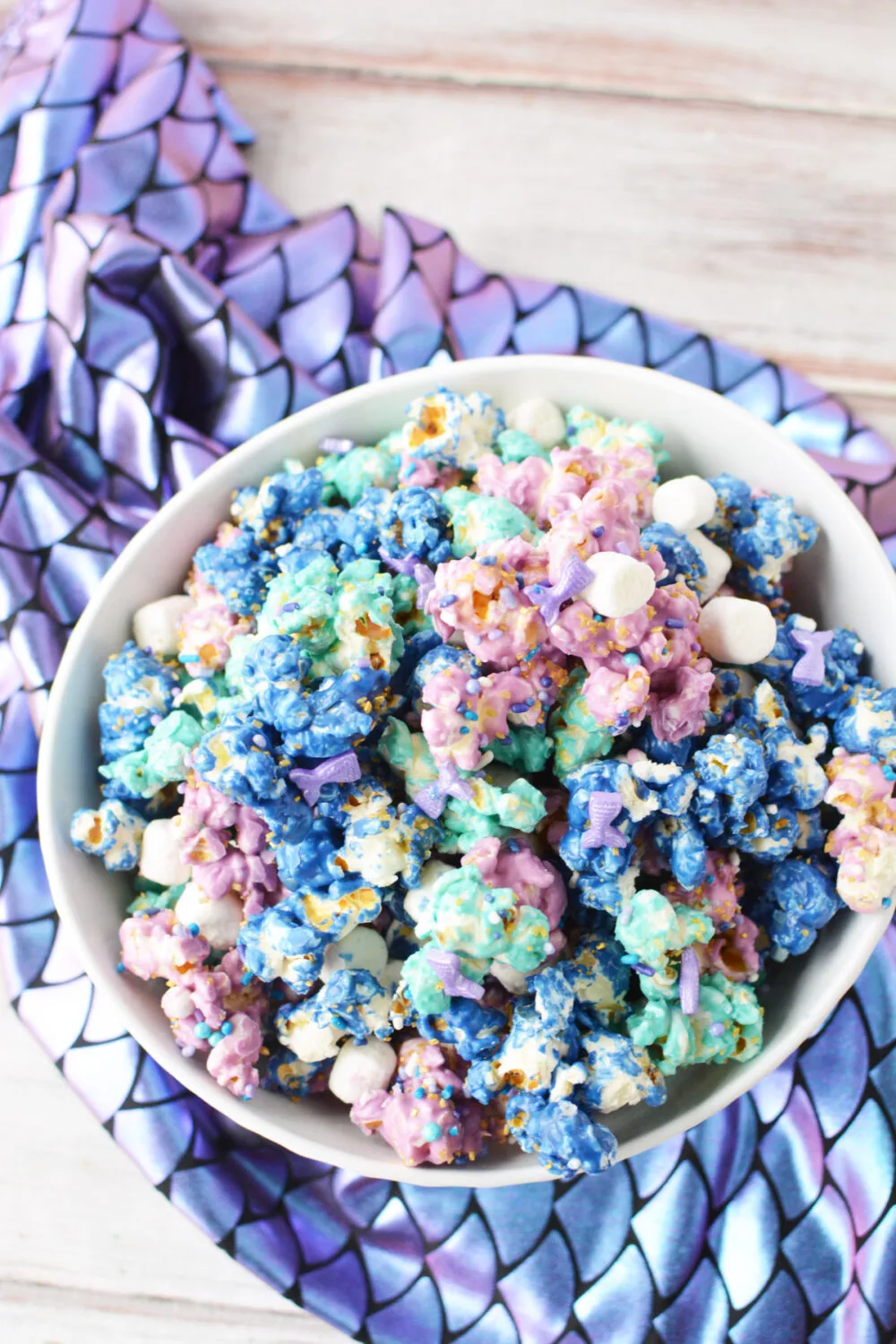 Once the candy is hardened, break it apart and mix the different colored popcorn together.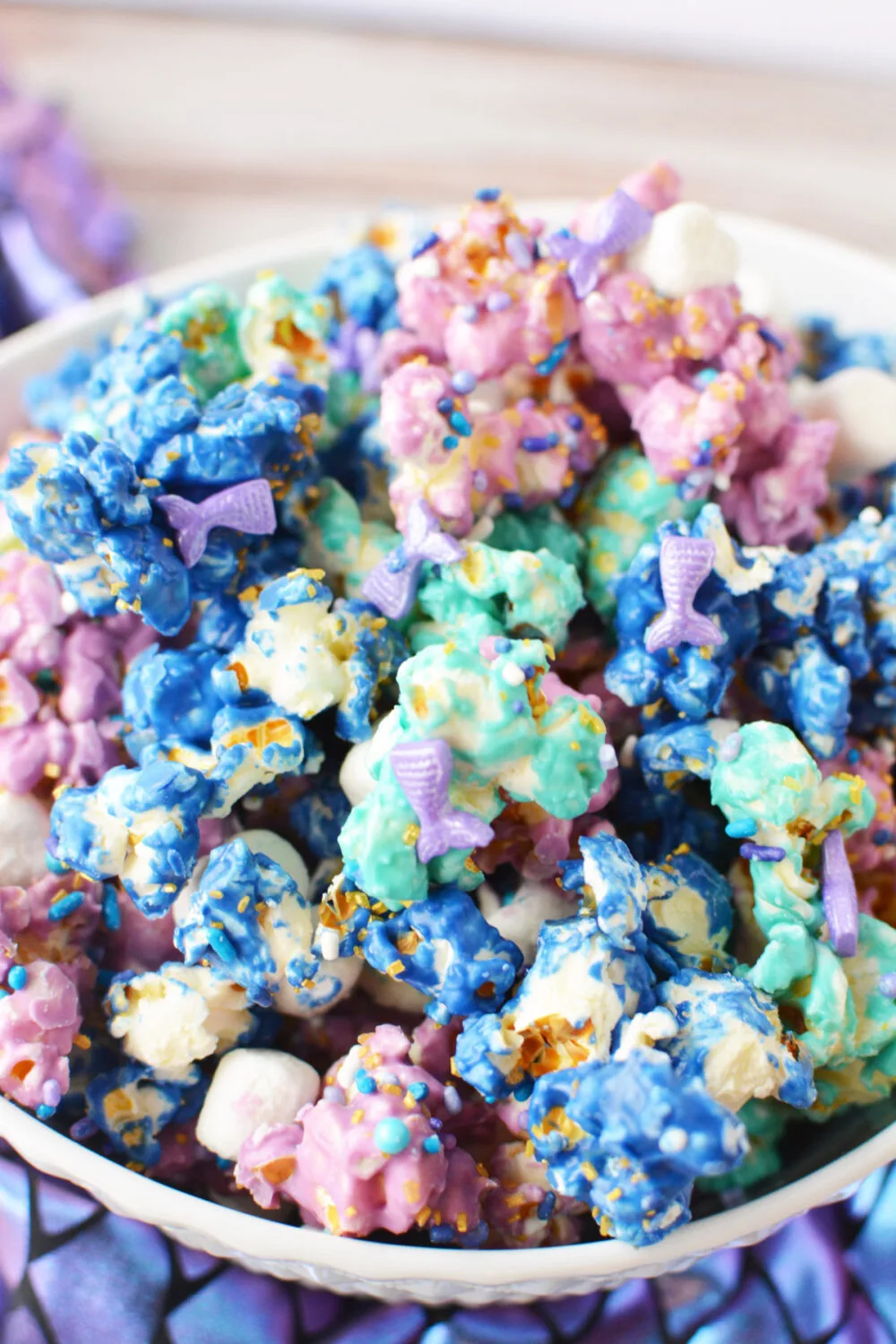 Serve and enjoy!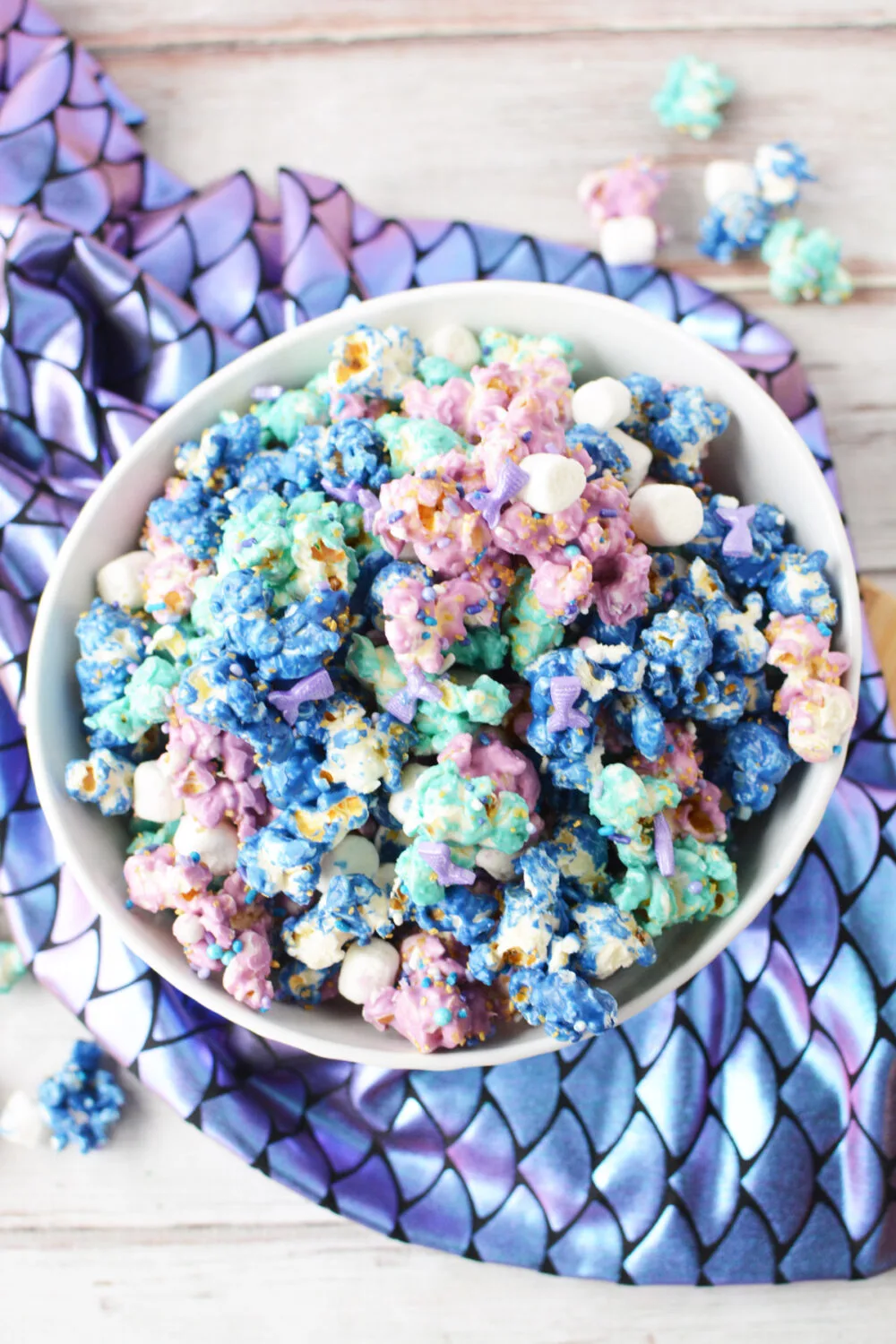 What Else to Serve at a Mermaid Party
Here are some more mermaid recipes to consider if you are throwing an under the sea themed event. These also work for pool parties in general.
Baked goods: Swirly mermaid cupcakes, tide pool cookies, and mermaid cookie pizzas are all tasty additions to a dessert table.
Drinks: An icy mermaid slushy is a refreshing summer treat, or choose mermaid hot cocoa melts for the cooler months.
Candy: Mermaid fudge and mermaid bark candy are both easy and fun to make.
Ice cream: This green, purple, and blue ice cream is no-churn and a super sweet treat.
No-bake: Mermaid donut holes and clam cookies are both treats to make without the oven.
Recipe Substitutions and Variations
Popcorn: As stated above, you can use your choice of popcorn. Pop your own in a popcorn maker, use microwave popcorn, or buy a popped bag. Choose plain unsalted or salted popcorn.

Marshmallows: Feel free to leave the marshmallows out or use a different type.

Sprinkles: Use your choice of sprinkles. You can buy a mermaid sprinkle mix that has fins, or get a bag of fins on their own. Shop around to find your favorite ones.

Edible glitter: If you want extra magic and sparkle, spray or sprinkle on some edible glitter.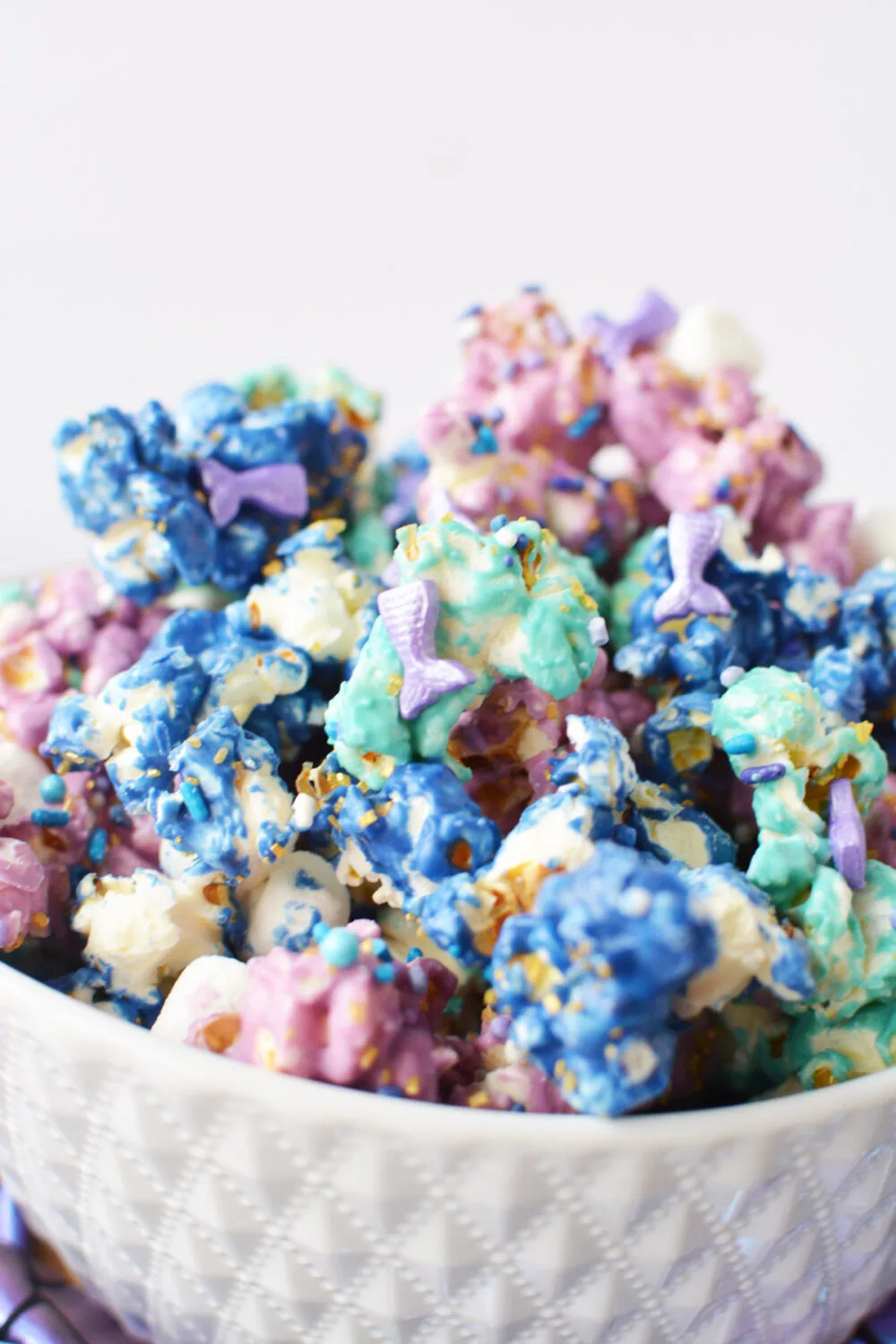 Kitchen Supplies Needed
2 baking sheets
Parchment paper
Mixing bowl
Microwave-safe bowl for melting candy melts. You can also use a double boiler or a candy melting pot.
Spoon or spatula for stirring
Measuring cups and spoons
Popcorn maker if you choose to pop your own kernels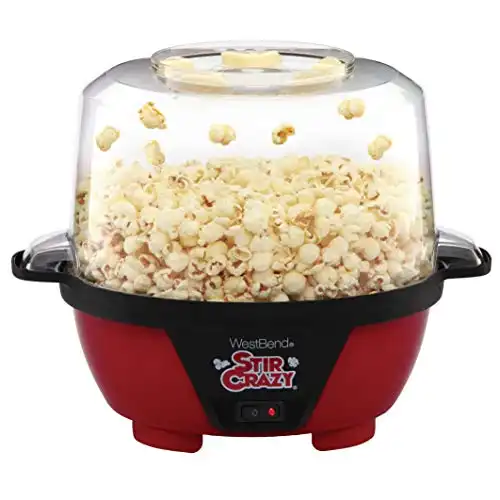 How to Store Leftovers
Store the mermaid popcorn in an airtight container at room temperature for up to a week. It's important to keep the popcorn in a cool, dry place, away from direct sunlight, to prevent it from becoming stale or melting.
Recipe Notes and FAQ
Can I make this recipe with less popcorn?
Yes, if you don't need such a large batch of popcorn, feel free to use less and adjust the amount of candy melts and other ingredients accordingly.
Do I have to microwave the candy melts?
No, you can also melt candy melts using a double boiler. Wilton also makes a special pot just for melting their candy melts.
Can I use leftover popcorn?
You can use whatever kind of popcorn you like; just make sure it's fresh. Stale popcorn will not coat well with melted candy. Plus, it just won't taste as good!
Yield: 15 cups
Mermaid Popcorn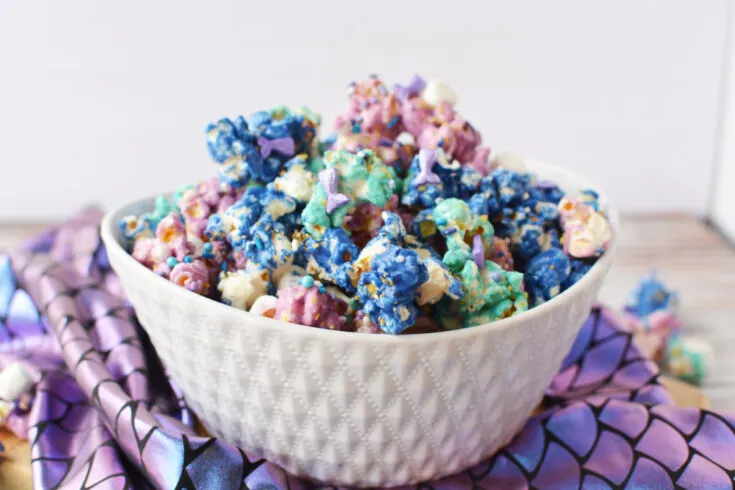 Easy mermaid party popcorn to make for your next ocean-themed party. Make some with the kids for a magical movie night or to add whimsy to your next gathering!
Additional Time
20 minutes
Ingredients
15 cups popped popcorn, divided
1 cup lavender candy melts
1 cup turquoise candy melts
1 cup dark blue candy melts
1 cup mini marshmallows
mermaid sprinkles
mermaid tail candies
Instructions
Line 2 baking sheets with parchment paper and set aside.
Place 5 cups popcorn into a mixing bowl. Add 1 cup of 1 color candy melts to a microwave-safe bowl and microwave at 100% power for 1 minute. Stir completely until melted. If necessary, return to the microwave for 10 seconds and stir until smooth.
Pour candy melts on top of the popcorn and mix well to evenly coat. Spread popcorn onto half of the baking sheet and spread into a single layer as best as you can. Sprinkle with mermaid sprinkles and candy tails and 1/3 of the marshmallows.
Repeat with the additional color candy melts and spread onto the other half and 2nd baking sheet for candy to harden.
Once all candy is hardened, break apart colors and mix them together.
Makes 15 cups
Recommended Products
As an Amazon Associate and member of other affiliate programs, I earn from qualifying purchases.
Nutrition Information:
Yield:
15
Serving Size:
1 cup
Amount Per Serving:
Calories:

183
Total Fat:

3g
Saturated Fat:

1g
Trans Fat:

1g
Unsaturated Fat:

2g
Cholesterol:

0mg
Sodium:

79mg
Carbohydrates:

39g
Fiber:

1g
Sugar:

22g
Protein:

1g
Nutrition facts are an estimate only.
Party Popcorn Recipes
Pin this image to your party board to save and share!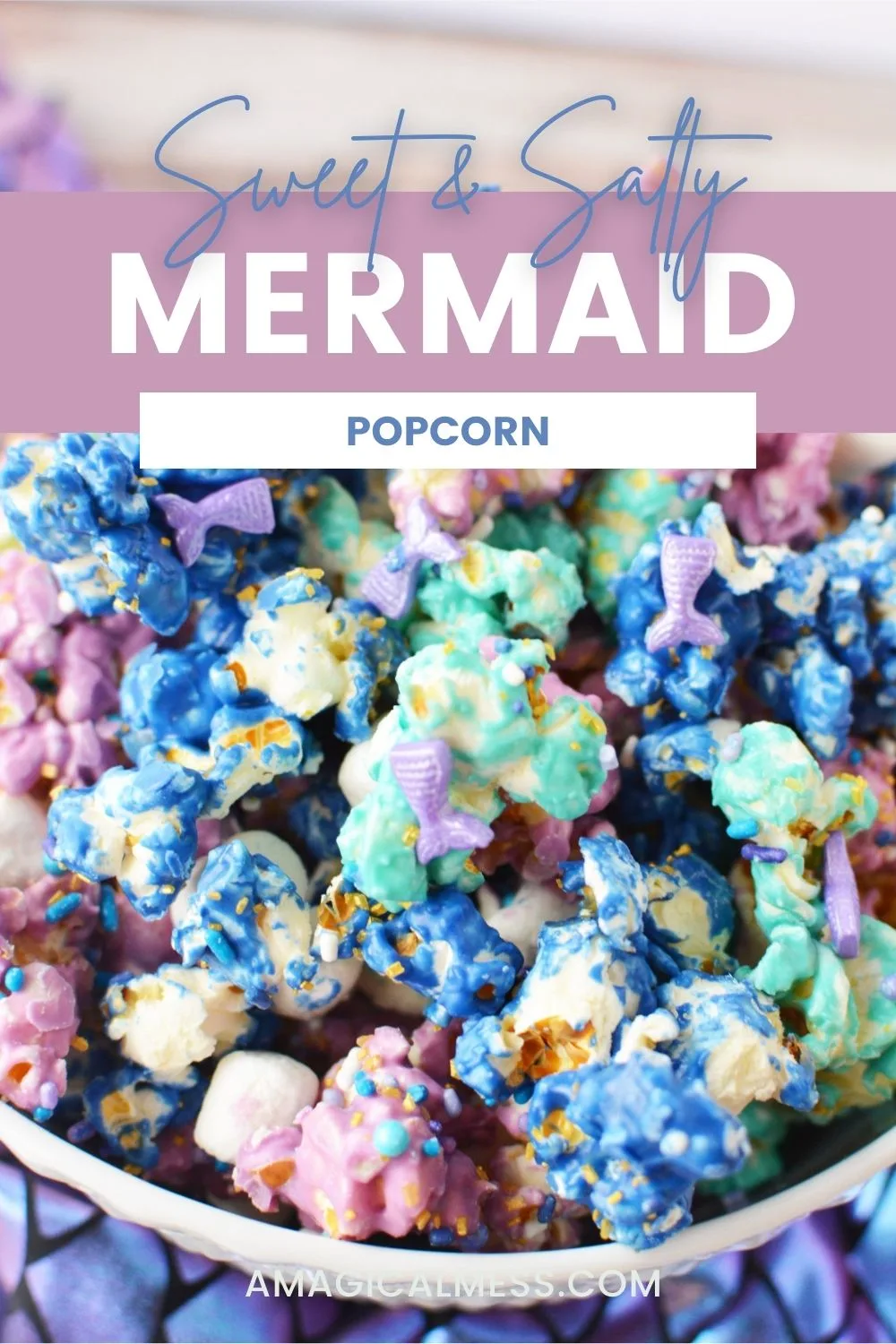 If you like recipes like this one, please subscribe to the blog for more! Please share this mermaid popcorn with your sea-loving friends and family.
If you make this mermaid party popcorn, tag me on Instagram @jensoltys, so I can see how it turned out!