A yogurt fruit dip recipe is great to have to bring to parties, serve at gatherings, or make enough for one. Using the right ingredients, you can enjoy fruit dip as a tasty snack for yourself. Fruit dip for one is quick and easy to make. Sponsored post. All opinions are my own.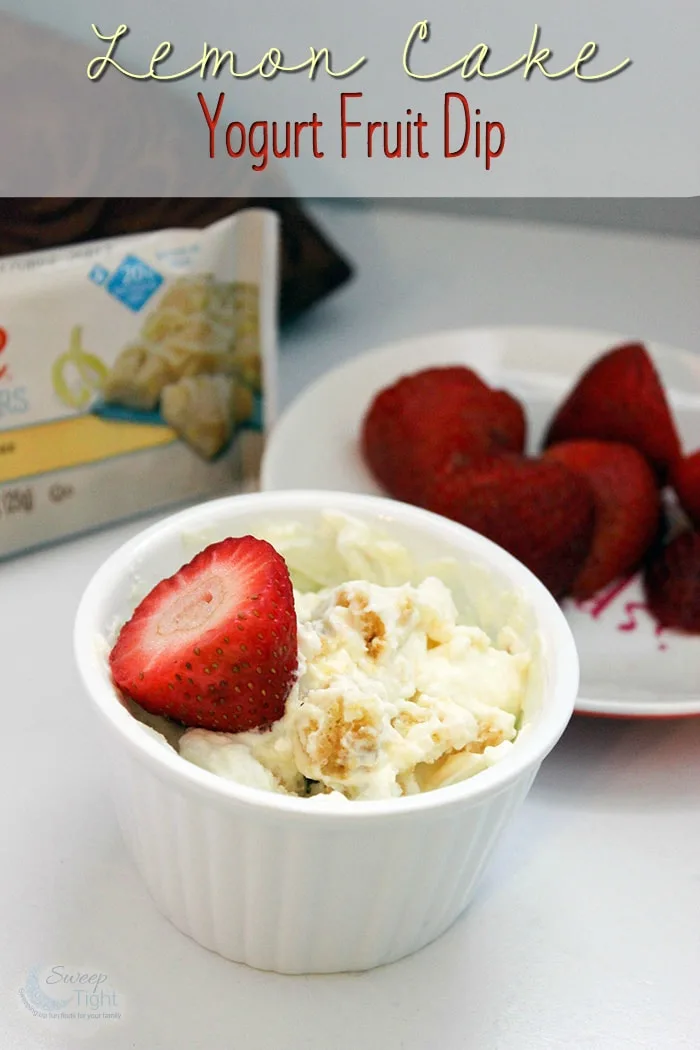 Some people just do not like fruit by itself. Mike won't eat a plain strawberry without a fight. However, if I serve him a plate of strawberries with dip on the side, he can't get enough. A tasty fruit dip can also act as a dessert. I am still trying to fight my ice cream addiction, so any type of sweet treat is much appreciated. If the ingredients are a tad bit healthier, I feel like it's a step in the right direction.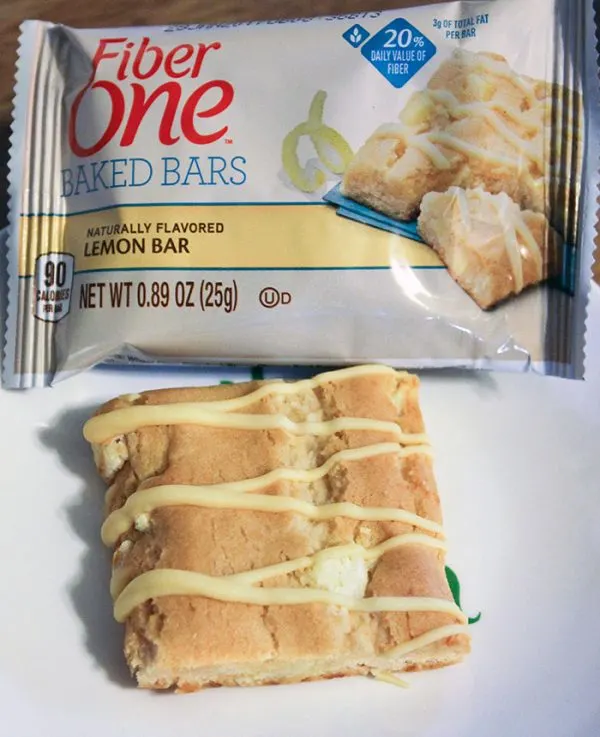 My inspiration for this dip came from Fiber One Lemon Bars. If you haven't noticed yet, Fiber One has two irresistible new flavors – Lemon Bars and Oats & Chocolate Bars. The bars now have 25% less sugar and are free of artificial flavors and colors. Each Lemon Bar contains 5 grams of fiber, 8 grams of sugar, and 90 calories.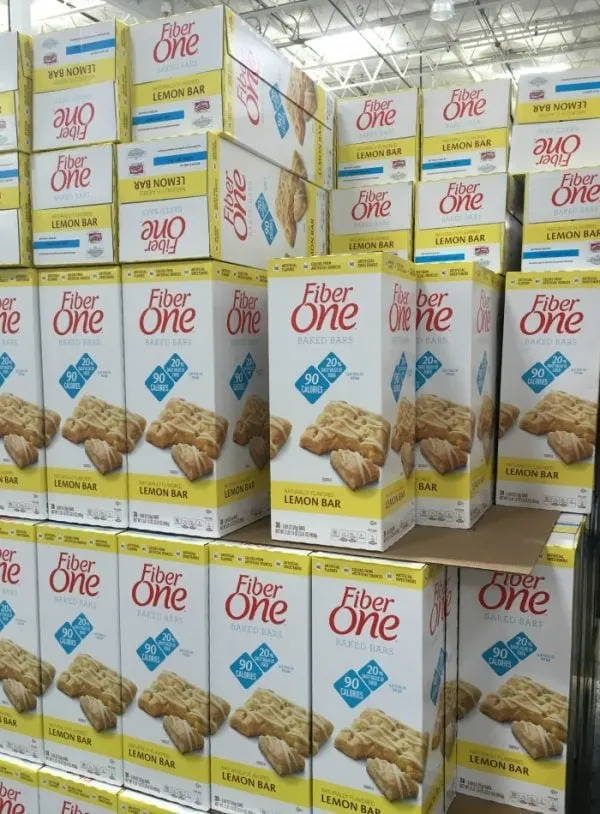 Super Filling Snack
I grabbed a large box of Fiber One Lemon Bars during my last Costco Trip. There's something so refreshing about lemon treats, I am happy to buy in bulk. I immediately stuck several of them in the freezer. During these super hot days, it's amazing to grab one of these lemon bars extra cold from the freezer as a quick snack.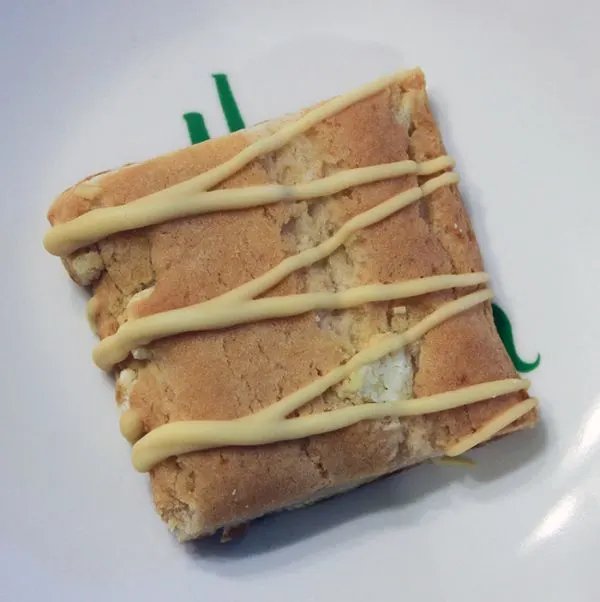 Okay, on to the fruit dip. Clearly, these babies are delicious on their own, but I thought it would be fun to use them to create a lemon cake yogurt fruit dip recipe.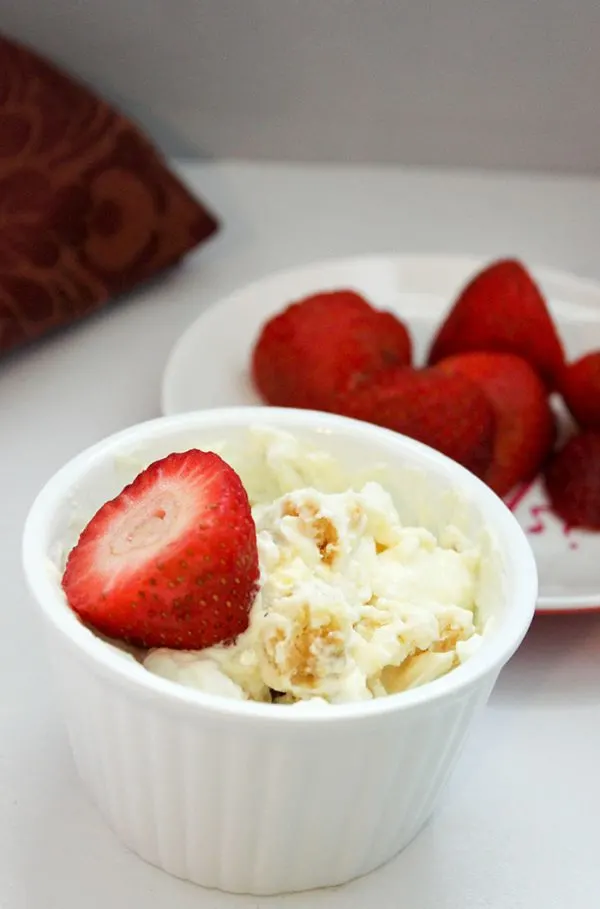 Lemon Cake Yogurt Fruit Dip Recipe
Ingredients:
1/2 cup Plain Greek Yogurt
2 teaspoons Vanilla Instant Pudding Powder
1 Fiber One Lemon Bar – crumbled
Directions:
Mix the instant pudding powder in with the yogurt very well.
I originally added 1 teaspoon of marshmallow creme at this point for sweetness. However, I found out later that after the lemon bar is added in, it wasn't needed. Use your own judgement according to your sweet tooth.
Fold in crumbles of the Fiber One Lemon Bar.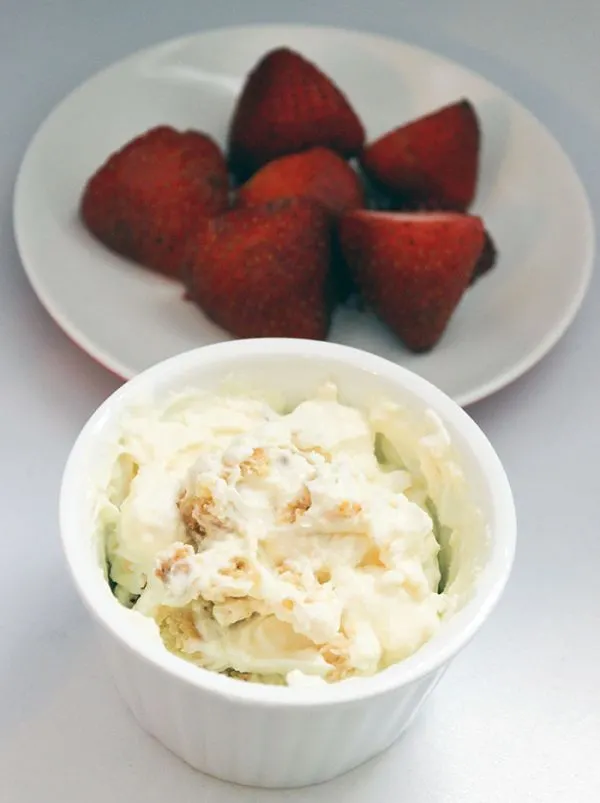 The fruit dip with strawberries is out of this world. I ran out of strawberries before I ran out of dip, so I ate the rest with a spoon. According to the recipe calculator on MyFitnessPal, this fruit dip plus one cup of strawberries is only 244 calories. Assuming you treat this as one serving, which is easy to do.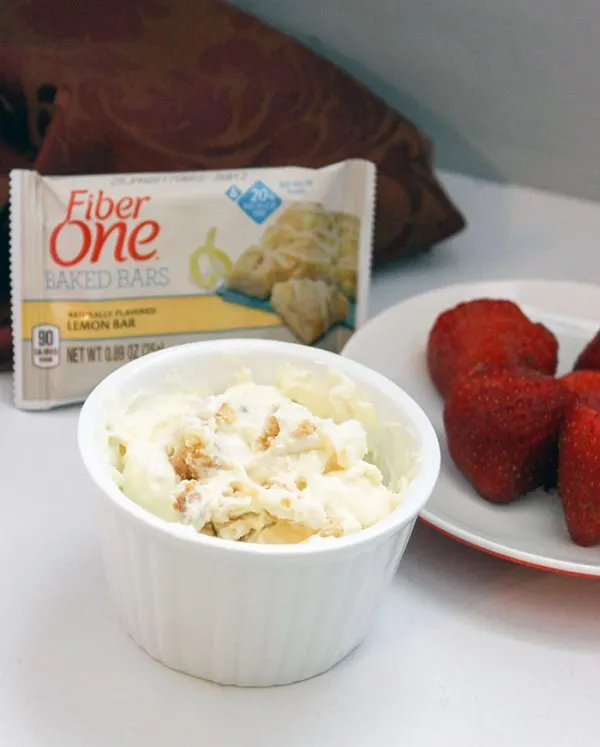 I am super excited about this snack. It's a great way to eat more fruit while getting a serious dose of fiber for the day. The yogurt balances it out even more with protein. When I eat this, I am left with a satisfied sweet tooth and a full belly. I do believe I might start calling Fiber One Bars "Filling Yum Noms," because that's kinda how I roll. I like to create my own names for things, and they are filling and delicious, so it fits. Looks like I am not the only one who thinks Fiber One Bars are so good they deserve another name.
What would you dip in this lemon cake yogurt fruit dip recipe?