With all the dessert recipes we share on this blog, sometimes delivery is just better! Maybe you're planning a party and want to save some time on the desserts. Perhaps you want to send some tasty baked goods as a gift. Or, simply take this time to treat yourself! Whatever the case, having a bakery that you know will deliver deliciousness is helpful.
After exploring The Original Crumbs Bakeshop, I noticed they have so many colorful sweets and treats! Many of the sprinkle-loaded cookies and cupcakes would make excellent swaps for some of our recipes if you'd rather not mess up your kitchen. I signed up to be an affiliate, and was sent a variety of goodies to try, so I can share my thoughts with you.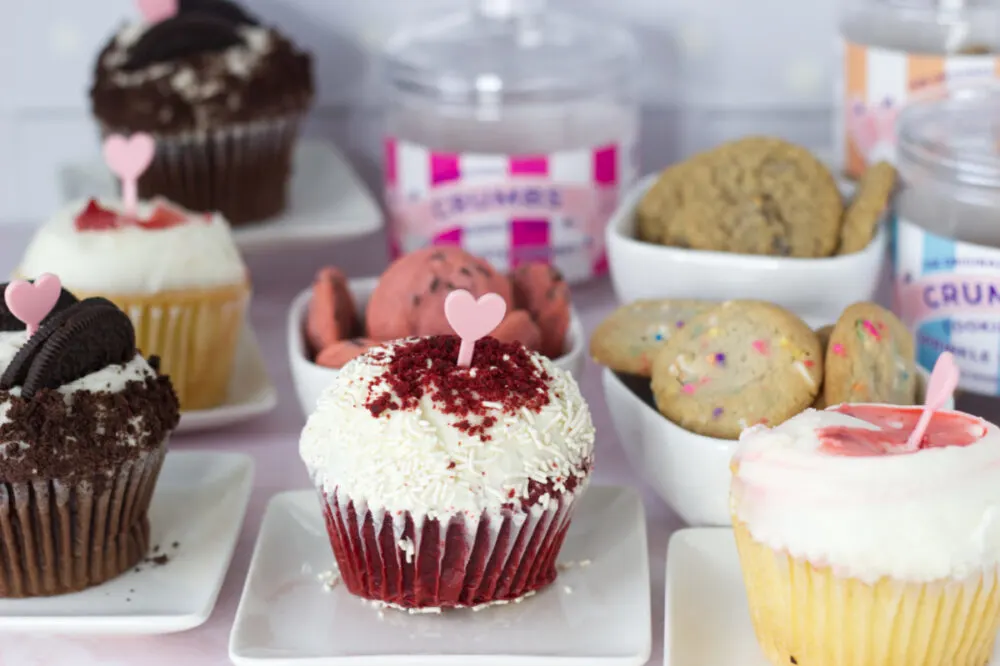 About Crumbs Bakeshop
Crumbs Bakeshop is a well-known bakery that has been serving up sweet treats for many years. They are known for their expertly crafted cupcakes and cookies that are both beautiful to look at and satisfying to eat.
From classic flavors to unique and innovative creations, Crumbs Bakeshop has something for everyone. With a focus on using only the finest ingredients, each bite is a burst of flavor that is sure to delight.
Whether you are looking for a gift for someone special or a scrumptious treat for yourself, Crumbs Bakeshop has you covered with their delicious and beautifully crafted baked goods that can be easily ordered online for home delivery.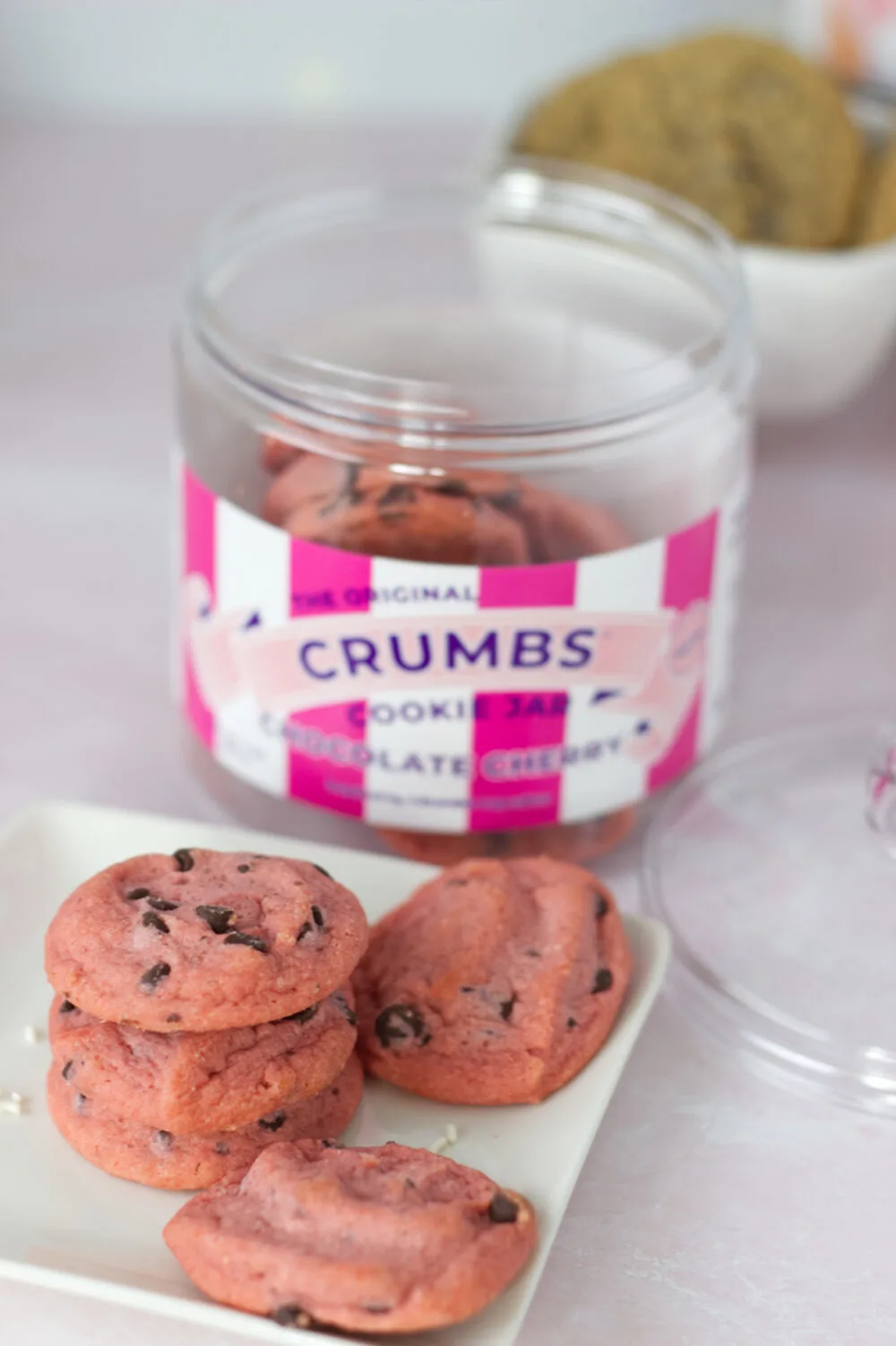 Crumbs Bakeshop Goodies That I Received
They sent me three flavors of cupcakes and three flavors of cookies. The desserts arrived safely in the carefully packed box. The cupcakes come in a 2-pack, and sit in little slots to help prevent damage during shipping.
The cookies come in little plastic cookie jars that are so cute! I'm definitely keeping them and can't wait to figure out a way to reuse them.
I feel like I should mention that I do not like overly-sweet baked goods. We went on a road trip this past year and found ourselves at a cupcake bakery in Arkansas. The cupcakes I tried were so intensely sweet that I didn't even like them that much.
Because of that experience, I was nervous to try these cupcakes. Thankfully, I still did because this is what cupcakes should taste like in my opinion. Okay, let's get to our thoughts about each flavor!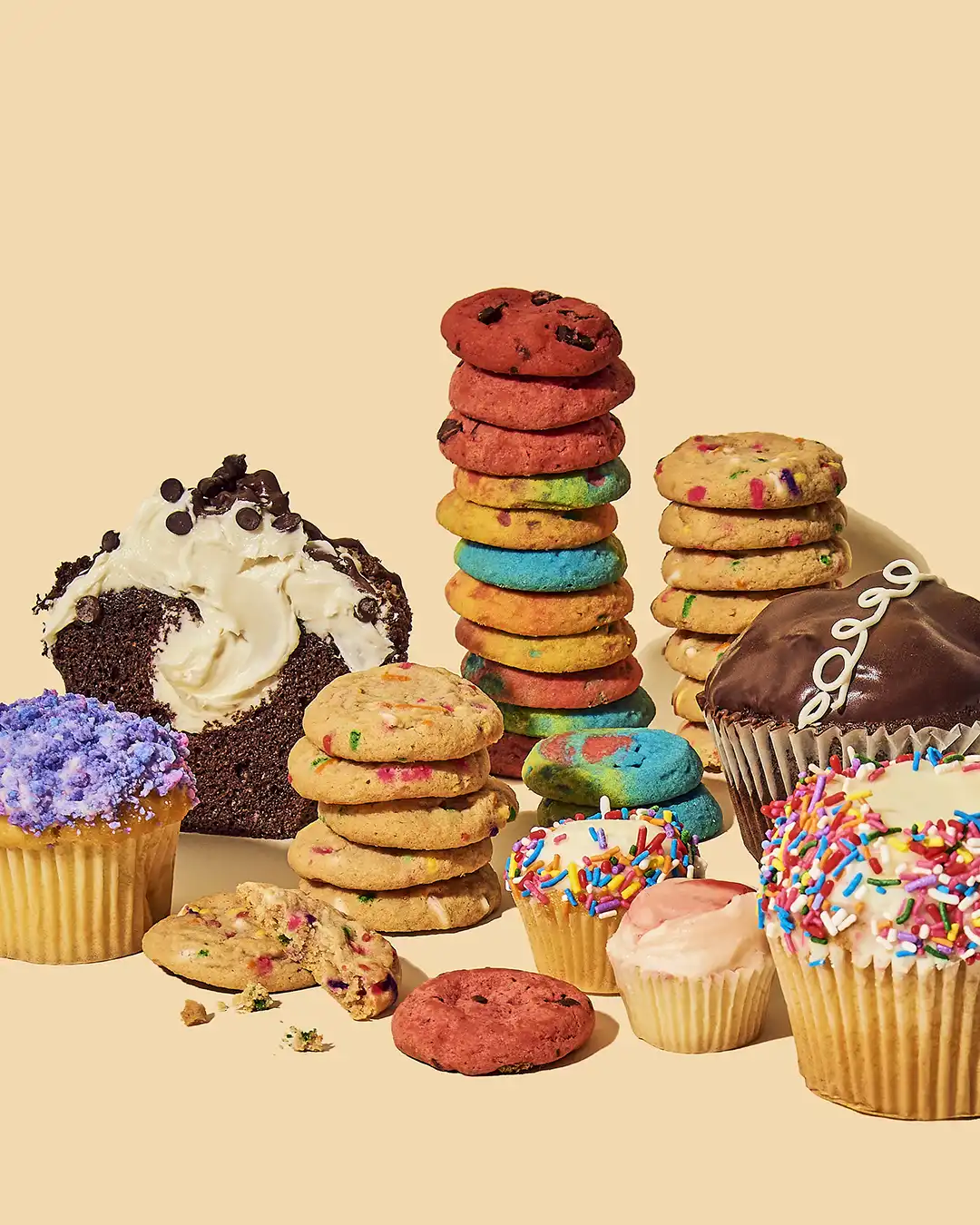 Crumbs Bakeshop
Skip the mess and order colorful treats online! If you're too busy or don't feel like making your own desserts, Crumbs Bakeshop is loaded with rainbow, sprinkly, and delicious cakes, cupcakes, cookies, and more. Get ready to drool when you browse their site!
Buy Now
We earn a commission if you make a purchase, at no additional cost to you.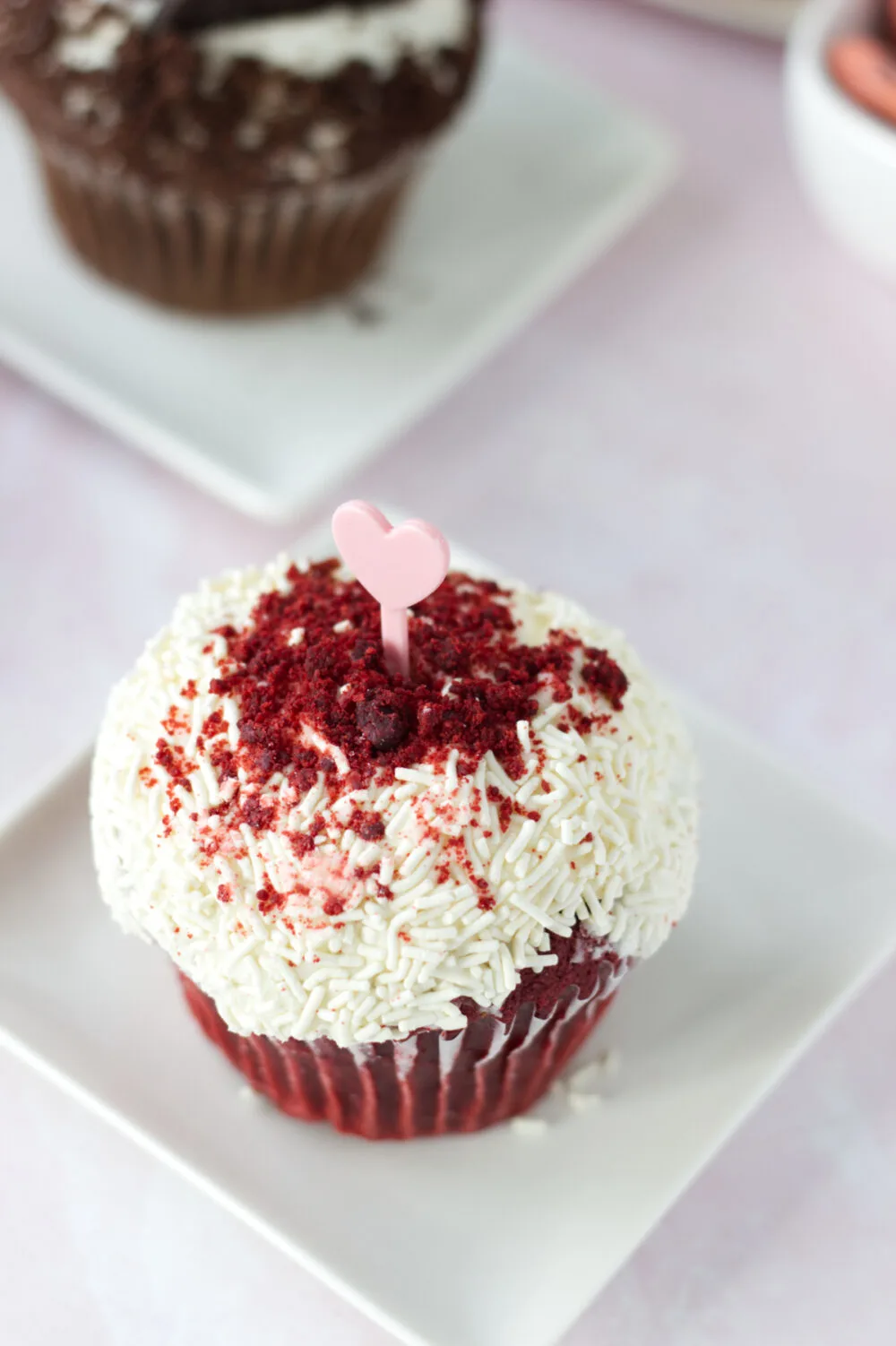 Red Velvet cupcakes
Let's start with the BEST cupcakes I think I've ever tasted. That's not me being dramatic, and Mike agrees with me. The red velvet cake has the perfect density, texture, and flavor. The vanilla cream cheese frosting is absolutely irresistible.
Mike thought there could be more cream cheese frosting within the cupcake, but I thought they were perfect as-is. We both crowned this cupcake the king, queen, and everything of the land of sweets and treats.
This red velvet cupcake is also beautiful. If you need a Valentine's Day gift idea, these gorgeous red cupcakes make the perfect dessert gift.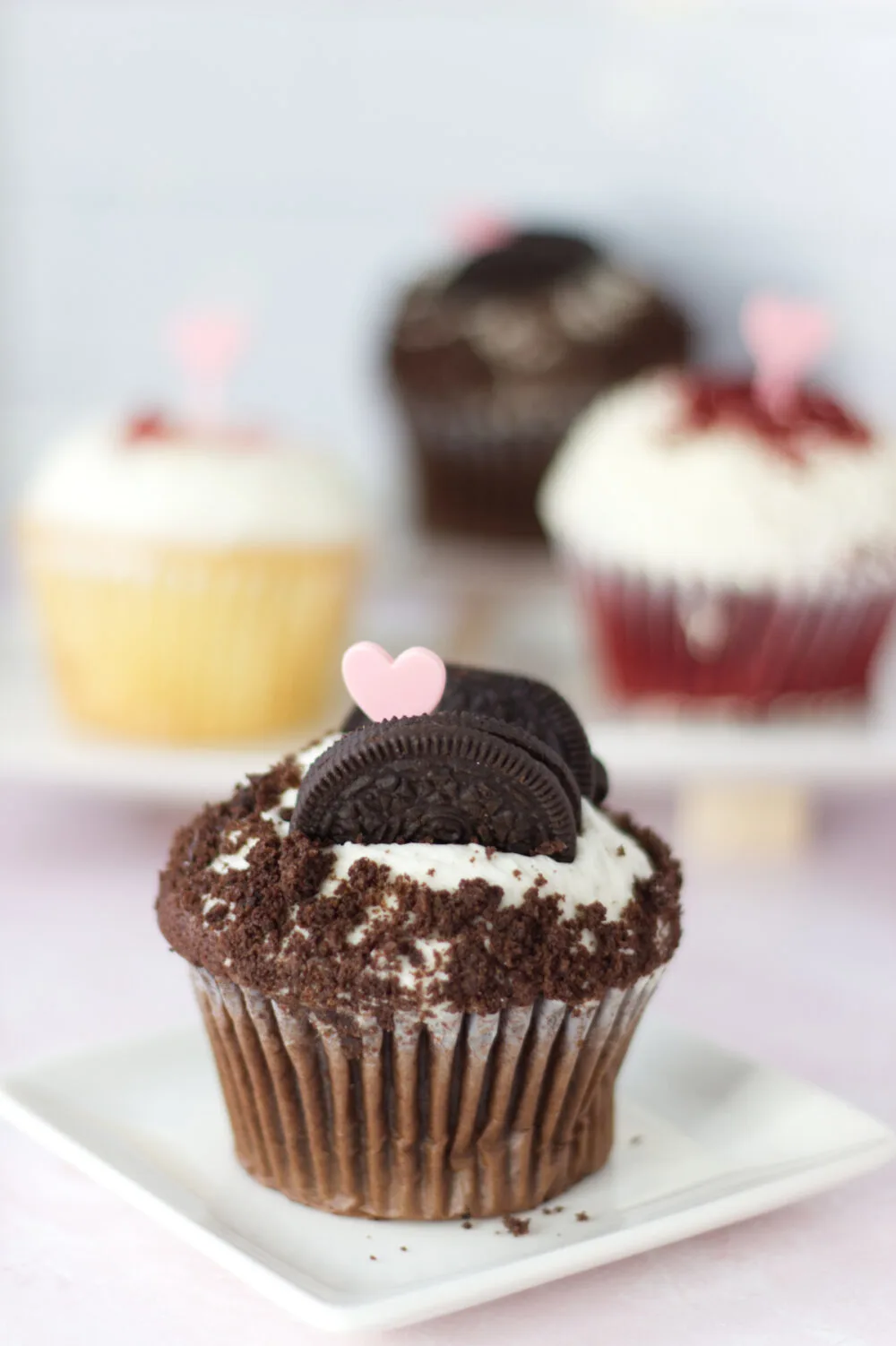 Cookies & Cream cupcakes
Oreo lovers, listen up, this rich chocolate cupcake topped with vanilla cream cheese frosting with crushed Oreos is for you! I was afraid this one might be too rich for me. I tend to prefer vanilla cupcakes over rich chocolate, but nope. Once again, I was pleasantly surprised by the balance of flavors.
The chocolate cake is fluffy, moist, and dense enough to get a good bite without it crumbling. The creamy frosting combined with cookie crumbs and the two whole cookies is the ideal sweet topping.
This cupcake is also adorable, giving it another A+ in the presentation department.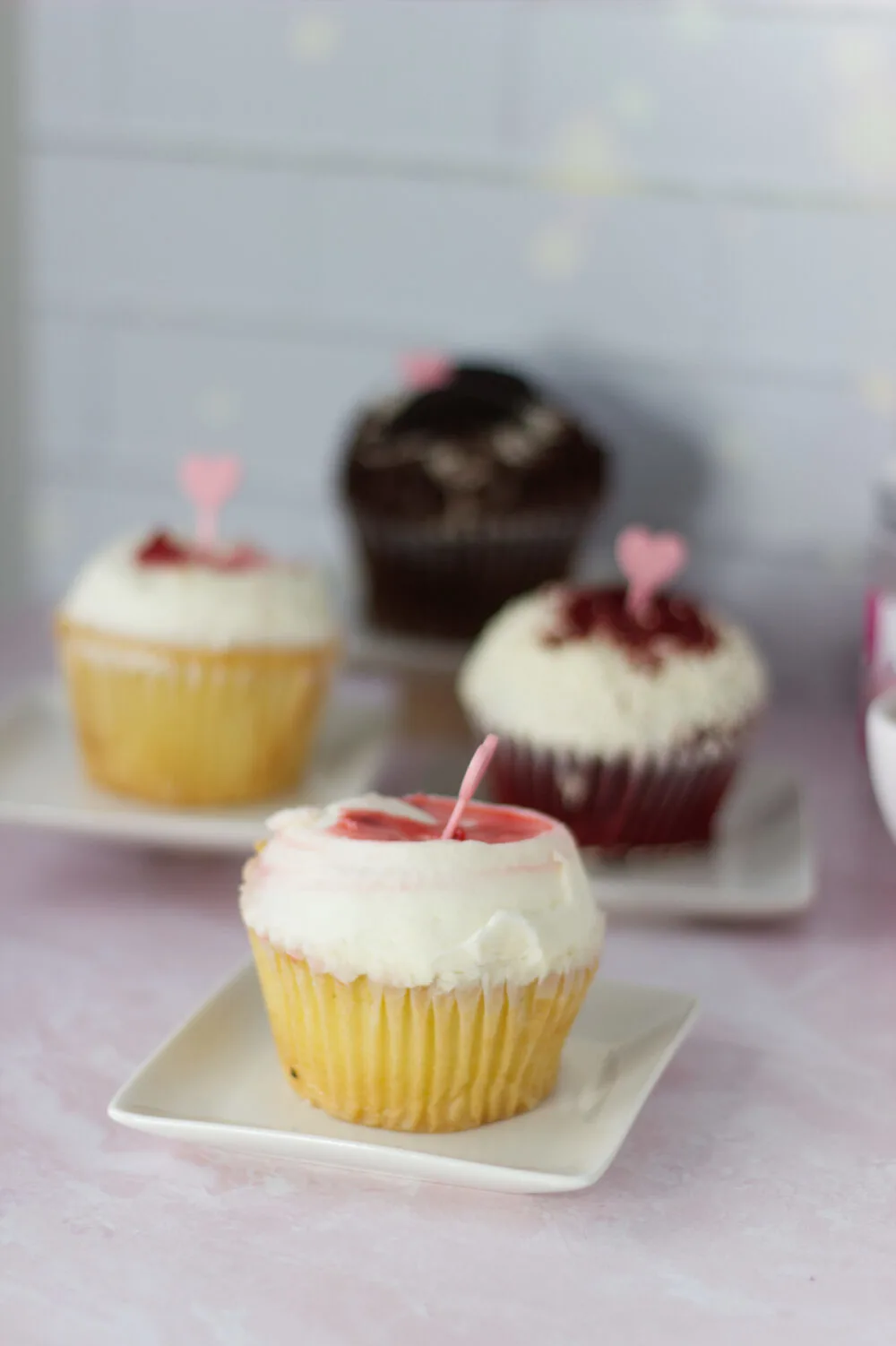 Raspberry Swirl cupcakes
Okay, I thought they were going to lose me at raspberry. I'm not the biggest fan of fruit-flavored baked goods, and raspberry is far from my favorite fruit. However, it was once again proven that Crumbs Bakeshop knows what they're doing!
The vanilla cake of this cupcake would be hard to beat. The texture, flavor, and taste are all on point. Mike was thrilled by the raspberry preserves in the middle of the cake. The cream cheese frosting with raspberry swirl is darn right heavenly.
This is another pretty cupcake that would make a great gift for anyone who loves sweets and treats.
Overall, each cupcake was a real treat. I literally cannot say one bad thing about these cupcakes. I think cream cheese frosting might be the key for me.
Any time I've tried buttercream frosting, it's way too sweet, even gritty sometimes. I look forward to trying the buttercream frosted cupcakes from Crumbs Bakeshop in the future. Maybe they can change my mind about it! But, for now, it's the cream cheese frosting for me!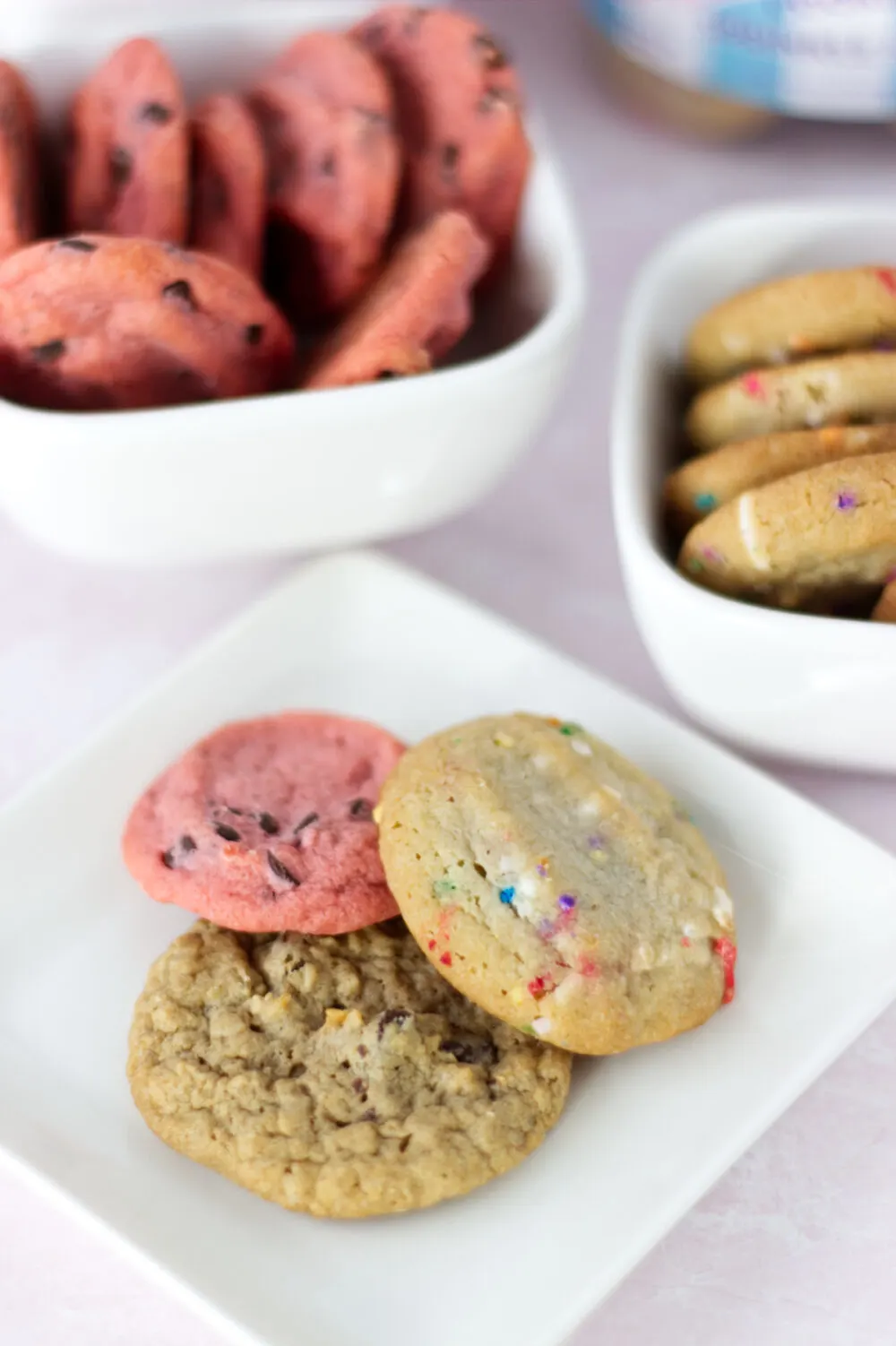 Oatmeal Raisin cookies
Sometimes when I buy cookies instead of baking them, I notice a chemical-like flavor. NOT with these! These slightly soft and chewy butter cookies are packed with raisins and milk chocolate.
Honestly, you can tell that they make everything at Crumbs Bakeshop by hand. These cookies definitely taste like homemade.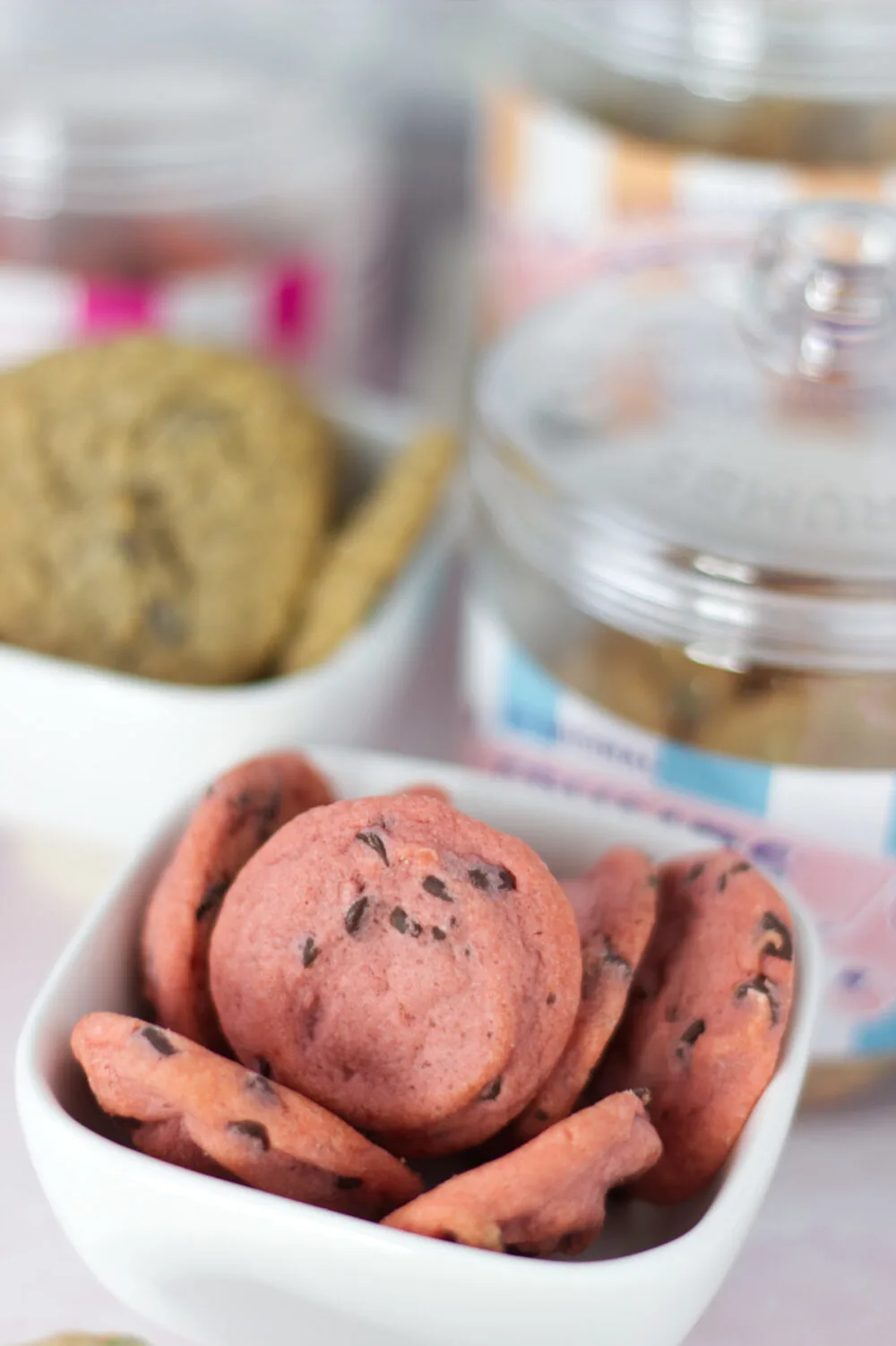 Chocolate Cherry cookies
Okay, here is where my hype party dies down. I'm not a fan of cherry flavored things. I didn't HATE these cookies, but they were my least favorite. Mike and I both thought they tasted a little bit like medicine.
If you absolutely love cherries, give them a try. They are soft butter cookies with rich cherry flavor and dark chocolate chips mixed in. The pink color is super fun!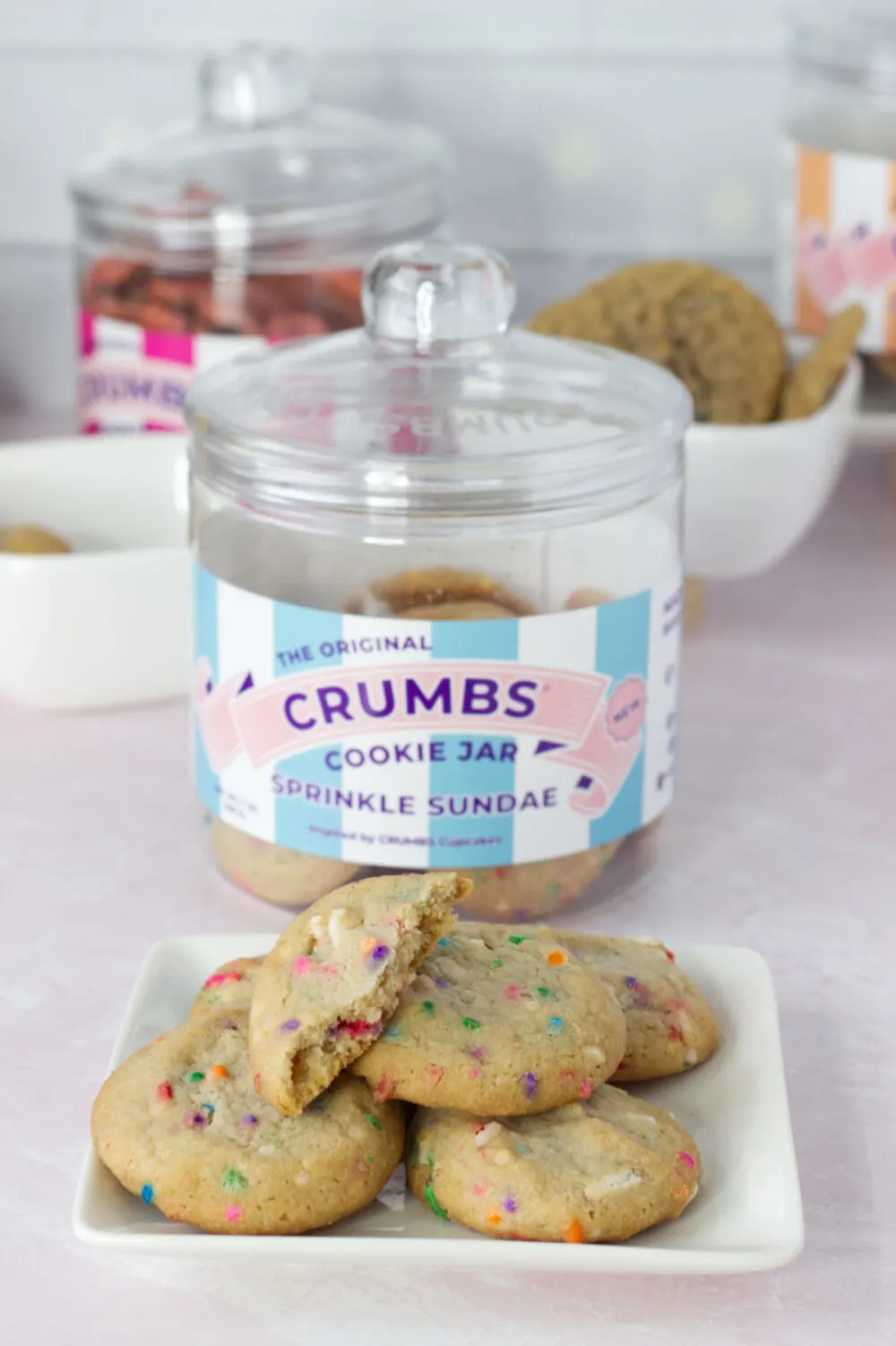 Sprinkle Sundae cookies
Back to amazing, these Sprinkle Sundae cookies are IT. If you don't feel like making our Funfetti cookies, buy these soft and chewy little butter cookies packed with sprinkles. Oh my gosh, perfection.
Mike tried to take off with the whole cookie jar of these cookies. I had to remind him that I was literally working here! They are SO GOOD. Again, these cookies are the absolute ideal texture and have the perfect balance of sweetness and flavor.
If my body tolerated sweets better, I would have these cookies on subscribe & save!
Overall, we clearly enjoyed the heck out of these goodies. Crumbs Bakeshop will now be my go-to place to order baked goods if need be.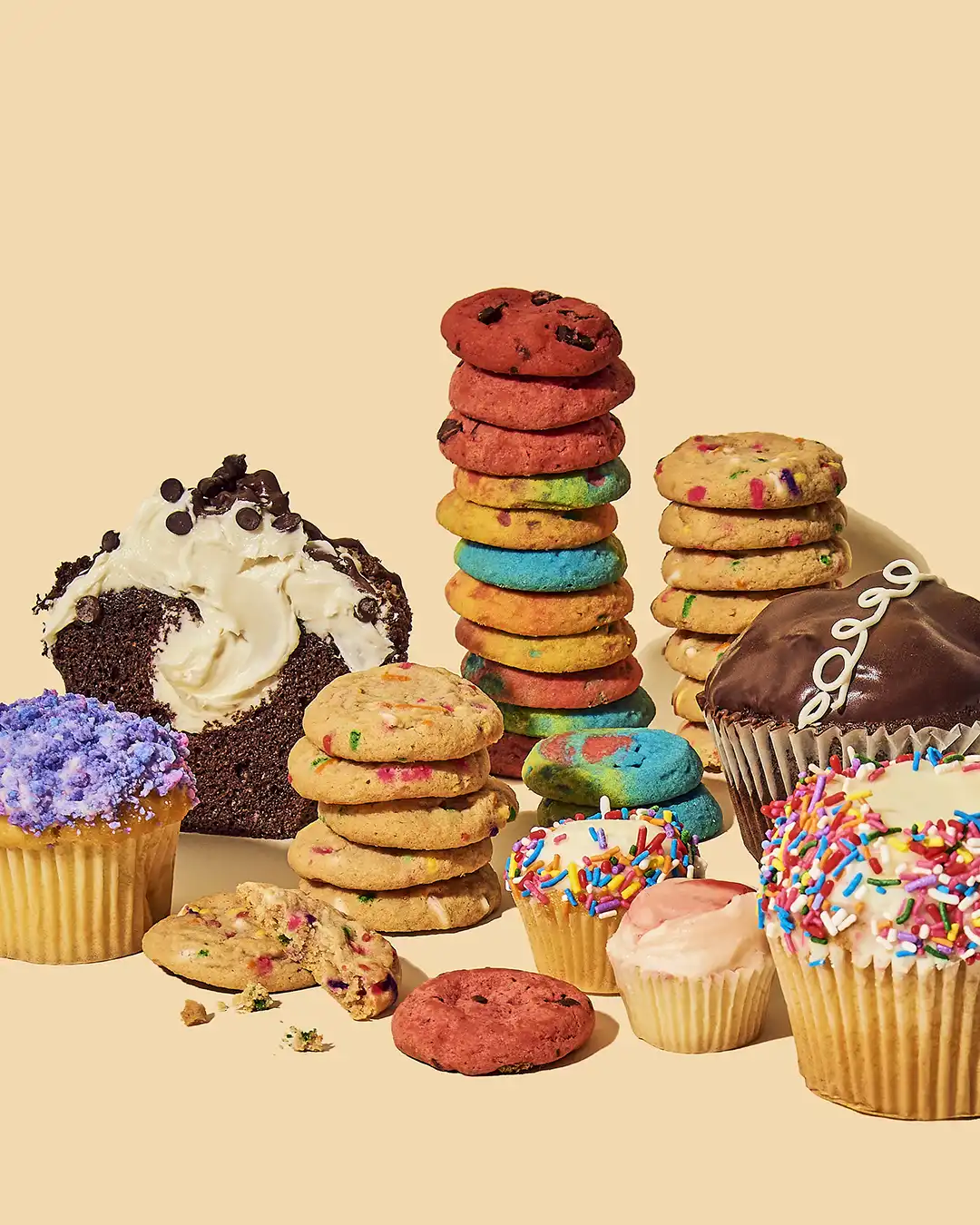 Crumbs Bakeshop
Skip the mess and order colorful treats online! If you're too busy or don't feel like making your own desserts, Crumbs Bakeshop is loaded with rainbow, sprinkly, and delicious cakes, cupcakes, cookies, and more. Get ready to drool when you browse their site!
Buy Now
We earn a commission if you make a purchase, at no additional cost to you.
Where to Find Crumbs Bakeshop Cupcakes and Cookies
You lucky ducks in NYC can get same-day delivery using most of the popular meal delivery services!
The treats are also sold in select supermarkets. You can fill out a form to request them in your grocery store.
Of course, you can also order online. Crumbs Bakeshop delivers nationwide in the US.
Pin this image to save and share!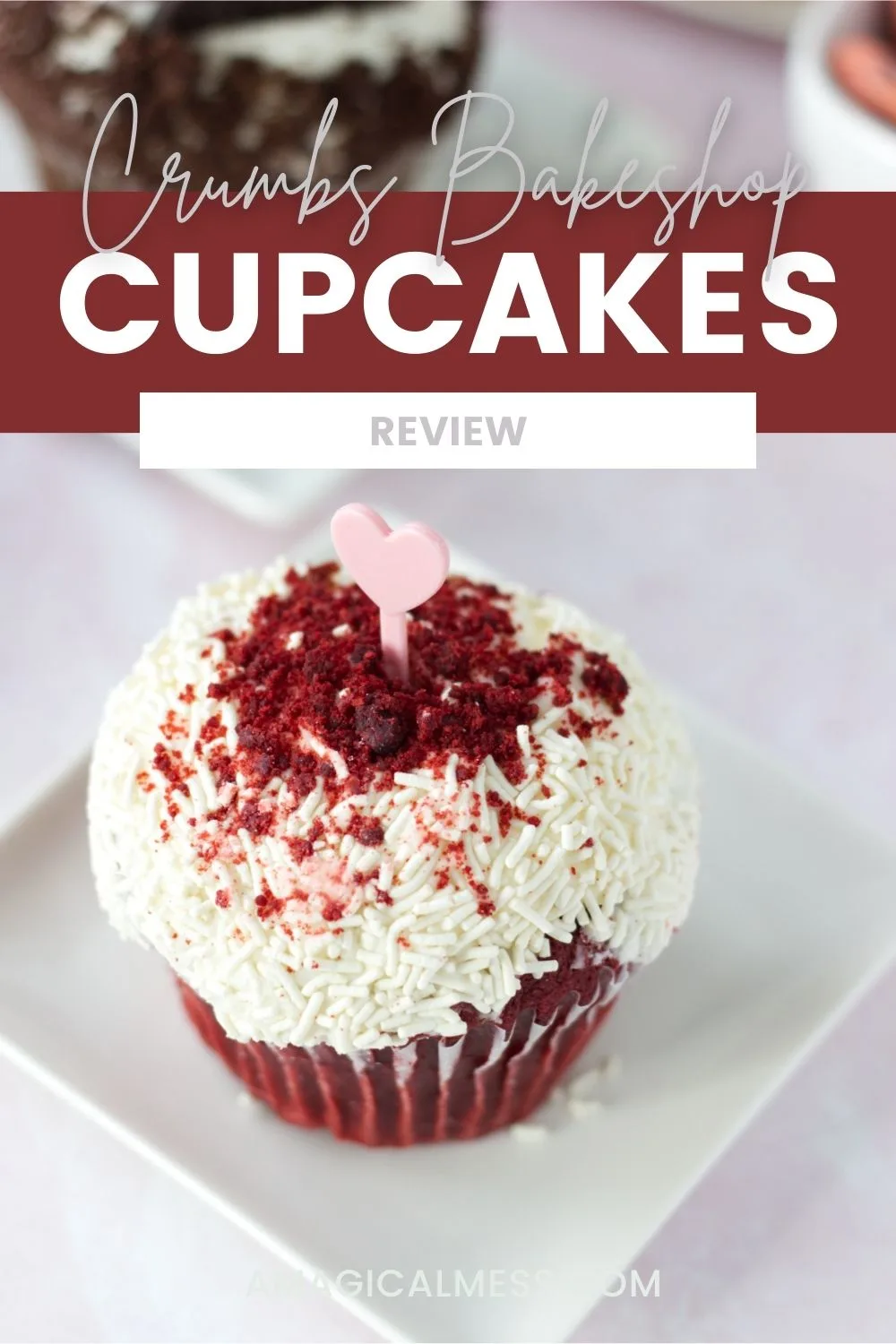 Let me know which flavor you want to try first!