Slow cooker chili is an excellent way to welcome the fall season. This three bean chili recipe is quite easy and perfect for busy nights.
Are you ready to fire up your Crockpot? Be sure to give this chili recipe a pin.
The older I get, the more I look forward to fall. Once upon a time, I never thought I'd lose my love for the extreme heat of the summer.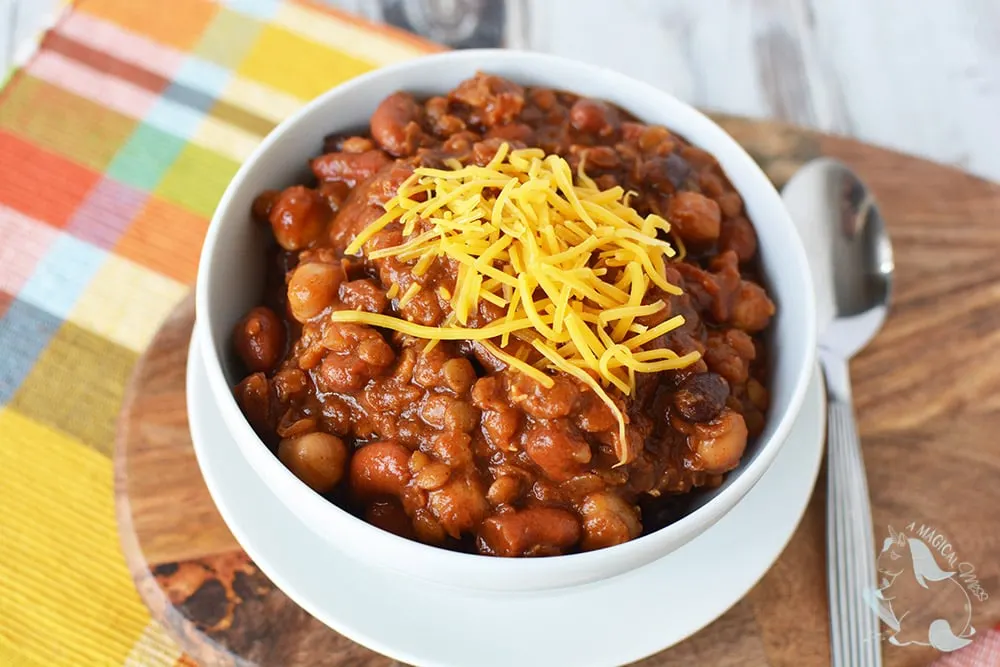 I still enjoy the sunshine and warmth, but definitely can't take the humidity or scorching temperatures for too long.
Thankfully, Mike is on the same page. Now, when we discuss our dream retirement goals, the locations shift into areas that don't contain a desert.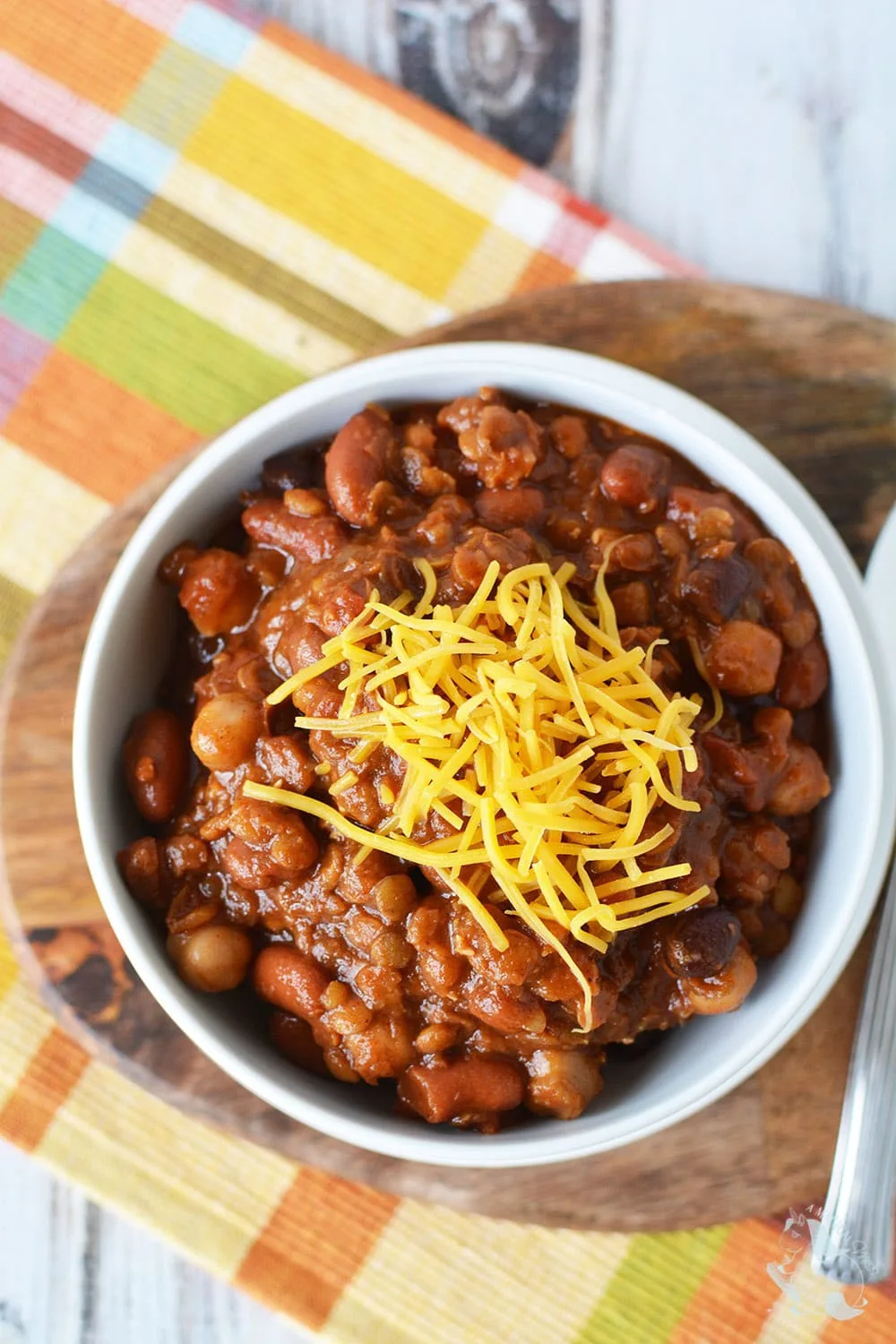 Ready for Slow Cooker Dinners
What I love about fall the most is the coziness. We get to trade in our sandals and tank tops for boots and hoodies, and I'm all for it.
Get rid of the harsh chill of the air conditioner and fire up the fireplace. Put away the fans and bring out the soft blankets.
Swap out the iced tea for warm mugs of hot chocolate. And, the best part, slow cooker meals.
No matter how reliable I think my meal planning skills are, I still manage to freak out daily about dinner.
Throwing all the ingredients into the slow cooker early in the day helps with the supper struggle.
I can focus on work a lot easier when I know dinner will be ready when we are. The house fills with delicious smells, and it's that cozy feeling all over again.
Three bean slow cooker chili is ideal for game day celebrations, family dinners, or just any weeknight meal.
No special occasion necessary for chili, but it serves up to eight people. Either invite guests or leave some for leftovers if you don't have a large family.
Add in some ground beef or ground turkey if you like meat in your chili. Otherwise, the only meat in this recipe is the beef broth.
The beans pack a protein and fiber punch, so meat is definitely optional.
Benefits of Beans:
We know beans are good for us, right? Sometimes it helps to know exactly why each bean is beneficial to our health.
There are a lot of health benefits for each bean, but here are a few that made me want to eat this chili even more.
Black beans help prevent cardiovascular diseases and a reduce the risk of certain types of cancer.
Garbanzo beans (chickpeas) contain vitamin K, folate, phosphorus, zinc, copper, manganese, choline, and selenium.
Kidney beans are so high in protein that they serve as an ideal substitute for meat for vegetarians.
Lentils contain soluble fiber which traps carbohydrates, slowing down digestion and stabilizing blood sugar levels.
More Slow Cooker Recipes to Try: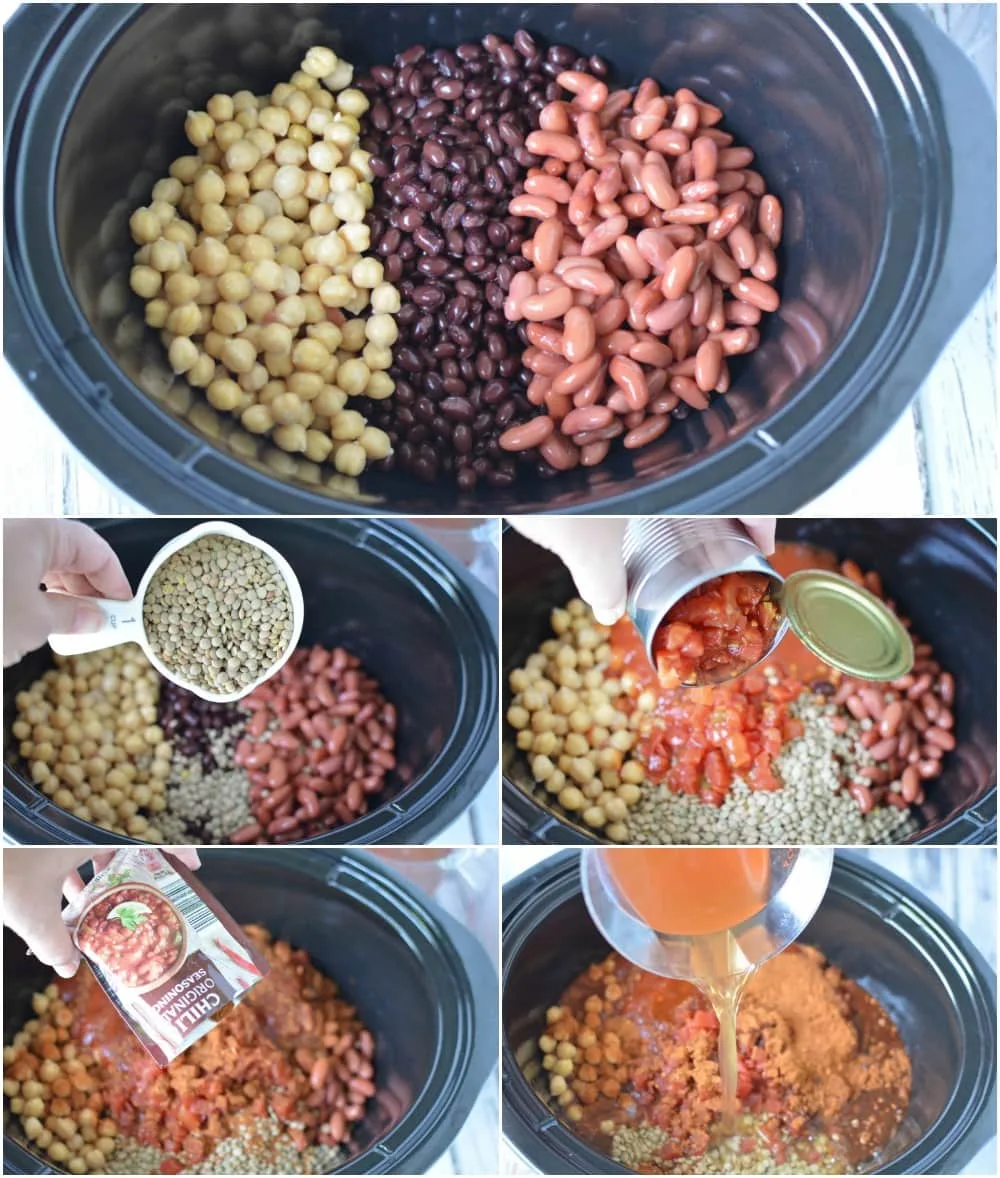 If you love chili and pumpkin, try this pumpkin chili recipe!
Yield: 8 people
Three Bean Slow Cooker Chili Recipe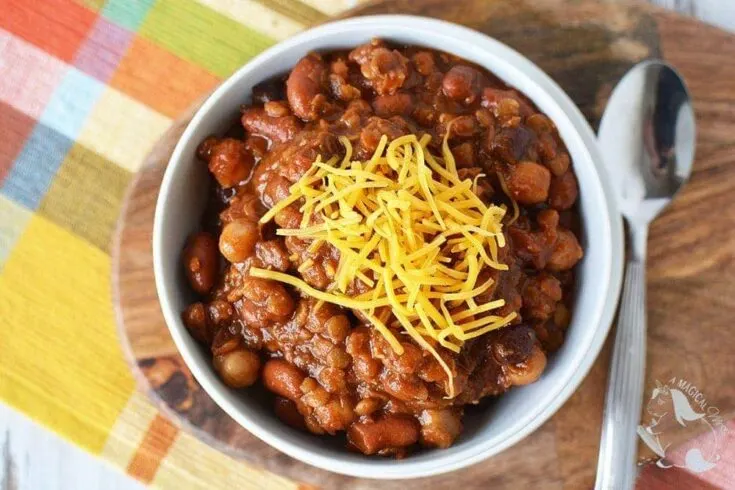 Quick and easy chili recipe perfect for fall and winter. It's spicy with the chili seasoning, so it has some heat.
Total Time
8 hours
10 minutes
Ingredients
15.5 oz black beans, drained and rinsed
15.5 oz garbanzo beans, drained and rinsed
15.5 oz kidney beans, drained and rinsed
15 oz tomato sauce
10 oz diced tomatoes with green chilies
1 cup lentils, dry
1.25 oz chili seasoning, 1 packet
3 cups beef broth
4 cups cheddar cheese, optional, shredded for topping
Instructions
Add all ingredients, except cheese, to a slow cooker and mix well.
Set on low for 8-10 hours.
Serve topped with shredded cheddar cheese.
Nutrition Information:
Yield:
8
Serving Size:
1 serving
Amount Per Serving:
Calories:

593
Total Fat:

24g
Saturated Fat:

12g
Trans Fat:

1g
Unsaturated Fat:

8g
Cholesterol:

62mg
Sodium:

1575mg
Carbohydrates:

62g
Fiber:

15g
Sugar:

8g
Protein:

36g
Nutrition facts are an estimate only.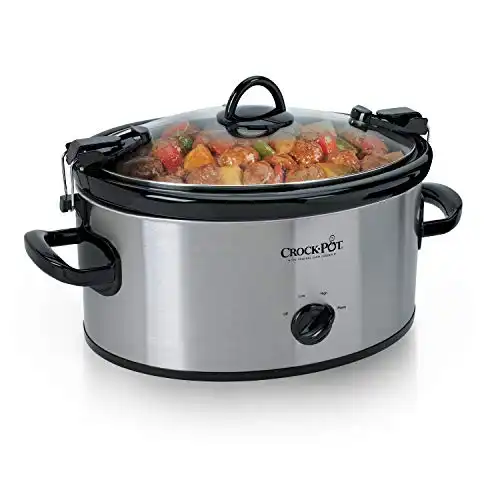 Please pin and share with friends!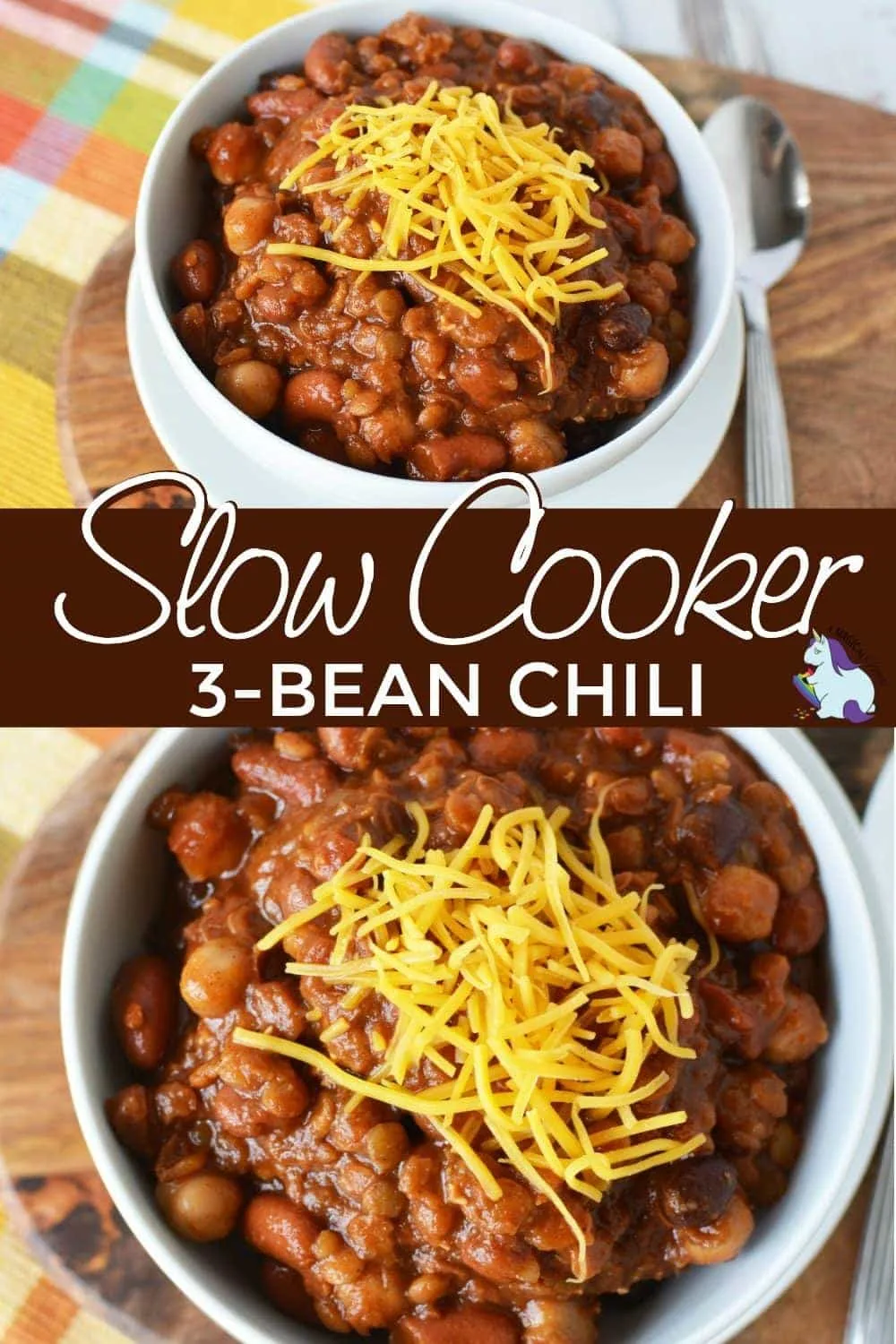 Do you like to make slow cooker chili?