Unless you're the parent of a boy in high school, it can be difficult to pick the right gift. Being a decade or two out of their loop can make us dangerous gift givers. Who would want to be responsible for giving the gift of social ridicule? With the help of my freshman son, we've put together some safe gift ideas for boys in high school.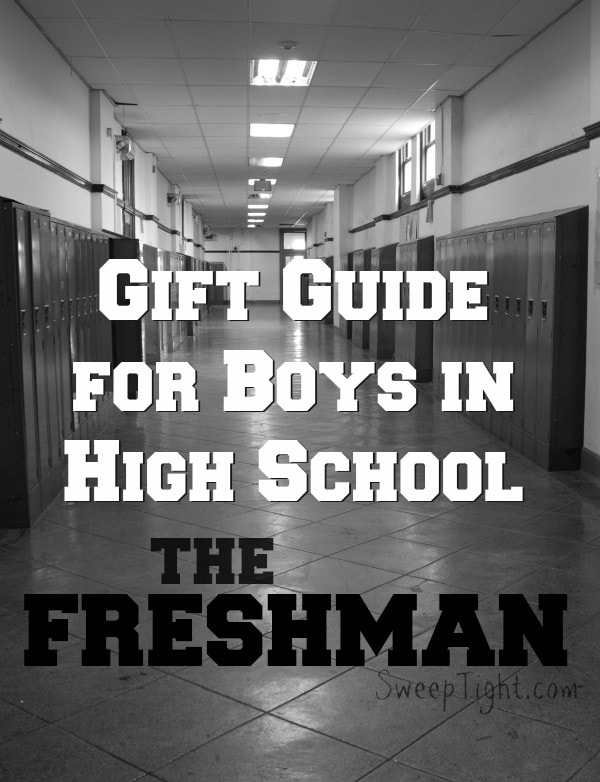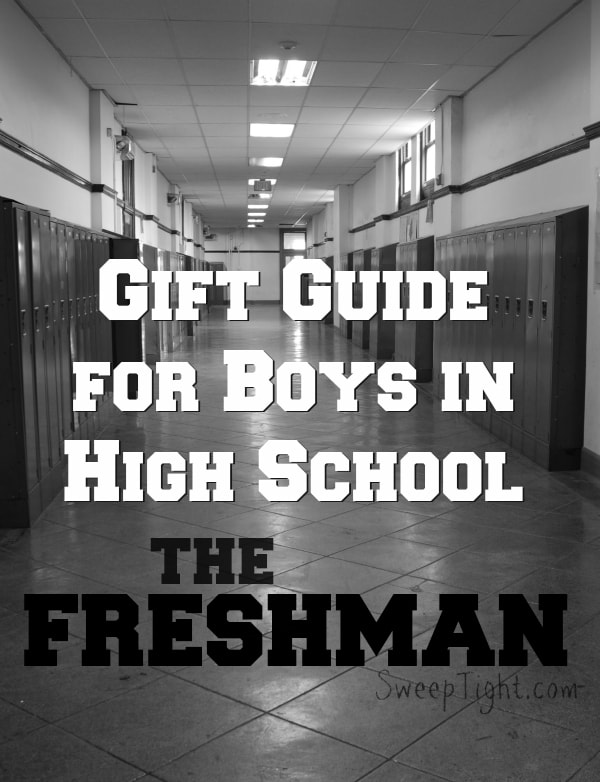 Gift Ideas for Freshman Boys in High School
Tall socks – are all the rage right now. In fact, my son prefers to wear shorts –even in the cold– for the sole purpose of showing off his socks. Name brands like Nike and Under Armor are the faves and anything super colorful. He loves these inspirational socks from Inspyr as well.

Earbuds – good quality is ideal, but even just some inexpensive pairs are great too. They go through the wash quite often here and surprisingly still work most of the time! But, they're also lost, stepped on, or simply used to death; so having a few spare sets is smart. If piercings are involved, here are the best earbuds for the daith piercing.

Outdoor games – Want to encourage more outdoor play? Capture the Flag REDUX is a new spin on a classic game. In fact, the whole family will want to join in on this glow-in-the-dark fun. The game set comes with everything you need to play right away and includes different game variations to keep it interesting.
Prepaid phone – absolutely brilliant. At this age, they need a phone. But the stress and financial burden of a contract? No way. A prepaid phone allows boys in high school to learn what having a monthly bill is like and the privilege of having their own plan with unlimited talk and text. Plus their not sucking all the data from your shared plan. We use ours as an incentive to keep grades up. If he's dedicating his time to his studies and not just socializing, I pay the bill. During the summer months, it's his responsibility. If they already have a phone, put money into their account to pay for a month or two.

Or snag some fun accessories like cases or extra chargers.
Bluetooth speakers – are the perfect gift for any high schooler. They can put them in their bedroom or bring them outside and share their jams with all their friends.
Gaming chair – I guess not all boys in high school are gamers? I don't know the statistics here, but I'd guess the majority dedicate some time to a favorite video game. A gaming chair is like a throne to a teenager. I'd be shocked if anyone would be disappointed to receive this gift.
Vocabulary book – I know, I know. You're thinking nice one mom, you snuck this in here. But I didn't! Adam is actually interested in broadening his vocabulary. It's because he wants to impress the girls, but hey, I'm okay with this as long as it's making him more articulate. I found this book, 100 words every high school freshman should know and the whole family is actually loving it. I grab one word a week and put it on the fridge to encourage all of us to learn it.
Shoes – OMG the shoes. Now, this is a tricky topic. I will see a pair I think Adam with just flip for and I'll show him, and he's completely repulsed. So to be safe, I'd say a gift card for shoes is the best way to go. Perhaps a gift card in a card shaped like a shoe to be more fun.
Clothes – similar situation as with the shoes. This is a major time for self-expression. It's best to let them have the freedom to do so. Be safe with gift cards, but you can present them in a creative way with fun things like a puzzle box they have to solve before they can get their card.
Monthly subscription boxes – a gift that comes once a month. Um, no brainer, amazing. I'd suggest something like TeeBlox, Sox Box, or anything with yummy snacks to try.
Food – if he's not growing like a weed yet, he probably will be tomorrow. If he's athletic, the daily calorie requirements are enough to break the bank.

How to gift food? Here are a couple of ideas:
Drive around his area and grab gift cards to a bunch of the local food establishments.
Get a gift card to the nearest grocery store or better yet, take him shopping. Let him load the cart with all his favorite foods to stock his very own shelf at home.

Movie tickets – nothing is better than the gift of freedom for the boys in high school. A movie night out with friends is even something the parents can support. Snag a few Fandango gift cards to put in a box full of movie candy and snacks to complete the package.
Do you have any gift ideas for boys in high school to add?