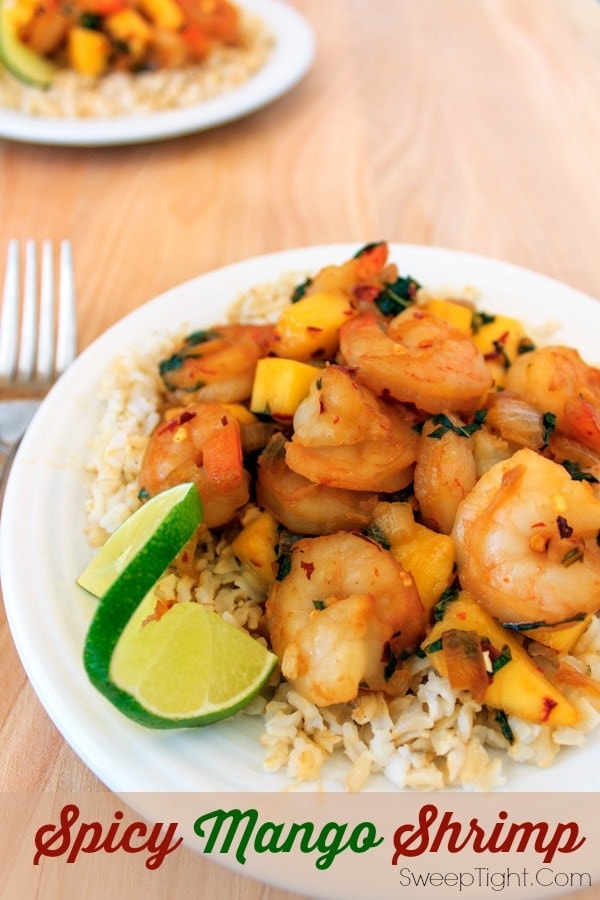 Spicy Mango Shrimp Recipe – Easy Seafood Dinner
This Spicy Mango Shrimp is the perfect quick and easy meal to make using all the fresh fruit and veggies that are ripe and in season! Sweet mango cools the spicy kick of the shrimp making each bite perfection. Serve over a bed of brown rice for a light dinner. Grab some fresh salad and have left-overs for lunch. An awesome no guilt meal anytime! From start to finish, the spicy mango shrimp is ready to eat in under 30 minutes. Let's eat…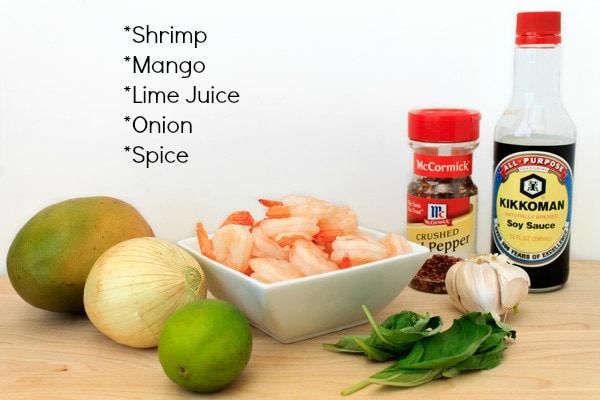 Spicy Mango Shrimp Recipe
Ingredients:
14 OZ Large Shrimp (peeled, deveined – I used frozen)
1 Large Mango (cubed)
1 Cup Onion (chopped)
Juice From 1 Small Lime (about 3 TBS)
Handful Fresh Basil (chopped)
1 TSP Red Pepper
2 TSP Garlic (minced)
2 TBS Soy Sauce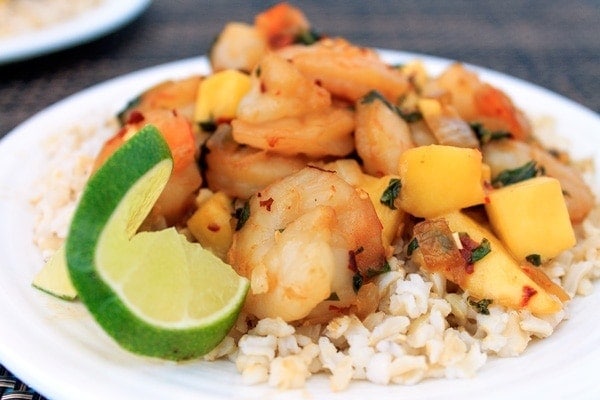 DIRECTIONS:
In a large frying pan, heat 2 TBS Olive oil over medium heat. Add onion and garlic and saute until they start turning golden brown. Add soy sauce, basil, red pepper, lime juice. Stir and cook for just about 3 minutes. Add shrimp. If frozen, cook until heated. If fresh, cook through. Should be just about 4-5 minutes. Finally, add in mango. Mix until completely coated. Stir occasionally so they warm evenly but do not allow them to get 'mushy' Because, yuck. For a nice Summer dinner, serve over brown rice. Enjoy!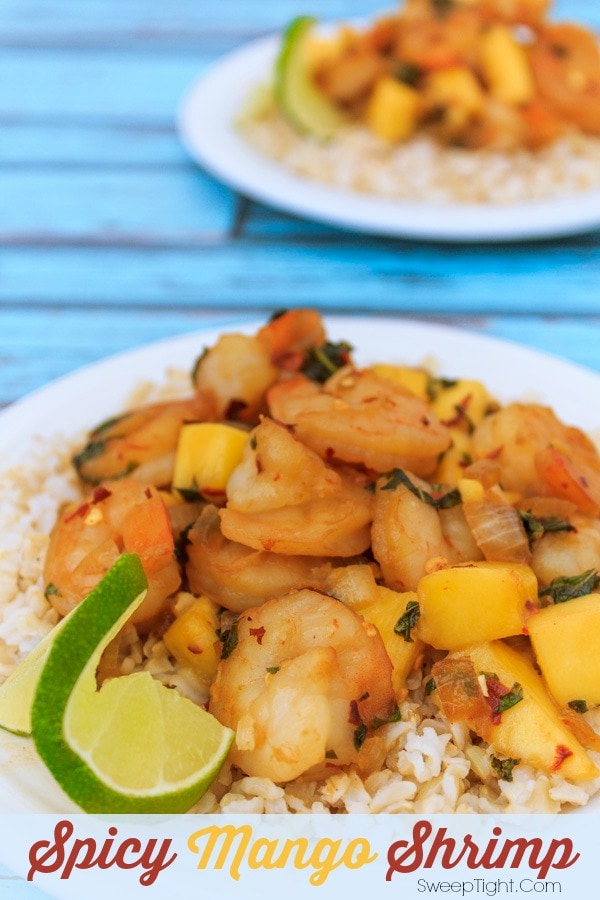 We made this and took it outside to eat. I had a frozen margarita and my hubby enjoyed a cold beer. We watched the sunset and had quite a nice little date night in! It's a perfect recipe for 2. If you double the recipe and use a smidgen less red pepper, it's a great way to get the kiddos to enjoy new foods! The sweet mango is a sure shot to get them to enjoy seafood. The end of Summer will be here before we know it, this is 1 of those 'must have' dinners you should enjoy before the cold weather creeps back in!
Ready for some Spicy Mango Shrimp? Let me know how yours turns out! 
Rainbow Crumbs for You
Weekly newsletter with our latest posts and shenanigans.