Cool, crisp mornings are the best time for cozy blankets, hot drinks, and tummy warming cinnamon roll oatmeal.
For this recipe, we used steel cut oats. However, it can also be made with quick-cooking oats, which will shave off some prep timing.
This breakfast isn't overly sweet, but more brown sugar or icing can be added to your taste.
Irresistible Cinnamon Roll Oatmeal
If you decide to use quick oats, cook according to the package instructions. Then, add the remaining ingredients as directed in this recipe.
It's important to note that, if you want the icing swirl to last, the oatmeal needs to be cooled in the fridge for approximately ten minutes.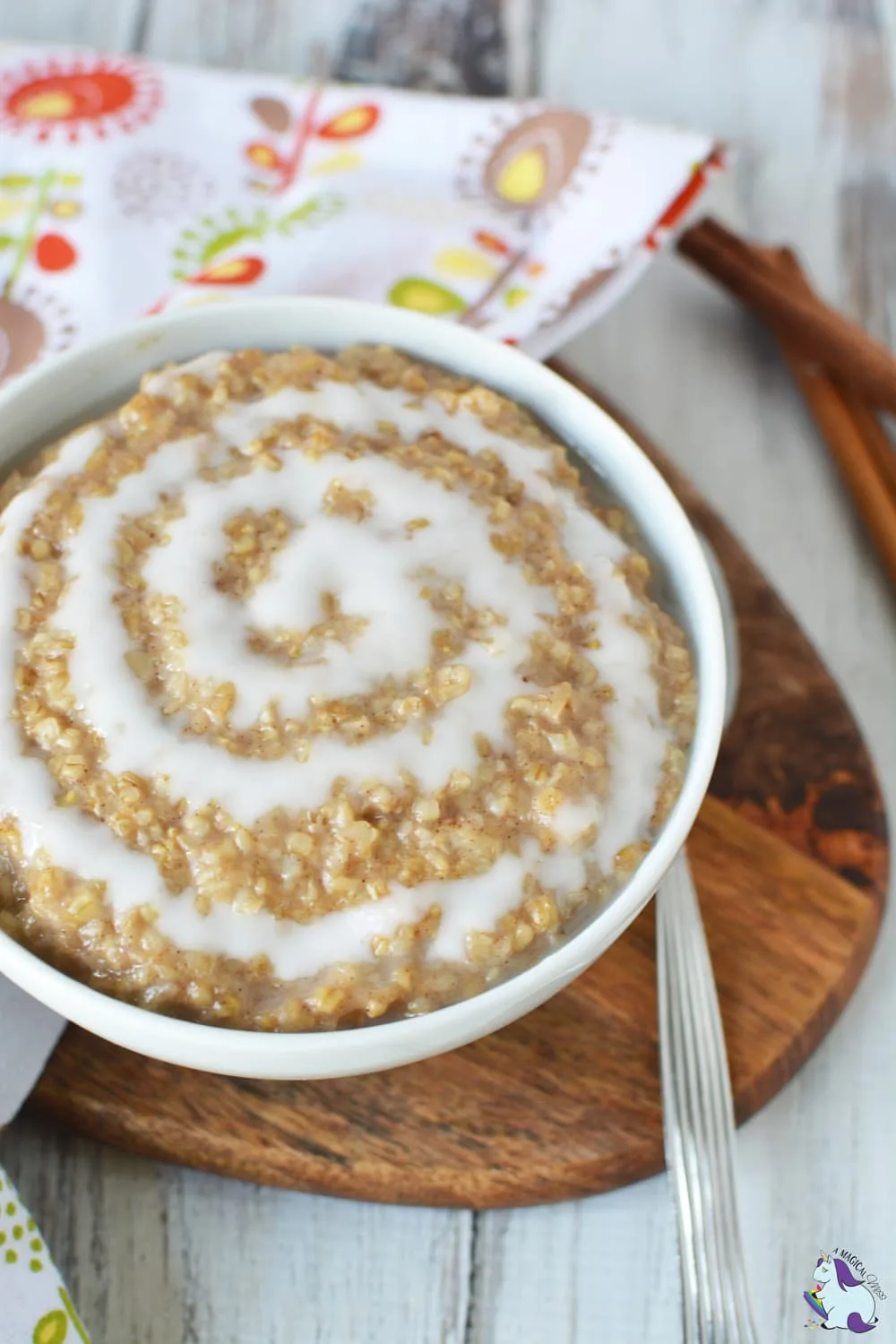 If the oatmeal is too hot, the icing dissolves. It's just as yummy, but doesn't present as cinnamon-rolly.
The cinnamony aroma that fills the house is enough to draw hungry noses from their beds.
Be sure to make enough for the whole family, who will all eagerly gather around the table to enjoy this high-fiber meal.
Recipes for Cinnamon Roll Lovers
If you can't get enough of that cinnamon roll swirl, here are so more recipes we've created in honor of the delicious pastry.
Did you know oats are one of the healthiest grains on earth?
Oats are high in soluble fiber, antioxidants, and important vitamins. The most noteworthy antioxidant, avenanthramide, is credited for oatmeal's ability to lower blood pressure.
The type of fiber in oats, beta glucan, is what makes us feel so full after eating a bowl of the classic breakfast meal.
It's also responsible for helping lower cholesterol, reducing blood sugar and insulin response, and encourages healthy gut flora.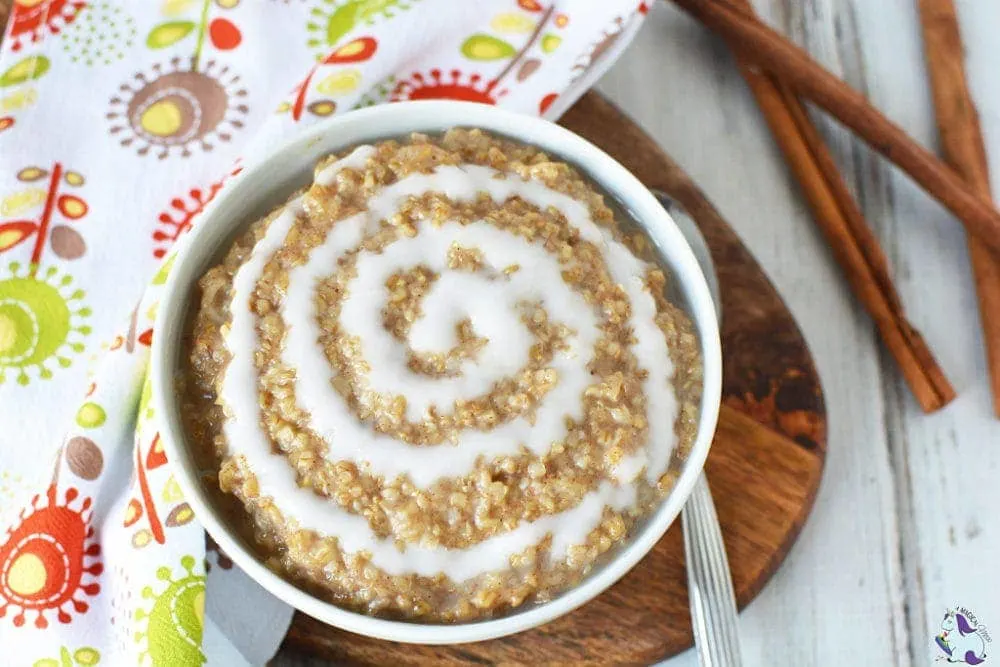 Thanks to this heart-healthy grain, you may just lose weight from feeling so full–resisting the urge to reach for an empty-calorie snack. The oat's roots in breakfast history are firmly planted in Scotland where they grew in popularity because of the cold climate.
For those of us needing to fuel a day full of activity, oats are a top choice.
Cold cereals are an easy option for the morning rush, but because they're so highly processed, they lose a lot of their nutrients along the way.
Some of the vitamins and minerals are added back after processing–referred to as 'fortified' nutrients–but our body likes nature's packaging best.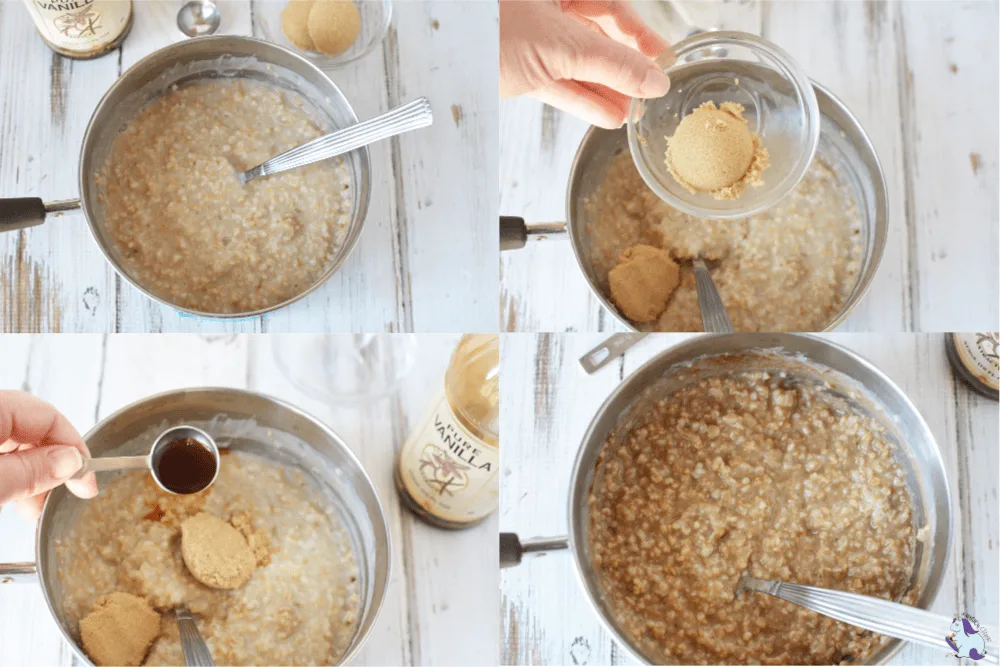 Yield: 2 people
Cinnamon Roll Oatmeal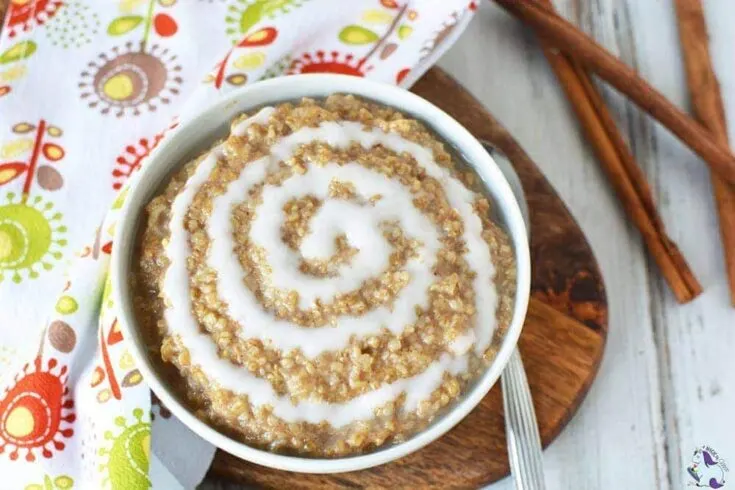 Super yummy and easy steel cut oatmeal, cinnamon roll style!
Ingredients
1/2 cup steel cut oats
3 cups water
2 tbsp brown sugar
2 tsp vanilla
1 tsp ground cinnamon
Swirl Icing Topping
1/2 cup powdered sugar
1 tbsp half and half
Instructions
Cook steel cut oats according to package instructions: Boil water and add oats.
Reduce heat to a simmer, and stirring occasionally, cook for 25-30 minutes.
Remove from heat.
Stir in brown sugar, vanilla, and cinnamon. Spoon into a bowl.
In a small bowl, mix powdered sugar and half and half together until combined.
Drizzle icing onto oatmeal in a swirl pattern. Serve.
Notes
To create the swirl pictured, the oatmeal must be cooled in the refrigerator for a few minutes, or the icing melts fairly quickly.
Recommended Products
As an Amazon Associate and member of other affiliate programs, I earn from qualifying purchases.
Nutrition Information:
Yield:
2
Serving Size:
1 person
Amount Per Serving:
Calories:

325
Total Fat:

3g
Saturated Fat:

1g
Trans Fat:

0g
Unsaturated Fat:

2g
Cholesterol:

3mg
Sodium:

25mg
Carbohydrates:

67g
Fiber:

5g
Sugar:

39g
Protein:

6g
Nutrition facts are an estimate only.
If you're looking for more creative ways to dress up your morning oatmeal, try our protein pancakes that use oats for flour!
Pin to save for later!
To keep the cinnamon roll oatmeal theme going strong, this cinnamon roll protein pancake recipe is my personal fave. If you're craving a quick dessert for one, try this cinnamon roll mug cake.
Or, if you'd prefer to save time in the morning, overnight oats are the answer.
What is your favorite way to eat oatmeal? Tell us in a comment below!