Tasty burger recipes are something we enjoy all year round. The weather may cool down, but we still fire up the grill.
The best burger recipe is one that contains your favorite toppings, of course, but we'd like to think this grilled Italian burger might make your list.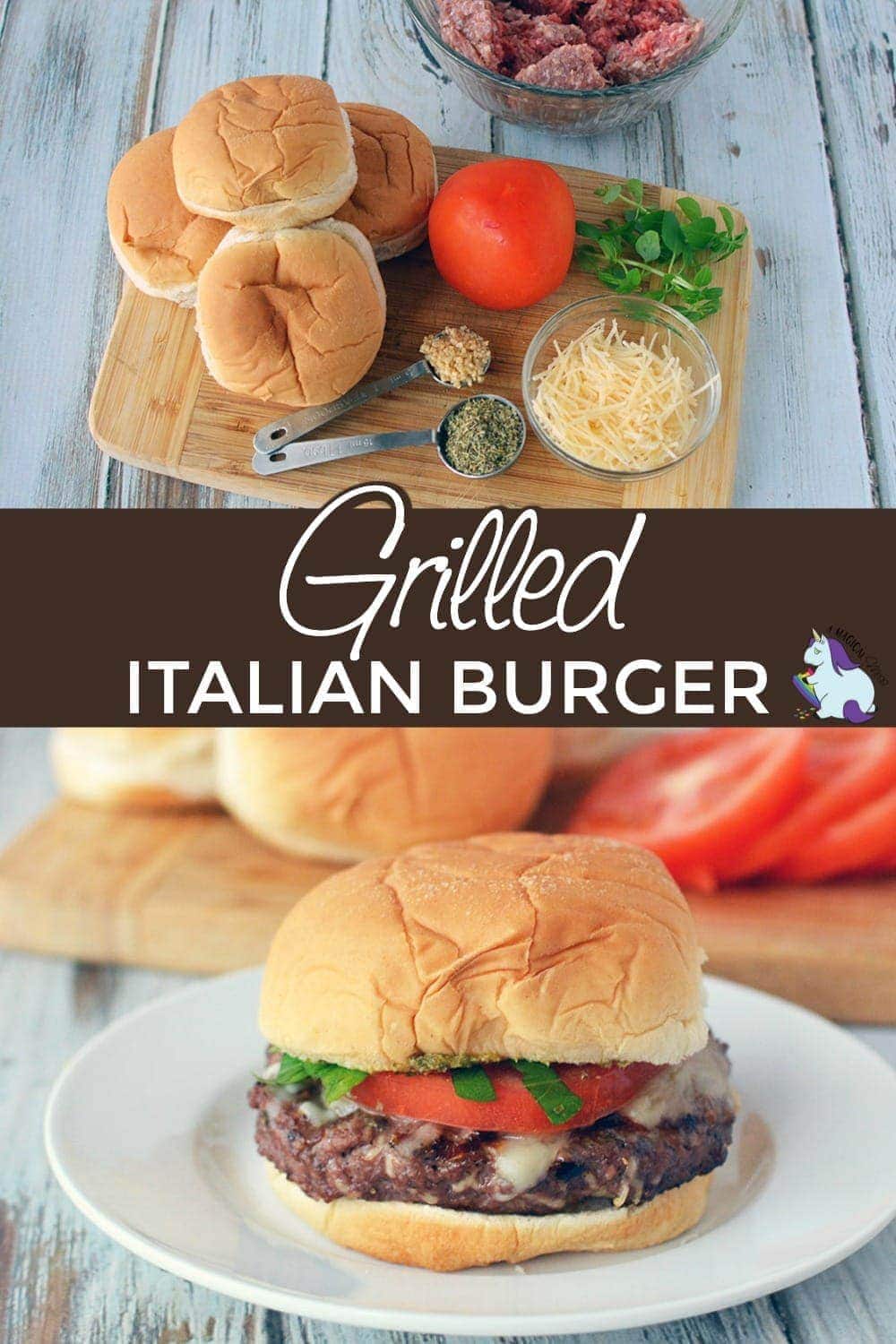 Pin this hamburger recipe for your next BBQ party or whenever you crave a legit cheeseburger.
When You Crave a Real Burger
Burgers are a quick and easy option for lunch or dinner. They can be plain and require minimal work; or, fancy them up a bit for a unique treat.
If you're looking for a break from plain, give this Italian burger recipe a try.
Mixing additional ingredients in with the meat is sometimes the key to an excellent burger.
Try this sneaky cheeseburger recipe for another burger idea.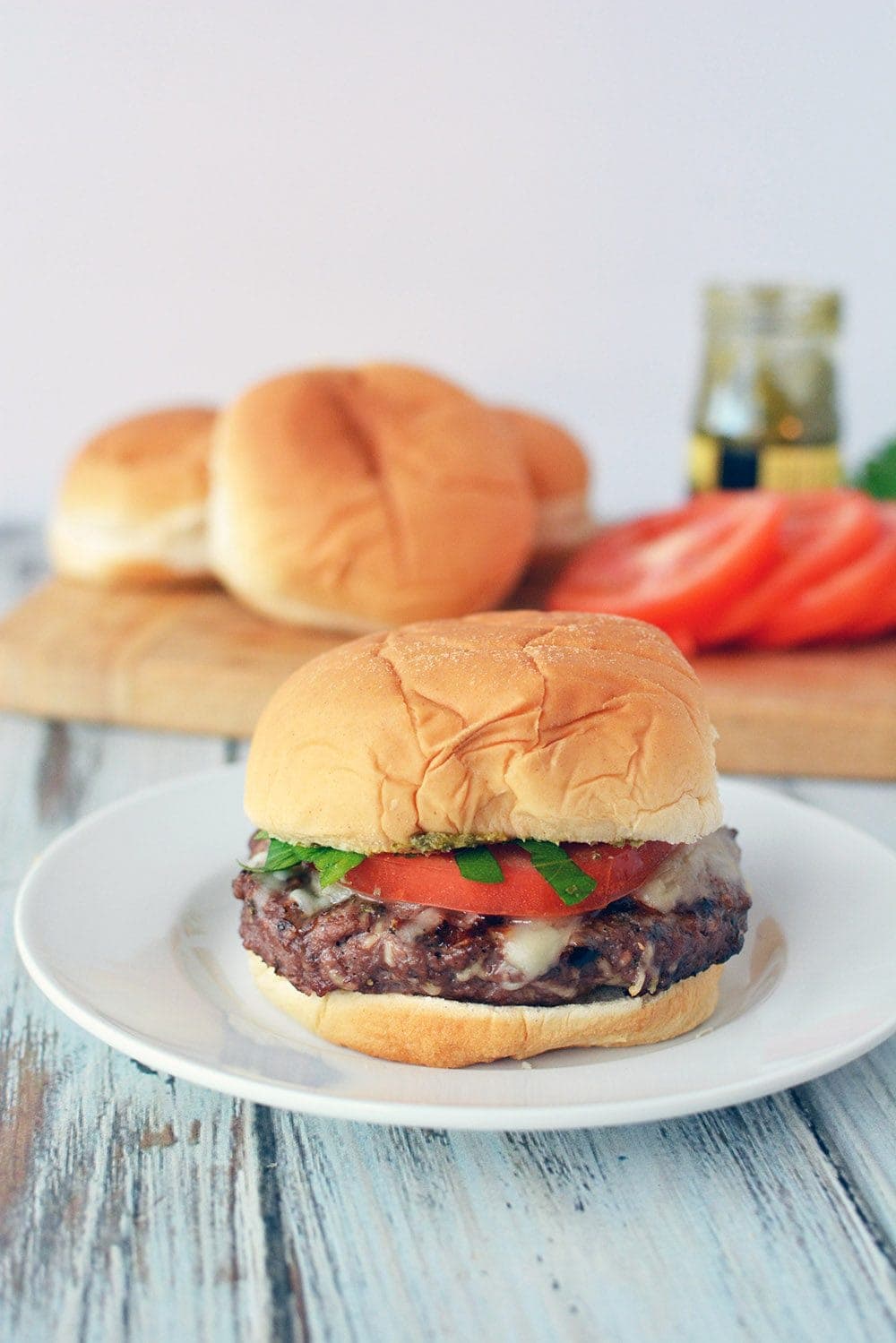 We love burgers by the pool in the summer or in front of the fireplace in the winter.
You know, when you crave a good burger, it's not something you ignore.
If it's insanely cold, we just bust out the George Foreman grill.
Nothing beats a real, juicy burger. It's usually nothing you can order through a drive-thru window.
The next time you are looking for tasty burger recipes, give this one a try.
You might find it to be the best burger recipe you've made. If not, it's easily tweak-able to create to your liking.
Choose your favorite cheese, spices, and herbs to mix into the burger patty before grilling. Let us know what you come up with.
Cuisinart CSBP-100 3-in-1 Stuffed Burger Press, Black Price: $12.99 Buy Now from Amazon
We earn a commission if you click this link and make a purchase at no additional cost to you. Last Updated: December 13, 2019
Use a burger press to make the hamburger even more visually appealing. The burger press helps measure appropriate-sized burgers and makes them look nicer and more uniform.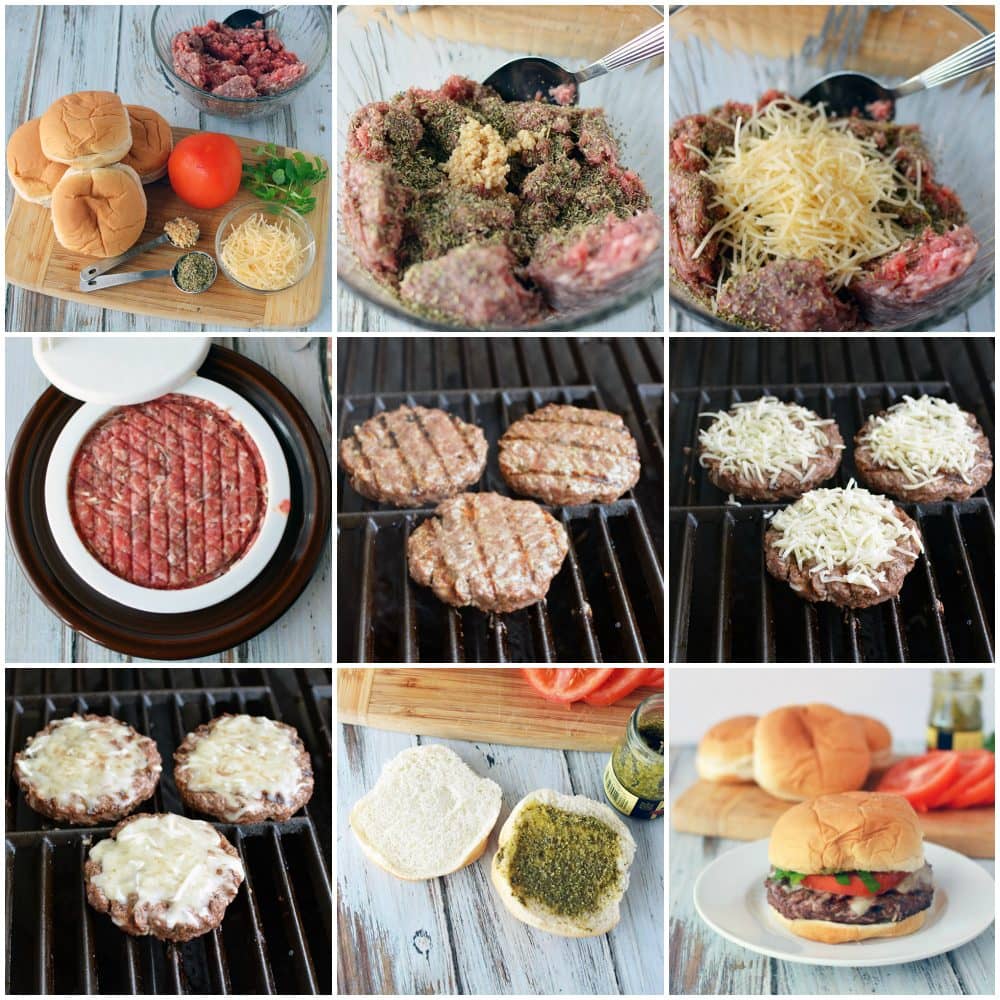 The next time a fierce burger craving strikes, don't run to a fast food joint.
Take the time to make a juicy burger at home. It's really the only way to squash a true craving, in my opinion!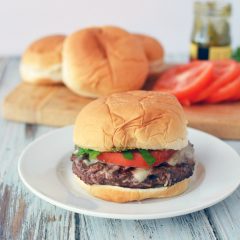 Print Recipe
Grilled Italian Burger Recipe
If you're looking for tasty burger recipes, add this grilled Italian burger to your menu plan.
Instructions
Add ground beef, Italian seasoning, Parmesan cheese and minced garlic together. Mix with your hands if necessary. Use a burger press to shape and flatten the burgers into 3-4 patties.

Grill on a medium hot grill until done to your likeness. 1 minute before removing from the grill, sprinkle the burgers with Mozzarella cheese. Let set for 1 minute until melted.

Remove burgers from grill and serve on a bun with pesto, fresh basil, spinach and sliced tomatoes if desired.
Nutrition
Calories:
542
kcal
|
Carbohydrates:
25
g
|
Protein:
30
g
|
Fat:
34
g
|
Saturated Fat:
12
g
|
Cholesterol:
97
mg
|
Sodium:
622
mg
|
Potassium:
470
mg
|
Fiber:
2
g
|
Sugar:
4
g
|
Vitamin A:
940
IU
|
Vitamin C:
5.5
mg
|
Calcium:
287
mg
|
Iron:
4.5
mg
Great BBQ Sides to Make with a Burger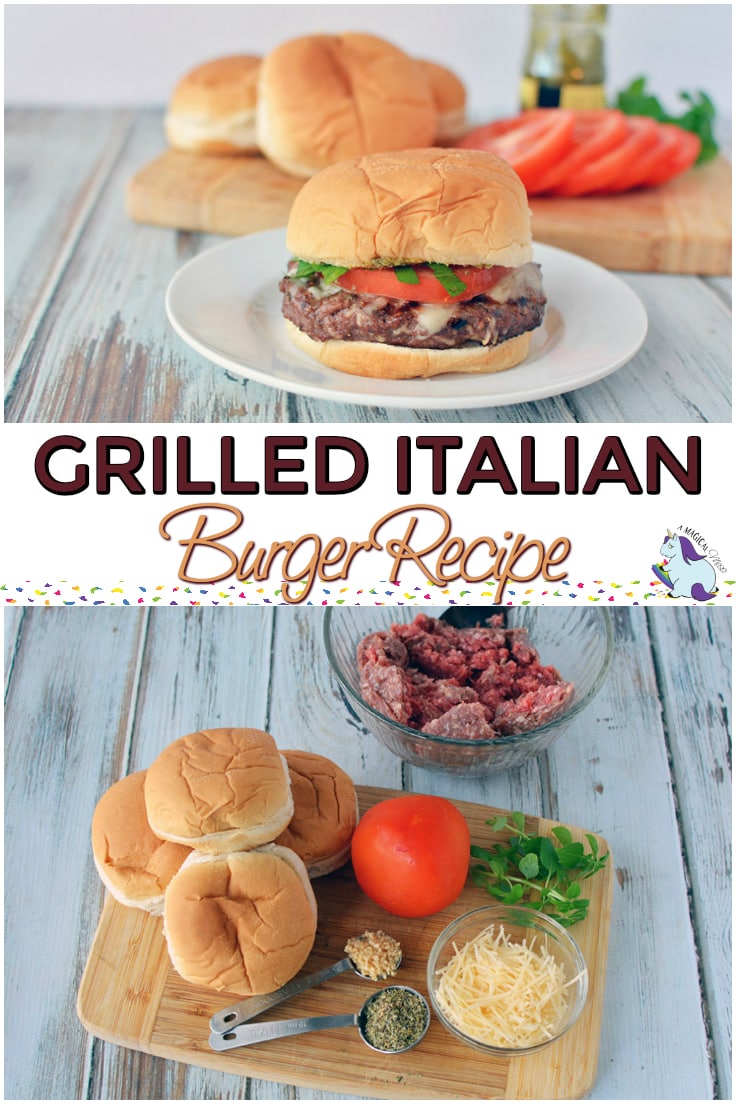 Note: This recipe was originally published on November 7, 2017
Do you think this grilled Italian burger will make it to your tasty burger recipes list?