Tis the season for pasta salad recipes. Since so many people have straight lost their minds for bacon, this bacon ranch pasta salad recipe should be a hit at summer parties.
Plus, it's colorful and looks pretty on the table.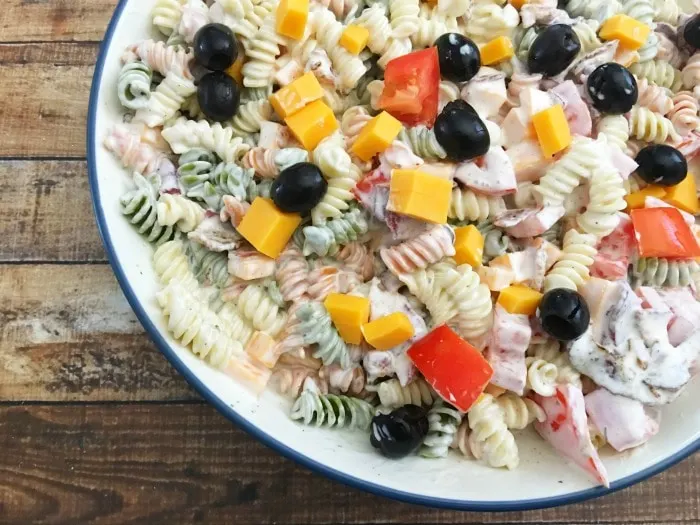 Pasta salads are easy to make the day before an event. I think that adds to their popularity at parties.
When you bring your best pasta salad recipe to a party, you are a fabulous guest.
When you bring this bacon ranch pasta salad recipe to a party, let's just say get ready to make a lot of new friends. 😉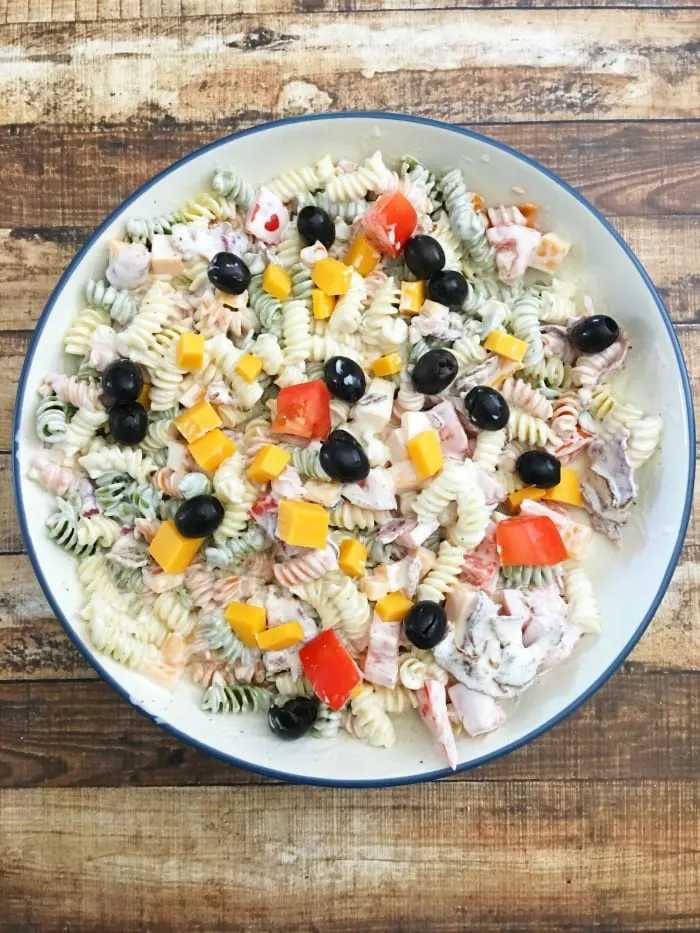 Great Side Dish for BBQ Season
Chances are you will need some party side dishes in your recipe lineup this summer.
So many gatherings are coming up like Father's Day, graduation parties, 4th of July, pool parties, BBQ's, and so much more.
You don't really need a reason to celebrate great weather with family and friends!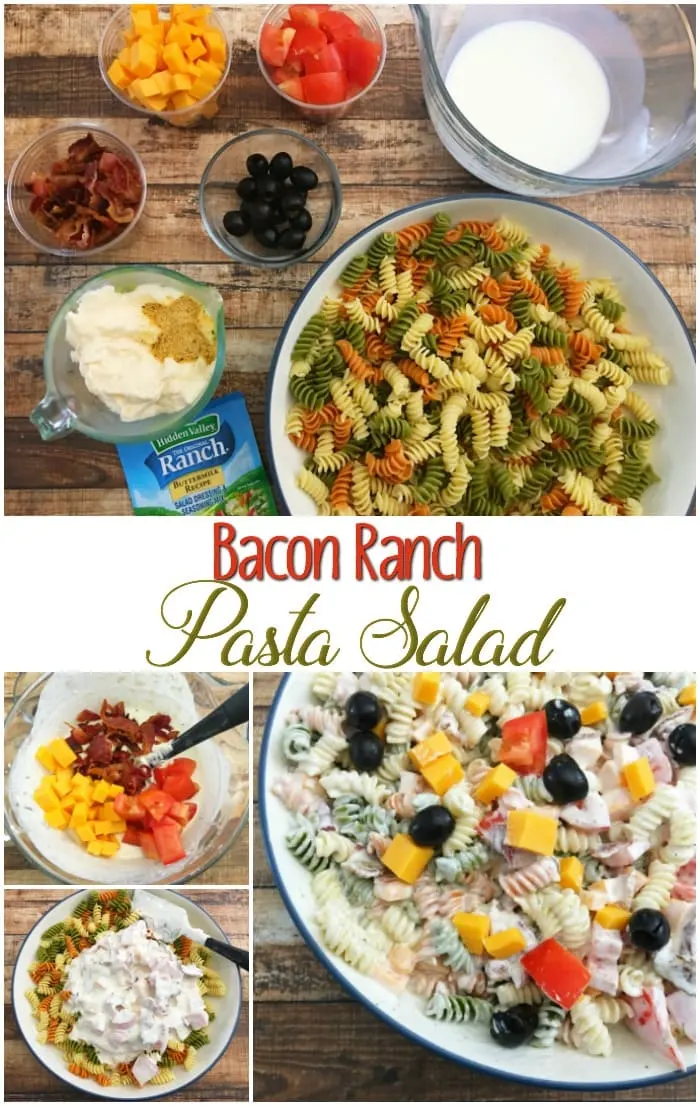 Creamy Bacon Ranch Pasta Salad Ingredients
Here's what you need to make this flavorful side dish recipe. The measurements are in the recipe card below.
Tri-color rotini noodles
Chopped bacon
Black olives
Roma tomatoes
Diced sharp cheddar cheese
Garlic powder
Buttermilk ranch seasoning
Buttermilk
Mayonnaise (mayo)
Sour cream
How to make Bacon Ranch Pasta Salad
Cook the rotini noodles according to the instructions on the box. Once cooked, drain the noodles and transfer them to a new bowl.
Place the bowl of cooked noodles in the refrigerator for approximately an hour to cool. Make sure to mix the noodles halfway through the chilling time for even cooling.
In a large mixing bowl, whisk together the buttermilk, mayo, sour cream, garlic powder, and buttermilk ranch seasoning. This will create a creamy and flavorful ranch dressing.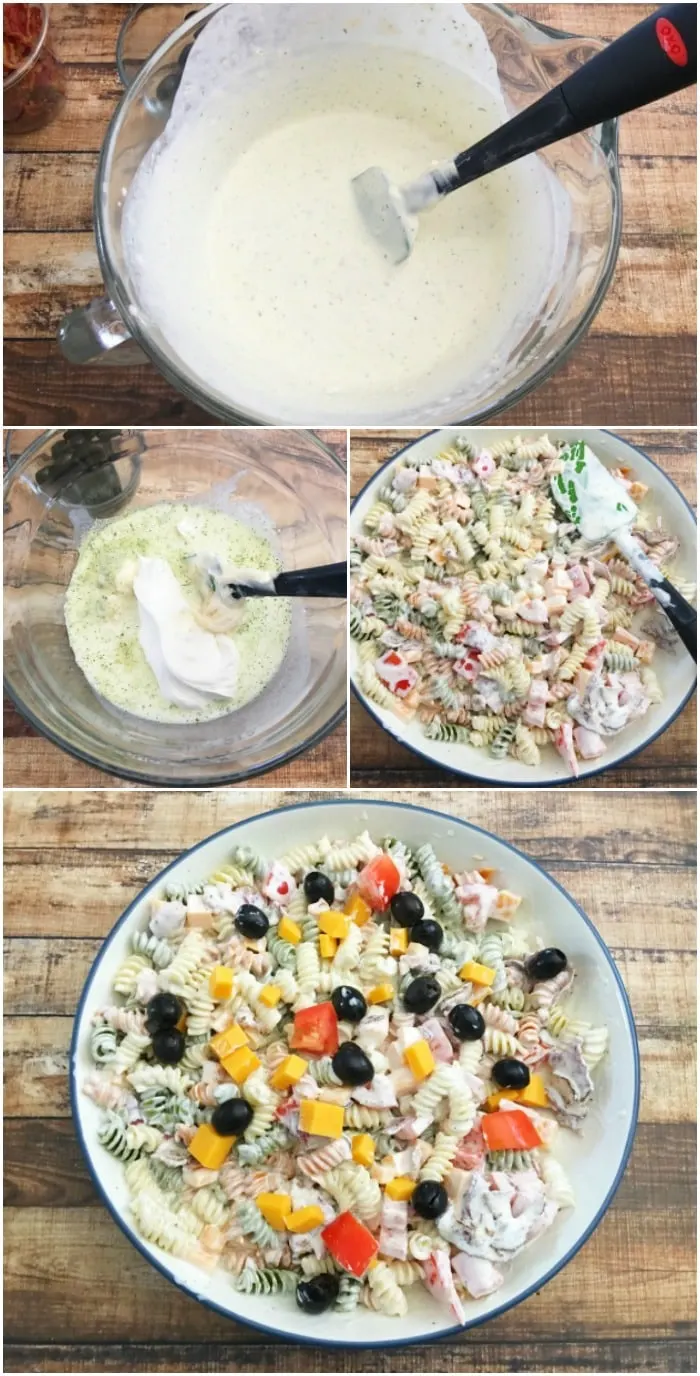 Add the chopped bacon, diced tomatoes (leaving a few for later), and diced cheddar cheese (reserving about 1/4 cup) into the ranch dressing mixture. Stir well to combine all the ingredients.
Retrieve the chilled noodles from the refrigerator and pour the ranch dressing mixture over them. Toss the noodles gently to coat them thoroughly with the ranch dressing.
Sprinkle black olives over the dressed noodles. Then, add the remaining diced tomatoes and the reserved 1/4 cup of cheddar cheese for garnish.
Give the pasta salad a final toss to distribute the olives, tomatoes, and cheese evenly throughout.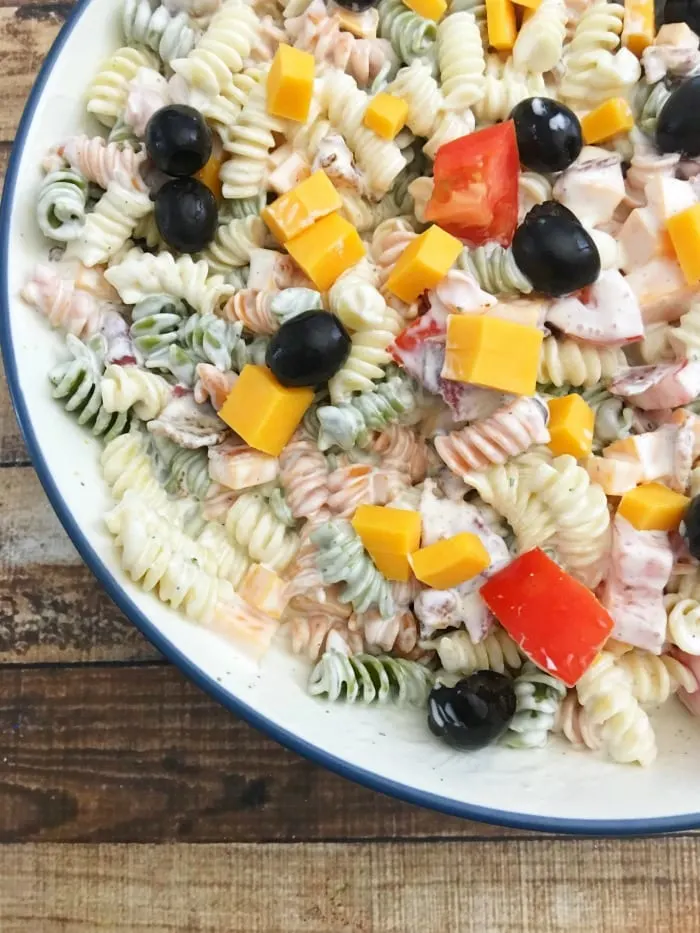 Not a bacon fan? This recipe can still be delicious without it. Maybe add some chicken, chickpeas, or another protein. Or, just leave it out. There are plenty of flavors in there to keep your taste buds happy.
This peach chicken pasta salad is a unique blend of flavors that's an excellent option.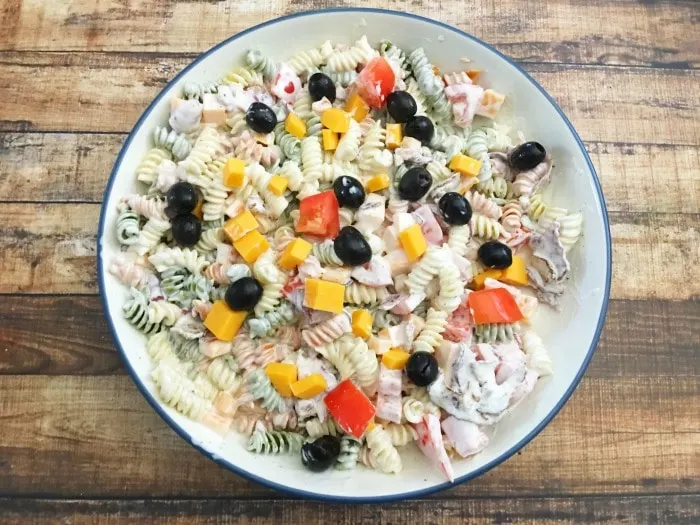 Yield: 6-8 Servings
Bacon Ranch Pasta Salad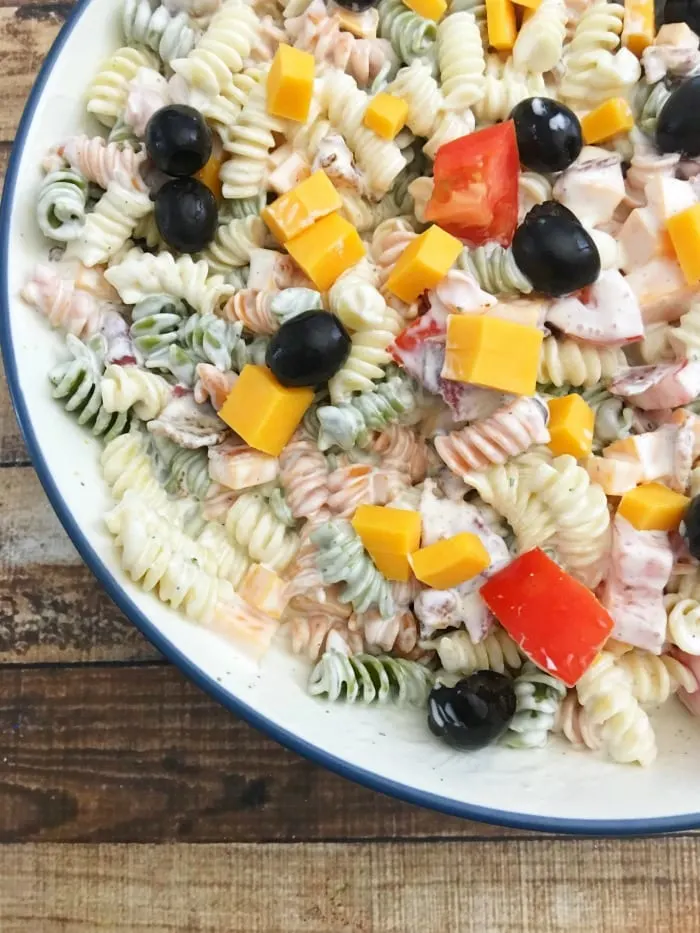 Bacon Ranch Pasta Salad: Perfect for Father's Day, BBQs, and pool parties! This creamy and flavorful salad combines tri-color rotini noodles, crispy bacon, black olives, Roma tomatoes, and sharp cheddar cheese. Tossed in a tangy buttermilk ranch dressing, it's a refreshing crowd-pleaser that's sure to impress.
Ingredients
1 Box tri-color rotini noodles
1 Cup chopped bacon
1/2 Cup black olives
2 Roma tomatoes
1 Cup diced sharp cheddar cheese
1/2 teaspoon garlic powder
1 Packet buttermilk ranch seasoning
1 Cup buttermilk
1/2 Cup mayo
1/2 Cup sour cream
Instructions
Boil the noodles as directed on the box, transfer to a new bowl, and place in the fridge for about an hour to cool, mixing halfway through
In a large mixing bowl, whisk together the buttermilk, mayo, sour cream, garlic powder, and buttermilk ranch seasoning
Mix the bacon, tomatoes (leave a few out) and cheddar cheese (leave about 1/4 cup out) into your ranch mix
Toss the ranch mix with the chilled noodles and top off with olives, a 1/4 cup of cheese and a few tomatoes
Nutrition Information:
Yield:
8
Serving Size:
1
Amount Per Serving:
Calories:

340
Total Fat:

28g
Saturated Fat:

10g
Trans Fat:

0g
Unsaturated Fat:

16g
Cholesterol:

54mg
Sodium:

628mg
Carbohydrates:

9g
Fiber:

1g
Sugar:

3g
Protein:

13g
Nutrition facts are an estimate only.
Delicious BBQ sides
Do you think you would like this bacon ranch pasta salad recipe?