When I use face masks I want to feel them. I want an indication that they are working. I want to feel the burn, the pull, the sting… just any feeling that lets me know something is going on while I am sitting with smeared goo all up on my face.
Over the years, I have experimented with many at-home facial treatments. Some have been duds while others are straight up magical.
In case anyone else out there feels this way, I decided to make a list of the top face masks that felt like they were going to work on my skin. This post includes affiliate links. All opinions are my own.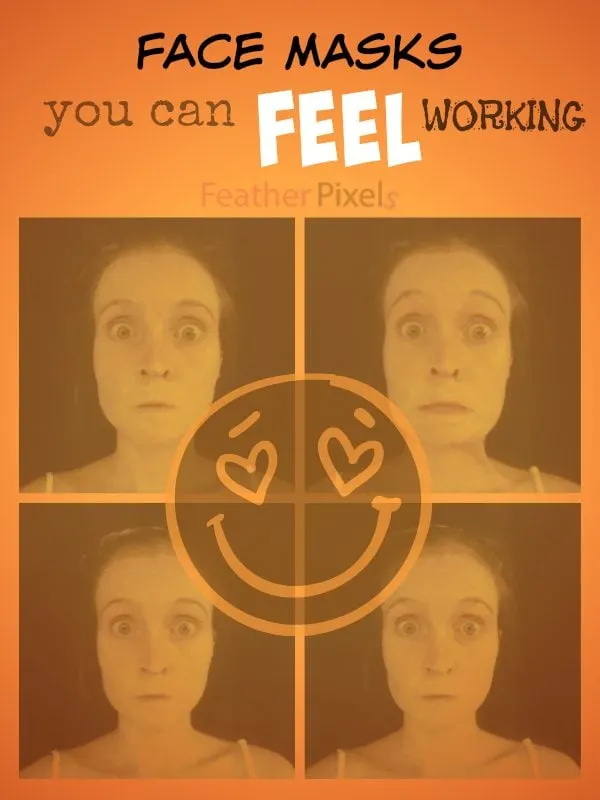 My sister in the Indian Healing Clay mask. She loves it. LOL
Skin Care Masks that You Can Feel Working
1.) Indian Healing Clay – Pulsating, pore-sucking, face-pulling awesomeness. This is powdered clay that you mix with either water or organic apple cider vinegar. For the full effect, use this mask outside of the shower. It needs to dry completely on your skin to feel the maximum benefits. The shower steam can interfere with the clay drying. It says right on the tub "World's most powerful facial" and I do believe them.
2.) Michael Todd Pumpkin Facial – Slight burning and stinging to let you know it's working. Nutrient-rich pumpkin along with Glycolic acid gives you that good burn. It rejuvenates and exfoliates while providing a nice dose of antioxidants to your skin. I notice an immediate brightness to my skin after using this.
3.) Radical Skincare Instant Revitalizing Mask – Gentle sensation that feels like tiny bubbles popping all over your face as it dries. Since its claim is to oxygenate and stimulate energy production in your skin, the light bubbly action is fitting. After using this mask, my skin feels fresher, cleaner, and tighter.
4.) The Original Mint Julep Masque – Obviously since it contains mint, it has a cooling effect. When you first put it on, it immediately feels cold. Then, as it sits and starts to dry you begin to feel a tight tingling sensation. The best part is when you wipe it off with a warm rag. Something about the cold and warm feelings mixing together feels exhilarating. Plus, your skin is left super smooth, so that's also awesome.
5.) Proactiv+ Skin Purifying Mask – This one doesn't have an exaggerated feeling while you're wearing it, but the feeling afterward is fabulous. Your skin feels crazy silky, and I swear I looked like I was glowing. Not like radioactive glowing, but like that pregnancy glow I hear people talk about but have NEVER experienced firsthand. A good glow. 🙂
So, there's my top 5 face masks that I feel the most action from while using. Do you have any to suggest?