Remember a couple years ago, when I surprised my son with a GameTruck party for his birthday? If not, you can check out the whole story here.
Since then, GameTruck Chicago has been awfully busy. They've upped the standards for all sorts of play–not just in the video game arena either.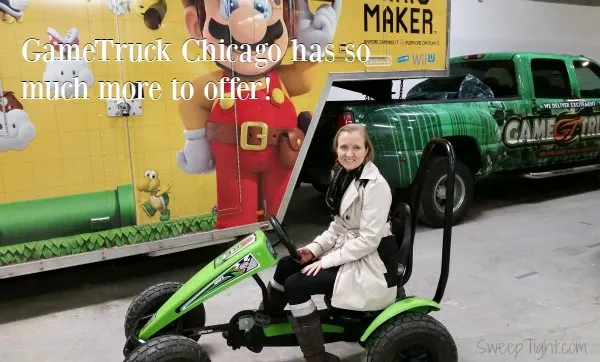 New Additions – GameTruck Chicago
Now, GameTruck Chicago offers all the best from the actual video game truck, but also offers the following hysterically awesome options for your party:
Bubble Soccer

I have wanted to get into a bubble ever since that video of a team playing bubble soccer went viral a few years ago. I even researched buying my own bubble. But, they're more expensive than you'd think. Which is no big deal now, because Gametruck will bring everything you need to your home.

Laser Tag

Any opportunity to get the kids running and maybe attack a few relatives makes for a great party in my book.
Pedal Karts

These bad boys can really get you going. Typically used for schools, churches or areas with more space, these can be used for all sorts of racing fun.

JUST OPENED: an indoor location for all the action!

No driveway? No problem. Not a lot of space in your yard? No worries. Instead of bringing the party to you, you can now take advantage of their brand new facility in Northbrook, Illinois. It's just 3 miles (about 6 minutes) from I294 on Willow Road. They're booking parties now! Check out their special offer below…
Limited Time Offer
Let GameTruck Chicago help you start your holiday season off in motion! Keeping in theme with the innovative, cutting edge ideas, GameTruck Chicago is now an authorized dealer of The Original Space Scooter (valued at $169).
Purchase your premium GameTruck and/or Laser Tag Event by December 15, 2015 for $489 and be one of the first in the USA to own this superior product.
The Original Space Scooter accommodates children 7 and up. Introductory Inventory is limited! Don't delay, book your premium party today!
**All purchases booked by December 15th, 2015 will be received on or before 12/24/2015. This offer cannot be combined with any other offer. Must book by December 15, 2015 to receive premium party package rate. Additional Scooters and Karts can be purchased for $129.**
To book your party or purchase your Space Scooter, call toll free 888-460-4263 or 312-724-7188.
Which event are you most excited to try with GameTruck Chicago?