We recently attended the annual Chicago Toy and Game Fair. As a Chicago blogger, I received a media pass and free tickets to the event. All opinions in this post are my own.
I brought my best friend since preschool and her daughter, Mia, along for the fun.
Chicago Toy and Game Fair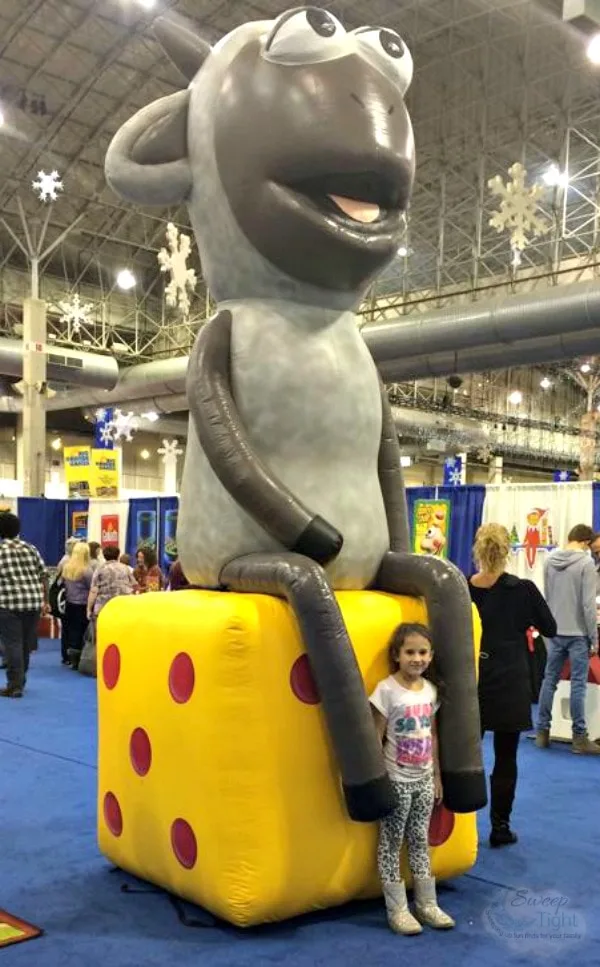 The Chicago Toy and Game Fair takes place at Navy Pier. It's usually in November, which is the perfect time to learn about new toys. Just in time for the holidays, you can get hands-on experience with the hottest new games and toys.
After the media breakfast, we were unleashed into the fair before it was officially open to the public. This is awesome because it tends to get busy. A T-Rex greeted us.
Yes, a seriously life-like T-Rex making scary sounds and all. He was a little frightening, but super awesome. I wish I would have gotten a better video of him.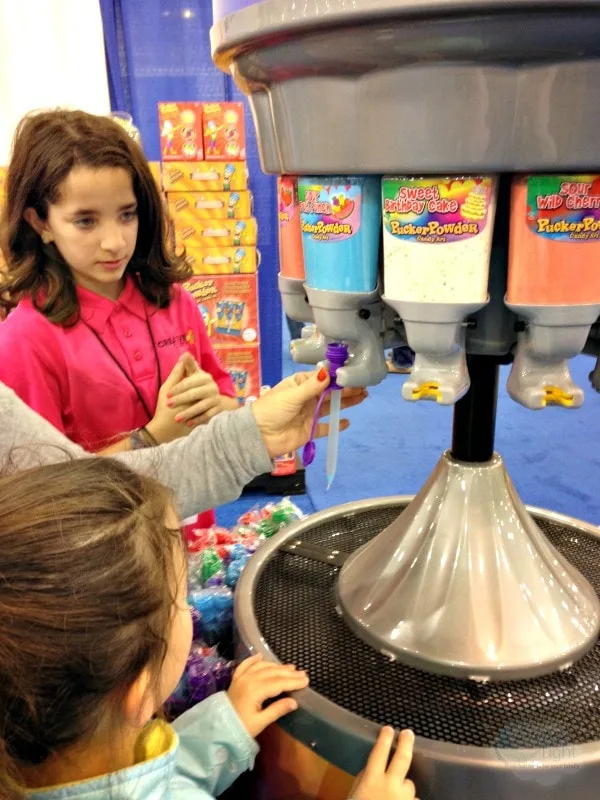 Mia was eager to explore, so we let her lead the way. Her first stop was to fuel up on Pucker Powder.
She was able to fill her tube with the many flavors of powder and create candy art. She liked it so much she swung back a second time for a refill.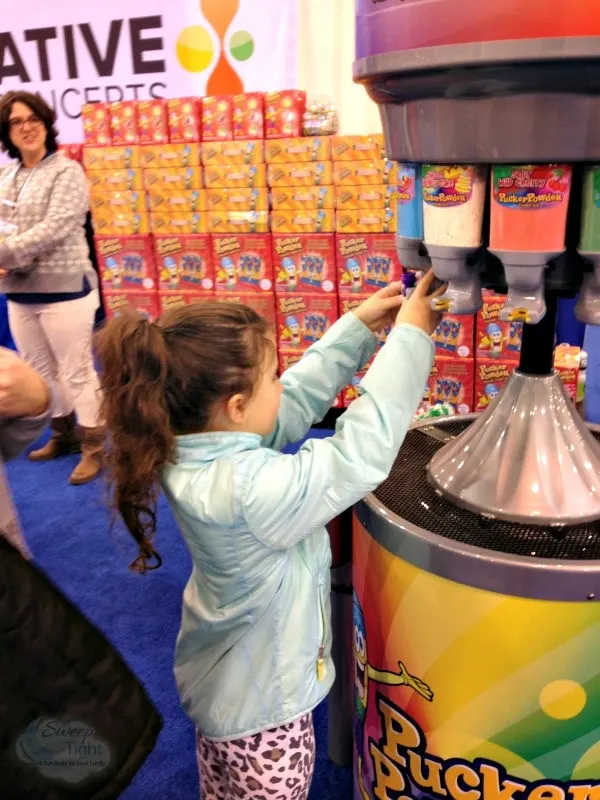 The huge Game Truck caught my eye soon after. My nephew had the most epic birthday party ever with Game Truck, so we had to go see what they were up to.
Turns out, they have only gotten more awesome. They now offer Bumperz for rent. Bumperz are the human-sized bubble balls where you can plow into each other while wearing them.
They look beyond hilarious and like the most fun ever. A party with them is like a guaranteed viral YouTube video waiting to happen!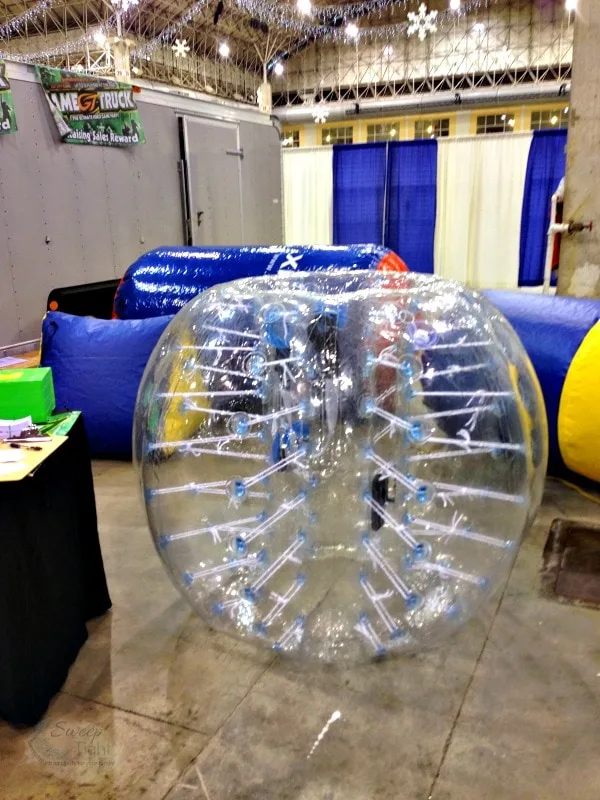 Speaking of bubbles, Ben's Bubble Show was there making humungous ones. He was putting people IN bubbles and making ones about as big as a baby elephant. His bubble tricks were very impressive.
I didn't even know so much could be done with bubbles. He's available for parties, and I hope to see him again soon!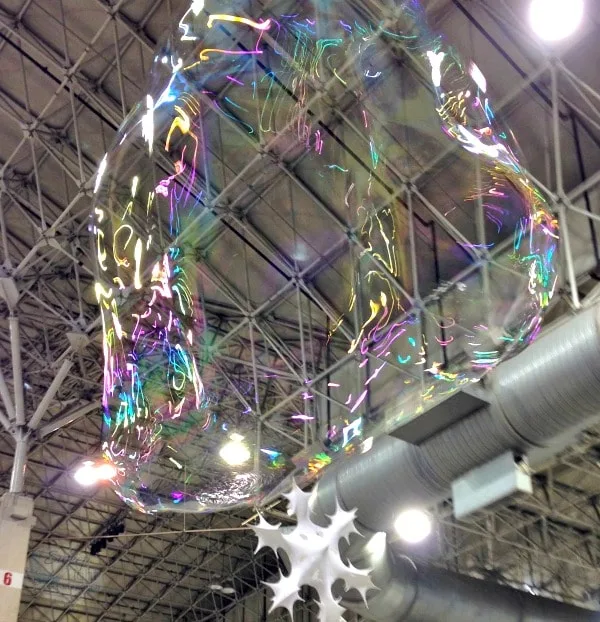 We had to stop to get Mia tatted up quickly. Glitter tattoos are all the rage right now. There were several vendors doing them.
Mia's turned out really pretty and lasted throughout the whole show without smudging or leaving a glittery trail.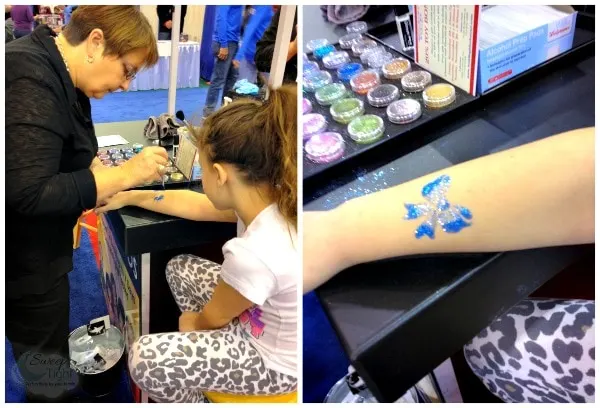 Canine Cardz caught my eye right away. Of course, anything with pets always does! This is a card game for the whole family to enjoy.
Based on the true stories of real dogs, the game can be played eight different ways. It helps to reinforce skills in reading, matching, and much more. All while having a blast!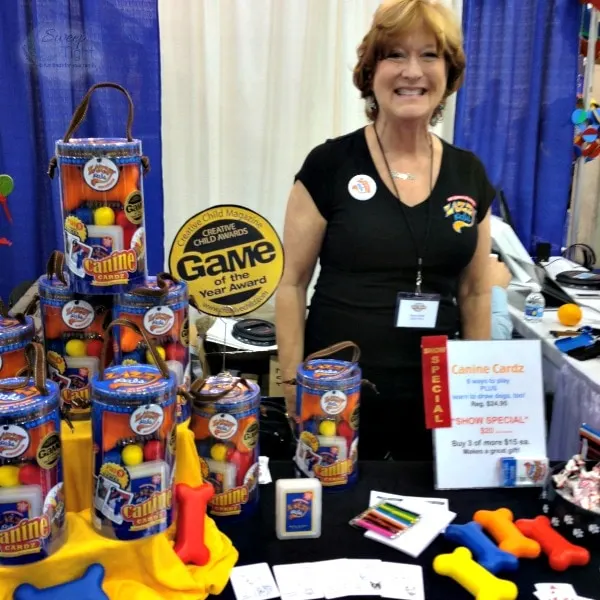 Perhaps you've conquered the Rubik's Cube and were looking for a new challenge. Welcome the X-Cube by the brilliant Dane Christianson.
I was both intrigued and intimidated by this young man's intelligence and wit. And, there was no way in heck I was going to embarrass myself by even attempting to solve the X-Cube!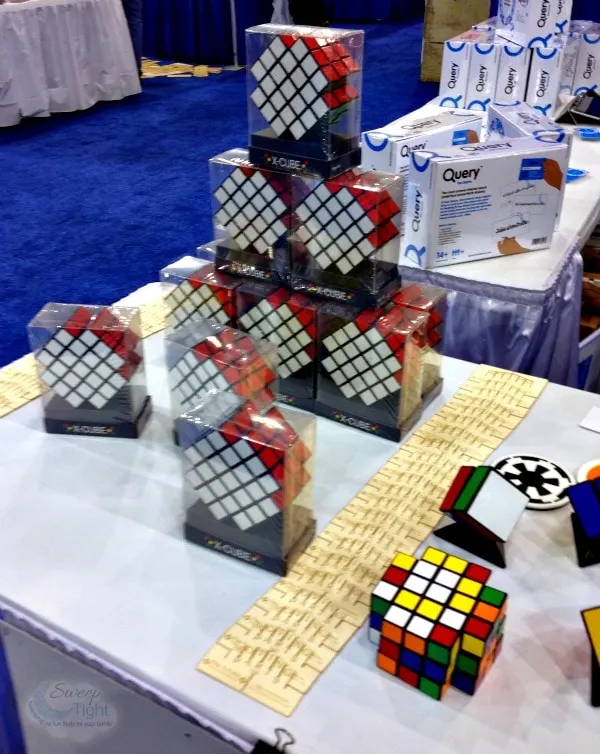 One of my favorite parts about the Chicago Toy and Game fair is seeing the young inventors. So many young children are there passionately sharing their creations.
You can see how excited they are to show off their game or invention. It's truly impressive and restores my faith in our youth! It's refreshing to see little entrepreneurs and creators in action.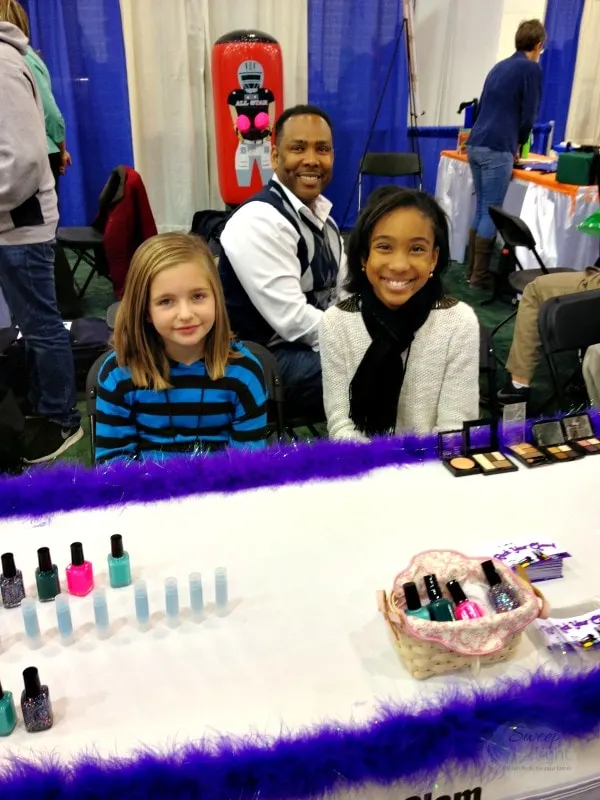 These little beauties just lit up while talking about their Rock Your Glam cosmetics.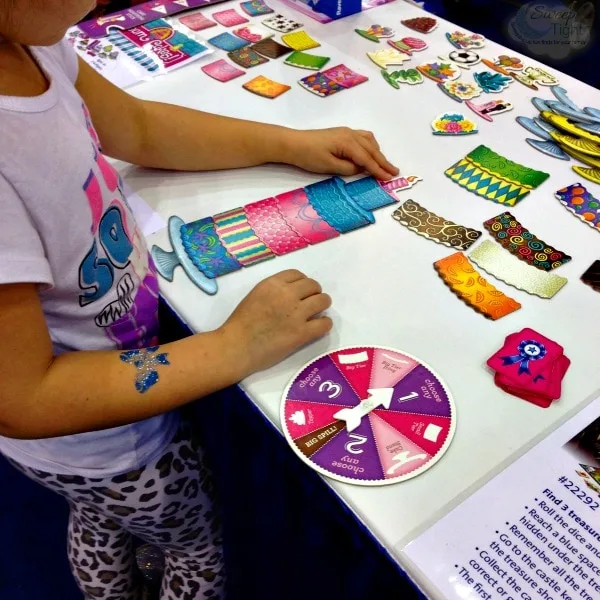 Mia enjoyed many hands-on games and fun opportunities. The wax hand was probably one of the main highlights. Preserving your favorite hand signal in wax is great fun.
Mia had this peace sign made as a gift for her brother. The process that Waxed Hands uses hardens the wax enough so it won't easily bend or dent. Very cool experience.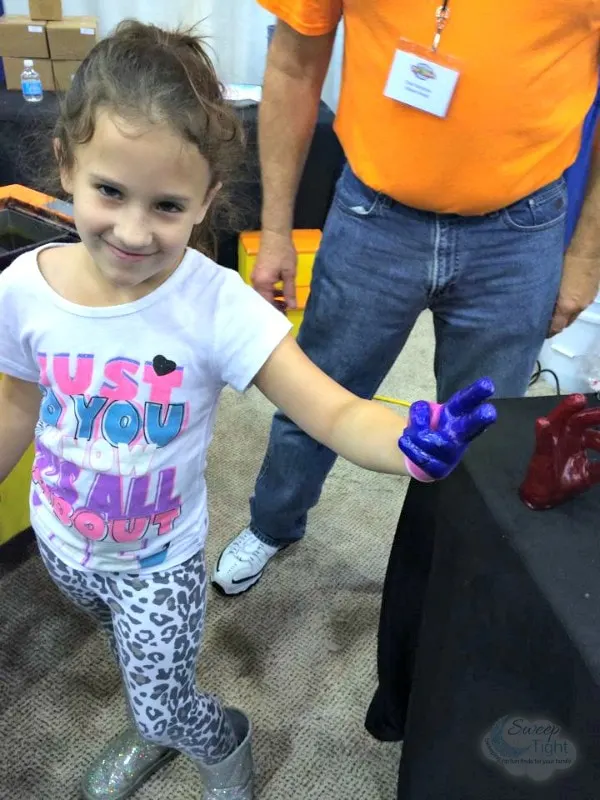 As you can see, we got to see a lot at the Chicago Toy and Game Fair and I barely scratched the surface.
Mia went home with a bunch of goodies. Her absolute favorite item was included, too – My Chord, Friendship Bracelet Maker.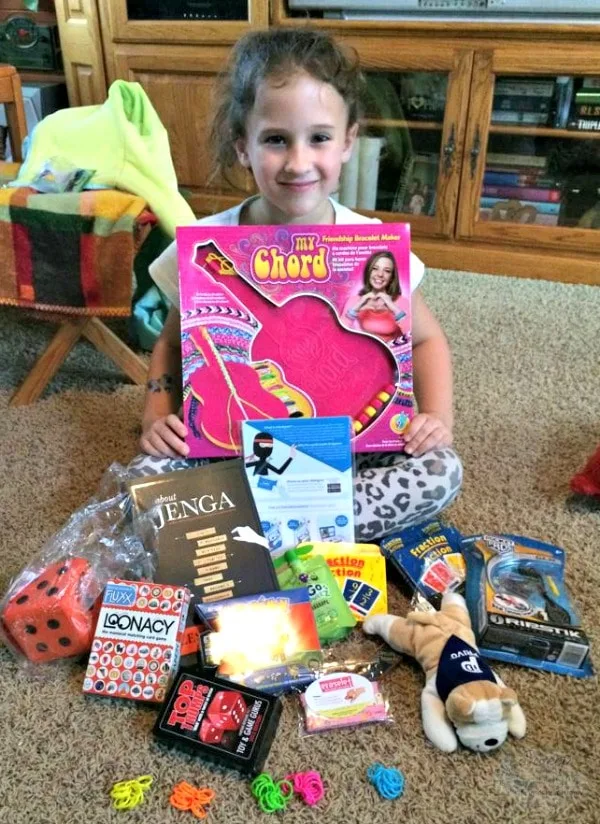 If you have the opportunity, head to the Chicago Toy and Game Fair the next time it comes around!