A LifeProof Case basically protects your gadget from everything. I received several products from LifeProof for review. All opinions are my own. I gave the products the ultimate test by boating with them on (and in) Lake Michigan.
A case is something that you should buy at the same time as your phone. With my last phone I waited, and within the first day… dropped the sucker. My brand new phone had a huge crack in the screen. I vowed to never do that again. My gadgets are now never "naked". Thanks to my LifeProof case, they pretty much feel that way, though!
LifeProof nüüd Case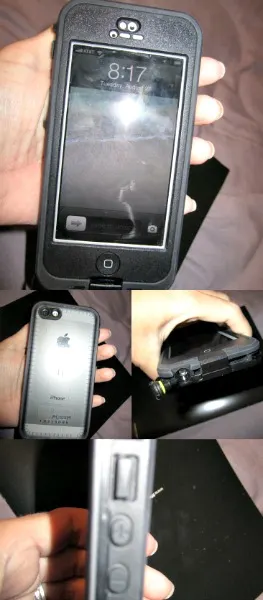 The LifeProof nüüd is a case in a class of its own. The first of its kind to offer screenless technology, it has a waterproof seal that completely protects your phone without covering the screen. It is the thinnest, lightest, all-protective case ever made. This one case offers four proofs:
Water Proof – fully submersible up to 6.6 feet.
Dirt Proof – Totally sealed from dirt and dust.
Snow Proof – Completely closed to snow and ice.
Shock Proof – Survives drops from up to 6.6 feet.
Mike got me an iPhone 5 for my birthday, so that is the LifeProof nüüd case that I received. It's also available for the Samsung Galaxy S3. It comes with an insert to test out before you put it on your phone. Even though they put the case through rigorous testing before packaging, they still want you to feel safe before using it.
Snapping it onto your phone is a breeze. Everything locks right into place and feels secure. You still have access to the charger slot and the input for headphones. Both close up when not in use.
Swim With Your Phone with a LifeProof Case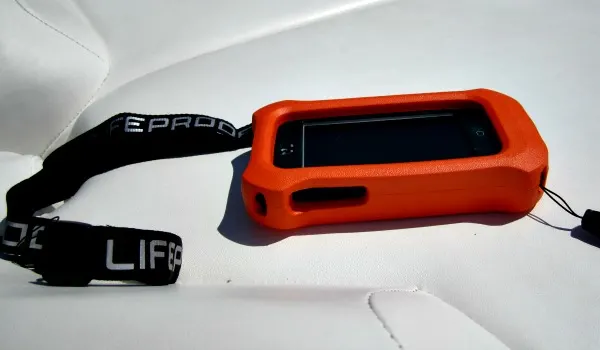 To go along with the LifeProof nüüd is the LifeProof LifeJacket. This provides even more protection and allows your phone to float. What could be more perfect for boating? It's bright orange and easy to spot if there's an oopsie and your precious gadget goes overboard.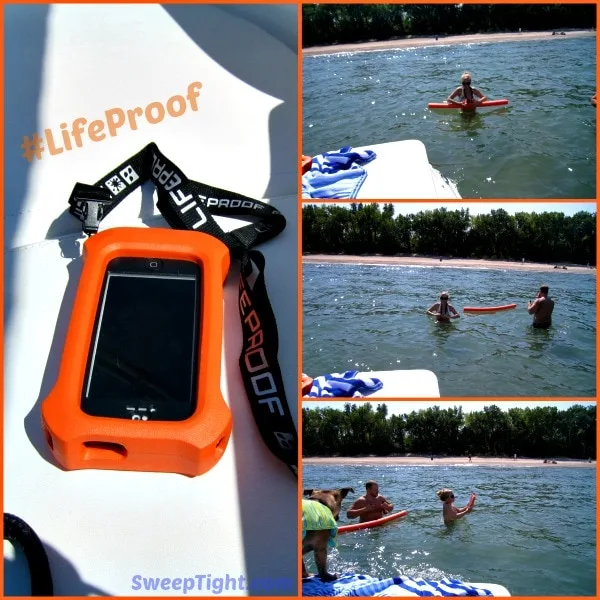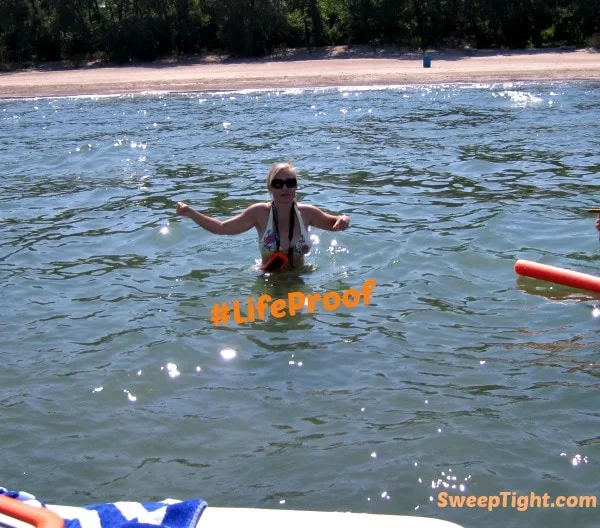 I jumped into the cold lake to take these products for a test drive. As you can see, I look awkward and a little freaked out. Let me tell you, no matter how confident you are in a product, it still feels completely unnatural to dip your brand new, expensive iPhone into a lake!!! I finally got the guts and did it. Of course, it was completely fine and I was freaked out for nothing. It's so cool because you can actually take pictures and videos from your phone underwater!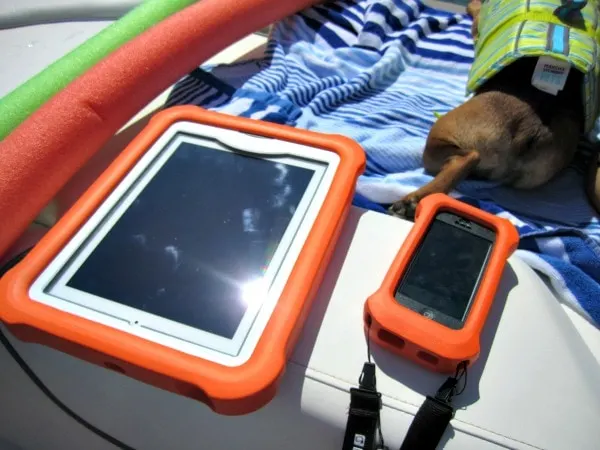 This is perfect for people who don't want to leave expensive gadgets behind at the beach or the pool. Just put it around your neck and get in the water with it. No worries about someone walking off with it. We also got a LifeJacket for the iPad, too. More on the LifeProof for iPad products coming soon in another post.
Parents… this LifeProof case can also be considered seriously Baby Proof! Watch this video to see exactly why. I am sure you can relate.
You can purchase an iPhone 5 nüüd case or Samsung Galaxy S3 nüüd for $89.99. Stay social by following LifeProof on Twitter, liking their Facebook page, and following on Pinterest.