Simply Potatoes
SWEEPSTAKES ALERT:  Become a member of Simply Potatoes® and enter to win free Simply Potatoes® products for a Year. They will choose a new winner each and every month!!!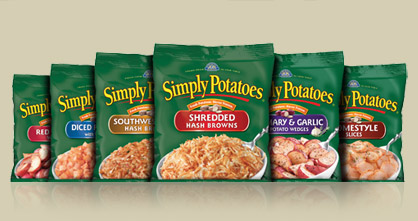 Who doesn't love potatoes? I would include them in the dinner menu every night if they weren't so time consuming to prepare. Simply Potatoes makes it easy to incorporate real, fresh potatoes without all the hassle!
With my coupons, I chose to get a bag of shredded potatoes and make the recipe for Cheesy Hash Browns.
Hash Browns Ingredients:
1 package

 

Simply Potatoes® Shredded Hash Browns

1 can

 

(10 3/4 ounces) cream of chicken soup

2 cups

 

(8 ounces) Crystal Farms® Shredded Cheddar Cheese

3/4 cup

 

sour cream

1/4 cup

 

chopped onion

1/4 cup

 

butter or margarine, melted
Topping Ingredients:
1 1/2 cups

 

corn flakes, coarsely crushed

1/4 cup

 

butter or margarine, melted
Oh my goodness, this is heavenly! It reminds me of the hash brown casserole they serve at Cracker Barrel. Pretty sure I could eat it every day and not get sick of it! I will make it a lot more often because it's so easy with Simply Potatoes. If I had to actually cut, peel and finely slice each potato, it's not happening! With the convenience of Simply Potatoes, it's a breeze!
There are several delicious recipes available on their website. I cannot wait to try another one!
Rainbow Crumbs for You
Weekly newsletter with our latest posts and shenanigans.