Our dogs are more than pets to us. They are part of the family and make both of us extremely happy. Mike and I both find ourselves laughing more because of our dogs.
Dogs Relieve Stress
Everyone has their issues, right? Well, so do we. Mike has high blood pressure and I have horrible anxiety. We both have anger issues, too. (Not towards each other, but just in general.) Mike takes medicine for his blood pressure, but I can no longer take anything for the anxiety. Ever since we got our dogs, the happiness they bring seems to be better than any medication!
Of course, when they are puppies they are a lot of work. But, looking into that precious puppy face seems to make it all worth it. The unconditional love that dogs have for their owners is so unique and priceless. They deserve just as much love in return. To be honest, I think Mike and I like our dogs more than most people! (Shhhhh.) 😉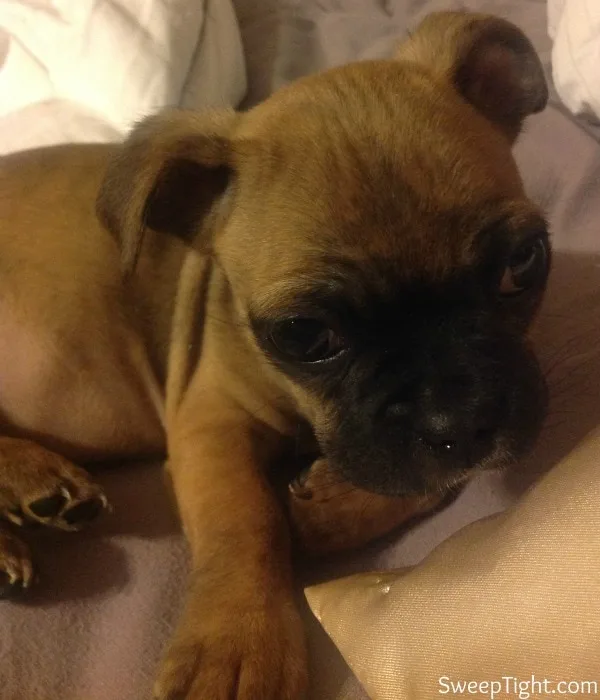 There have been times when my anxiety gets the best of me and all I can do is cry. I can be so overly-emotional and apparently have no coping tools to deal. At times like these I like to just go into my room and let it all out. Recently when this happened, Grump definitely sensed that something was wrong with me. He came up onto the bed with me and snuggled in as close as he could to me. What happened next was too sweet for words… he actually looked up into my eyes and placed his tiny paw into my hand. OMG! I definitely cried harder after that, but it was so heartwarming. This little creature has my heart.
Dogs make great companions for people of all ages. Look how my Grama just loves the Grump. And he adores her right back!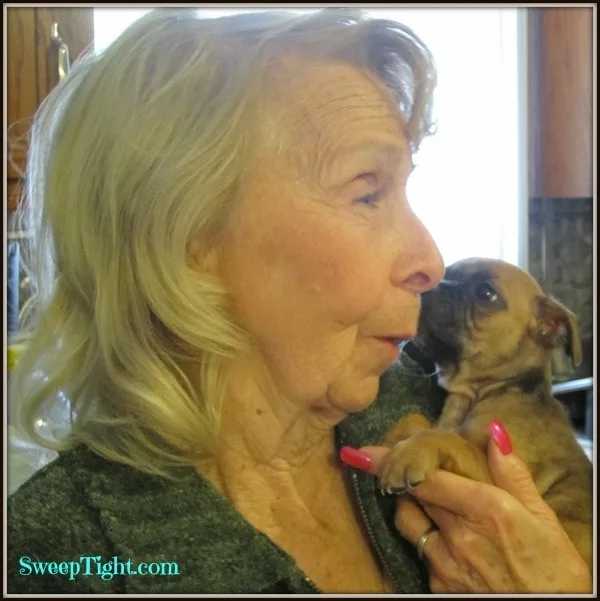 Both dogs crack us up on a daily basis. The two of them together are hilarious. They are best buds and always frolicking around or cuddling together. Getting both of them was the best decision ever. I swear 9 out of 10 times that I look over at the Grump he's doing something that makes me smile.
Cesar Canine Cuisine recognizes how dogs play such a therapeutic role in peoples' lives. They have created the Share a Story and Share the Love campaign, where dog lovers can share their stories of therapy dogs through social media. In return, Cesar will share the love with three therapy dog organizations by donating to them. Together we can all support them and raise awareness of the importance of therapy dogs.
You can help with this amazing program by sharing your story! Please visit Cesar and also follow them on Twitter and Facebook to show your support.
Disclosure: I wrote this review while participating in an ambassador program by Mom Central Consulting on behalf of Cesar and received product samples and a promotional item to thank me for taking the time to participate.