I learned some things about veteran service dogs while attending the Purina Better with Pets Summit. I always knew that service dogs were impressive, but never to the degree that I know now. Purina sponsored my trip to the summit, but all opinions are my own.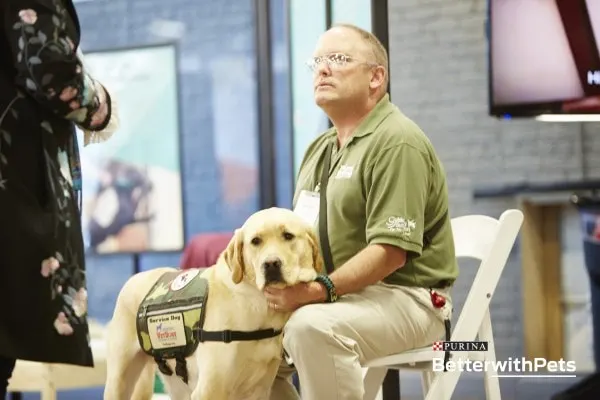 As I mentioned in my previous post, the Better with Pets Summit had several interactive displays. At one of the displays, we met Soldier Kent Phyfe and his service dog, Mike.
5 Things to Know About Service Dogs
What service dogs can do
Training for service dogs vary depending on the veteran's needs. In Soldier Kent Phyfe's case, his dog completely changed – and possibly saved – his life.
After serving our country, the soldier came home with neurocardiogenic syncope, a medical condition that causes him to unexpectedly faint.
Mike is trained to react appropriately should he do so. He also opens doors, and even pulls the covers off of the soldier in case of a PTSD nightmare.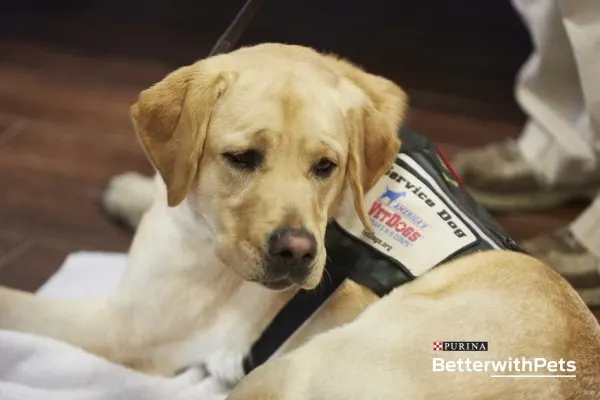 Don't interact with a service dog
At a different pet event (thank goodness), I reached out to pet a service dog. The look on the faces around me were straight up appalled. Apparently, I was the only one who didn't know that you never pet a service animal.
I want to say I knew that somewhere deep in my brain, but the sight of a cute animal just makes me dumb, what can I say? 😉 In any case, service animals are working and should never be distracted from their jobs. Don't try to interact with them in any way.
Don't fake it with your dog
Thanks to social media making pets famous, many people have the urge to take their pet everywhere. Some have gone as far to buy a fake service dog vest so their animal will be allowed anywhere. No harm, right? WRONG.
Veteran service dogs and all service animals undergo intense training. One of the most important things they are taught is to not get distracted by other animals. Soldier Kent Phyfe told us about a time where a dog wearing a service vest lunged at Mike on the subway. A legit and properly trained service dog would never do that.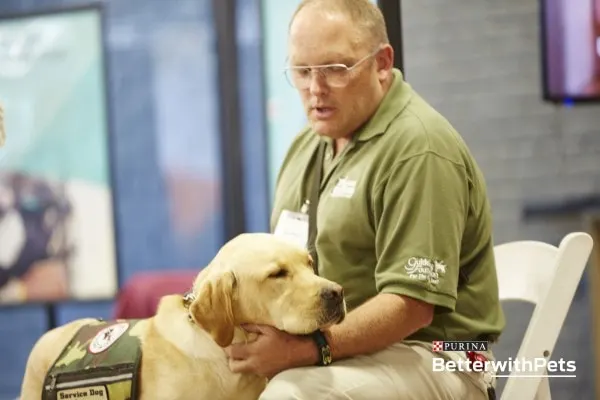 Service dogs are not pets, but they are loved
The bond between Mike and Soldier Kent Phyfe was crystal clear. Mike didn't acknowledge us once during our conversation. He laid on the ground relaxed, but completely alert. Every once in a while, Mike would look up adoringly at the soldier.
You can name a service dog
I kind of chuckled when I found out the service dog's name is Mike. Not only because that's my husband's name, but because I love when dogs have human names.
Training service dogs is extremely expensive, so donations are heavily relied upon. Donate enough and you can name the dog. Somewhere out there, there's a generous human Mike to thank for the incredible service dog, Mike.
Speaking with the soldier was one of the main highlights of the summit for me. I learned so much, and I am so happy to know that this program exists.
For more info and how you can donate, visit VetDogs.org.
Animal Articles to Read Next: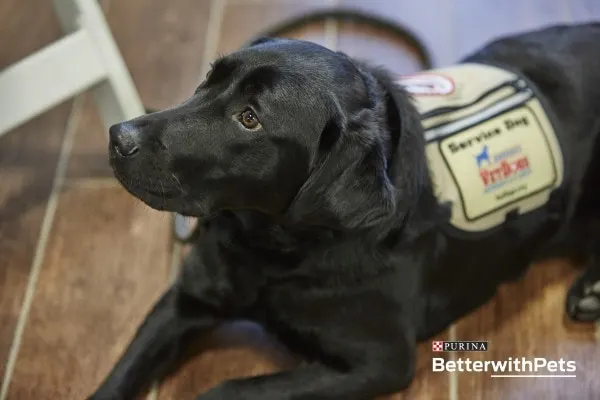 Thank you to Purina for the Better with Pets Summit. This is a prime example of how life is, in fact, Better with Pets.
The next time you see a veteran service dog, be sure to give them extra respect – silently, of course. 😉