There are an infinite amount of things to thank my Gram for (hello, raising me)… but to be specific, this blog would be one of them. As part of a blog opportunity with Fashionista events via Coupons.com, I would like to share with you how my Gram inspired me to start entering sweepstakes.
Gram – My First Win in Life
When I was born my parents were unable to raise me. My Grandparents swept in and took on the job eagerly. My Grandmother, who we all call "Gram", is the kindest, gentlest soul I have ever known. She was put on this earth to care for others and does so in the most genuine and selfless way. I consider myself extremely lucky to have been raised by these two amazing people.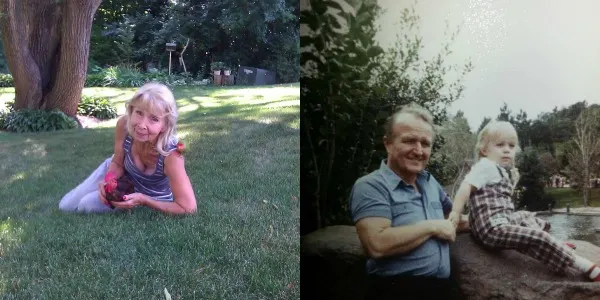 Don't be jealous of my OshKosh B'goshes. 😉
Growing up I was taught the value of a dollar. Having six kids before I came along had my Gram clipping coupons and shopping frugally on a regular basis. Don't get me wrong, they spoiled the crap out of me, but not without teaching me to have a good work ethic, as well.
You work hard in this family and there's no room for laziness. As soon as they found out that I had a passion for anything computer and internet-related, they fueled that whenever possible.
My Gram saw an episode on Oprah about people who entered sweepstakes. Right away she thought of me and I was instantly obsessed. I started entering non-stop and then the winnings started to trickle in. My sweepstaking hobby is what ultimately led me to start this blog.
Of course, Sweep Tight has changed a lot since the beginning, but that's how it was originally born. Now I consider running my blogs a lot more than a hobby, and can definitely thank my Gram for supporting me and encouraging me all along the way!
Mother's Day is around the corner and every mom deserves something extra special! Coupons.com is giving away $500 in Nordstrom and Kohl's e-gift cards to help honor the mothers out there! See Giveaway below and don't forget to check out Coupons.com for great KOHLS offers.
Make sure to stay connected with Coupons.com by liking their Facebook page and following them on Twitter & Pinterest.