Family time is the most important time. Between after school activities, work, and the general craziness of life, family time often gets pushed to the side. That's why I'm so excited to tell you all about the "Mrs. Fields Family Moments" campaign which builds on the USO's "Every Moment Counts" campaign. I am participating in this campaign as a member of The Niche Parent Network & Conference in partnership with Mrs. Fields. All opinions are my own.
Family Time is Fleeting
Okay, we all know that there will always be family time. Holidays, birthdays, anniversaries – all of that is family time. What I mean is that certain kinds of family time are fleeting. You won't always be reading bed time stories to the kids. You won't always have a little face looking to you for every answer, because he or she knows you're just the smartest, coolest, most awesomest (as my niece says) grown up in the world. Those times are here for a brief period, and then they're gone forever. That's why family time is so important. It's important to all families, but it's even more important to our service men and women and their families. They're often deployed for long periods of time, and let's face it, sometimes their families don't know if they'll ever come home. The little things like milk and cookies after dinner are golden to them.
Family Time From Mrs. Fields
When you buy a box of Mrs. Fields cookies at your favorite retailer, you're not just buying a cookie. You're helping create family time moments that matter for our troops and their families – those milk-and-cookie, after-school snack, and bedtime treat moments that we all love and always remember. It's an awesome cause, and it benefits the troops as well as you. When you bring home Mrs. Fields cookies, you bring home your own box of "Mrs. Fields Family Moments".
We make a concerted effort at our house to have great family time at least once a week. My niece is nine, and my nephew is thirteen, so these moments are the ones that count the most. They're still young, but in my mind, I already see my nephew going off to college. Instead of seeing him every day, I'll see him on break and maybe talk to him on the phone. It's a cold, black boulder in the pit of my stomach… Empty nest anyone?
Last night, a family friend came over and cooked for everyone. She's phenomenal, and the kids love her. We all hung out and ate, and it was great. It was family time in action. And even in the midst of family time, it was still difficult to get in as much as I'd like. I'm not even in this selfie! I was off getting more nom noms.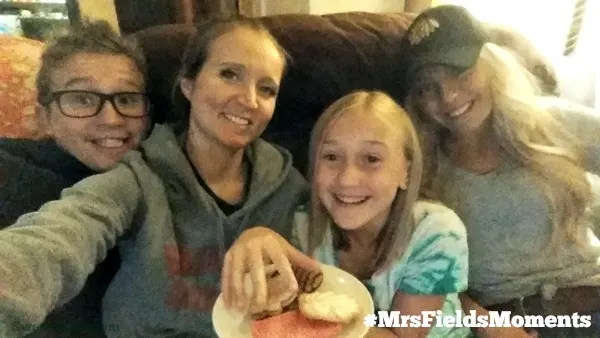 These are the Moments
This is it. These are the "Mrs. Fields Family Moments" of our lives. They're so important because we can't get them back. When I'm buried in work, and I have ZERO time to listen to another one of my nephew's forty-five minute stories about speed ball at gym class… I listen anyway. I stop, and I listen because soon I won't have him around for stories. Take some time, grab some Mrs. Fields cookies, and make some "Mrs. Fields Family Moments" of your own!