Our dogs are like our children. I have mentioned that in several posts. Since that is the case we love to spoil them with toys and treats! Cesar Savory Delights is like a gourmet meal to dogs. It seems to be the equivalent of humans going out for a steak dinner. At least that's how our dogs reacted! Sponsored post.
I never would have thought that we would have more than one dog at a time, but now I wouldn't have it any other way. Our dogs are two peas in a pod and provide us so much joy and entertainment on a daily basis.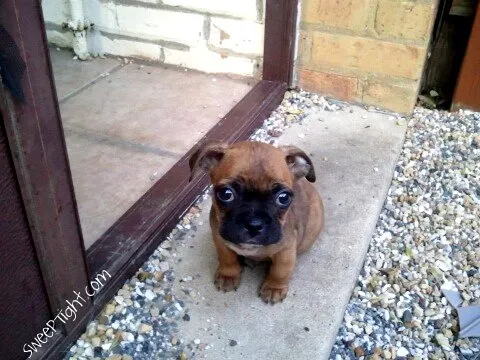 Mike and I got Hilo, our White German Shepherd dog, about five years ago. He's a great watchdog and a lot of fun. However, it seemed like he was a little bored after a while. Let's face it, I sit on this computer way too much and Mike doesn't have a lot of free time either. Hilo needed a playmate! Since he is very attached to Mike, I decided that I wanted a small friend who would most likely bond to me. We searched adoption sites and soon found the perfect little buddy. The Grump was the runt of a litter of puppies in a foster home waiting for people to adopt them. For some reason we both new that he was the dog for us. Long story short… we adopted him without hesitation!

These two dogs are hilarious. They are super buds, best friends, and brothers. Despite their size difference, Grump pretty much wins all play fights. He antagonizes Hilo, but he's keeping Hilo young and full of energy!
Savory Delights Twitter Giveaway
Cesar understands this bond between humans and dogs and wants to celebrate it. They are hosting a week-long Twitter event called the 10,000 Savory Delights Twitter Giveaway. From September 5th until September 12th, dog lovers can join @CesarCuisine and share the joy in return for free Savory Delights meals.
Here is how you can participate:
Create a tweet sharing why your dog means so much to you and tag and follow @CesarCuisine
Include the hashtag #sharethejoy in your tweet
Encourage your friends and Twitter followers to #sharethejoy with others to receive their own complimentary meals from CESAR® Canine Cuisine
@CesarCuisine will follow-up to gather shipping details and reward 5,000 dog lovers with two complimentary Savory Delights™ meals.
I can't wait to follow along with that hashtag to read all the stories!
Make sure to like the Cesar Facebook Page to keep up with them, too.
Our Dogs Flipped Over Cesar!
Our dogs had the pleasure of reviewing Cesar Savory Delights. Let me tell you … I have never seen them so excited over food before! Grump is a food-obsessed animal, but Hilo never gets too crazy over food. BOTH of them went insane over Cesar. They were moving around so fast I couldn't even get a good picture!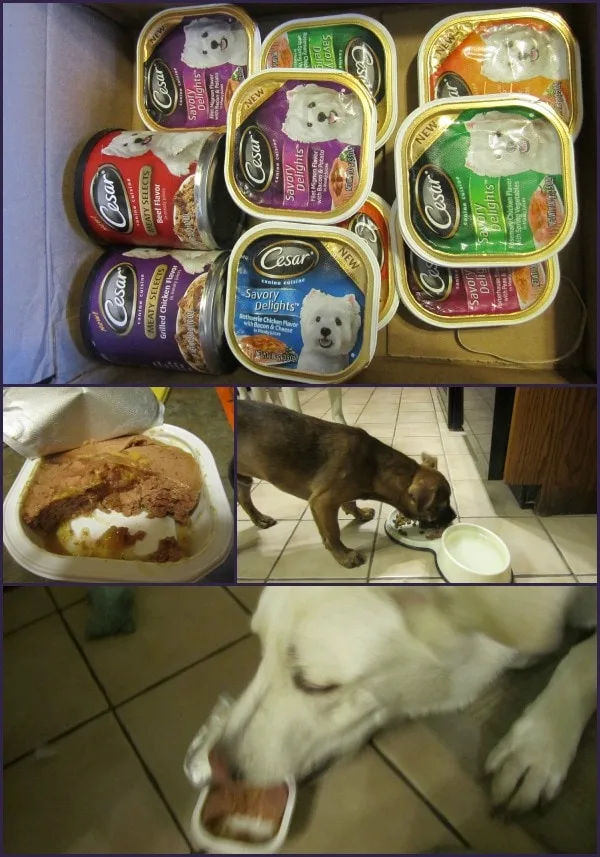 I scooped out a little for The Grump and mixed it in with his dry meal. Since he's only six months old, I didn't want to shock his little digestive system with new food. This worked out well and there were no digestive issues! Hilo didn't even want to wait for a bowl. I just handed him the whole container as you can see in this blurred frenzy of a picture. After eating, they both ran around like maniacs. They were so excited over their awesome dinner. Looks like they will be spoiled for life now! That's okay… we wouldn't have it any other way. 😉
Disclosure: I wrote this review while participating in an ambassador program by Mom Central Consulting on behalf of Cesar and received product samples and a promotional item to thank me for taking the time to participate.