While you're spending all your energy making the perfect meal, don't forget the drinks! Sure, you've got eggnog, apple cider, and hot chocolate, but what about something with that holiday sparkle? With DASANI Sparkling Water, you can add that sparkle to your holiday drinks for kids. Adults will also love these but it's even more fun when the kids can have them too.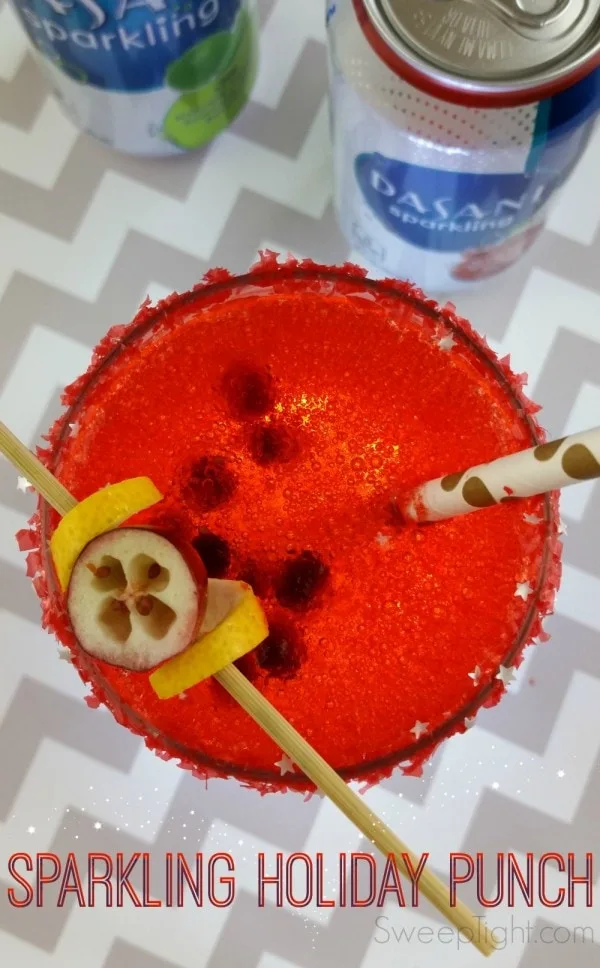 Sparkly Holiday Drinks for Kids – Adults too!
Not only are these holiday drinks for kids and adults super yummy, they're super low in sugar so you can still have all your favorite desserts. With zero calories, no sugar, no artificial colors, and no caffeine, DASANI Sparkling Water is the ultimate drink mixer.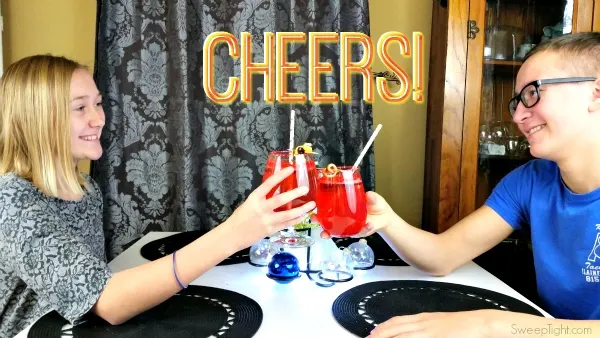 We came up with this Sparkling Holiday Punch recipe using the following ingredients (for one drink):
3/4 can DASANI Sparkling Water Black Cherry
1/4 can DASANI Sparkling Water Lime
1 tsp Powerade Fruit Punch drink mix
1 1/2 tsp pomegranate arils
edible glitter
orange peel and halved cranberries for garnish (who knew cranberries were so cute inside?!)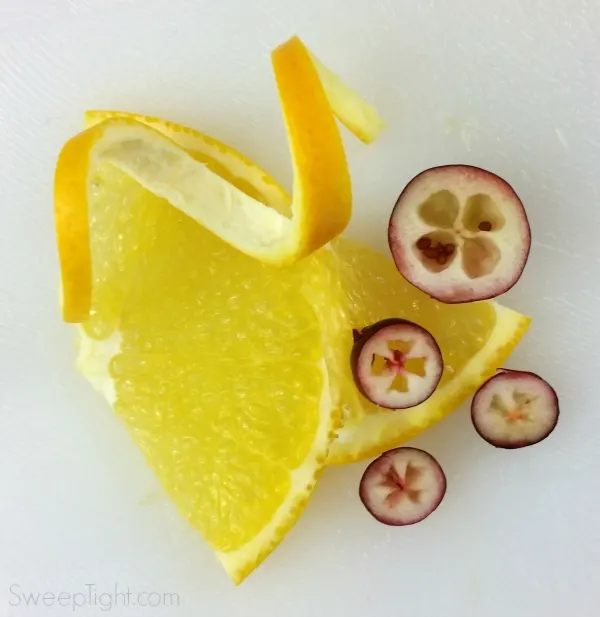 skewers
pretty paper straws
Instructions:
Put about a teaspoon of edible glitter in a shallow dish. Wet the rim of your glass and dip into glitter.
Put Powerade drink mix in glass.
Pour both DASANI Sparkling Water flavors into the glass without touching the glittered edge.
Toss in the pomegranate arils.
Garnish with orange peel and cranberry on a skewer.
Add a pretty straw and enjoy.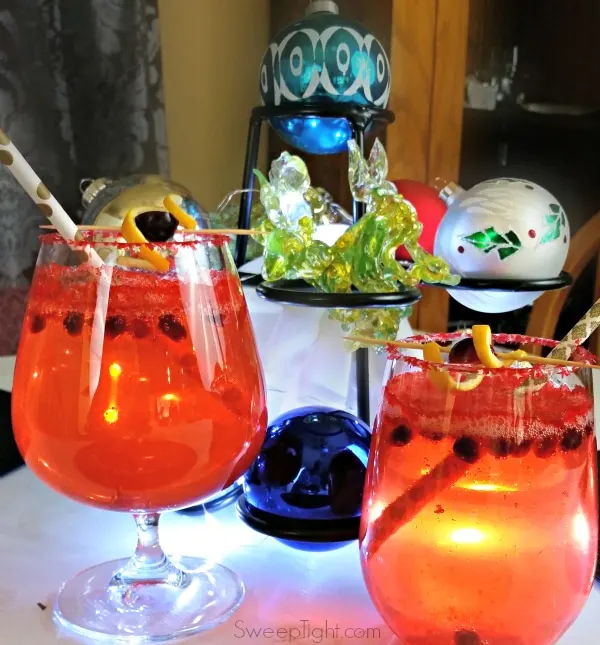 For added sparkle, place a small inverted glass dish over small white lights to shine lights up through the drinks, really making them shine. You're drink table will be a hit! You can also use a variety of styles of glassware. Kids especially love getting to use the fancy glasses.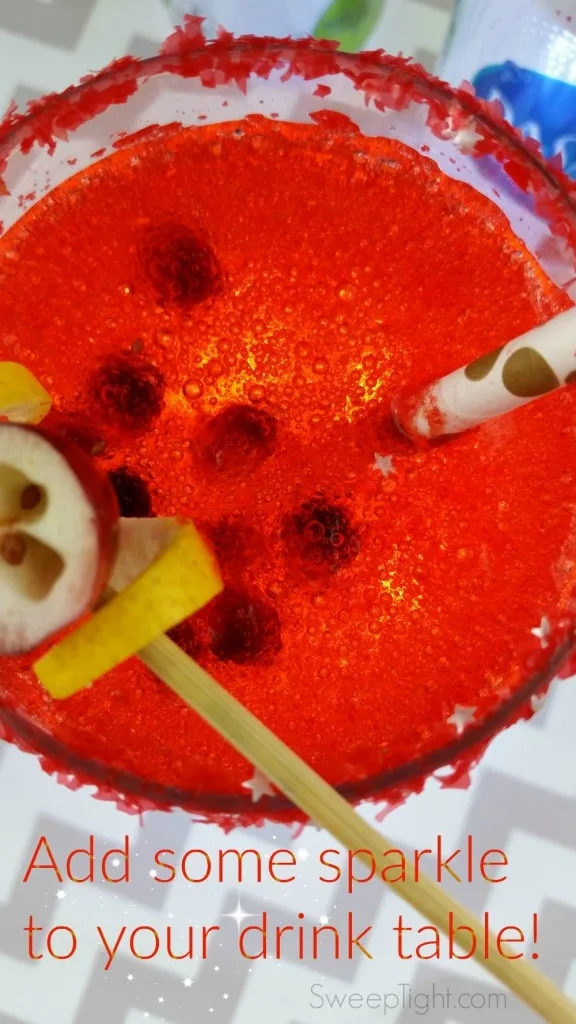 For more great recipe ideas, check out this Pinterest board.
Adding pomegranate arils (seeds) to a sparkling drink is fun because they continue to "dance" the whole time. They float up and down with the bubbles. And, when you're finished with your drink, you can eat them. The kids call them 'nature's jelly beans'. 🙂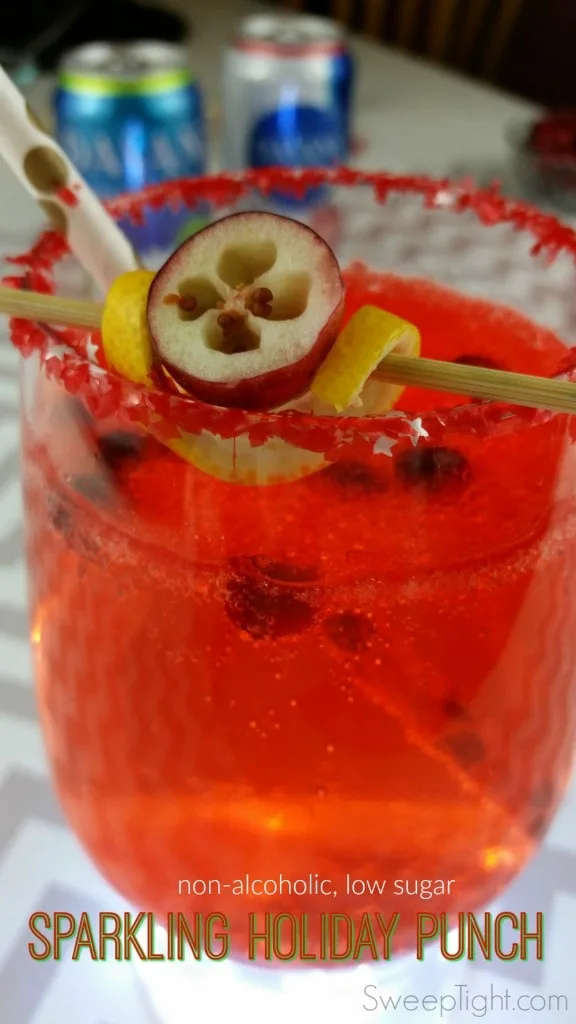 DASANI Sparkling Water is available at Walmart and perfect for sparkling the holidays. The 12 pack of 12 oz cans are available in Sparkling Favors: Lime, Berry, Lemon, and Black Cherry.
More Holiday Recipes Kids Love
Do you include holiday drinks for kids at your parties?