The more easy dessert recipes I have in my recipe box, the better. I love having options to whip up quickly in case people stop by, or we just want something sweet that night. Eclair Cake used to be a favorite of mine. I almost forgot about it until I saw this pin on Pinterest. What a delicious reminder. I decided to tweak it to make it banana-flavored instead. Since clearly, I have been on a serious banana kick lately! Post contains affiliate links, but all opinions are my own.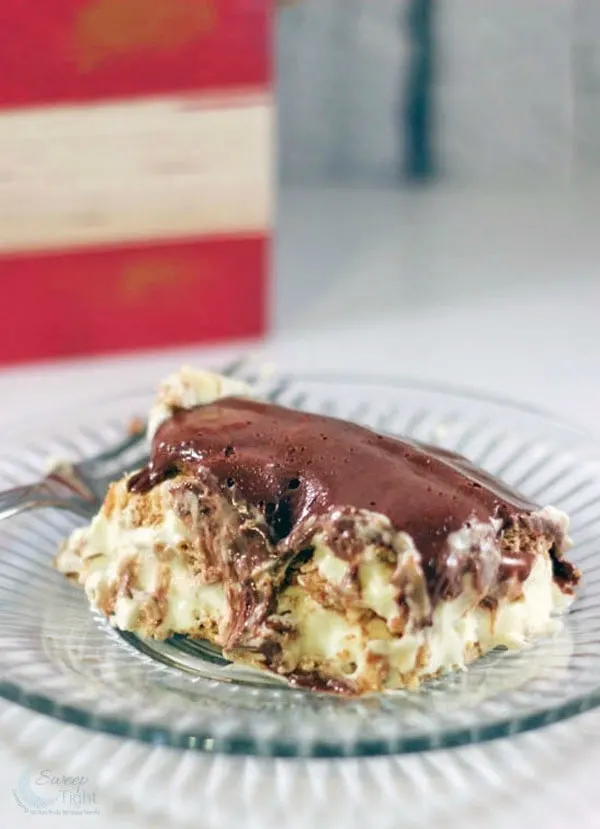 The ingredients for this no-bake easy dessert are items that most of us have in our cabinets year round.
Banana Pudding Eclair Cake – No Bake Easy Dessert
Ingredients:
Instructions:
Beat pudding mix and milk well.
Fold in Cool Whip.
Line a 9 x 13 pan with graham crackers.
Add a layer of pudding mixture.
Sprinkle peanut butter chips on top.
Add another layer of graham crackers.
Top with pudding mixture and chips.
End with graham crackers on top.
Spoon frosting into a microwave safe bowl and heat until pourable. Make sure it doesn't get too hot. You just need it melted enough to pour.
Pour chocolate frosting on top of graham crackers and spread evenly.
Refrigerate for a couple hours before serving.

I used too much milk because I wasn't thinking. I followed the instructions on each package of pudding instead of remembering you use a cup less. That caused this batch to be a little runnier than it should be. It was still delicious, and everyone just grabbed a spoon and dug in. I want to experiment with different flavors of pudding, chips, and frosting. There are so many possibilities!