This giveaway is brought to you by Need Brands. All opinions are my own. We all remember those adorable twin girls Tia and Tamera.
Well now they are all grown up and having babies of their own. Having products that are natural, organic, vegan, and cruelty free is something they are passionate about.
They have developed the Need brand for today's modern mother. Effective and environmentally safe products that are still affordable.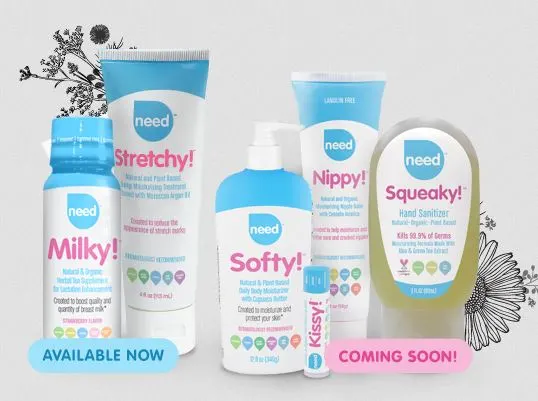 Need Brands by Tia and Tamera
So far they have released two products for mothers – Milky! and Stretchy! – with four more items coming soon. Here's a little bit about each item:
Milky! – Milky! is a natural and organic herbal tea supplement to help with lactation. Using the healthiest of ingredients, this drink can be enjoyed twice a day for a nourishing way to help promote lactation.
Stretchy! – Help combat those pesky stretch marks with this all-natural and additive-free stretch mark treatment. Infused with Moroccan Argan oil, this deeply moisturizing product will soothe the skin and help treat and prevent stretch marks.
Coming soon —
These are the four products that are coming soon:
Softy! – Natural and plant based daily moisturizer.
Squeaky! – Natural and organic hand sanitizer.
Kissy! – Organic lip balm with soothing coconut oil.
Nippy! – Lanolin-free moisturizing nipple balm to help with irritation from nursing.
Aren't the names just adorable?
Find out more about all the products on the Need Brands website. You can find the product details, new releases and helpful articles. Stay social by liking their Facebook page, and by following them on Pinterest, Twitter and Instagram.
Coupon Code
Enjoy 10% off your entire order by using coupon code SWEEPTIGHT. Valid until 12/31/13 and open to the continental US states.
Need Brands by Tia and Tamera