Kids and Summer snacks go hand in hand, and with all the wonderful fresh fruits of summer, like California Grapes, healthy snacks are right at our finger tips. Sponsored post. All opinions are our own. 
California Grapes and Greek Yogurt Cones and Parfaits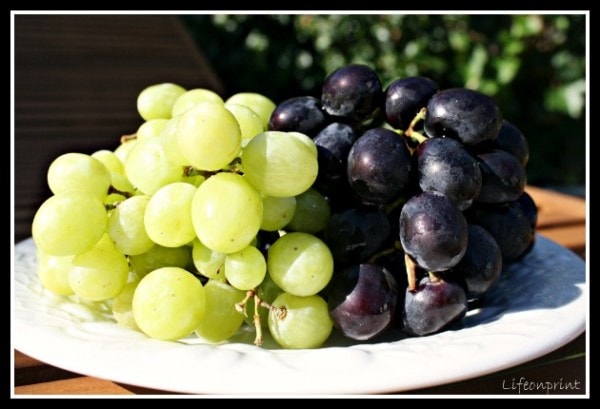 With the long days of summer also come the parties, sleepovers, and playdates galore…and during those times we as parents like to treat our kiddos and their guest to something a little extra special and fun!  The dilemma is this – "How do I create a yummy, tempting treat that is also healthy and not loaded with sugars and fat?"
Well I think I may have the answer, check out the following recipe ideas for some treats your family and friends are sure to love!

How about a super yummy dessert cone?
or ….. a decadent looking parfait? At first glance these treats appear to be high sugar, high fat party desserts, but they are actually Healthy Snacks in Disguise!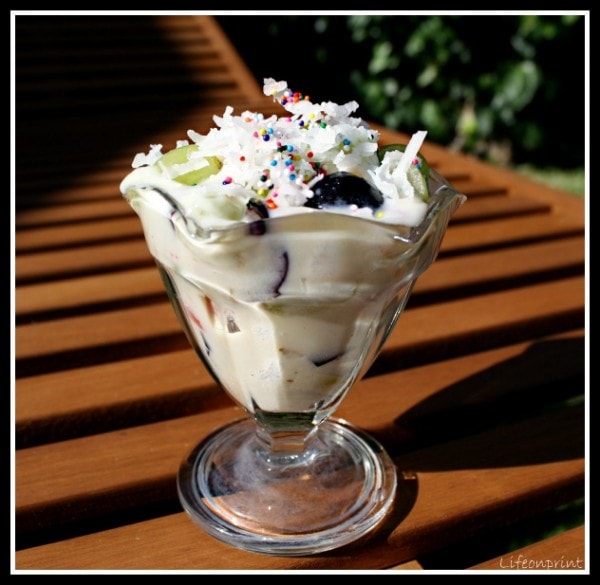 These treats are easily made with a few simple ingredients!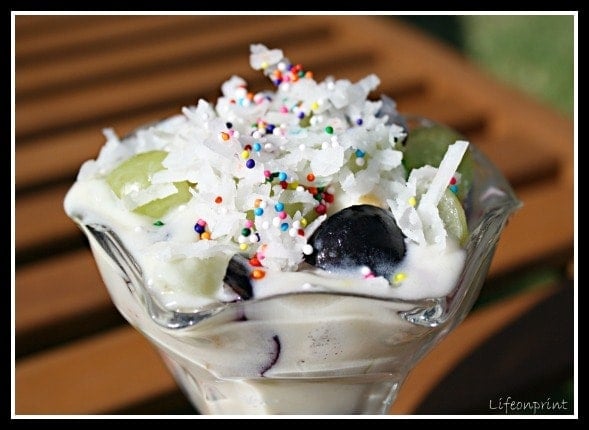 California Grapes and Greek Yogurt Cones Recipe
Ingredients
1 cup black and green seedless California grapes (cut into pieces)
5-6 oz vanilla Greek yogurt
1/4 oz chopped walnuts
approx. 10 mini marshmallows
approx. 2 tsp shredded coconut
2 ice cream cones (or parfait cups)
multi-colored nonpareils
Instructions
Rinse and dry your California grapes, then cut each grape into fourths
In a bowl, mix together grape pieces, Greek yogurt, chopped walnuts, and mini marshmallows
Scoop mixture into ice cream cones or parfait cups
Sprinkle with shredded coconut then top with nonpareils
Serve immediately or place in the freezer for approx. 15 mins for an extra cooling treat!
Sit back and enjoy the smiles and hugs you will get for serving up this special and healthy treat!
Notes
Filling can be made ahead to save time (if made ahead of time do not fill cones until ready to serve as they will become soggy if left for too long)
*I was chosen by Family Review Network to come up with a healthy, kid-friendly, California Grape Healthy Recipe for The California Table Grape Commission and was provided a Green, Black, Red cookbook and a $10 to shop for fresh grapes from California for my recipe. This recipe was created by me and all opinions are mine alone.
Rainbow Crumbs for You
Weekly newsletter with our latest posts and shenanigans.