The 2017 OREO Cookie flavors are up for vote. You can help be a part of this historic decision. From 4/28-6/1 OREO lovers will have the chance to select the next Walmart OREO flavor. Sponsored post by Lunchbox.
2017 OREO Cookie Flavors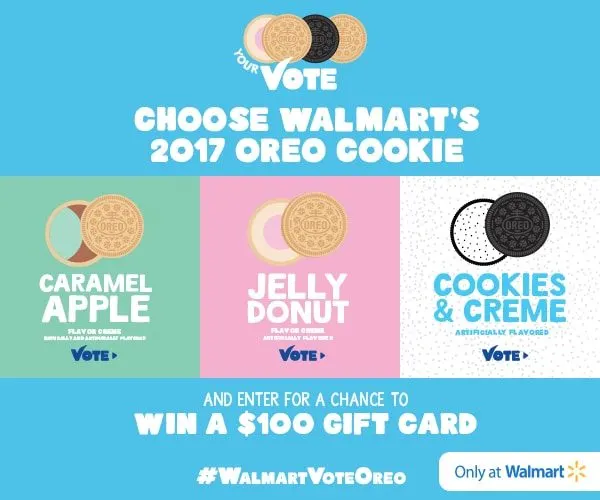 There are three scrumptious new flavors on the table, but only one will be chosen. The three flavors are Jelly Donut, Caramel Apple, and Cookies & Creme. Allow me to plead my case for Caramel Apple. Here are five of my reasons.
Team Caramel Apple #WalmartVoteOREO #VoteCaramelApple
The caramel apple combo is completely underrated. Making its short-lived appearance in the fall only does not do it justice.
Unlike any current OREO Cookie flavors.
Think of the recipe creation possibilities! Hello, pie crust game changer.
We need another fruit flavored OREO.
Because caramel. Caramel for the win, always.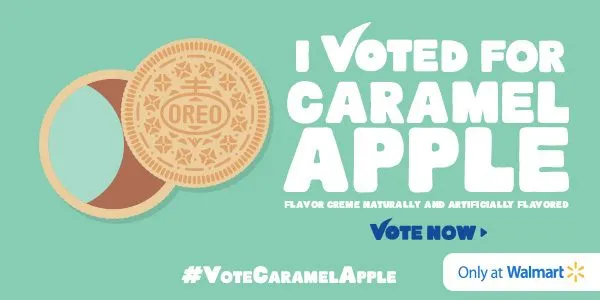 Did I miss my calling as a campaign manager, or what? 😉 Hopefully, the flavor entices you without my help. No matter which 2017 OREO Cookie choice calls to you, make sure to vote. Not only will you be choosing the next OREO, which will be a Walmart exclusive, but you will earn a chance to win a $100 Walmart gift card. The winning flavor will be celebrated on the site from 6/4 to 6/12 and will be in store in 2017.
In-store Demos
Find a Walmart near you hosting an in-store demonstration to join the fun.
Your Vote Counts
Which flavor do feel belongs on your Walmart shelf? It's very easy to vote. It took me just a minute or so to vote and enter the sweepstakes. I even had some fun using the Blippar app to spread the word.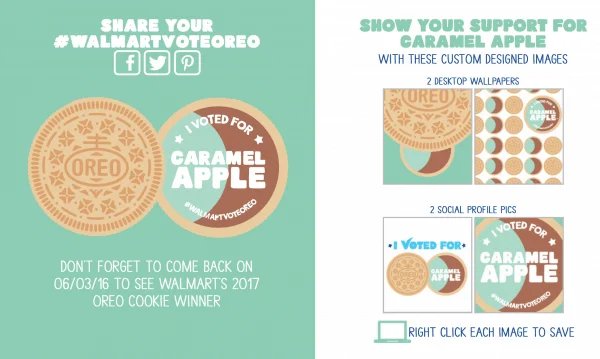 Enter for a Chance to Win
Visit here, click on the flavor you'd like to win, then enter for a chance to win a $100 Walmart gift card. Sweepstakes drawings will happen weekly and each time you enter you're entered for another chance to win. So, vote often! After you vote, you will gain access to even more free OREO themed downloads.


While you are waiting for this momentous decision, make sure to try these OREO Cookie flavors: Lemon, Red Velvet, and Cinnamon Bun. I don't know how Cinnamon Bun slipped my radar, but I am about to hunt it down immediately.
#WalmartVoteOREO Twitter Party Info
Date: 5/24/16
Time: 2pm CT
$800 in Prizes
RSVP HERE
Which one of the 2017 OREO Cookie flavors will get your vote?