Affordable fashion for back to school outfits just became easier to find. This post is sponsored by Nordstrom Rack, but all opinions are my own. Nordstrom Rack has been a favorite store of mine for quite some time. I am so excited that they now have a online shopping option! Hunting through the store is fun and all, but we all know that I love to shop online in my PJ's.
New back to school outfits are essential for kids and parents. The kids are back in class and will want to dress to impress. For parents, this also means lots of school activities and events. Everyone can find top fashion for affordable prices at Nordstrom Rack.
Here are a few outfits that I put together from NordstromRack.com.
Affordable Fashion for Back to School #NordstromRack
This outfit for a little girl can be put together for under $50. Items pictured:
Nicole Miller Zebra Stripe Tunic & Leggings: $11.23
Poochies Stormie Plush Cat Purse: $9.97
Unlisted We Sing 2 Flat: $11.81
Titanium Rhinestone Slap Watch: $9.97
Seriously, these prices are impressive. They even dropped since I started putting the outfit together. It's amazing the name brand items you can get for such a discount.
Don't forget mom! Mom needs affordable fashion, too. I put this outfit together for less than $75.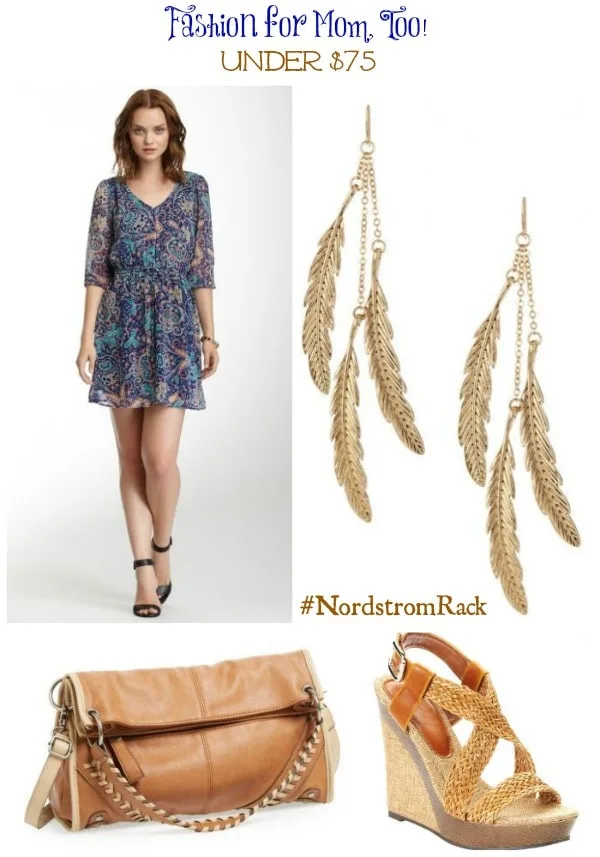 All of the items above total less than $75. Items pictured:
BE BOP Double-V Paisley Dress: $22.97
Free Press 3 Leaf Linear Drop Earrings: $9.97
Jessica Simpson 'Harmony' Foldover Crossbody: $26.23
Bucco Ariel Wedge Sandal: $12.00
The outfit possibilities are endless. Plus, they add new items every week. There is fashion for men, women, and children. Dresses, jeans, accessories, and more can be found on the site. Brand name merchandise that is deeply discounted. They offer free shipping over $100 and easy 90-day returns with the option to return to the store. Orders ship within 1-2 days and they ship to the US, Canada, and Australia.
I know I am pretty darn happy about this. This is a fashionista's dream. We all love designer fashion and high-end merchandise, but few people have the budget for it. Nordstrom Rack is an excellent option to have the best of both worlds. NordstromRack.com just makes it even easier. If you see something you like, order it right away though. Due to the amazing prices, the items get snatched up quite quickly.
Nordstorm quality for affordable prices is easier than ever and right at your fingertips. Shop in your sweats and then hit the town in your killer designer fashion without anyone knowing you didn't spend a small fortune!
Have you shopped for back to school fashion yet? What are some of your favorite items on NordstromRack.com?