Just in time for back to school, I rediscovered my favorite brain food–chia! More specifically, Mamma Chia. Mamma Chia's delicious snacks and beverages are loaded with nutrients and easy to take on the run.
This review and giveaway was made possible by Double Duty Divas and Mamma Chia. I was compensated for my participation in this campaign, but all opinions are 100% mine.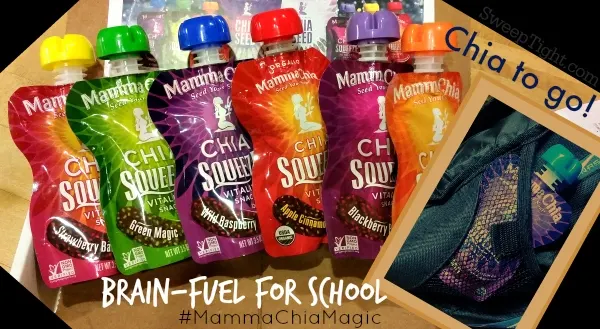 School Snacks
Adam, (13 – 8th grade) and Chesney, (9 – 4th grade) both need all the brain fuel they can get. Oh, and so do I. I am taking 7 classes this semester. It's an absolute nightmare of chaos, stress, and physical/mental fatigue.
We need healthy snacks that double as treats to fuel our bodies and mental state of teetering sanity. (Yes, we all respond well to treats. :))
With the new common core standards presenting new challenges for the kids and my completely insane schedule, we need all the help we can get.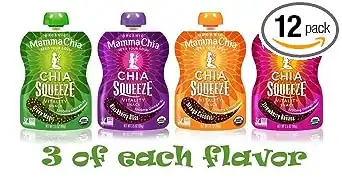 Mamma Chia
The Chia Squeeze Vitality Snacks are freaking delicious. We all love them when they're super cold–almost freezing.
Each flavor is super yummy and I honestly cannot pick a favorite. Ches couldn't either but when I put her on the spot she said the Coconut Mango would be her favorite today.
Each 3.5 oz. BPA-free Squeeze Pouch contains:
nutrient-rich chia seeds deliciously infused with fruit and vegetables
1200 mg of Omega-3s–about the same as a single serving of salmon
4 grams of fiber
no added sugar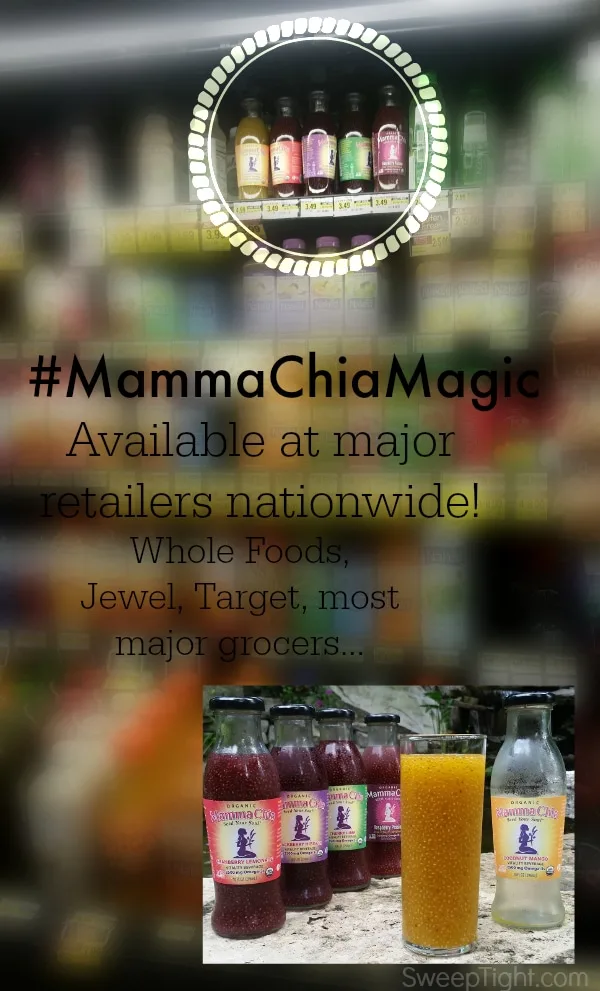 I love these pouches because they are so easy to throw into our backpacks. But sometimes I really just want more.
So I am now taking the Mamma Chia Vitality Beverages–they come in a pretty glass bottle–with me to school. I got mine at Jewel, but you can find a retailer new you here.
Each one of these drinks contains:
more than an entire day's worth of Omega-3s (awesome brain fuel)
6 grams of fiber
4 grams of complete protein
We all love Mamma Chia products. The texture is a bit odd, but the flavor is delicious. I especially love it if I have a sore or scratchy throat. I think it is super soothing.
I had my 81 year grandma try it today and even she–a total texture freak–liked it. I was thrilled to see her get some valuable anti-inflammatory Omega-3s in her diet.
She has horrendous arthritis and issues with swelling all over her body so this is the perfect snack for her.
Here's a cocktail recipe using Mamma Chia for the adults!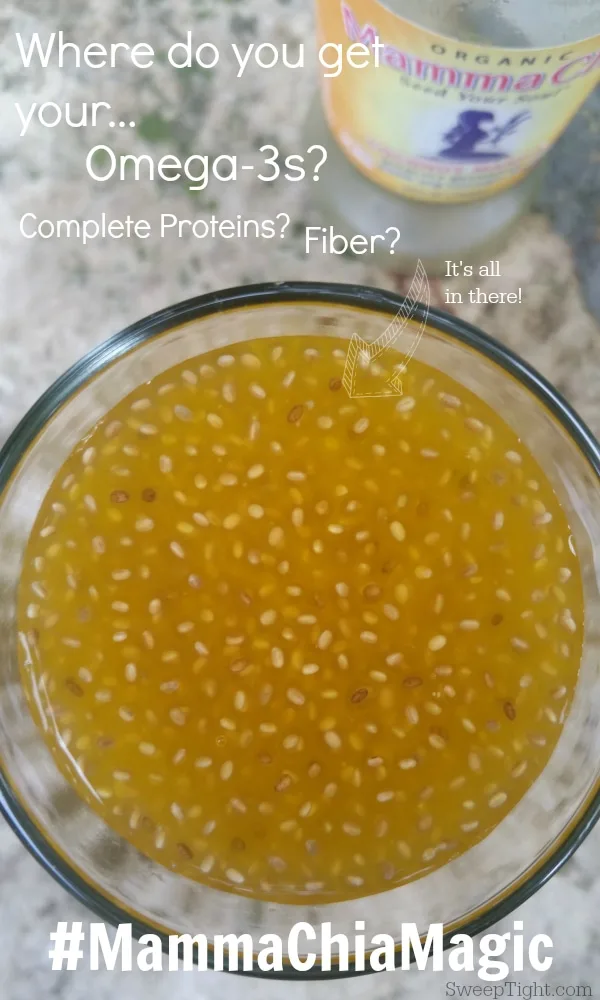 Big News!
Mamma Chia is coming out with a new organic beverage called Clean Energy. I cannot wait to get my hands on this! This is the first beverage to combine the power of chia with the clean energy of Guayusa (gwhy-you-sa) and organic fruit juices.
Guayusa (in the natural energy category) is treasured for its unique balance of caffeine, antioxidants and vitamins delivering sustained energy without the jitters associated with coffee, soda or other energy beverages. Pretty sure this needs to be available on EVERY COLLEGE CAMPUS!
Flavors will include: Blackberry Blast, Cherry Charge, Grape Power, and Raspberry Razz. This drink will have:
2,500 mg of Omega-3s
6 grams of fiber
4 grams of complete protein
90 mg natural caffeine (equal to an 8 oz cup of coffee)
2 times the antioxidants of one cup of green tea
only 120 calories
SERIOUSLY. I. WANT. THIS. NOW. #GetInMyBelly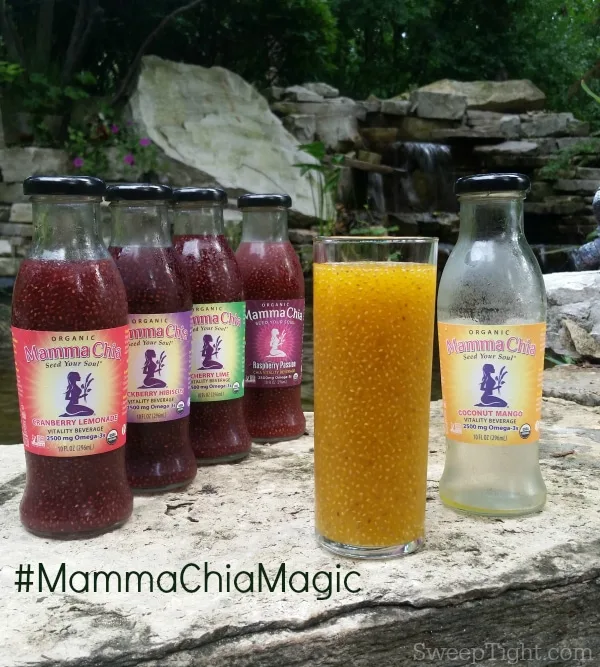 Follow Mamma Chia on Facebook and Twitter to keep up with all the latest news!