Bret Michaels continues to rock his pet line at PetSmart. We received a batch of his new items for review and they are just as cool as the last items. Our pets just love new toys and these neon-colored ones really were an instant hit!
Bret Michaels Pet Collection at PetSmart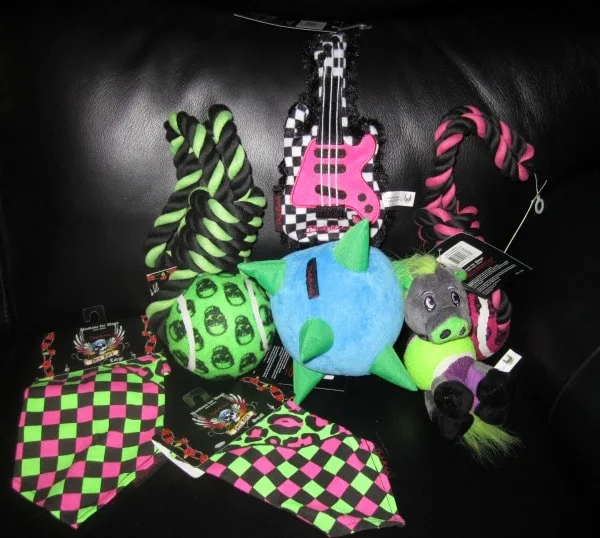 PetSmart definitely has gotten to know our guys now. They always include items in small and large for The Grump and Hilo. They even each got to rock their own bandanas (even though I could NOT get a pic of them both wearing them — I tried, believe me!). The skull balls attached to the rope were a definite favorite. They can both play with each other for hours with them. The new Bret Michaels Pets Rock line is in bright, neon colors which are awesome for all.
The Grump enjoyed playing with the little donkey ball toy by himself. Both dogs loved the spiked ball. Overall, all of this bunch received two paws up from our pups.
Out of all the toys we have ever purchased or received for review, the ultimate favorite of all time remains to be the Boot from the Bret Michaels collection. We got that one during one of our first reviews and it's still around. The Grump goes nuts for it. He actually "talks" to it and makes all of these strange noises that he never makes otherwise. It's so funny!
The Pets Rock collection has more than just toys. They also have outfits, beds, leashes, bowls and other fun items just for your pets! Head to your local PetSmart or shop online for this exclusive collection today.