Sometimes it is hard to figure out what to do or where to go in Chicago. Not because there isn't enough going on, but because there is so much, it can be overwhelming to make a decision.
I am so excited that Jen and I will be going on the Fireworks Seadog cruise while attending BlogHer in Chicago this July. If you have never been on a Seadog cruise, it should definitely be on your list of what to do while in Chicago.
Where to go in Chicago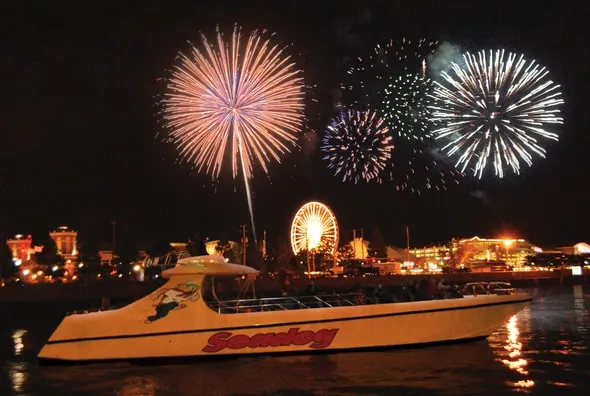 Where: Navy Pier
When: April-October, weather permitting
What: There are options for everyone to experience Chicago from the water…
Lakefront Speedboat Tour
This 30-minute cruise along the shoreline offers a descriptive tour of Chicago's famous skyline, while playing your favorite music.
Extreme Thrill Ride
This cruise is perfect for the dare-devil in you! This 30-minute ride features splash down stops, 180-degree turns, slalom runs and more. We saw this one in action while we were out on the lake and it is really O-M-G worthy! Looks like a ton of fun!
River and Lake Architectural Tour
Enjoy historic views of Chicago's famous landmarks and neighborhoods during this 75-minute cruise on both Lake Michigan and the Chicago River. I did this on last year with the kids and it was awesome. We learned the names of buildings and be prepared to get wet! It's not a guarantee you'll get wet, but we got soaked!
Lakefront Fireworks Cruise
Enjoy front-row seats to the spectacular fireworks display! Cruise along Lake Michigan with an exciting speedboat ride paired with an informative tour of the Chicago skyline, then end the evening with a dazzling fireworks show and top-40 hits playing in the background! The open aired vessel allows for panoramic views, providing the perfect view. The Seadog Fireworks Cruise is available on Wednesdays and Saturdays, running from Memorial Day through Labor Day.
Whether you are visiting Chicago solo or with a group, Seadog offers customizable group events for up to 450 people. This would make a great date night or girl's night out!
They also feature fun holiday cruises for Memorial Day, the 4th of July and Halloween. You can even take your dog with! Dogs ride for free, space permitting.
For more information, please visit www.seadogcruises.com/chicago/ or call 888-636-7737.
We were on the water yesterday and we were looking at the Seadog boats with envy! They are so much fun!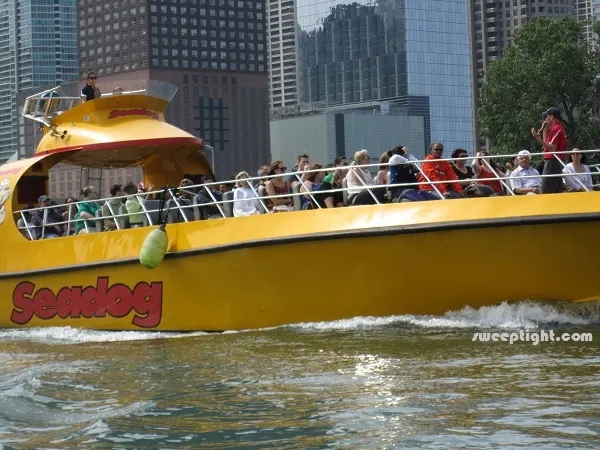 Disclosure: Jen and I will be receiving a free Lakefront Fireworks Cruise while attending BlogHer. All thoughts and opinions are our own.