Clearer skin can boost confidence in any situation. This can be particularly important for teenagers heading back to school. With clearer skin, kids can focus on what is important instead of worrying about acne or embarrassing skin situations. As an adult with acne, I can still sympathize with zitty teens. This post is sponsored by Lunchbox, but all opinions are my own.
I have been battling breakouts for years, and I would like to share some tips I have picked up along the way.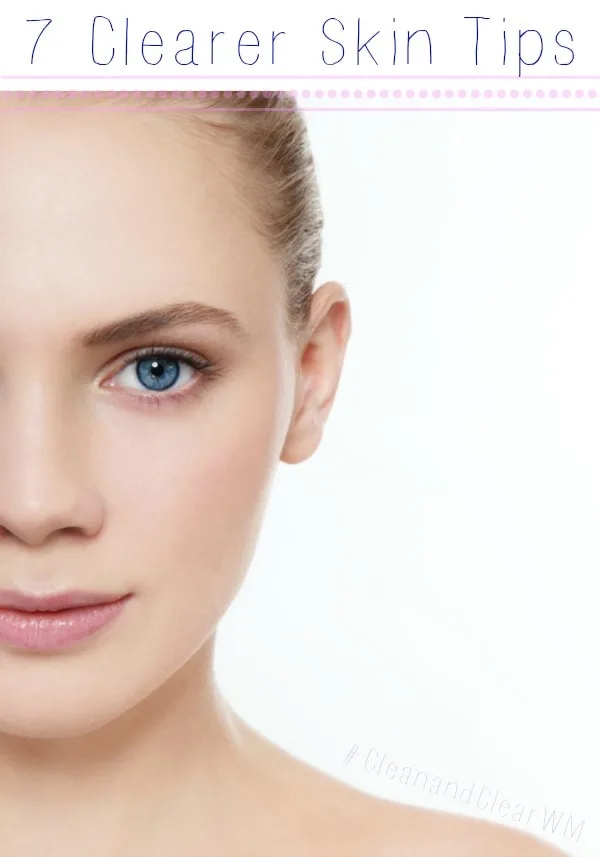 7 Clearer Skin Tips using CLEAN & CLEAR®
Wash your face in the morning – Cleansing your face in the morning allows you to start your day with a fresh face and helps wake you up. Use MORNING BURST® Facial Cleanser, formulated with BURSTING BEADS® technology, to get a deep clean while refreshing your skin with an added touch of moisture without clogging pores. Another great one is ADVANTAGE ACNE CONTROL 3-IN-1 FOAMING FACE WASH. This wash contains max-strength acne-fighting Salicylic Acid, and it thoroughly cleanses skin and helps prevent future pimples.
Exfoliate weekly – Scrubbing off the dead skin and grime plays an important role in skin health. Some blemishes can even be caused by excess crud build-up. Crud is probably not the technical term, but that's why I am not a medical professional. Deep Action Exfoliating Scrub helps to invigorate the skin by cleansing deep down into the pores. Do this once or twice a week. Another product to use if you notice a lot of blackheads is the BLACKHEAD ERASER® Scrub. With multi-action beads, it exfoliates and cleans, helping you see fewer blackheads in just two days.
Wash in the afternoon – If you are an extra oily person like myself, wash your face during the day, as well. You don't want to over dry your skin, but getting that excess oil off can help unclog your pores and prevent new breakouts from forming. Deep Action Cream Cleanser Sensitive Skin is specially formulated for sensitive skin to clean deep down to the pores without over-drying. If you are washing your face more than twice a day, this is a great product to use to gently cleanse.
Don't pick and squeeze – This is my biggest problem. I cannot resist popping, plucking, squeezing, and straight up abusing all of my pores. This spreads bacteria, causes scarring, and it is probably the worst thing to do for acne. Instead use ADVANTAGE® Acne Spot Treatment which is shown to reduce the appearance of pimples in just 4 hours.
Moisturize your skin – Just because you have oily skin doesn't mean you should skip the moisturizer. It might feel like more moisture is the last thing your face needs, but dry skin actually triggers your pores to produce more oil. Applying ESSENTIALS Dual Action Moisturizer can help moisturize dry-skin while treating and preventing breakouts.
Eat cleaner – I was actually told by a dermatologist that food has nothing to do with breakouts. I could not disagree more. Get to know your own body. Over time I have recognized a pattern with my eating habits and breakouts. For example, soy or dark chocolate makes me breakout in those nasty, hard, cystic-type acne bumps. Dairy creates tiny little pus-filled pimples. Hot stuff, huh? Keep a food journal to record how your skin looks after eating certain foods.
Wash at night – Washing away the dirt, oil, makeup, and grime from the day is probably the most important step. This is one that I tend to suck at. Skin heals and rejuvenates itself while we sleep. If you have makeup and dirt in the way, it can interrupt this process. You want to give those tiny night workers a clean slate to work on. The Day and Night Pack keeps your skin feeling fresh and clean all day long with CLEAN & CLEAR® MORNING BURST® Facial Cleanser and NIGHT RELAXING DEEP CLEANING face wash.
See more at CLEAN & CLEAR®.
Savings
Test your skin care knowledge and receive a money-saving coupon towards CLEAN & CLEAR®.
Do you have any tips for clearer skin?