If you're looking for how to measure ketones at home, put down the lancet and explore the Keyto ketone breath meter with me first. The Keyto breathalyzer is a non-invasive way to check ketone levels and help guide you towards a healthy keto lifestyle.
I received a Keyto for review purposes, and I am an affiliate for the company. If you make a purchase through my links, I will earn a commission at no additional cost to you. All my opinions are my own.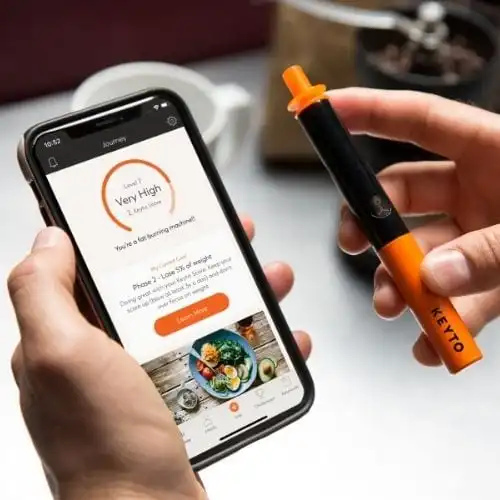 Keyto Breath Sensor
No poking required, instantly and accurately check your ketone levels with one breath.
Buy Now
We earn a commission if you make a purchase, at no additional cost to you.
Reasons to Test for Ketones
Testing to see if you're in ketosis is optional, in my opinion. However, I find testing helpful for a few of the following reasons:
Motivation
When you first start a low-carb diet, getting into ketosis is the goal. We all know that hitting that first milestone in any diet is extremely motivating. We all need those little wins to keep us going!
Testing Foods
There can be a lot of trial and error with foods on the keto diet. Some foods labeled "keto-friendly" might not agree with you like they do others. For example, my husband can get away with eating a lot of sugar alcohols where they kick me right out of ketosis. Testing shortly after eating something questionable can help guide you. Things like stress and lack of sleep can throw you off, too.
Tracking Moods
One of the main reasons I live a low-carb life is how it makes me feel mentally. I find that being in a moderate level of ketosis gives me the best feeling overall. My brain gets sharp and clear, and my anxiety levels are almost non-existent. If I reach too high a level of ketosis, I start to feel jittery and agitated. I'm always trying to find and stay at that magic number.
Ways to Measure Ketones
There are three different ways you can test your ketone levels from home. I feel like most people start with the urine strips and eventually evolve into the other tests as they get more serious about the lifestyle. Personally, I was willing to spend more once I knew I was going to stay on the diet for a while.
Product Image / Primary Button / Product Name

Pros / Cons

Cheap

Good for frequent testing

Accurate

Non-invasive

Good for frequent testing

No replacement costs

Accurate

Relatively affordable

Replacement costs

Invasive
Cheap

Good for frequent testing
Accurate

Non-invasive

Good for frequent testing

No replacement costs
Accurate

Relatively affordable
Replacement costs

Invasive
Urine
Urine test strips are probably the most popular amongst new keto dieters. You can buy a bunch of them easily on Amazon for under $10. It's a small investment to start with, so it's not a giant commitment. If you are compulsive like me, it won't break the bank if you test yourself an obnoxious amount of times. But, this is pee, people. This is a phase we all quickly go through.
Blood
Blood tests are the most accurate way to test ketones. Depending on how often you test, they are also the most expensive because you have to buy replacement strips and lancets. See my compulsive comment above? Yeah, my husband had to take my blood tester away from me and only allow usage under supervision. My fingers were a pin cushion on day two. Blood, you guys, can we not do this to ourselves?
Breath
Once you're over dealing with bodily fluids, thank goodness there is now a simple breath meter. Simply blow into a harmless device and use an app to read your level. Keyto measures the acetone in your breath to see when you are burning fat for energy.
Keyto Keto Breath Tester – What's in the Box
The box contains the Keyto breathalyzer, four mouthpieces, AAA battery, a user manual, and a carrying case.
The instructions are incredibly easy. You just download the free app and register.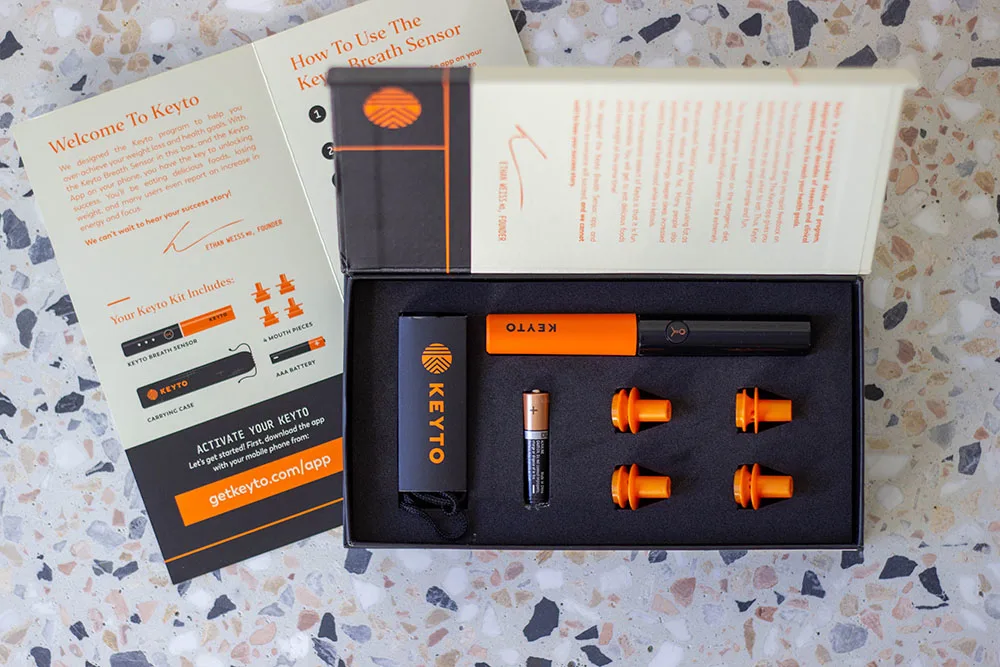 Once you sync the Keyto to the app using Bluetooth, you can start testing. It takes about a minute for the device to warm up, then you blow into it, and read your score.
Keyto breaks it down into easy-to-understand levels to let you know if your body is using fat as fuel. The app logs your readings and so much more. I was pleasantly surprised with all the features on the app.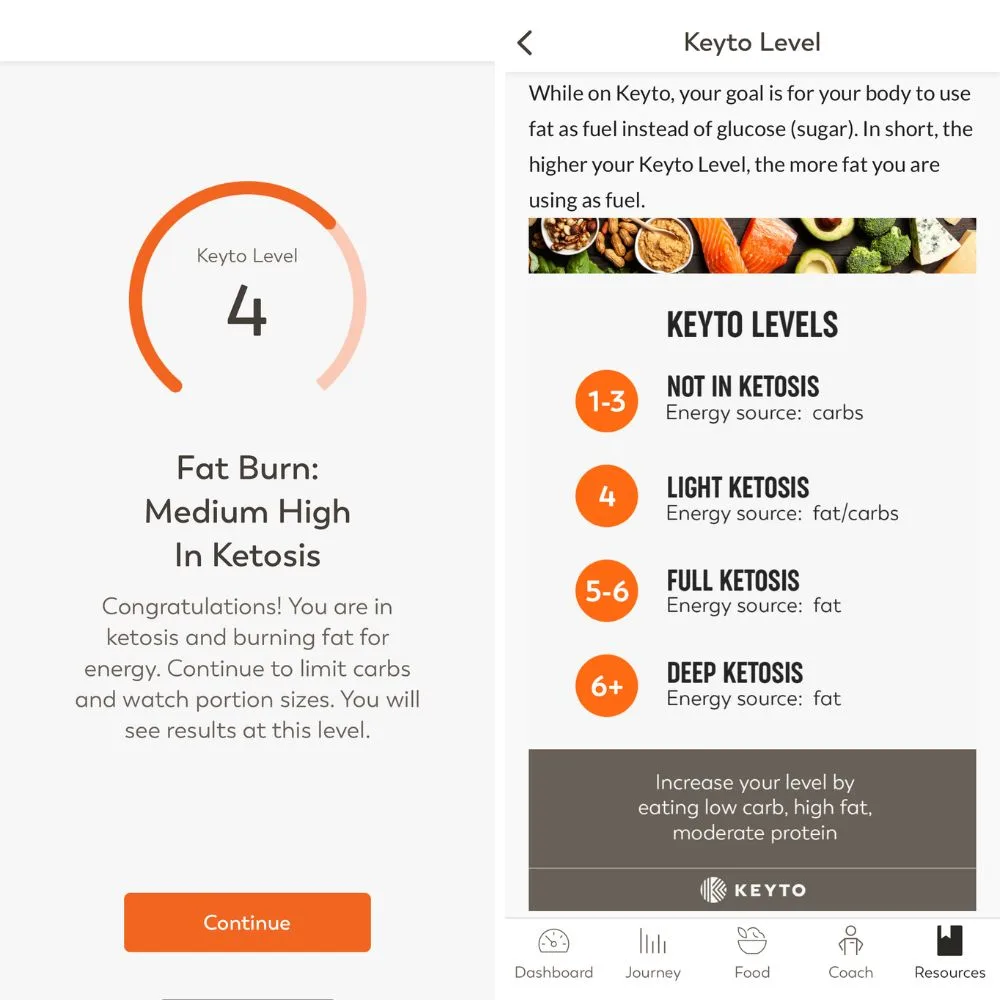 Track your food, weight, steps, and Keyto level readings on the app. Unlock more features by upgrading to the premium membership if you choose. The app in itself is a helpful tool to help you succeed on your health journey.
My Thoughts
Overall I prefer the Keyto ketone tester to the other methods. Since my husband and I both live a ketogenic lifestyle, it's so much easier for us to use the breathalyzer.
Mike would always ask me to test his blood, and then get dramatic like I was about to perform surgery on him. I would have to swap out the lancets all the time, and buying more test strips gets pricey.
With the breath tester we can both test ourselves all day long if we want to. The warm-up part is a small annoyance, but I will take that over drawing blood any day!