I am a 2014 Nature's Sleep Ambassador. I receive products to facilitate my reviews but all thoughts and opinions are my own. This month I am so excited to share this fun DIY Mini Ice Cream Bites recipe! It really is dreamy! Plus, you have a chance to enter the Ice Cream Pinterest Contest to win one of four Vitex Gel Memory Foam pillows from Nature's Sleep!
My Two Favorite Things
Sleeping in and ice cream. Who doesn't love both of those things? Perhaps I should add one more thing… chocolate. So, I have combined these faves into a special treat!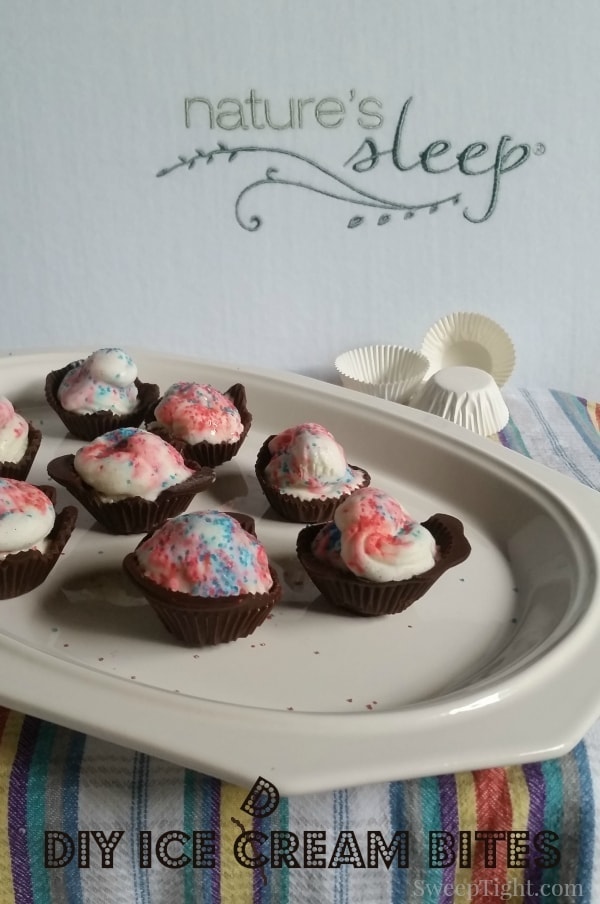 DIY Ice Cream Bites
The first thing you want to do is make the shells. All you need is almond bark. I used chocolate almond bark, but you could use vanilla too. Maybe even add some sprinkles or coloring? Sky is the limit!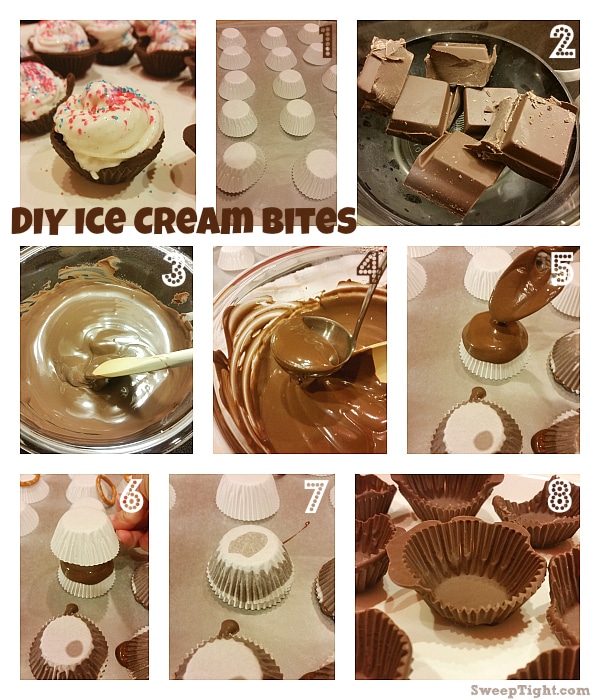 *6 squares of almond bark makes about 28 mini shells.
Step 1: Arrange mini muffin cups upside-down on a cookie sheet lined with wax or parchment paper.
Step 2: Place desired amount of almond bark in double boiler.
Step 3: Melt until smooth
Step 4: Remove from heat.
Step 5: Spoon about a 1.5 tablespoons onto muffin cup covering about 2/3 the way down the sides.
Step 6: Place another muffin cup over the top and gently press down until it's settled.
Step 7: Place in freezer for 15 minutes.
Step 8: Remove wrappers.
Once you have all your little shells, you can fill them with virtually anything! Greek yogurt, candies, fruits, marmalade, puddings… there is room for endless variation here, but good ol' vanilla ice cream sure is heavenly! I used an all natural vanilla bean ice cream with some red and blue sprinkles just because the 4th of July is right around the corner.
Make sure you freeze whatever you don't eat (we didn't have many leftovers) because these do melt pretty quickly.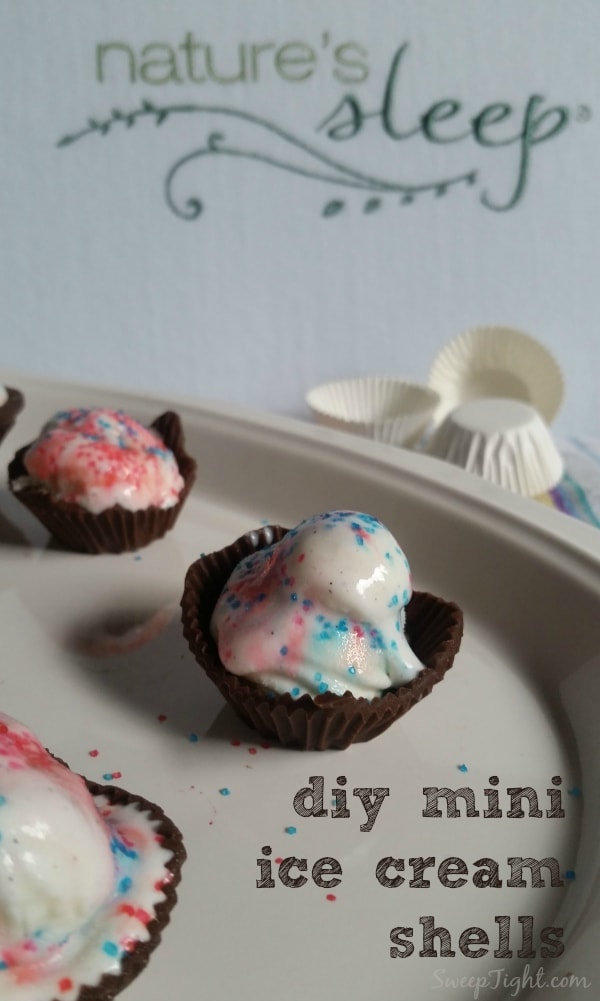 Dreams of Ice Cream
After you've had your fill of cold treats, what could be better than getting cozy under the covers! That's exactly what Ches had in mind when she stole my new Nature's Sleep pillow! We are all fighting over this ViscoLite Dual Memory Foam pillow now. It's the best of both worlds! It's half memory foam and half faux down. It is seriously perfection. As soon as your head hits it, it's like instantaneous drowsy bliss.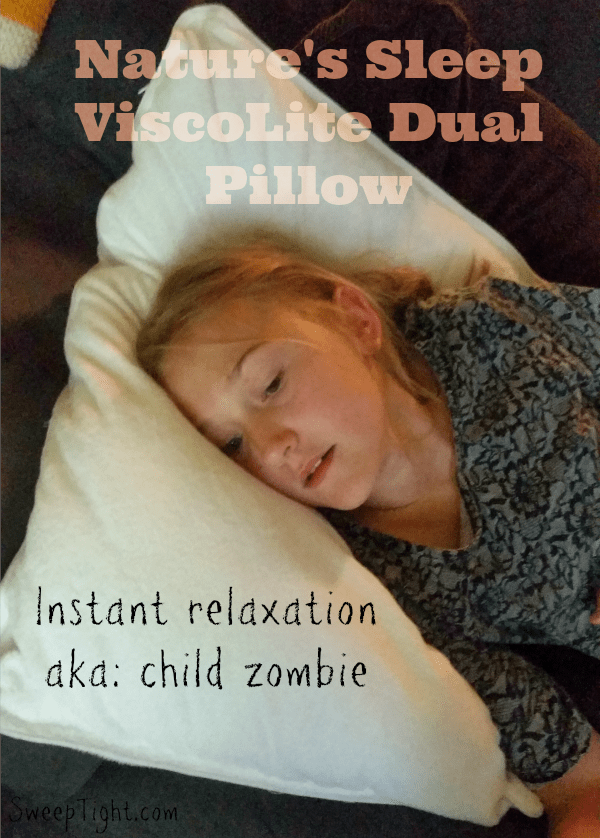 Don't Forget the Piggies!
I don't care what season it is, my feet are always cold. And after indulging in ice cream, my hard wood floors cause even more chills. So, once again, Nature's Sleep comes to the rescue! These slippers are perfect for summer because they slip on easily and still provide just enough warmth and cushion to keep your feet happy.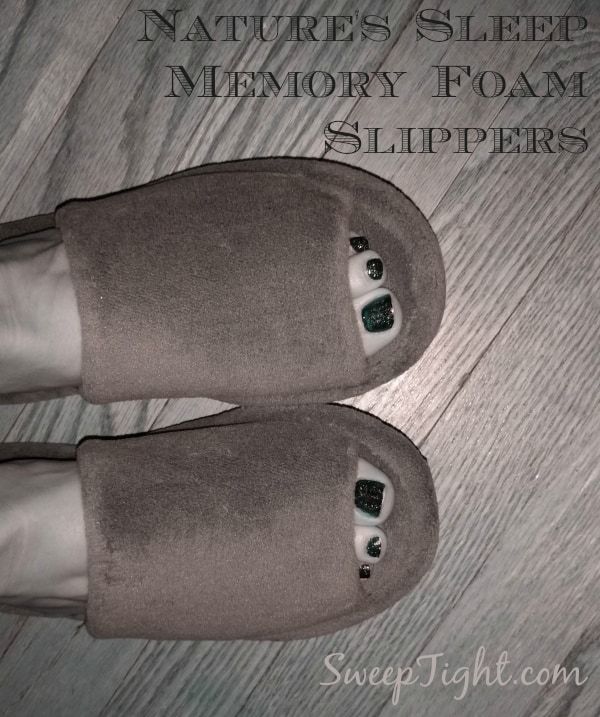 Coupon Code!!!
Ladies and Gents! Get your pillows for 40% off and free shipping! Use Code: PILLOW40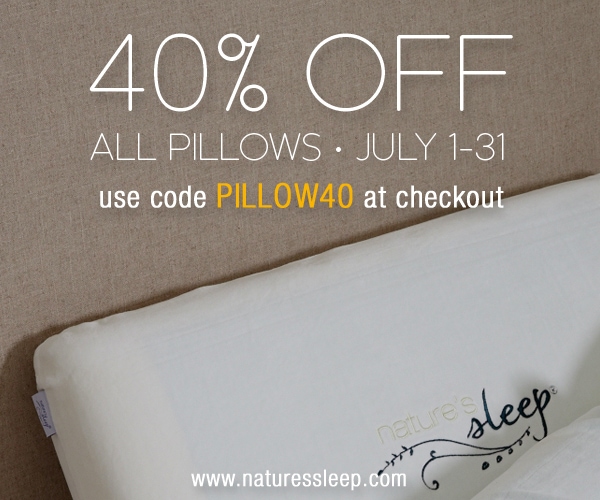 Twitter Chats
Don't miss the bi-monthly #NaturesSleep Twitter Chats! Every 1st and 3rd Tuesday at 1 PM EST simple follow along with #NaturesSleep for your chance to win great prizes!
Don't forget to follow Nature's Sleep on Facebook and Twitter.
Rainbow Crumbs for You
Weekly newsletter with our latest posts and shenanigans.