The reviewer has been compensated in the form of a Best Buy Gift Card and/or received the product/service at a reduced price or for free.
ENERGY STAR dryers and washers can save us money on both our water and energy bills. We all know that. Something we don't often think of is that these washers, dryers, and other Energy Star certified appliances help save our environment as well. That's an important point to remember, especially since today is Earth Day. Because with so many humans on the planet, the less we consume, the better, and the more we work to protect our planet, the better.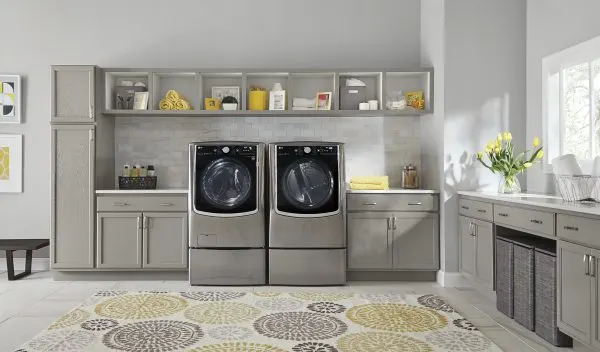 ENERGY STAR Dryers and Washers – Reducing the Waste, not the Clean
Take washers and dryers, for instance. ENERGY STAR dryers and washers consume far less water and energy than regular machines. That reduction in energy consumption equals a reduction in output demand, which equals less strain on the environment and less resource wasting. So when I fire up my ENERGY STAR appliance, I use less energy, save money, and do something small to help the environment. I think that's pretty nifty.
Another point that's so important to remember, especially when it comes to washers and dryers, is that ENERGY STAR appliances are designed to consume less energy without a reduction in the level of clean we get. Which means that we don't have to walk around in dingy clothing in order to help our environment. ENERGY STAR appliances like washers and dryers are the perfect way for all of us to make every day Earth Day.
The Low Down on ENERGY STAR Dryers and Washers
So what are the hard numbers on ENERGY STAR washers and dryers? Let's take a look. There's a lot of good information here, so lets keep it bulleted for ease.
ENERGY STAR Washers
Use 280 KWh of electricity, saving an average of $40 on utility bills.
Use 13 gallons of water for a full load of laundry vs. 23 gallons used by standard machines – 3,000 gallons a year.
Are significantly more efficient than standard washers, and even more so for standard washers over 10 years old.
ENERYGY STAR Dryers
Use 20% less energy than standard model with no sacrifice of performance or features.
Use advanced moisture sensors to automatically shut off when clothes are dry.
Have low heat settings and longer drying cycles which mean less energy use.
Are available in both electric and gas models, but gas offers even more savings and environmental benefit.

LG Energy Star Dryers and Washers are at Best Buy Now
Now we can all make every day Earth Day with some super sweet LG ENERGY STAR dryers and washers available at Best Buy. I want to take a look at the LG Twin Wash & Sidekick combo specifically. This washer and secondary washer combo is one of the coolest things around. Let's take a peek, shall we?
LG Twin Wash
Do two loads of laundry at once.
Combined capacity of 6.6 cubic feet.
Ergonomically elevated and angled door for easier loading and unloading.
TurboWash 2.0 feature saves up t0 30 minutes on bigger loads without sacrificing performance.
TurboSteam technology to deeply penetrate fabrics for better cleaning.
Full-width lid to help prevent spills.
Easy-to-fill detergent tray.
Sidekick
Pairs with almost any LG front load unit.
Wash smaller loads without wasting a drop of water.
Discrete, concealed control panel.
Matches the LG dryer pedestals for a cohesive look.
1.0 cubic foot capacity.
Perfect for hand washables, delicates, and workout apparel.
LG ENERGY STAR Dryers and Washers – Performance and Style
The LG ENERGY STAR dryers and washers at best buy combine the best performance, style, and energy and resource savings into machines that look as good as they perform. I talked about the LG Twin Wash & Sidekick combo because I think they're really cool, but there are several models of LG ENERGY STAR dryers and washers to choose from at Best Buy.
If you need to replace your old dryer and washer, now's the time to hit up Best Buy and take a look at their ENERGY STAR dryers and washers. They're offering 18 months major appliance financing or 10% rewards (which is, by the way, increased from 5% for this month) and 10% back in grocery purchases. And don't forget, you'll get free delivery of your ENERGY STAR dryers and washers on orders of over $399. With these machines, every day can be Earth Day.