It's game day snack season and we are always on the lookout for new ideas. Appetizers and sweet treats are always a hit.
I couldn't wait to make and try this Game Day Pep-Corn with REESE'S® Minis. It's right up my alley with only 3 ingredients!
REESE'S® brand is the Official Candy Partner of NCAA Football and they have all kinds of free downloadable features available on scorewithreeses.com that you should check out!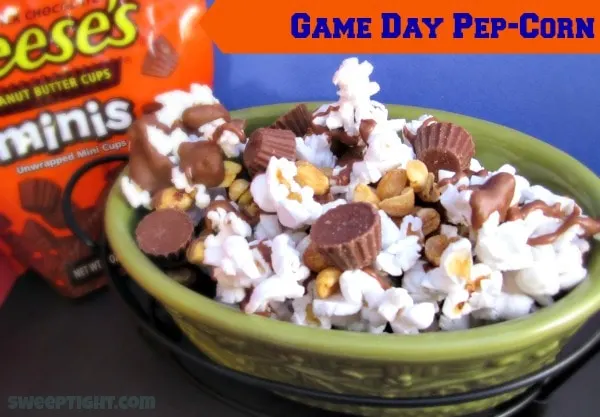 Peanut Butter Cup Pep-Corn
(Prep time : 8 minutes /Total Time: 40 minutes)
Here's what you need:
8 cups Clover Valley® popped popcorn
3/4 cup Clover Valley® Party peanuts, divided
1-1/3 cups (8-oz. pkg.) REESE'S® Minis, divided
Only THREE affordable ingredients, easily found at your local Dollar General!
Here's what you do:
1.) Line a tray or cookie sheet with foil or waxed paper. Spread popcorn and 1/2 cup peanuts on the tray.
2.) Cut 1 cup of REESE'S® Minis into halves and place them into a microwave-safe bowl. Microwave on MEDIUM heat for about one minute. Stir and then keep microwaving for 15 seconds at a time until it's nice and melted.
3.) Drizzle over the popcorn and peanuts. Refrigerate for about 30 minutes, or until the coating is firm. Separate into little dishes, or however you would like to serve it and top with the additional peanuts and REESE'S® Minis.
4.) Root for your favorite NCAA® team and enjoy! 😉
Makes about 8-1/2 cups of popcorn.
* Popcorn is best eaten the same day as prepared and shortly after removing from refrigerator.
*** Quick tip *** Brush your teeth RIGHT before preparing this so you aren't as tempted to eat all the ingredients!!
Easy enough, right? It's so tasty and super addictive! If you like a salty-sweet combo, definitely give it a try!