Giving back to the community is something I try to do regularly but I don't always get the kids involved. This time, I'm teaming up with Champions for Kids to bring you this post to show how easy it is to give back with your kids. I participated in this program on behalf of Champions for Kids and The Motherhood. All opinions are my own.
Give Back to your Community
It is important to give back whenever you can, but it's even better when you can see the results close to home. Champions for Kids is making it super simple to give to the children in your community the resources they need to thrive. SIMPLE Giving is a Champions for Kids program that makes it simple for you to help local children get a healthy breakfast and stay focused in school. To participate, just purchase breakfast items at your participating Walmart and place the items in the big purple bins.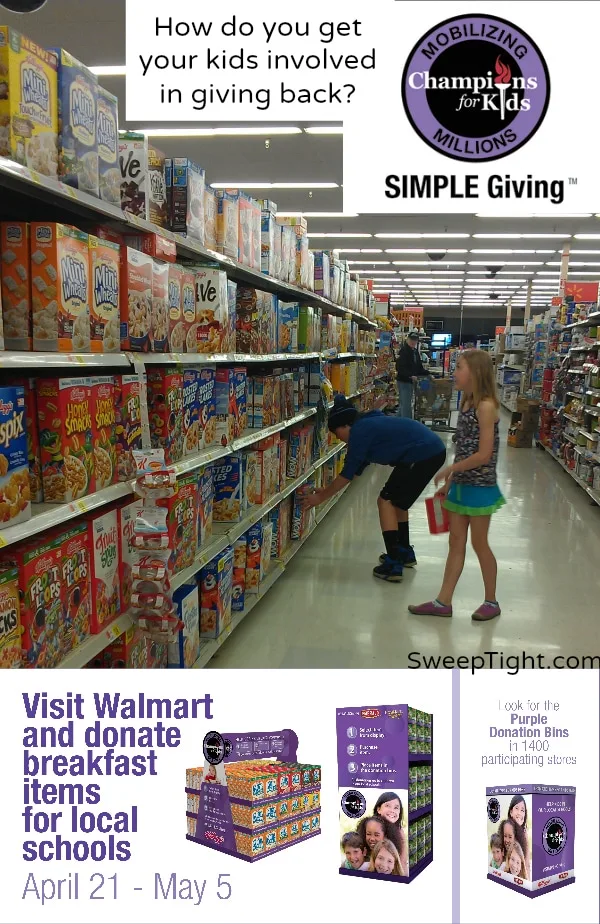 Did you know that 9.8 million kids get free or reduced price school breakfast on an average day, but 10.6 million eligible kids go without? As a full time student studying nutrition science and mother of two growing kids, I can personally attest to the fact that a balanced breakfast increases academic performance.
Chances are, you will already be shopping for something at Walmart. So, why not grab an extra box or two of cereal and tell your kids to add them to the big purple bin? My kids were super excited to pick out their favorite cereals to donate.
All donations will go to children in schools near each participating Walmart store. The school district that collects the most donated items from a single Walmart store in its division will also receive $10,000 from Champions for Kids. And the school district that collects the most donations from a Walmart store in its region will receive $1,000 from Champions for Kids! For a full list of participating stores, school districts, Walmart Divisions/Regions and official rules click here.
TWITTER PARTY
What: The Motherhood is joining Champions for Kids along with Kellogg Company and Diamond Foods for this Twitter party to spread the word about a simple way we can help ensure that kids in our communities enjoy a nutritious breakfast that will help them stay focused in school!
When: Thursday, April 24th, at 1pm ET
Where: Follow the #SIMPLEGiving hashtag on Twitter
RSVP: HERE
Hashtag: #SIMPLEGiving
Prizes: (5) $50 Walmart Gift Cards
Hosts: @theMotherhood, @theMotherhood25, @CooperMunroe, @EmilyMcKhann
Sponsor: @Champions4Kids