My coffee typically consists of nine parts sweetened creamer to one part coffee. However, after being introduced to the iCoffee machine, for free—don't worry all thoughts and opinions are my own, I can proudly report that I am now drinking my coffee black!
How to Drink Coffee Black
I tried weaning myself for weeks. I got down to just using almond milk, but I wasn't really enjoying my coffee because I just couldn't seem to cut the bitterness. But, I am super determined to reach my fitness goals and I know that starting the day with so much sugar is awful. Not to mention all those additional calories pile up quick. I'd rather EAT my calories than drink them so when I heard about the iCoffee Machine made by Remington, I was skeptical but intrigued.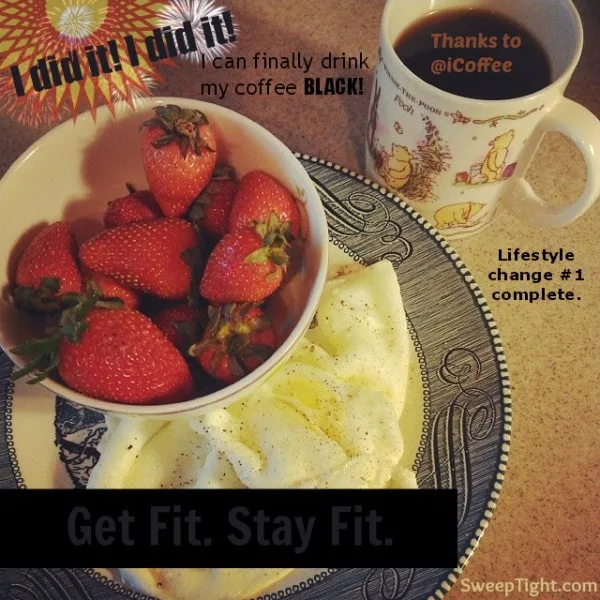 The iCoffee boasts the ability to remove the bitterness by using innovative (that's what the "i" stands for) SteamBrew™ technology. I don't really understand the science behind this but I can say that whatever is happening, IT WORKS. (Check out the video below.) I am now sincerely enjoying and looking forward to my coffee without all the added garbage. Plus the kids and I find watching the machine in action pretty entertaining. Through the viewing window you can see coffee being made.
I really put the iCoffee machine to the test by using really cheap coffee grounds… and the coffee still tasted great! I use about the same amount of grounds as I would in my ordinary machine. I have a great coffee grinder and have tried coarse and fine grounds from whole beans and they both taste about the same, but the freshness factor provides an enhanced flavor.
iCoffee RCB100 12 Cup Coffee Maker With Steam Brew Technology, BlackGet It Here
Remington offers several machines so whether you prefer the one cup style machines or the carafe versions, they've got what you need.
As a nutrition student, I can't help but emphasize how awesome coffee can actually be for you, in moderation of course. Like all things, balance is key—too much of a good thing is not good. But by starting your day with a boost of natural caffeine, antioxidants, flavanoids and a nutritious breakfast you're really off to a great start. So ditch all the sweeteners and reap the benefits of what nature intended…