Cash back websites are on the rise, but who is the most generous? This post is sponsored by TopCashback.com. All opinions are my own.
TopCashback.com promises to back up the bold claim of being the "USA's Most Generous Cash Back Website" by offering to pay 100% of the commission they receive from the merchant.

Most Generous Cash Back Site?
The way that these cash back websites work is that they earn a commission on each referral. In other words, when you click a link and shop at a store through their site, they earn money.
Other cash back sites will give you a portion of this commission money. TopCashback.com will give you all of it. Now, how will they stay in business if they do this?
They are happy to just collect the income from a few ads on their site. I would say this is definitely quite generous.

Where Can You Shop?
So far TopCashback.com has partnered with 2,400 merchants. If you shop at any of them, you will earn cash back on your purchase. Popular stores like, Groupon, Walmart, Best Buy, Target, GiftCards.com, Restaurant.com, Overstock.com, Bloomingdale's, and many more are listed.
You can also find current coupon codes to really stack your savings. Personally, I never shop online without checking for cash back and coupon code options first. That would be like throwing money in the garbage!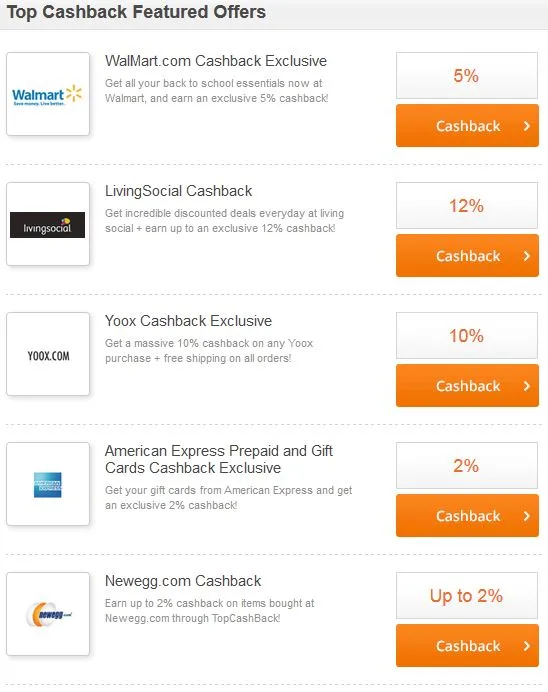 Pay Me
There's no minimum withdrawal threshold on payments. This means if you earn $.01 you can cash out. That's great news since a lot of sites have pretty hefty thresholds that you have to meet before you ever see your money.
Referral Program
Refer your friends to TopCashback.com and earn $10 per qualifying member. That's a very generous referral bonus, too!

There's an App for That!
There's an iPhone app so you can save money on the go. It's even more convenient to earn cash back when you shop now.
More Ways to Earn
There are a lot of sections to explore on the site. There's even a place where you can earn without spending a dime. By filling out surveys or joining free programs, there are ways for you to earn a little side cashola.
My Personal Thoughts
As a person who has been using cash back sites for years now, I find TopCashback.com to be quite user friendly. It's easy to navigate and seems to have a lot to offer. I definitely noticed higher cash back offerings on several popular stores. I like their "Deal of the Day" section that pairs up coupon codes with cash back, too. Overall, I think this is a winner!
>>> Sign up for TopCashback.com for free today. Stay social with them by liking their Facebook page and following on Twitter.